MINNEAPOLIS, Minnesota — Our pets have gotten pretty used to having us around all the time and now they are having to adjust again.
"We definitely are seeing more and more owners calling us having concerns with their dogs barking or seeming to be more nervous or even sometimes having accidents at the house when they have been gone even just to the store," said Dana Emerson, a veterinary technician and certified training partner at the University of Minnesota Veterinary Medical Center.
If you have not gone back to the office yet, Emerson recommends starting to prepare your pet for it now.
For example, notice parts of your daily routine that may trigger your dog.
"Sometimes the dogs pick up on that and they start to get nervous maybe when you're putting your shoes on or when you're picking up your car keys or stuff like that. So those kind of things... picking up your car keys, walking around the house with them. Keeping your shoes on, not taking them off all the time," Emerson said.
Start building separation time, whether that means moving to a separate room or having some sort of barrier that makes you not immediately visible to your dog.
"Starting out simple, making it easy for them, having it fun. Treats... that kind of stuff so they're actually doing something that's enjoyable while you kind of go out of sight and they go, 'Oh she left, whatever. I have my thing here I'm doing,'" Emerson said.
Emerson added, "Hopefully at that point you've gotten your dog comfortable with either being back in the kennel if that's where they maybe were before the pandemic hit or you've got them more comfortable at being at home that you can leave without too much problem."
If they're still having issues, you might want to try doggy daycare or having a dog sitter or walker stop by during the transition.
Emerson also recommends extending the time between letting your dog outside to go to the bathroom so they are trained for longer absences.
While leaving the house and returning, make it boring.
"Keep that calm... so that when you come it's like, 'Oh yeah, I'm home. Okay, whatever.' That they're not at home sitting and waiting all day for that excitement for when you return," Emerson said.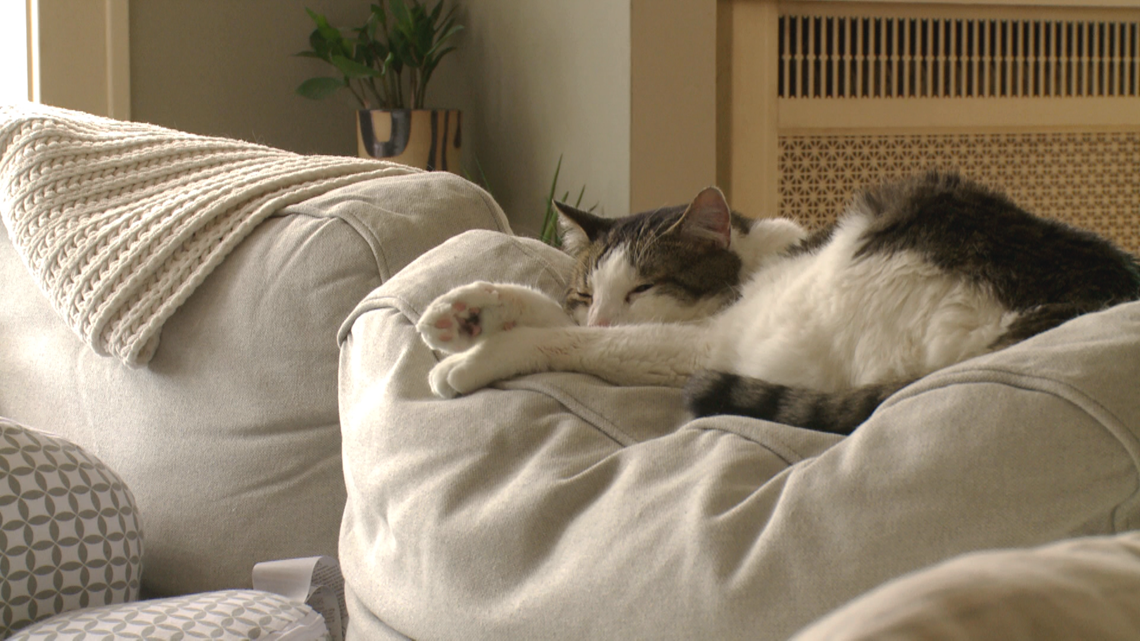 Emerson said the same principles apply for cats.
"It's just finding those motivating factors sometimes for the cats is not as easy," Emerson said.
Make sure your cat has environmental enrichment while you're gone. It could be as simple as dividing their meal into four or five separate bowls spread throughout the house so they have to hunt for their food. If your cat likes playing with toys, don't put them all out at once. Instead, rotate them every week.
You might notice your cat having accidents in the house or overgrooming themselves — signs they may be stressed.
"Technically, any pet could have separation anxiety," Emerson said. "The departure of the human can create some of those problems. You may see decreased appetite... So maybe your bunny or chinchilla or something isn't eating as well or maybe the ferret isn't doing as well as they used to because they're used to having somebody around and now you've changed the environment."
There are many different technologies out there that can help you monitor and even interact with your pet while away.
If you're having issues and still need help, Emerson recommends reaching out to your veterinarian.
You can read more advice from Emerson and a colleague, here.