HASTINGS, Minn. — After more than two months recovering from her injuries, a bald eagle is back in the wild.
"Couldn't believe it was the same eagle that we had seen three months ago," Andy Kirn said.
Andy and Ann Kirn of Marine on St. Croix were on the river in July when they saw two bald eagles locked in battle.
"It looked like a bird and a half flying into a wooded area on the river at a very high speed at a low level," Ann recalled.
The couple followed the eagles and found them still clamped on to each other in the water, beating each other with their wings. They called for help.
"It was hard to watch because as we watched for that hour, which took forever, their heads were getting lower and lower," Ann said.
Several people responded to help the eagles, including deputies with the Washington County Sheriff's Office. They were able to separate the eagles. One flew off and the other was rescued and taken to The Raptor Center in St. Paul.
The eagles had been engaged in a territorial fight.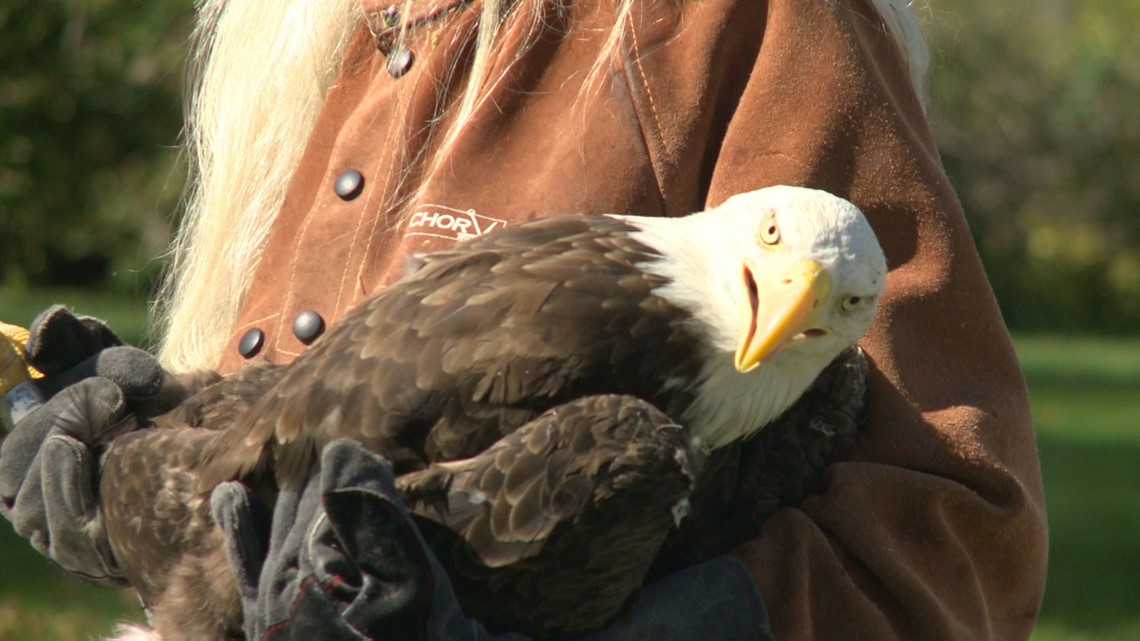 "Territory for almost any animal, but especially raptors, they protect their territory because it means everything for raising their young," said Gail Buhl, partnership coordinator for Partners for Wildlife at The Raptor Center. "They will protect it almost to the death because it is that important."
When the eagle arrived, she had puncture wounds to her left leg and right knee. "But the most serious one was one right into the body cavity," Buhl said.
Once healed, the eagle needed to exercise to prepare the bird to go back into the wild.
"These are Olympic athletes in the wild and when they're sitting in cages, when they're sitting in large enclosures... they're still not moving like they move in the wild," Buhl explained.
Thursday afternoon, the eagle was taken to the Carpenter Nature Center in Hastings.
Andy had the honor of releasing the eagle in front of a small group of kids and others who were involved in the eagle's rescue.
"I could feel the power in her and I lifted her up and released her and she flew off under her own power," Andy said.
Ann added, "Who knows, we'll all see eagles out there. Maybe that's the one that got saved... It's nice to have a good ending to the story."
Join The Raptor Center at the Carpenter Nature Center on September 28 to see several rehabilitated raptors get released back to the wild.
The event is free, open to the public and runs from 10 a.m. to 1 p.m.