OSSEO, Minn. — Two dogs abandoned in a wooded area near an apartment complex in Osseo are being cared for by a local rescue organization while police try to identify the person who left them.
Osseo Police Lt. Todd Kintzi says the department received a call just before noon Monday reporting the situation. Officers responded to a wooded area adjacent to 608 North Oaks Drive and found two dogs, one inside a wire crate and the other tied to a tree.
Lt. Kintzi says the dogs were a bit scared and potentially aggressive, so one officer got food and water for them while the animals were allowed to settle down. A rescue organization, No Dog Left Behind, came to pick the pups up and is making sure they are cared for.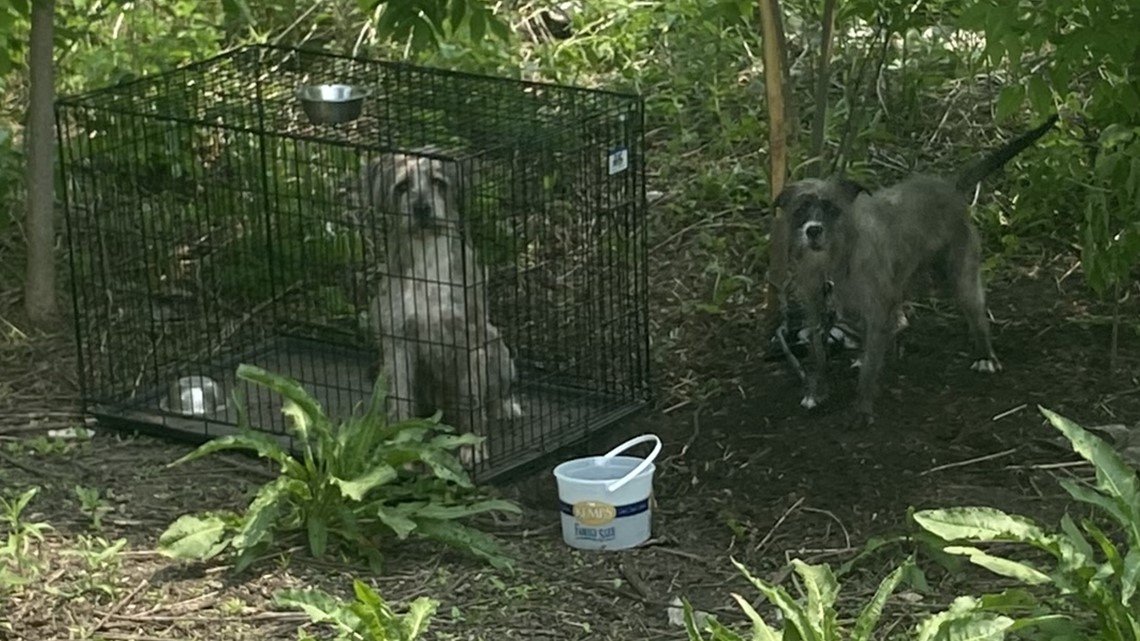 In a Facebook post on Thursday, the rescue said the two pups, a male and a female named Maid Marian and Little John, "are safe and happy in the care of our amazing fosters."
No Dog Left Behind intake director Kayla Root told KARE 11 the dogs appear to be terrier mixes. She said after being held overnight in a safe place while police began their investigation, the dogs are officially going through the intake process and being placed in foster homes.
Root said Little John is extremely sweet and calm from the moment he was found, while Maid Marian a bit more skittish. She said the dogs show no obvious signs of abuse and have obviously been fed. At this point, they will be spayed and neutered and checked over thoroughly by a vet before being put up for adoption, perhaps in two or three weeks' time.
Police posted about the incident on their Facebook page asking for help in finding the owner of the dogs. If you recognize or know them call Osseo PD at 763-424-5444.
WATCH MORE ON KARE 11+
Download the free KARE 11+ app for Roku, Fire TV, Apple TV and other smart TV platforms to watch more from KARE 11 anytime! The KARE 11+ app includes live streams of all of KARE 11's newscasts. You'll also find on-demand replays of newscasts; the latest from KARE 11 Investigates, Breaking the News and the Land of 10,000 Stories; exclusive programs like Verify and HeartThreads; and Minnesota sports talk from our partners at Locked On Minnesota.


Watch the latest local news from the Twin Cities and across Minnesota in our YouTube playlist: