ST PAUL, Minnesota — Ask Darryl Michaelson about his company — designing and manufacturing cat furniture — and he'll tell you, "It's a happy business."
A happy business that started as a hobby.
When Michaelson was 24 years old, he wanted to get his pets a cat tree.
"Realized there's just not very well-made cat furniture on the market. And at that age, money is very important. So I thought, 'I'm handy. I can make my own,'" Michaelson recalled.
So on a Saturday morning in 1990, Michaelson scrounged up some wood. By Sunday night, he had a jungle gym for his cats.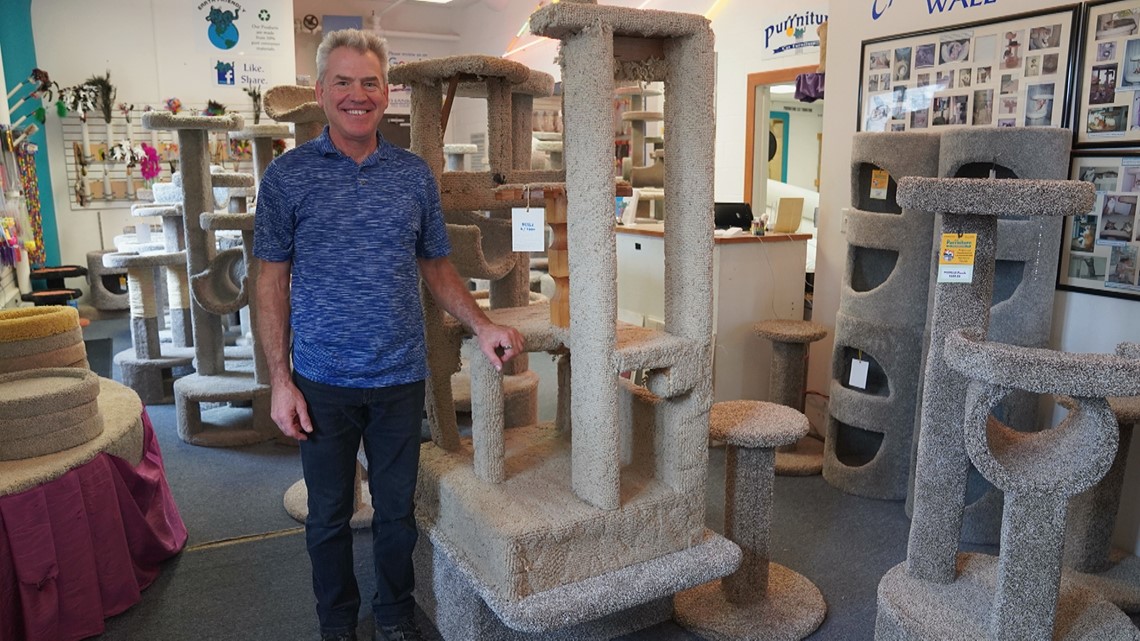 After a year of making cat furniture for fun, he was hanging flyers at veterinarian clinics when he drove by the Minnesota State Fairgrounds and decided to fill out an application. The fair accepted him as a vendor.
"I was hoping to get some calls from my little flyer and now I'm doing the greatest show on Earth," Michaelson said.
Purrniture Cat Furniture has been at the State Fair for 31 years. Michaelson said without the exposure, he doesn't believe his business would have ever taken hold.
Purrniture started in the fifth floor of a building in downtown St. Paul before moving to University Avenue on 1997. After five years in the basement, the first floor opened up and Purrniture was able to move upstairs.
"People come in here looking to be entertained and buy stuff, not even for them either. My customers are the cats. So people are in here looking at everything through the eyes of their cats. They're my catstomers," Michaelson said.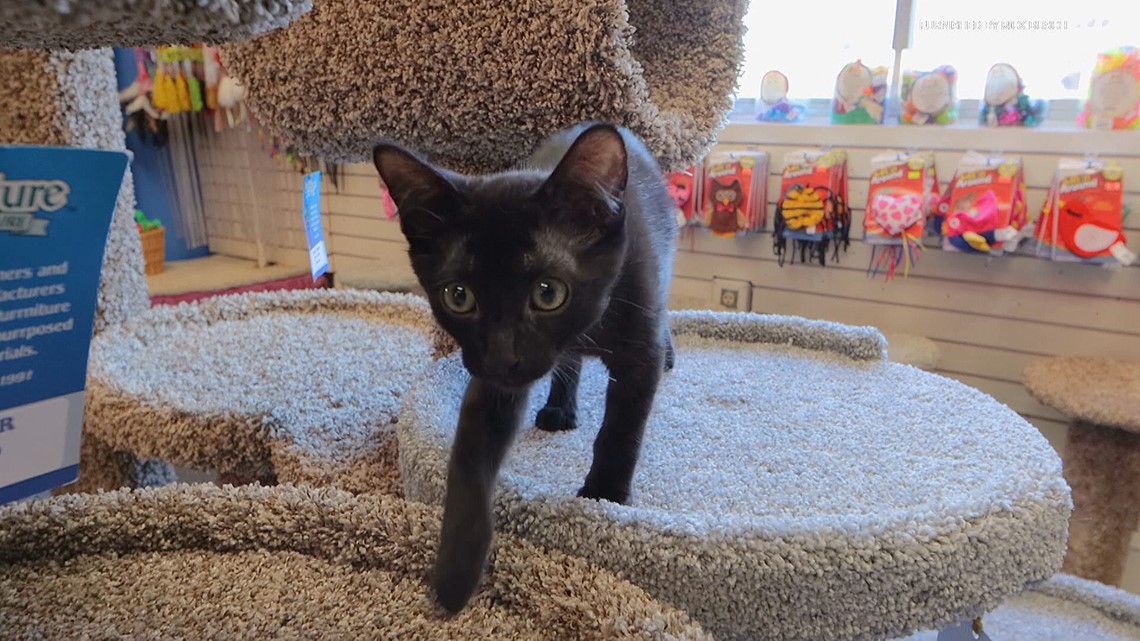 Purrniture is made out of repurposed wire spools. Michaelson said they work with electrical-related businesses in the area to save wooden spools that would otherwise end up in the landfill. Unlike other companies that use particle board, Purrniture uses plywood. Carpet remnants are then stapled on to the designs. The average-sized piece of Purrniture has more than 1,000 staples holding the carpet on. Their biggest piece uses 2,500 staples.
"It's literally like putting a needle in thread through the carpet into the wood," Michaelson said.
Each piece has a unique name. Michaelson said he searched home and apartment listings and came up with names like Chateau de Gato, Whisker Villa and Tom Towers.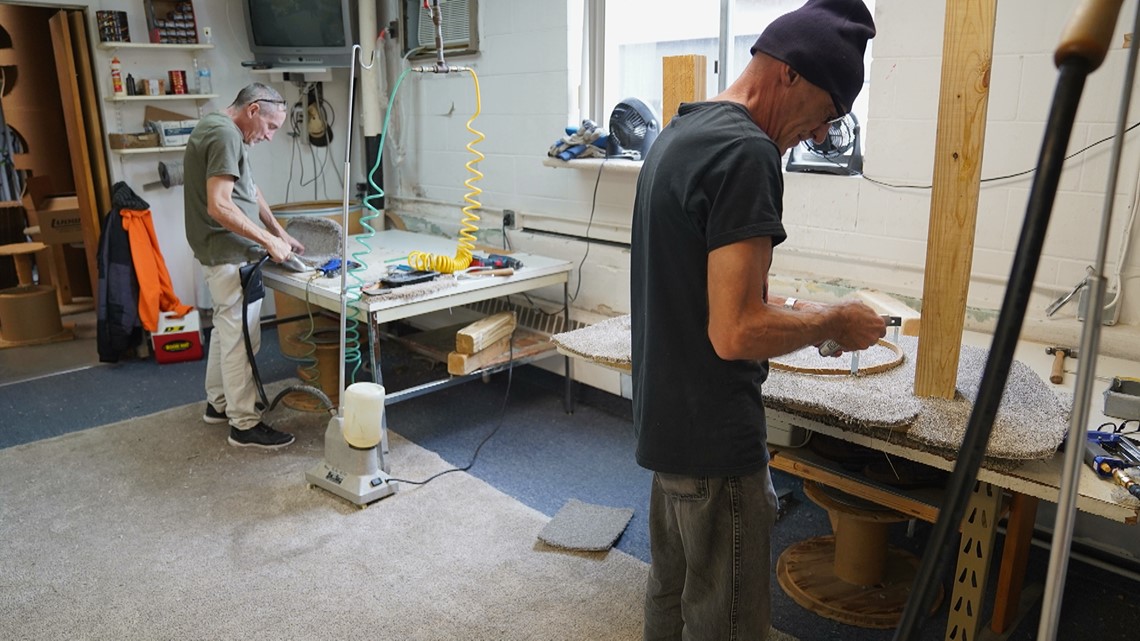 Because Purrniture pieces can cost hundreds of dollars, in 1993 Michaelson created a four-week "catisfaction guarantee." If a month passes and the cat doesn't like it, the cat's owner can return it.
Since 1993, there have been only 14 returns.
They also offer reupholstering once the carpet wears out. If the entire structure can't be repaired, customers can trade it in to get a new one at a discount.
"I've got growing pains and all the stuff that normal businesses would have but I don't have the stress of wondering if this customer is going to buy or not," Michaelson said. "The pressure's off. The stuff sells itself."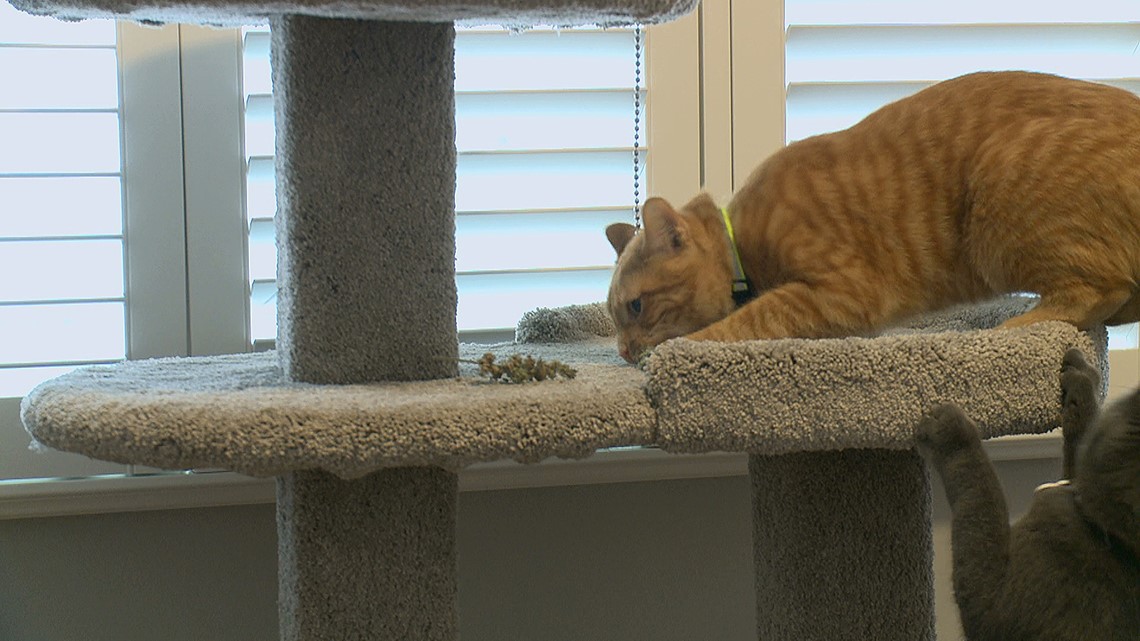 But Michaelson is dealing with a bit of stress lately. In September, a thief stole Purrniture's trailer. Michaelson has had to rent a trailer to do his big deliveries.
Michaelson believes it was taken from the Purrniture parking lot off of University and Hampden Avenues sometime between the evening of Sept. 24 and the morning of Sept. 25. It was locked up but did not have any items inside at the time of the theft. If anyone sees it or has any information that could help, they should contact the St. Paul Police Department.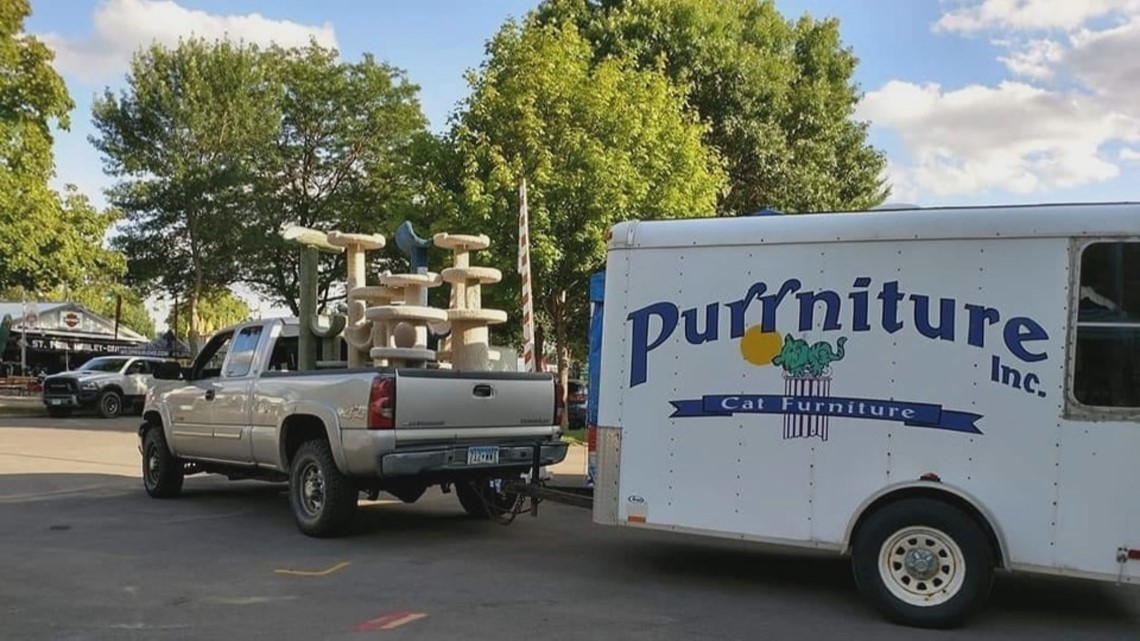 "You feel violated," Michaelson said. "I definitely can feel the pain of that not being around."
A GoFundMe has been set up to help Michaelson purchase a new trailer.
Despite the theft, Michaelson said business has really taken off in the past three years.
Customers often send pictures of their cats, or the "catstomers," lounging on Purrniture pieces. Michaelson said, "Again, I'm selling a happy product."
Showroom hours: Tuesday-Saturday from 9 a.m. to 5 p.m.
If you'd like to contribute toward Michaelson's GoFundMe for a new trailer, click here.
Know a local business we should feature for our Behind the Business segment? Email Heidi Wigdahl at hwigdahl@kare11.com.