MINNEAPOLIS, Minnesota — Don Blyly is turning the page on a new chapter for his beloved bookstores in Minneapolis.
Its new home is about two miles east of the old location in south Minneapolis.
"I had more and more people who were saying, 'Please, please reopen. We can't find anything like what you were offering,'" Blyly said.
Blyly originally opened Uncle Hugo's Science Fiction Bookstore in 1974. While attending law school and reading constitutional law in the library, Blyly decided he needed something fun to do as a pastime. He had about $1,500 in student loan money left and decided to use it to open a bookstore.
After opening Uncle Hugo's, customers came to him requesting the same type of concept but for mysteries. When Blyly couldn't find anyone interested in doing it, he opened Uncle Edgar's Mystery Bookstore at a separate location in 1980.
Eventually, both bookstores were housed in the same building off of Chicago Avenue. That remained the Uncles' home until the building burned down in the early morning hours of May 30, 2020.
The security company alerted Blyly that someone was in his building around three in the morning.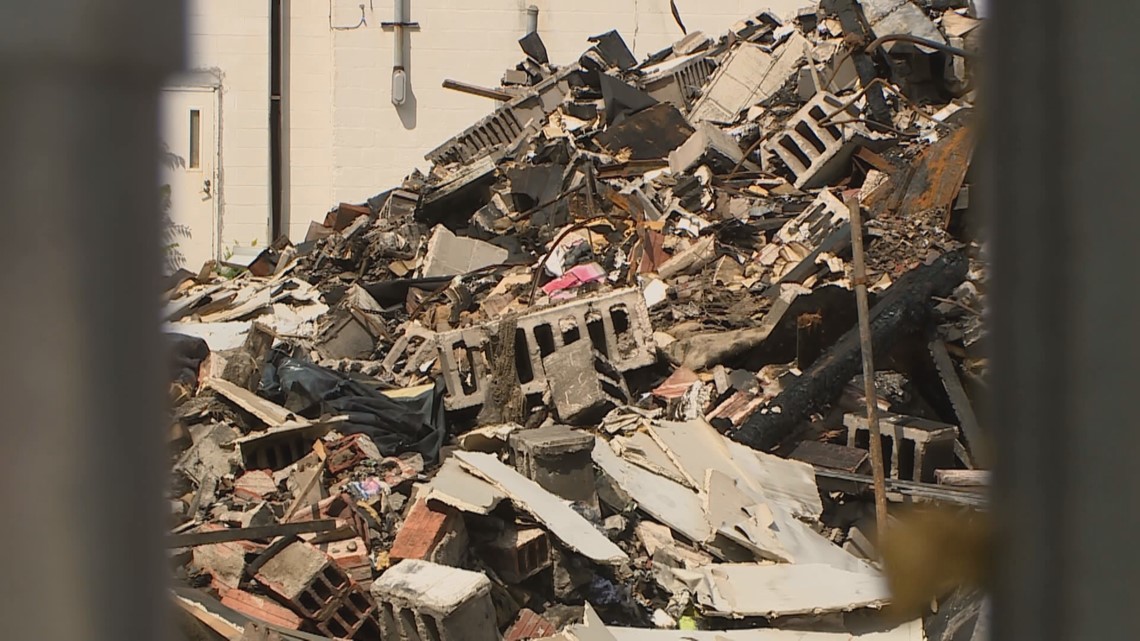 "When I got there, there were flames shooting out the front door," Blyly recalled. "It was obvious that it had not been done by the people who were disturbed by what happened to George Floyd. It was a really pro job because someone had gone along to each and every one of the plate glass windows and punched a hole this big around and injected accelerant in and lit each of the holes."
After 46 years of building the stock — with signed and rare copies destroyed — Blyly estimates about $1.3 million of retail in books were destroyed.
To this day, the arsonist has not been caught.
Two weeks after the fire, Blyly received a two-year supply of Uncle Hugo's Science Fiction Bookstore and Uncle Edgar's Mystery Bookstore t-shirts and sweatshirts that he had previously ordered.
He started a mail-order operation first with the merchandise, then adding books.
But after a year and a half, Blyly said business was not doing nearly as well as when he had his storefront.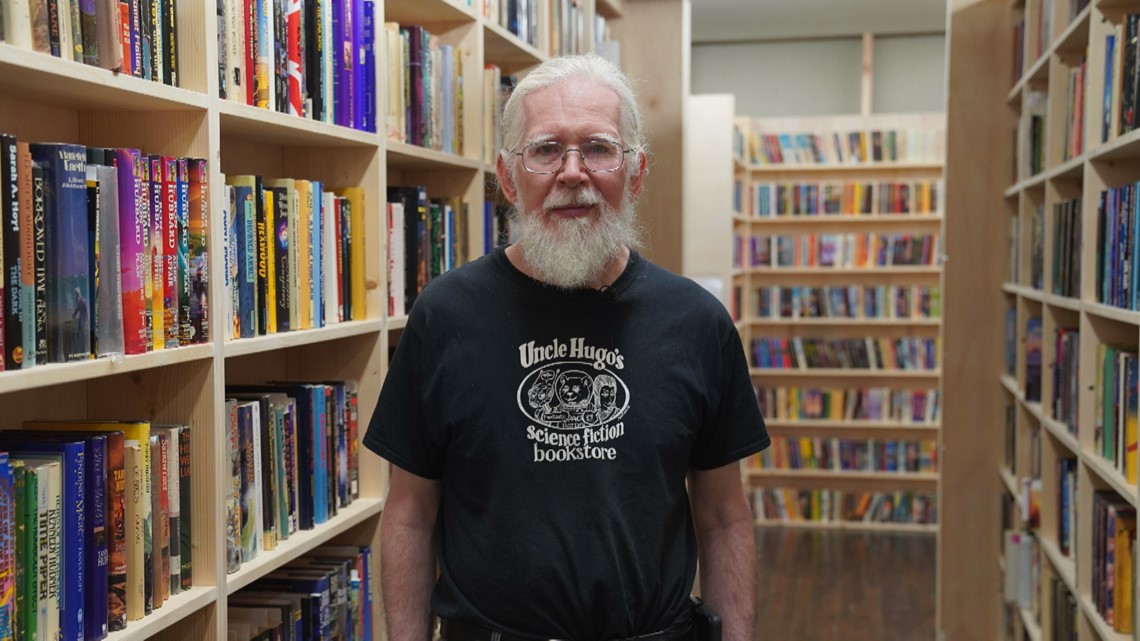 Instead of attempting to rebuild at the old location, Blyly chose to find a new building. After 18 months of searching commercial listings, he found a home at 2716 East 31st Street — about two miles east of the old location and near Moon Palace Books.
August 14 was their first day open and this week the store returned to regular business hours.
While the old location housed two separate bookstores that even had separate checkout areas, this building is one big room.
"They're not quite totally integrated but semi-integrated," said Blyly, adding they still have a phone for science fiction and a phone for mystery.
Blyly is still in the process of getting a sign up but the shelves are filling up with both used and new books. Blyly estimates they have about 15,000 used science fiction hardcovers on the shelves alone.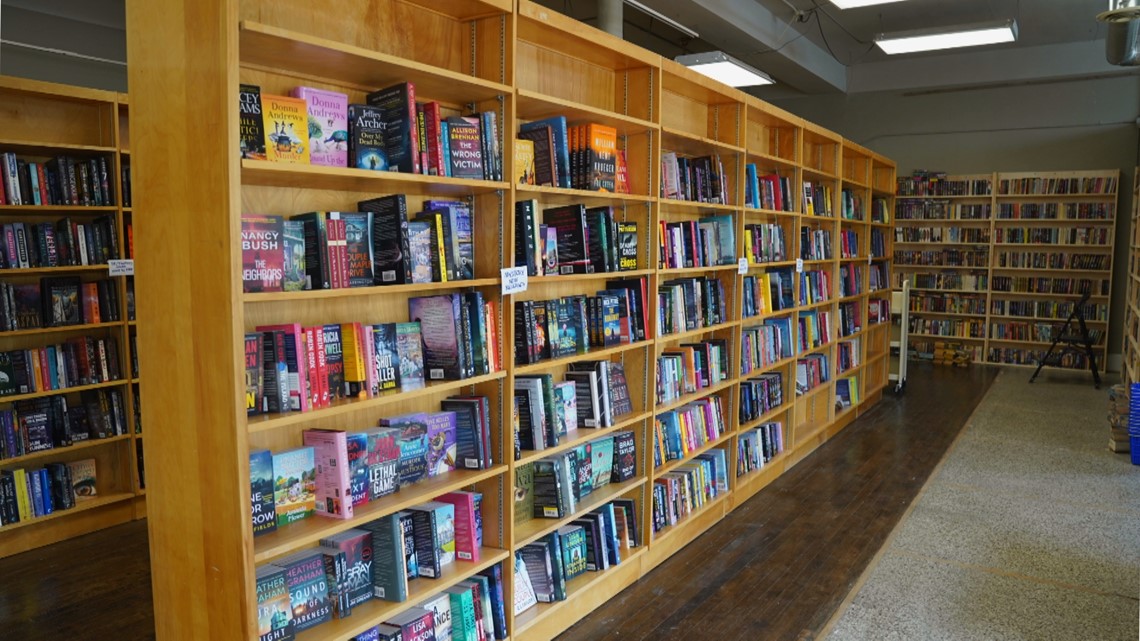 Right when customers walk in, they'll see shelves with signs saying, "Mystery issued since the fire." Blyly said that's because during the time the store was closed, some readers could not find certain books anywhere else in the Twin Cities. This gives them an easy way to browse books that were released after June 2020.
The store dog, Ecko, is also back at her post after a couple years off as the official store greeter.
"She's very happy to be back on the job again," Blyly said. "We're seeing a lot of regular customers who are delighted that we're back in business again and we're seeing some new customers from the neighborhood who are also delighted to have us here."
Uncle Hugo's first book signing at the new location will take place Saturday, Sept. 10 with author MIke Kupari from 2 p.m. to 3 p.m.
Uncle Hugo's Science Fiction Bookstore and Uncle Edgar's Mystery Bookstore
2716 E. 31st St.
Minneapolis, MN 55406
Monday-Saturday: 10 a.m. to 6 p.m.
Sunday: Noon to 5 p.m.
Know a local business we should feature for our Behind the Business segment? Email Heidi Wigdahl at hwigdahl@kare11.com.