ST PAUL, Minnesota — A Minnesota nonprofit and a St. Paul brewery have teamed up to create a beer that gives back. The new craft beer brand is called "Arbeer"--a play on the words arbor and beer. A portion of the proceeds will benefit environmental projects in communities across the Twin Cities metro area.
The Roseville-based Footprint Earth Foundation is partnering with Saint Paul Brewing Company (formerly known as Flat Earth Brewing) on the project.
"Our mission is to bring common sense sustainability actions to local communities," said Kevin Johnson, president and co-founder of Footprint Earth Foundation.
Johnson and co-founder/CEO James Stelter created the nonprofit about four years ago after both men became tired of the "political noise" often attached to environmental issues. Footprint Earth Foundation is dedicated to bringing sustainability education to local communities.
"In our minds, it's not a political issue. It's a stewardship issue, it's a responsibility issue, it's a doing the right thing issue," Stelter said.
But after the launch of their nonprofit, the pair faced having to find ways to fund their projects. That's when they came up with the idea of "Arbeer." About three months ago, Saint Paul Brewing Owner John Warner agreed to partner with them on the project.
"I love the concept. I love the guys. They're not kidding and it's going to work. I'm very excited about it," Warner said.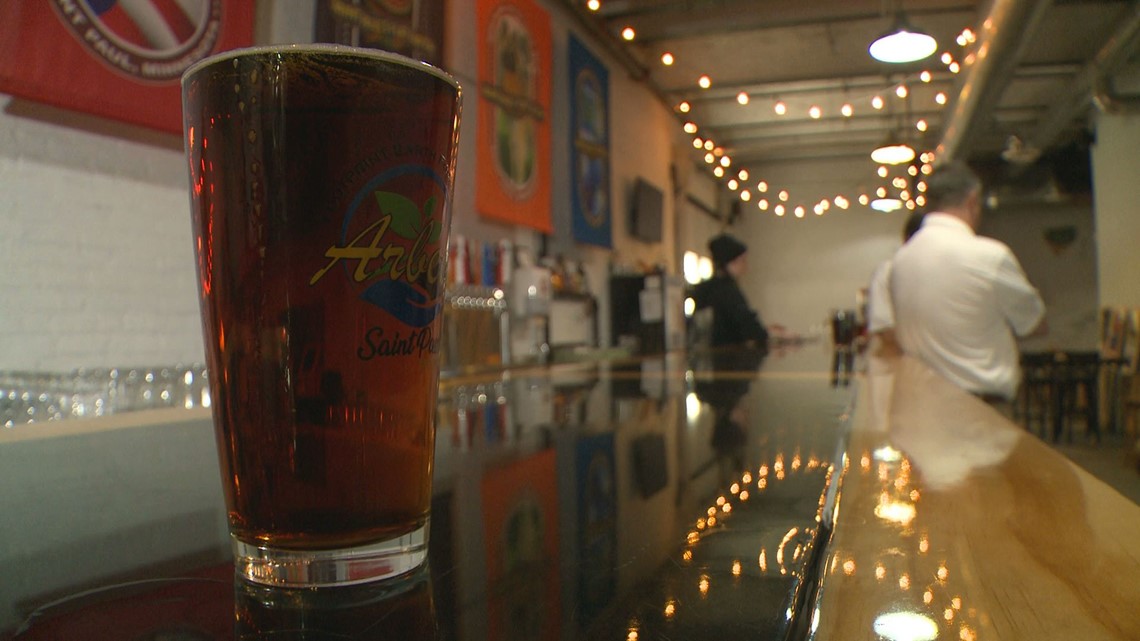 For every Arbeer sold, about 36% of the sales go to Footprint Earth Foundation. The nonprofit, all volunteer-based, uses 100% of that money to fund their projects. One of those projects is called LEDs for Hope, a program to help low-income families replace incandescent and CFL light bulbs to reduce their environmental impact along with reducing electricity cost. They also have a partnership with River Grove Elementary in Marine on St. Croix and want to help the school become fully Carbon Neutral within seven years. Footprint Earth Foundation also has projects surrounding K-12 nature-based education and community projects such as park and watershed clean-ups and urban reforestation.
"We feel that the answer to our environmental problems is all of us," Stelter said. "If we talk about common sense things that everybody can do, whether it's taking a shorter shower, turning the lights off, using LED light bulbs, lowering your energy costs where you can... if we can attract millions of people to that, now you're making an impact. So it's all about scale."
The Arbeer brand is starting out small. Their first brew is an amber red ale. Right now, it's at about 20 different local bars and restaurants but Johnson said they have plans on expanding the brand and creating different varieties.
"As we can grow say the markets that the beer is available in, we would look to say grow our impact and... have projects in those areas, as well," Stelter said.
To kick off Earth Month, Saint Paul Brewing held a tapping event on April 2 to celebrate the launch of Arbeer. Saint Paul Brewing (located at 688 Minnehaha Ave. East) is also planning an event on Thursday, April 25, starting at 4 p.m., called Arbeer Day to celebrate the beer.
When talking about customers buying Arbeer, Warner said, "It's a good quality beer. It's built right here in their backyard community. Why wouldn't you?"