HOPKINS, Minnesota — In her craft room in Hopkins, Cristina de la Cruz creates a paper rose. It's one of many she'll make today, part of a fourteen-piece flower set order. Since launching her Etsy shop, Modern Flower Creation, in 2017, de la Cruz has sent her paper flowers all across the nation. She's made them for weddings, nursery wall decor and more.
The paper florist from Hopkins was originally introduced to paper flowers through her mom, who was learning how to make a backdrop for de la Cruz's daughter's first birthday.
"When I first started this I was in grad school. I have my masters in social work," de la Cruz said. "It was a way for me to let go of everything and it was a great way for me to take care of myself and to just focus on that craft."
de la Cruz started posting her paper flower creations to Instagram as Modern Flower Creation.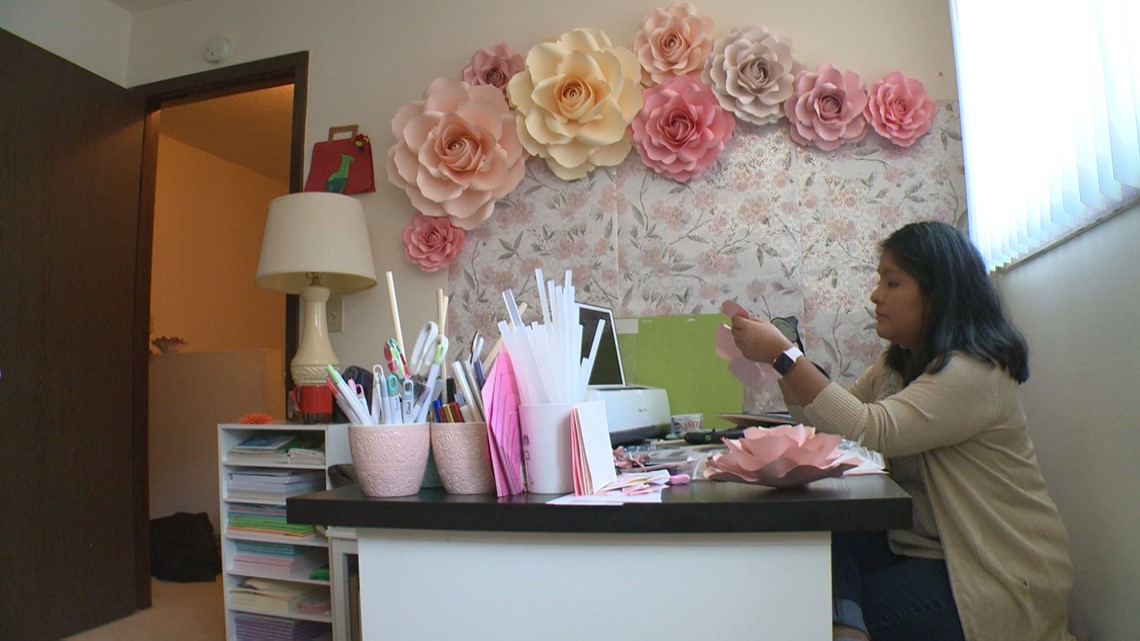 "I didn't think that I would grow this much... I mean I remember when I first hit I think 100 followers. I was really excited," she recalled.
Her Instagram now has more than 13,700 followers. After launching her Instagram, de la Cruz also started getting order requests.
"Before I started, it wasn't my intention to sell them or anything like that," she said.
de la Cruz works full-time for a social services agency and at night, she works on her paper flower orders.
"It's something that I have that I can, after work, I can come here and enjoy doing this," de la Cruz said.
She also designs templates through an app on her iPad Pro and then uses her Cricut Maker to cut the cardstock paper into those flower petal designs.
de la Cruz said she's surprised by how many people aren't familiar with craft tools, like the Cricut Maker, and said she would like to help others learn more about paper flower making, especially those within the Latino community.

de la Cruz remembers how hard it was at first to learn the craft, especially from other paper florists.
"You see that a lot will not, unfortunately, will not share because it's their business which is totally understandable but people want to learn too," she said. "I wanted to make sure that if I was asked a question then I would be able to share that info with others."
For those interested in learning how to create paper flowers, de la Cruz recommends first using the tools you already have: paper, scissors, a pencil to curl the petals and glue. de la Cruz uses cardstock paper for her creations.
"I would love to host tutorials or show how to make paper flowers... there are so many things that one can do at home but I would love to get that out there and show people all the things that you can do with your hands," de la Cruz said.
de la Cruz also offers some of her templates for free on her blog.