ST PAUL, Minnesota — Many of us don't think twice when brushing our teeth, scratching our heads or bringing a drink up to our mouths. But for some, this is an everyday challenge.
A Minnesota-based company has developed a device to help people who have limited movement in their arms gain more independence.
Joe Boerboom, 14, of Bloomington was diagnosed with Duchenne muscular dystrophy before his sixth birthday.
"With muscular dystrophy, eventually the muscles tire, wear out, and then they're not able to be used anymore. So he has lost all function in his legs and his arms are weakening over time. It's a slow, gradual process," said Jessica Boerboom, Joe's mother.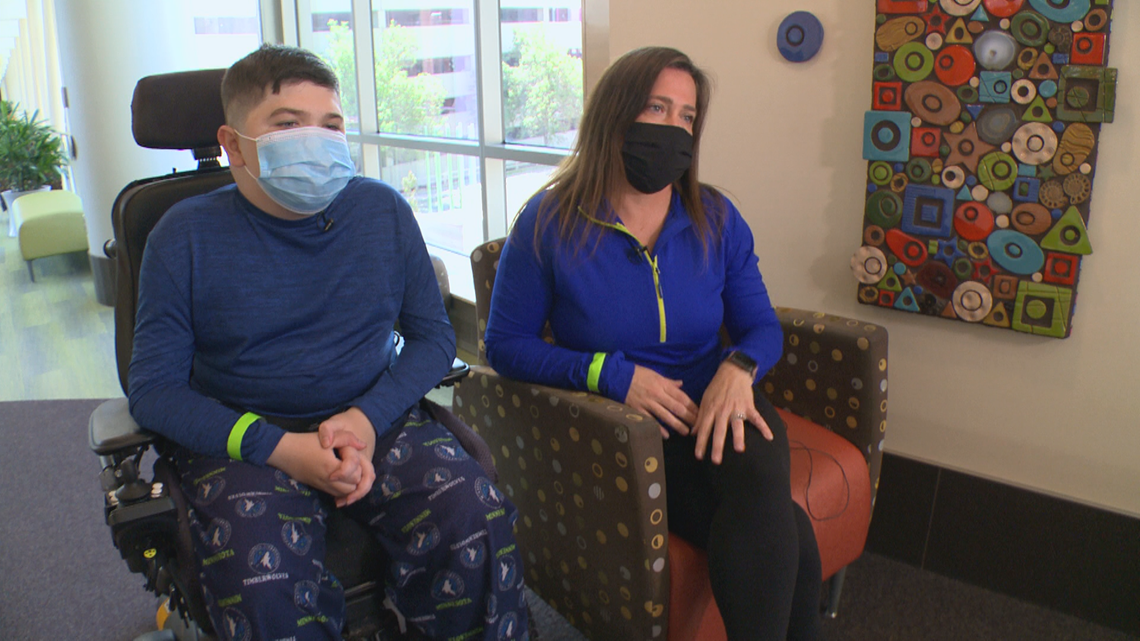 Because Joe has limited movement in his arms, there are certain things he has a hard time doing by himself.
"Things like brushing my teeth, drinking, eating, scratching an itch on my head... and like reaching out to grab stuff," Joe said.
Earlier this month at Gillette Children's Specialty Healthcare in St. Paul, Joe used the Abilitech Assist for the fourth time. He's used the device a couple times at home too.
The Abilitech Assist is an arm device from the Eden Prairie-based medical device startup Abilitech Medical. The device facilitates independent control of the arms by supporting and assisting both the shoulder and elbow.
"Our device has springs and motors to help create custom profiles for patients to support them in lifting different weighted objects," explained Shawna Persaud, director of clinical and product management at Abilitech.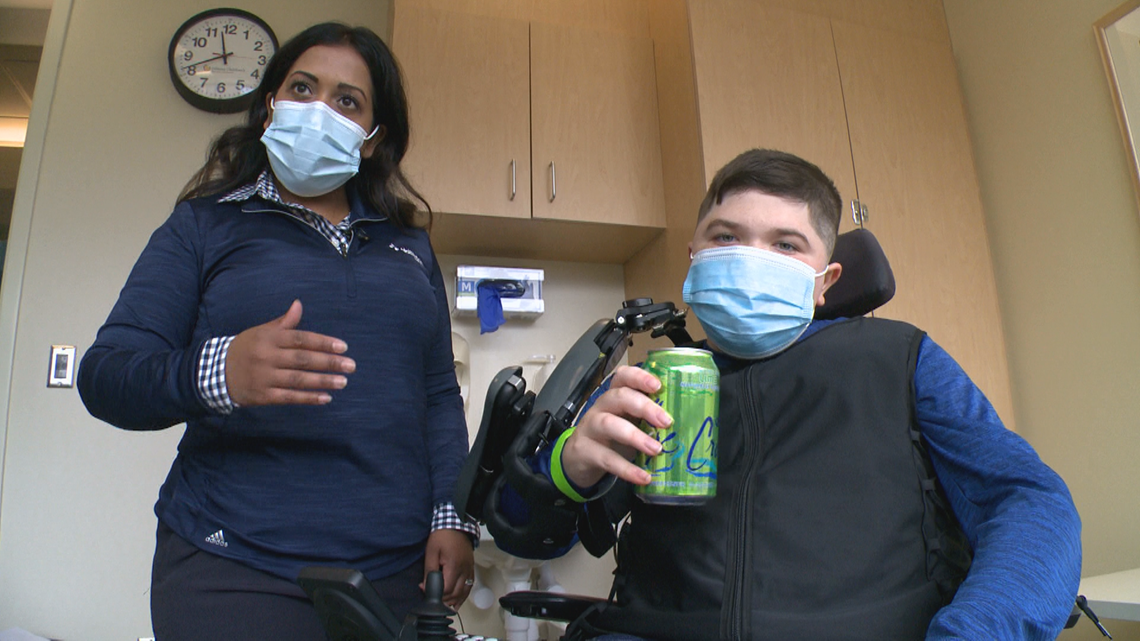 For example, when Joe is drinking a bottle of water, he uses one hand to hold the bottle and the other to lift both up. Once the device is on, Joe is able to lift the bottle of water up to his mouth with one hand.
"It was cool to be able to lift stuff that I hadn't been able to before for awhile," Joe said.
"Something like this could be life-changing, that it could offer him to be able to do this stuff by himself and he wouldn't need help," Gillette occupational therapist Leah Meyer said.
Abilitech Medical was formed in 2016 by founder and CEO Angie Zavoral Conley. Her background is in medical devices at Medtronic, where she worked on six different cardiovascular products.
"When we are able to fit a patient and see the lights go on in their eyes or their parent's eyes and know that we're making a difference in their lives is just a phenomenal reward," Zavoral Conley said.
Abilitech Medical is now kicking off new research with the University of Minnesota and Gillette Children's Specialty Healthcare to study the device.
"We're going to be working over the next couple of years, studying this device, optimizing it, and trying to make it the best that we can for these children," said Dr. Mark Gormley, a pediatric rehabilitation medicine physician at Gillette who will be leading this research.
Dr. Gormley said they will be looking at the device as it relates to daily activities and overall quality of life.
"We're hoping that this device helps children with muscular dystrophy, cerebral palsy, strokes, and various other disabilities. So we're going to try our best to find those kids that will work best with this device and improve this device," Dr. Gormley said.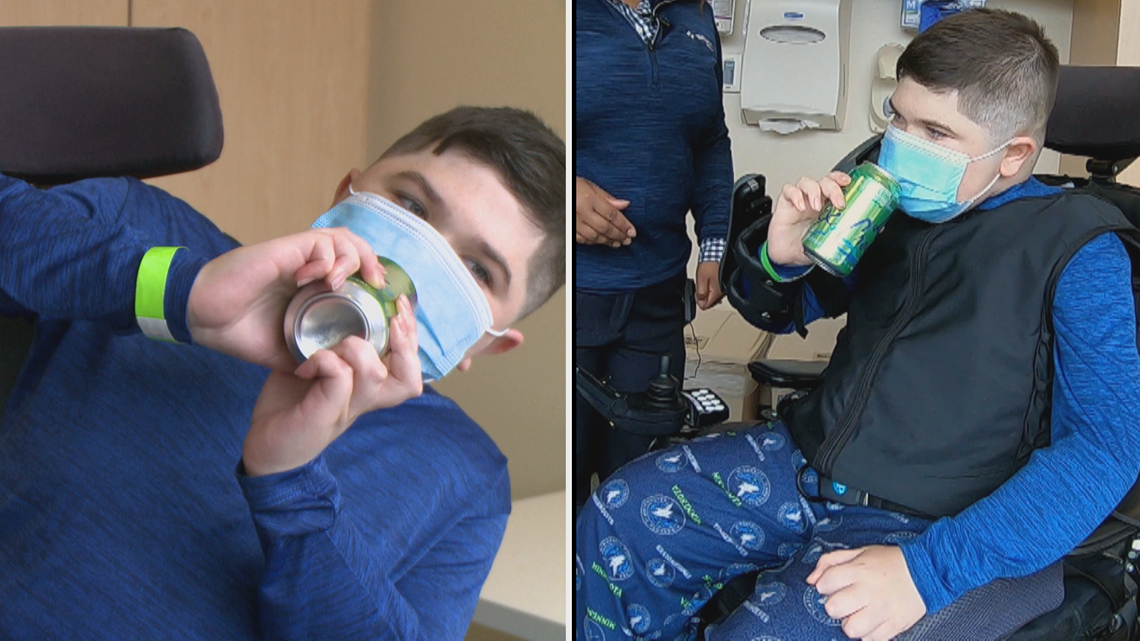 They are currently looking for 35 people with muscular dystrophy to join the study. The device works on people who are 5'0" to 6'4". To learn more about participating in the research, contact Gillette at 651-325-2795 or visit the Abilitech Medical website.
Dr. Gormley said they are looking for participants who have some movement in their arms but have difficulty bringing their hands up to their head or mouth.
Zavoral Conley said she envisions the device eventually becoming a standard of care.
"When somebody loses use of their legs, they get a wheelchair. When somebody loses use of their arms, we'll have Abilitech as a solution," Zavoral Conley said.
With the device on, Joe is able to not only lift up heavier objects with ease, but also fully extend his arm.
"If the weightlessness is there for him and it's not putting strain on his arm, it's a huge gift because over time they lose ability and this provides him more independence," Jessica said. "So I think for every parent and caregiver, it's a really big blessing to have technology like this."
The Abilitech Assist is already available commercially. You can reach out to Abilitech or Gillette for an assessment and to be fitted for it.
Know a local business we should feature for our Behind the Business segment? Email Heidi Wigdahl at hwigdahl@kare11.com.