WOODBURY, Minnesota — At the start of the pandemic, many families were stuck at home. To pass the time, the Siefferts would play board games. While the Woodbury family has always loved playing games together, they had extra time with twins Bridgette and Collin home from the University of Minnesota for the semester.
Bridgette recalled how in the spring of 2020, "We actually all four of us were playing a game. During the middle of the game, we kind of just thought out loud, 'Wouldn't it be cool if we had a University of Minnesota game?' I think we didn't even finish playing that game; we just started throwing ideas out saying, 'What if it had this as the goal? What if it mimicked student life?'"
Parents Karen and Kent, along with their kids Bridgette and Collin, spent the next two years getting the project ready.
It took about a year developing and designing the board game and another year to go through licensing at the U of M. The family worked with a local printing company in Shakopee and started seeing their first games of "GraduateTheU" in April 2022.
"I've played board games since as long as I can remember," Karen said. "Understanding now what it takes to begin with an inspiration and a little light bulb, and take that all the way to fruition, and have a shrink-wrapped product that I can see on a shelf and say, 'Wow, this is amazing.'"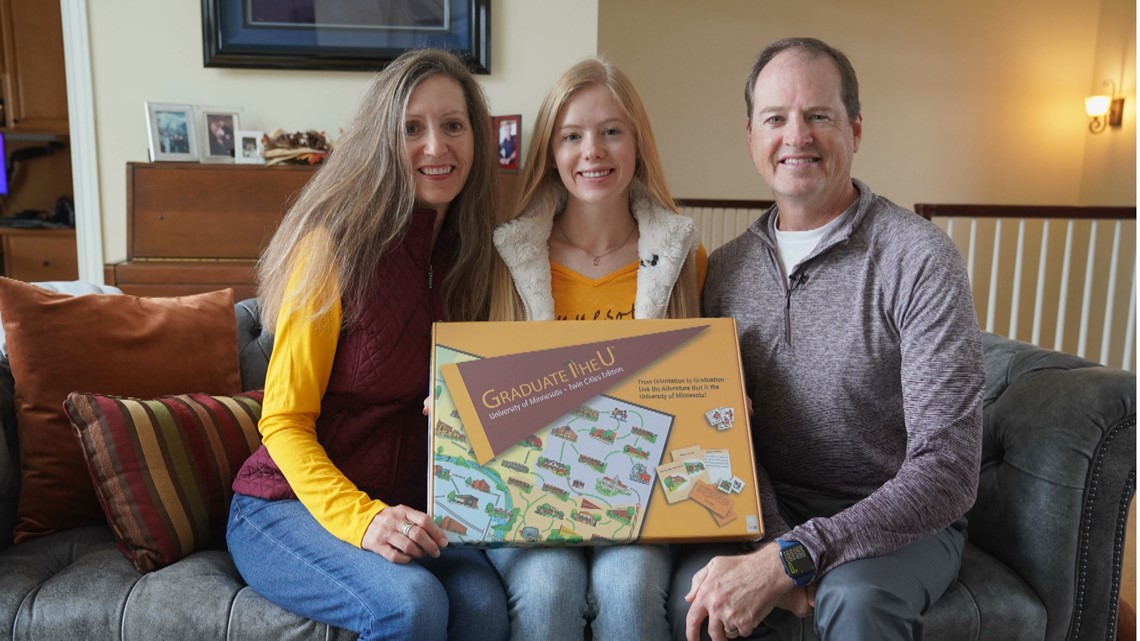 GraduateTheU is a board game that mimics student life at the U. The board is laid out like the campus with six regions. Each player gets a student planner they need to fill up by moving across the board. The planner requires one property card from each region and one of those has to be a college card. Cards include fun facts about the places players land on. Players also need to land on career fair and academic advising spaces to gain tokens, as well as reach 100 credits.
Once the planner is full, the goal is to be the first to make it back to the graduation space to graduate. GTU chance cards can help players get ahead or hold them back.
Bridgette graduated from the U with a bachelor's degree in computer engineering in 2021 and then got her masters in electrical and computer engineering. Collin also graduated in 2021 with a Bachelor of Computer Engineering. They based many of the cards off of their real-life experiences on campus.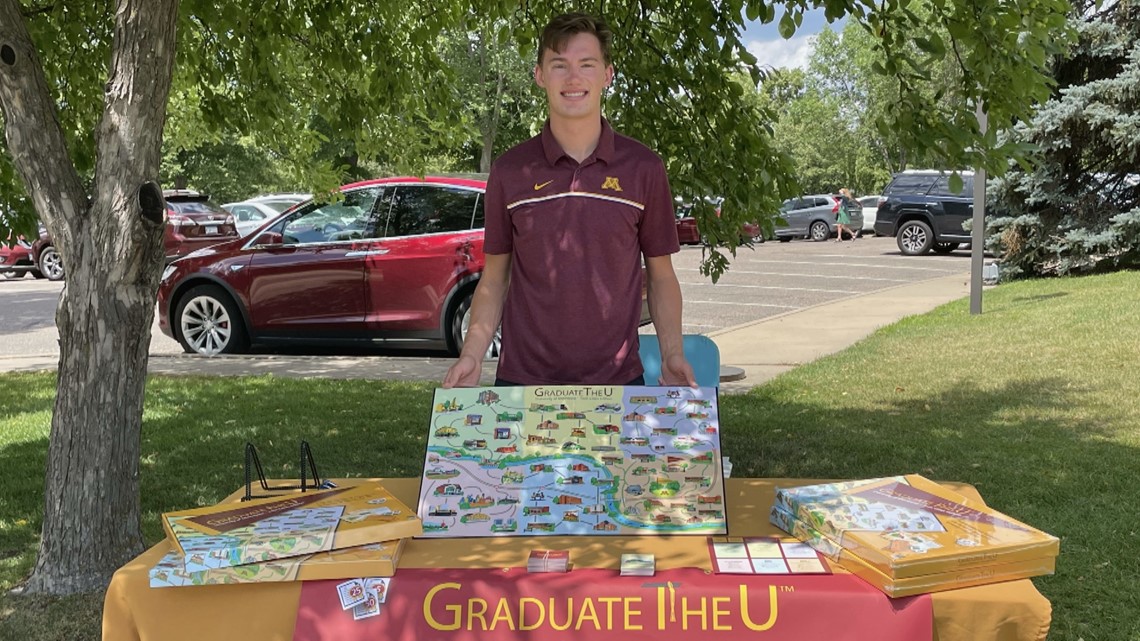 "It just brings up all the memories so I think it's cool. If other alumni can play the game I'm sure they'll land on spaces and be like, "I remember when I used to go here for breakfast' or different things like that. I love reminiscing when I play it," Bridgette said.
Kent attended the University of Minnesota Law School in the mid-90s and then taught at the law school for about 20 years. He still teaches in the College of Science and Engineering.
"As you can kind of race around the board and try to be the first one to graduate, you get to relive the geography and the zaniness, I guess, that makes up the college experience," Kent said.
Bridgette said it's also a great opportunity for new students to learn the campus.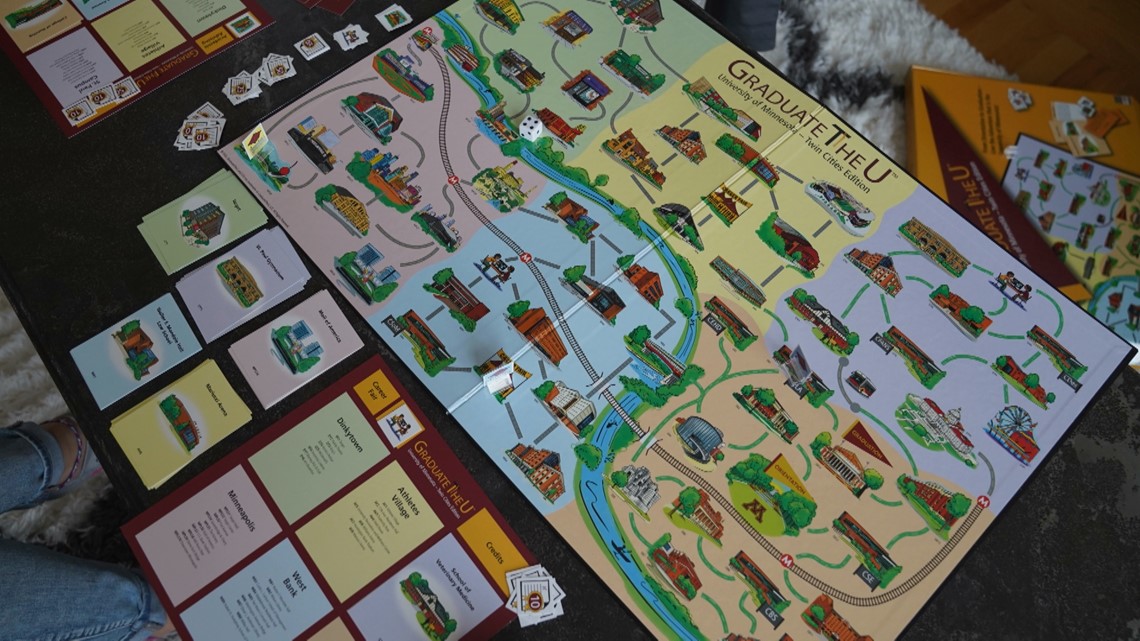 Each board game comes together inside the family's home in Woodbury. From assembling the boxes to picking out each card, the family does it all.
"Just an amazing journey. So much fun to do it with the family," Karen said. "That sort of bond that has started with our game, playing activities, and then morphed into... being the people who invented a game."
The game can include up to eight players and takes approximately 30 minutes to an hour. GraduateTheU retails for $59.99.
You can find it on the GraduateTheU website, as well as at the University of Minnesota Bookstore and MN Alumni Market.
Know a local business we should feature for our Behind the Business segment? Email Heidi Wigdahl at hwigdahl@kare11.com.