MINNEAPOLIS, Minnesota — A woman-owned bike repair shop is now open in north Minneapolis. It got its start with some help from a new program at Minneapolis Community and Technical College that aims to diversify the bicycle industry.
"It's a definite change of career for me... something totally out of my wheelhouse," said Amanda Dobbs, owner and CEO of Camden Cycles in north Minneapolis.
Prior to the bike shop, Dobbs was a stay-at-home mom for 14 years and before that worked in community education.
During the start of the pandemic, she decided she wanted to open a shop in the Camden neighborhood.
"I've been in this neighborhood for 15 years; I actually grew up in this area. There is a huge lack of community spaces for us," Dobbs said.
While searching for classes to learn how to fix bicycles, Dobbs discovered Minneapolis College's Bicycle Assembly and Repair Technician Certificate program. The program launched in the fall of 2021 and is one of only two post-secondary bicycle technician programs in the country.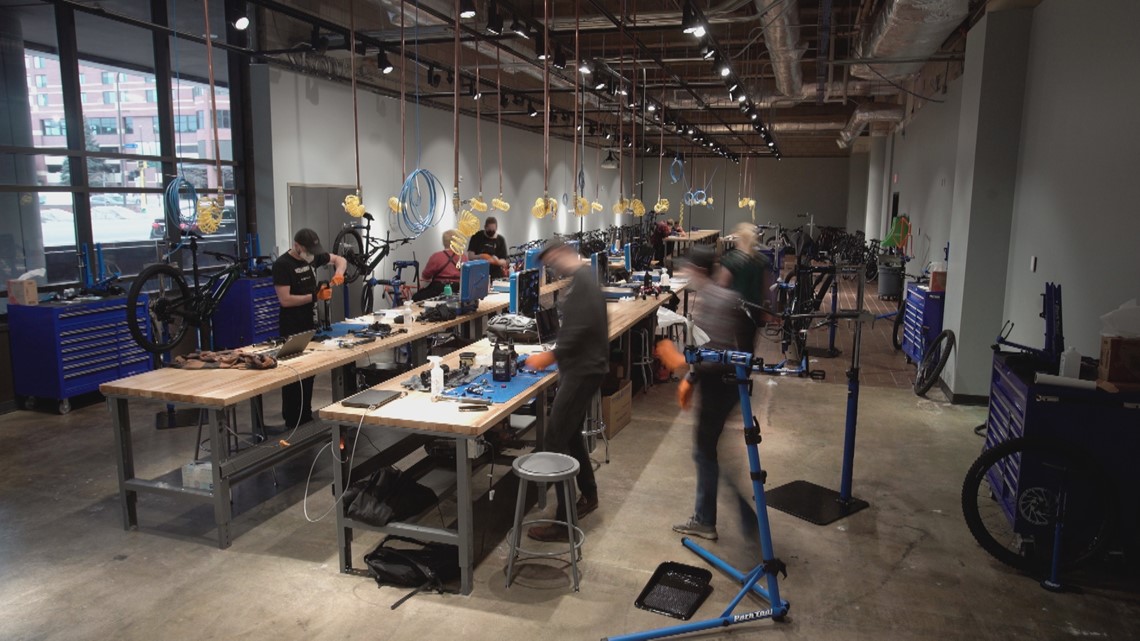 Minneapolis College launched the program in collaboration with the Bicycle Industry Employers Association (BIEA). The national nonprofit is on a mission to develop "smart, cost-effective programs" for regionally-accredited colleges — helping to create a direct path to careers in the bicycle industry.
Minneapolis College's is a two-semester, 28-credit program that starts during the Fall semester.
According to Minneapolis College instructor Casey Coughlin, becoming a bike mechanic is most commonly done through an apprenticeship.
"You learn from the head mechanic which sometimes is fantastic and sometimes is less than fantastic," Coughlin said. "So you get different experiences in different bike shops and having a centralized, accredited, standardized program, creates standards that are industry-wide for all the graduates."
Coughlin said the program also helps remove some of the gatekeeping seen in the industry.
"The bike industry is historically very white and very male. Particularly because you're kind of taking a bet on any apprentice that you hire. That white, male workforce, not necessarily through any fault of their own, tend to reproduce themselves very reliably," Coughlin said.
Coughlin said having the program at Minneapolis College makes sense with such a diverse student population.
"So we gain a lot of that diversity that we're missing in the industry," she said.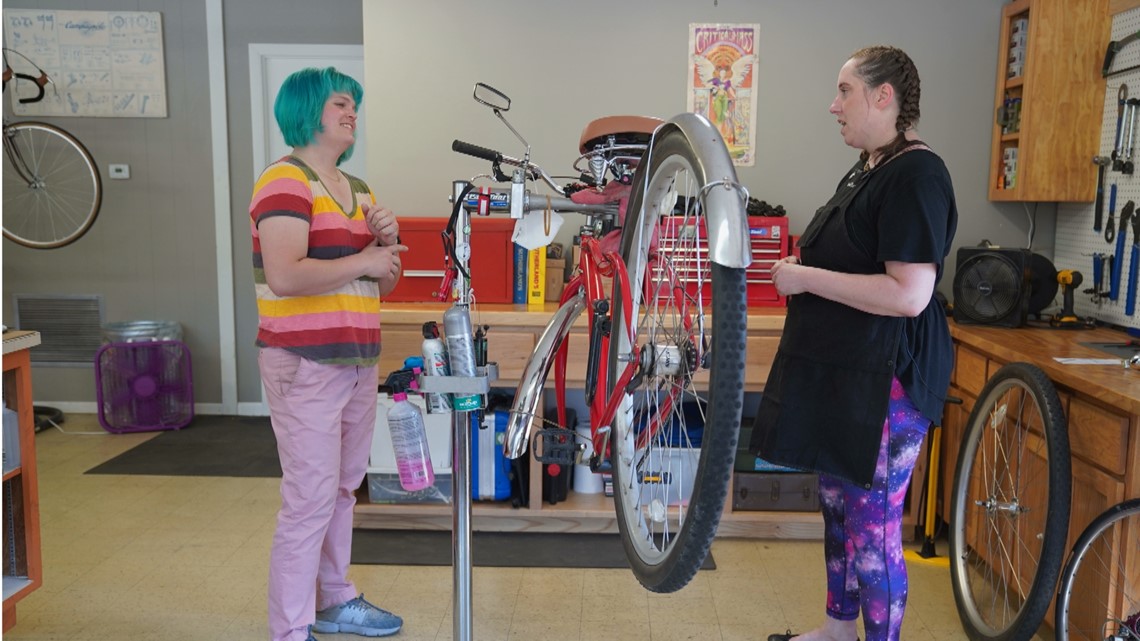 In its first year, eight students graduated from the program including Dobbs. By the end of May, Dobbs was opening Camden Cycles in the Loppet Foundation building on Dowling Ave. North. Dobbs said she is only aware of three other women-owned bike shops in Minnesota.
"It's a wild ride. A dream come true," Dobbs said. "Many marginalized people have negative experiences going into the bike shop and I want to create a safe space where anyone can feel confident asking any questions that they'd like to and I can meet them where they're at," Dobbs said.
Dobbs also considers Camden Cycles a family shop, babyproofing the place with covers on the outlets and corner protectors on the glass shelves.
She hosts free Open Shop nights from 6-8 p.m. on the second and fourth Monday of every month. Experts are available to answer questions and help walk people through the process of fixing their bike. Dobbs said she provides food and can watch attendees' kids while they learn about bikes. You can sign up at info@camdenbicycles.com.
"The most important part of my mission is to make sure that Northsiders, specifically, are able to get on bikes and to get on safe bikes and have everything they need to really fully enjoy this sport, this method of transportation," Dobbs said. "Everybody deserves to feel the joy that bikes bring."
Those interested in learning more about Minneapolis College's Bicycle Assembly and Repair Technician Certificate program can find information, here. Enrollment is open for the fall semester. Registration ends on September 20 and August 22 for those using financial aid.