MINNEAPOLIS, Minnesota — When Jamie Kienitz met her now wife, Souphak Kienitz, in 2012, it was during a difficult time. She was taking care of her grandparents who ended up passing away six days apart. In a three-year span, five other family members died.
"I learned that I emotionally ate, gained a bunch of weight," Jamie recalled. "I remember one day we were going to go out with friends and I tried everything on in my closet and nothing fit... I just started crying on the bed."
But it was more than the clothes not fitting.
"There's a lack of representation. No one has really catered to someone like her — a plus-size woman who likes to shop in the men's section," Souphak said.
Jamie added, "If you're plus-size and you like menswear clothing, it's either style or fit. You can't have both."
That's when Souphak presented the idea to Jamie of starting a clothing line.
Jamie began opening up to friends about her experiences with the fashion industry; their responses made her realize, "It's not just me. It's a problem that needs to be solved."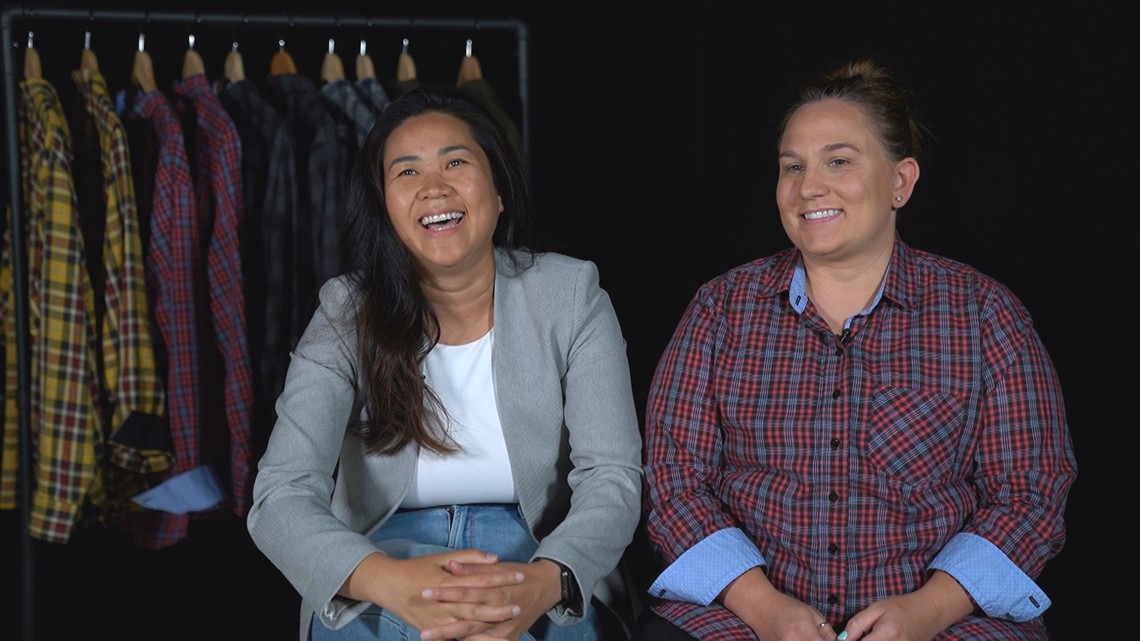 The online lifestyle brand Jay Victoria started to take root in 2017 but it took years for the couple to create the right style and fit for their button-down shirts.
The Minnesota-based brand creates shirts for plus women, nonbinary and queer humans.
While creating a clothing line was all new to the couple, Souphak graduated from the University of St. Thomas in 2016 with an undergraduate degree in business.
As an alumna, she received an email to apply for an accelerator program. Last summer, Jay Victoria was accepted into the gener8tor gBETA Accelerator Program alongside other alumni with start-up companies.
After completing the free, seven-week program, Jay Victoria received a $10,000 grant from the Schulze School of Entrepreneurship.
They used the money to soft launch their first production run in February with five different styles for button-up long sleeve shirts. Jay Victoria also upcycles fabrics from other brands to create more sustainable clothes.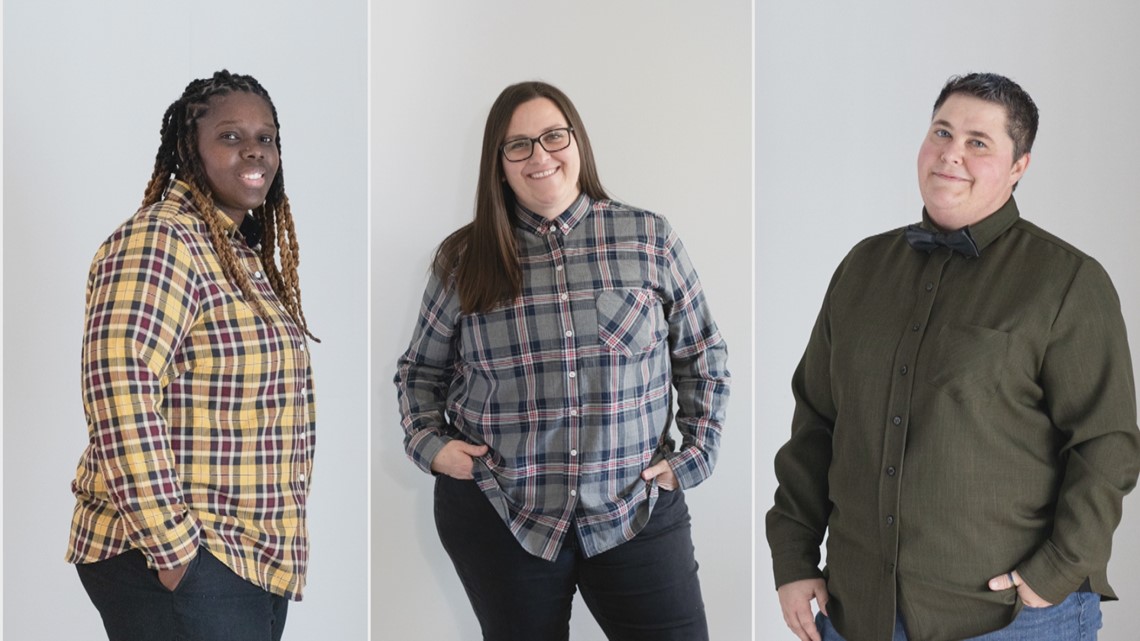 "We've been getting... very heartfelt feedback online," Souphak said.
The feedback they have received since their soft launch has moved them to tears.
"To actually watch somebody try it on and they start dancing or... all of a sudden their confidence just lifts. It's everything. It's why we're doing it. It's awesome. It makes me want to keep doing it," Jamie said.
Each shirt includes turquoise buttons on the cuffs as a reminder to be kind to yourself.
"From personal experience, I know that it's easy to be your own worst critic," Jamie said.
They hope to debut a full launch for Jay Victoria at the end of the year.
"It's much bigger than finding clothes for Jamie that fit or making any money," Souphak said. "We want to actually help and we see an opportunity, we see a gap, and we're like why not? Why couldn't it be us?"
Jay Victoria will be at Pride June 24-25 at Booth 0123 near the beer garden.
Know a local business we should feature for our Behind the Business segment? Email Heidi Wigdahl at hwigdahl@kare11.com.
WATCH MORE ON KARE 11+
Download the free KARE 11+ app for Roku, Fire TV, Apple TV and other smart TV platforms to watch more from KARE 11 anytime! The KARE 11+ app includes live streams of all of KARE 11's newscasts. You'll also find on-demand replays of newscasts; the latest from KARE 11 Investigates, Breaking the News and the Land of 10,000 Stories; exclusive programs like Verify and HeartThreads; and Minnesota sports talk from our partners at Locked On Minnesota.