RICHMOND, Minnesota — Parents know the struggles that come in the wintertime with keeping kids warm in car seats and strollers.
Christina Steil of Richmond, Minn. experienced it firsthand after having her first son, Lincoln.
"When my first son was about six months old, it started to get cold outside and he would constantly kick his blankets off. We had trouble with different covers, trying to find a way to keep him warm. I kept telling my mom and my husband, 'There has to be a better way.'"
But that better way Steil was looking for didn't exist. So with the help of her mom— a longtime seamstress— she made her first prototype. When Steil posted it online, more than a dozen of her friends contacted her right away requesting their own.
In the end of 2017, Steil launched Northern Style Baby and started selling the "BabyRoo." The BabyRoo is a patent pending pouch style blanket. Once a kid is strapped into the car seat, the BabyRoo can then be slid under the baby's legs. The legs go in the pouch and then the wings are tucked around their torso.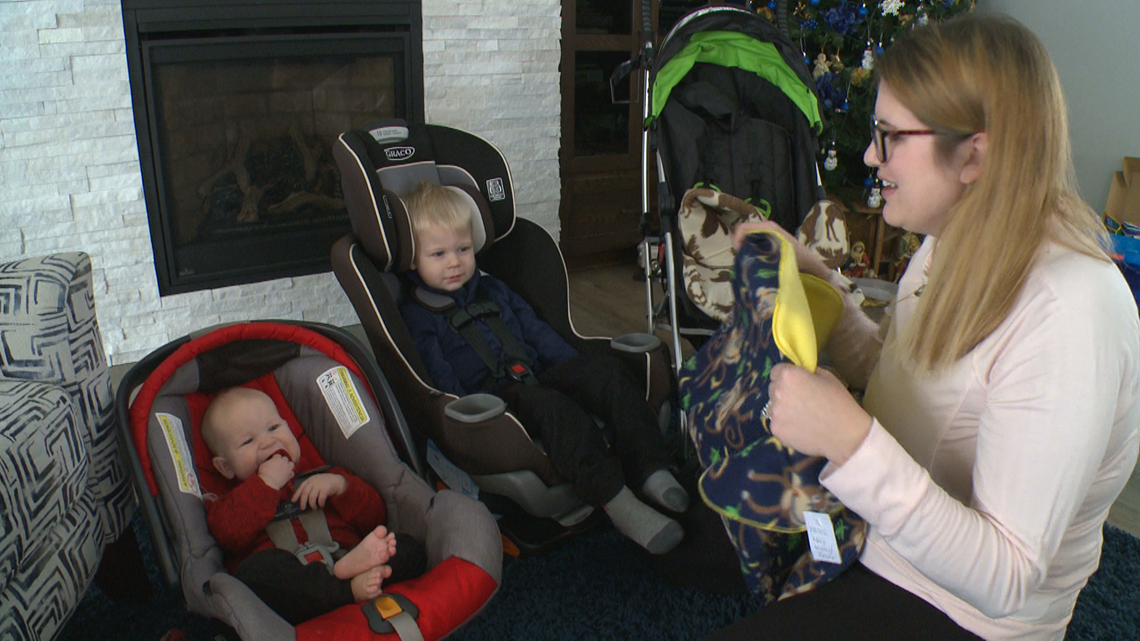 "A lot of times for car seat safety they talk about the car seat ponchos. We tried that. I didn't love it. It put a lot of fabric behind his head. He was still getting his toes out and exposed. Little ones' pants always slide up, the socks come off and all of a sudden now you've got this much foot exposed on an infant," Steil said.
Steil said the BabyRoo does not interfere with any straps and there's just enough pressure for it to stay put, avoiding the ground. It keeps legs covered, is reversible and can be used with every car seat and stroller.
Steil said it's also been great for kids who use wheelchairs.
"I've had several people contact me because their child can't stay warm in the winter in their wheelchair," Steil said. "So when you get to see how much you're helping other parents, it's really fun and really gives you a great feeling."
Steil has two kids. Hudson is seven months old and Lincoln is nearly three. While busy with her kids during the day, Steil works on orders typically between 10 p.m. to 2 a.m.
"I am my marketing team; I am my advertising team; I am my manufacturer," Steil said. "When I go to craft shows, I hear the same things over and over again. I hear a lot of, 'Where were you when my kids were this little?'"
Steil went on to say, "It's so simple but it's so easy to use... its simplicity is part of its greatness, I think."
The BabyRoo typically retails at $24.99 for 0-12 months and $29.99 for 6-24 months. You can buy a BabyRoo online through the Northern Style Baby Etsy shop.
Know a local business we should feature for our Behind the Business segment? Email Heidi Wigdahl at hwigdahl@kare11.com.