CORCORAN, Minnesota — It's not uncommon to see businesses run out of everything from food trucks to airstream trailers but a Corcoran business owner thought bigger.
"We're the only people we know that has 240 square feet of shopping," said Tia Scott.
Fox Run Mobile Marketplace consists of an old military truck, a 1966 military tactical operations center, that was remodeled into a mobile store. The 150-square-foot truck expands to 240 square feet.
Scott describes it as Minnesota's first-ever mobile home décor truck.
"It wasn't until we found this truck that we thought about an on-the-truck shopping experience and wanting to make sure that people had a different experience in the way that they were shopping for local, handmade artisan goods," Scott said.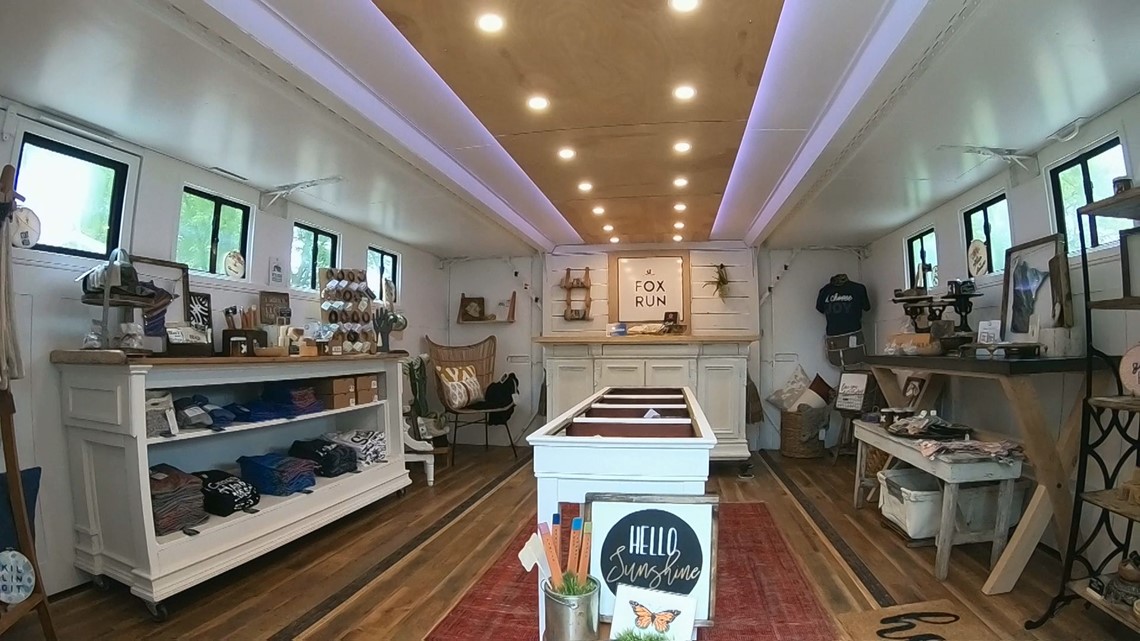 Scott and her husband, Aaron Scott, bought the truck last September and started working on it in December. By April, they were traveling the state and setting up at different events.
Fox Run Mobile Marketplace carries 13 vendors and they are all Minnesota-based artisans. Vendors include: 8th Avenue Market, ASpire Signs and Décor, Everart Designs, Found Home Farm, Grandma Skills, Hackberry, Midnight Oil Studio and Workshop, Moxie Mala's, Sebesta Apothecary, Socially Handcrafted, Spicy Nacho Décor, Studio Cyrk, and Spoonful Apparel.
"One of the focuses of our business is to connect artisans who don't maybe have the marketing, or the branding, or the capabilities and maybe they have a really amazing product," Scott said.
Vendors also work shifts on the truck, giving customers the opportunity to meet some of the artisans they're supporting.
"I don't have a storefront. I sell on Etsy. But this is a way for me to be able to interact with the people who end up buying the product," said Miriah Erickson, owner of Spicy Nacho Décor in Bloomington. "I get to talk to people and people can actually feel it and see it before they buy it."
Besides promoting local artisans, Scott said it was important to them that the mobile marketplace be an environmentally friendly build-out.
'We've built all of this in mind with the idea of LED lighting, the most efficient generator we could find, sustainable, responsibly-sourced materials like yucca board. The flooring is a lifetime product flooring..." Scott said. "And essentially remodeling the truck head to toe instead of sending it to the dumpster."
It was almost important to Scott that they support charitable organizations. One of their vendors is Spoonful Apparel, a business that donates half its profits to helping end childhood hunger.
The featured artisans have also gotten to know each other, developing relationships because of the truck.
"I'm enjoying the way our community of artisans have come together and I hope that for the future our truck continues to promote local," Scott said.
Fox Run Mobile Marketplace's next shows include:
June 8, Summer Buzz at Urban Growler, St. Paul, MN
June 14th Grey Minnow Vintage Revelry, Austin, MN
June 21st Midwest Renewable Energy Fair, Custer, WI
July 13th Omni Brewing Pop-Up Market, Maple Grove, MN
You can stay updated on Fox Run's schedule by visiting their Facebook page.