MINNEAPOLIS, Minnesota — Jillian McGary is on a mission to help others enjoy an easy, home-cooked meal in under 30 minutes.
It started in 2014 when her sister-in-law was diagnosed with breast cancer. She, along with other family and friends, brought casseroles to help feed the family. McGary quickly realized only so many bulky pans could fit in the family's freezer. So McGary started bringing just the fillings.
"I realized all of the work of cooking was chopping the veggies and browning the meat but once that was done she could assemble the meal in minutes," McGary said.
McGary started using them herself.
"Sometimes I just want an easy meal. You come home from work, you have a soccer game, you have a meeting," McGary said. "I just thought, this has got to help other people if it makes such a big difference for me."
McGary launched a Kickstarter in 2017 and Mostly Made officially launched in Deephaven in 2018. The meal starters are produced at a USDA certified facility in the Seward neighborhood of Minneapolis.
Mostly Made meal mixes do all the chopping and prep for you. The business has three products: Enchilada Filling, Skillet Lasagna Mix and Shepherd's Pie Mix.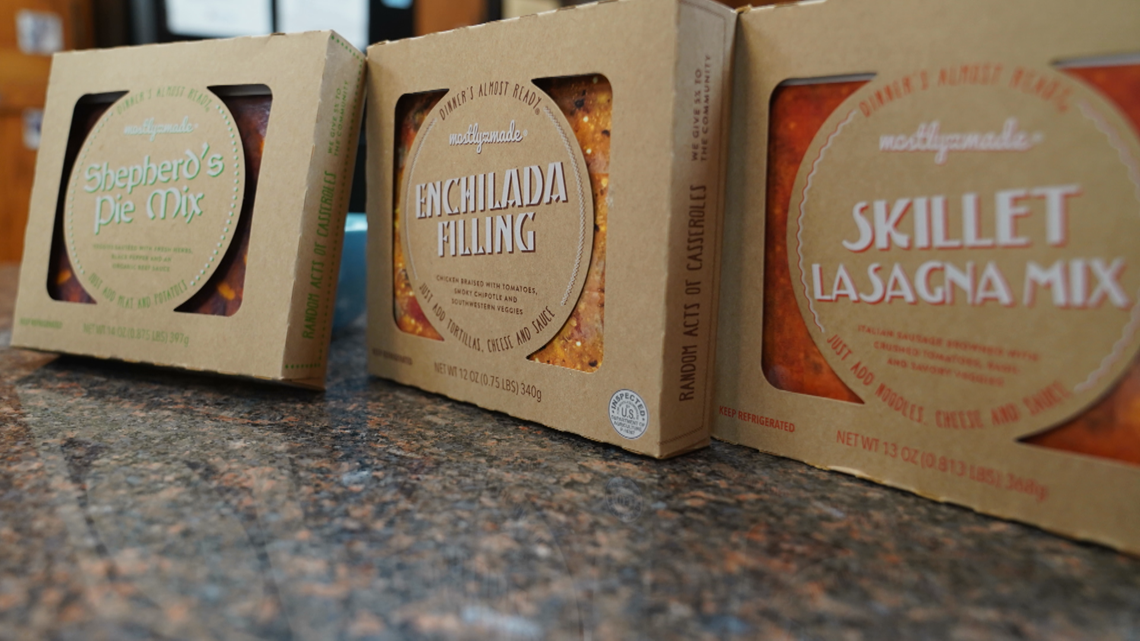 According to McGary, the Skillet Lasagna Mix can be ready in about 15 minutes while the other two take about 20-30 minutes.
"We just make cooking fun and easy. So you don't have to trade off flavor. It tastes like a shepherd's pie you might get at an Irish restaurant in the Twin Cities," McGary said.
Mostly Made's meal starters can be found in about 80 stores. In May, they launched in Super Targets across the Midwest.
"This year we're up like 350% year over year. But we actually struggled when COVID happened because we couldn't do grocery store demos anymore and that was driving a lot of sales," McGary said.
Mostly Made donates 5% of profits to the community through its Random Acts of Casseroles program. The company has donated more than 3,000 meals to groups like the Ronald McDonald House.
Tuesday afternoon, McGary visited the Ronald McDonald House on Oak Street in Minneapolis to prepare meals that would feed families at one of RMH's St. Paul sites.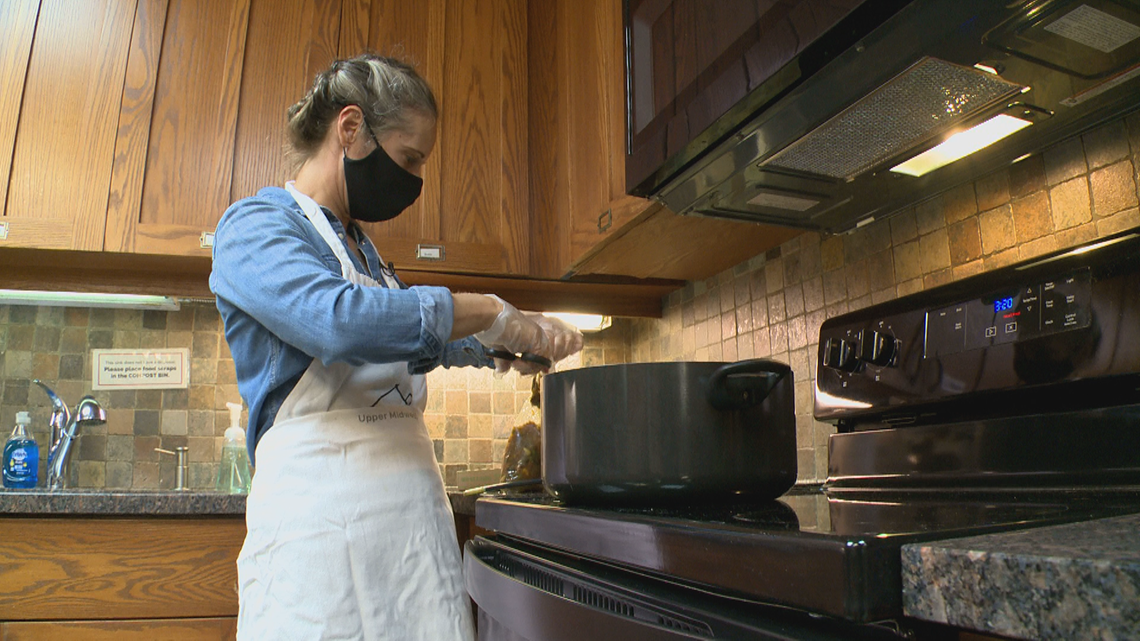 "We're a home away from home for families and children facing critical illness or injury," explained Amy Ament, chief operating officer at Ronald McDonald House Charities, Upper Midwest.
The pandemic changed how RMH was able to do meals at their sites. Ament said they were used to volunteers preparing dinner for families every night. Because of COVID-19, they had to hire a chef and now provide three meals a day to families at their five Minnesota locations.
"It's a big burden on our program and an expense that we hadn't seen before. The volunteers who used to prepare the meals also brought all the ingredients and so now we are providing the meals and preparing in our kitchen," Ament said.
Mostly Made donations have helped the organization and it's a quick meal to make when serving 125-150 people per meal.
"The families couldn't be more grateful," Ament said.
Alicia Fenner and her son Garret Fenner, 15, of Fargo have been staying at the Ronald McDonald House on Oak Street since February due to Garret having a progressive kidney disease.
"We're just waiting for a kidney transplant and got word today that we have a match," Alicia said.
When it comes to the meals at RMH, she said, "It's one less thing you don't have to worry about."
"Because the idea started as a better way to bring meals to my sister-in-law, it became something that we wanted to continue with the business at a bigger scale," McGary said.
She added, "It's sort of like bringing the comfort of a warm meal when you need it."
Each mix costs $9.99. You can locate a store selling Mostly Made, here.
The Ronald McDonald House is also always looking for food donations, especially healthy food and snacks. If you or your business would like to help, you can call the main office at 612-331-5752.
Know a local business we should feature for our Behind the Business segment? Email Heidi Wigdahl at hwigdahl@kare11.com.