ALEXANDRIA, Minnesota — Every year, people go to the extreme to support Special Olympics Minnesota through the Polar Plunge.
These plunges typically play out on frozen Minnesota lakes. But they also happen on-site at schools across the state through the "Cool School Polar Plunge."
"What traditionally started out as year-round sports training for somebody who has an intellectual disability, now we've got all kinds of programming," said Bill Fish, executive vice president for Special Olympics Minnesota. "We're here at a school supporting our Unified programming where anybody can participate."
Wednesday afternoon, the Polar Plunge returned to Discovery Middle School in Alexandria for the third year. Dollars raised support Special Olympics Minnesota and inclusive programming in the school.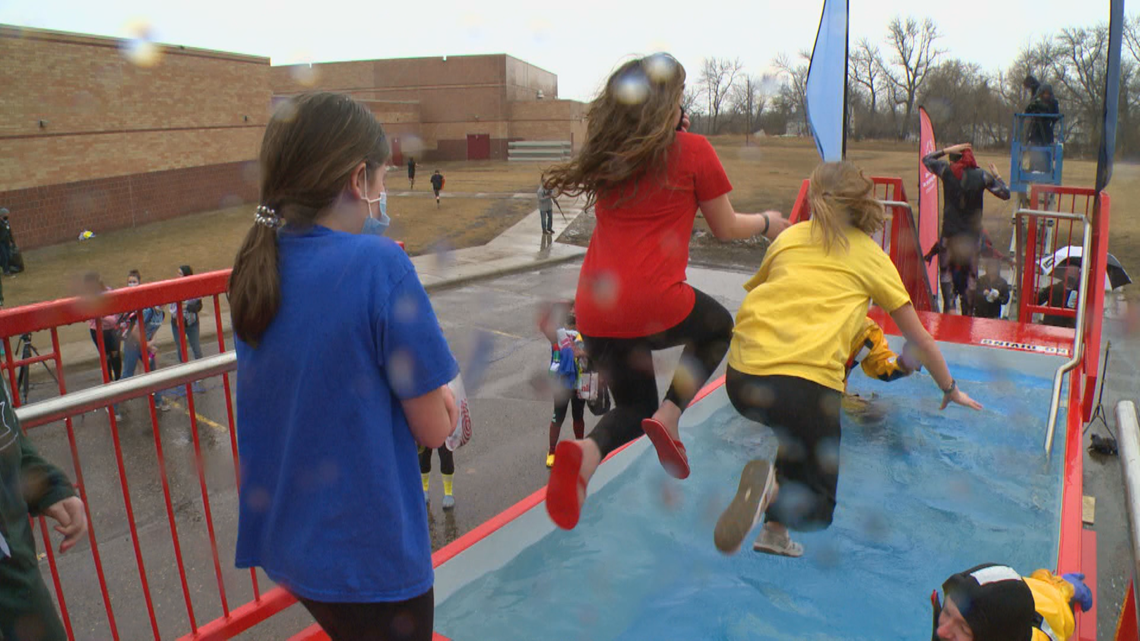 The Cool School "Mobile" Plunge is a twist on the original. Instead of on a frozen lake, it takes place in the school parking lot.
"It's huge for schools... When we first pitched this idea four years ago we told our administrators, 'We want to do this.' They said, 'Kids, lakes, ice, no,'" recalled Lukas Gotto, laughing. Gotto is the technology integration specialist for Alexandria Public Schools and one of the lead coordinators for the Cool School Plunge in Alex. "Liabilities are crazy with the school and busing is nuts. Then I said, 'What if we could bring the plunge here?'"
For the first two years, they used a roll-off container with a custom pool liner built in. Platforms, stairways and railings were built around the makeshift pool.
"We were building platforms and stairways here and it was an all-day process. So we thought, 'What can we do to make it easier?'" recalled Sgt. Keith Melrose with the Alexandria Police Department.
While Sgt. Melrose was building the platforms for free, he said some events were charging $5,000-$6,000 to get it set up.
"My boss and I actually sat in my office one day and we brainstormed and we came up with this in our head," Sgt. Melrose said.
Pro-Tainer typically manufactures refuse and recycling containers and trailers that go all over the United States and some overseas.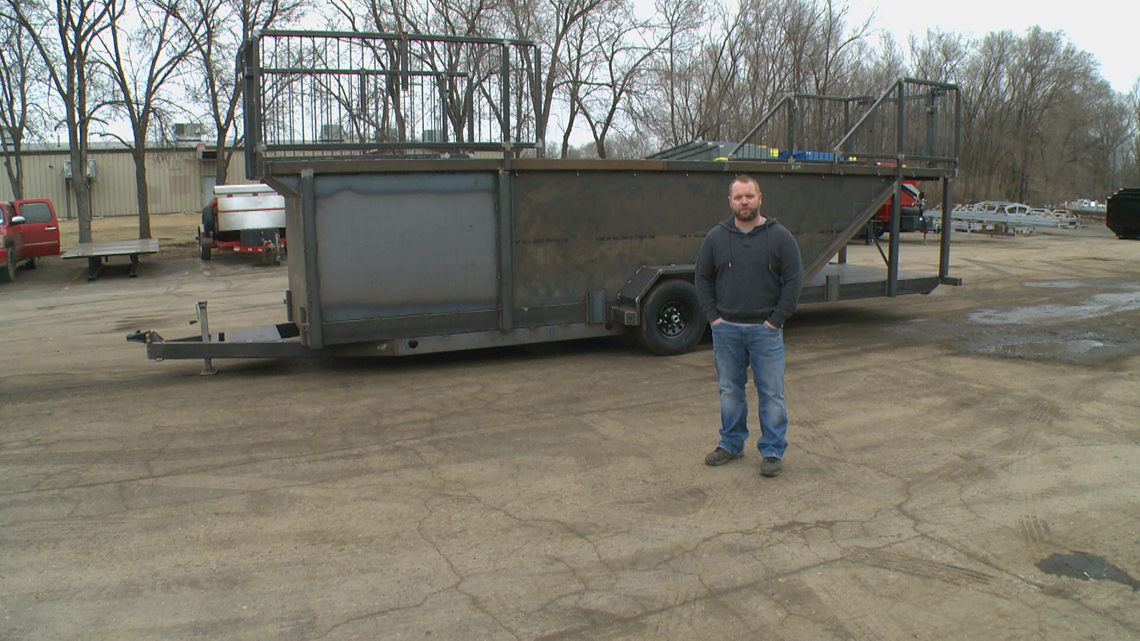 The family business started in 1990 with Shane Schmidt. Son, Shaynen Schmidt, worked from the ground up in the business and became a partner in 2005.
"It's a pretty awesome deal. To be honest with you, it's more special for us because it's going for a good cause," Shaynen Schmidt said.
The "Plungester" — also called a "Pro-Plunge Trailer" — was built last year but wasn't able to be used because of COVID-19.
It's basically a portable swimming pool. People enter the stairs on one side, jump in, and then exit on the other side.
"The nice thing with the water that's put in here is there is actually a pump and a pool system, piping... filters that would go in a normal pool, is incorporated in this, as well. So it's more sanitary," Schmidt explained.
Pro-Tainer is now building two more Pro-Plunge Trailers. Another one is headed to Special Olympics Minnesota and the other one will go to Special Olympics Iowa. They should be ready in the next two to three weeks.
The "Plungester" will be used at mobile Polar Plunge events all across the state. Besides a test run with some executives, it was used for the first time this week in Alexandria.
"Because this thing was thought of here and built here in Alexandria, we really wanted to be the first people to use it here," Sgt. Melrose said.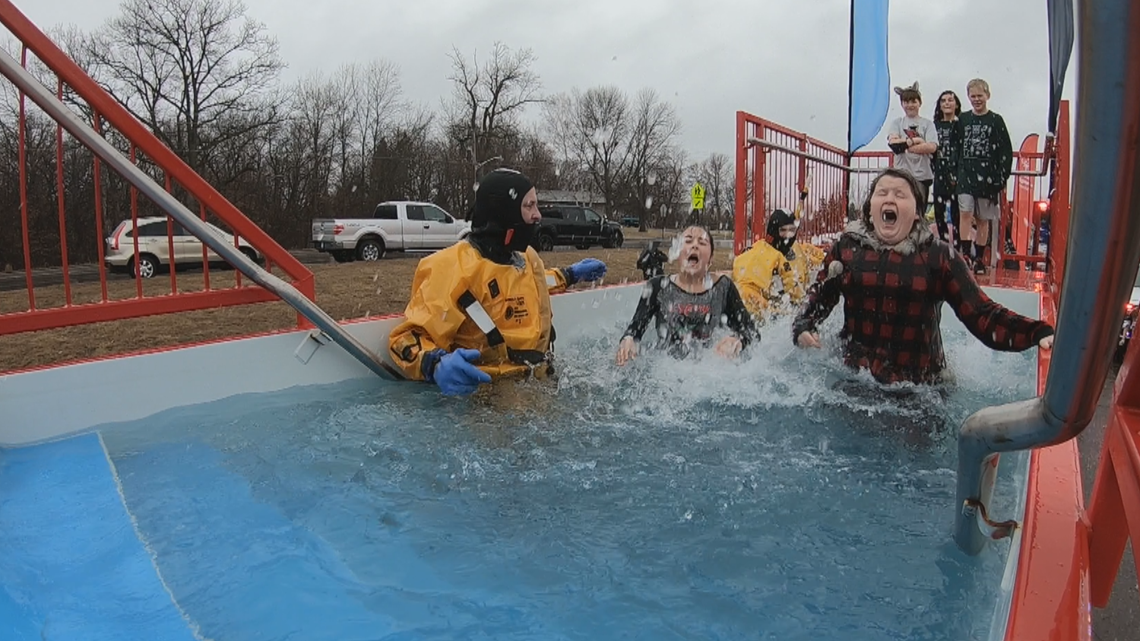 More than 350 students participated in the plunge, raising more than $45,000. They broke their own record and have the largest single school record in the state.
"We broke it again for the third year in a row which is kind of fun. So in the three years doing this, we're up to about $105,000- $106,000 raised by students for Special Olympics," Gotto said.
"The funding is much needed. More so for the long-term than it is for the short-term. Gosh, I'll tell you this, we've got our athletes and they are really itching to go. So the sooner that we can get those athletes back on the playing field the better off we'll all be," Fish said.
The money that benefits the school helps them pay for things they typically cannot afford, like extra jerseys and scoreboards.
"This is fun. This is what we do. This is middle school to the extreme right here," DMS Principal Matt Aker said.
Because of COVID, parents were not allowed to watch in person. Instead, they held a live stream for the event.
Special Olympics Minnesota will still have more than 20 traditional events out in the lakes but it will also have its mobile Polar Plunge events. The pandemic shifted the entire Polar Plunge schedule. Last weekend was their first week and events will run until May. Alexandria's community plunge will take place April 11 at Arrowwood Resort.
Fish said he anticipates they will still have about 7,000 participants. This year's Polar Plunge events will follow safety guidelines set by the Minnesota Department of Health.
There is also an option to participate in their Virtual Plunge for those who want to get involved from home.
Know a local business we should feature for our Behind the Business segment? Email Heidi Wigdahl at hwigdahl@kare11.com.