MINNEAPOLIS, Minnesota — A new boutique in Uptown is bringing women makers together to create a community space.
During Hispanic Heritage Month, the collective is taking part in the celebrations while highlighting their Latina entrepreneurs.
"Hispanic Heritage Month is a great opportunity to highlight and support Latino makers. We are really an important piece in our society and we can bring so much color and diversity... to the American culture," said Laura Merino-Franco, founder of Primitiva Collective.
Merino-Franco started the collective as a way to connect with other local makers after experiencing isolation during the pandemic.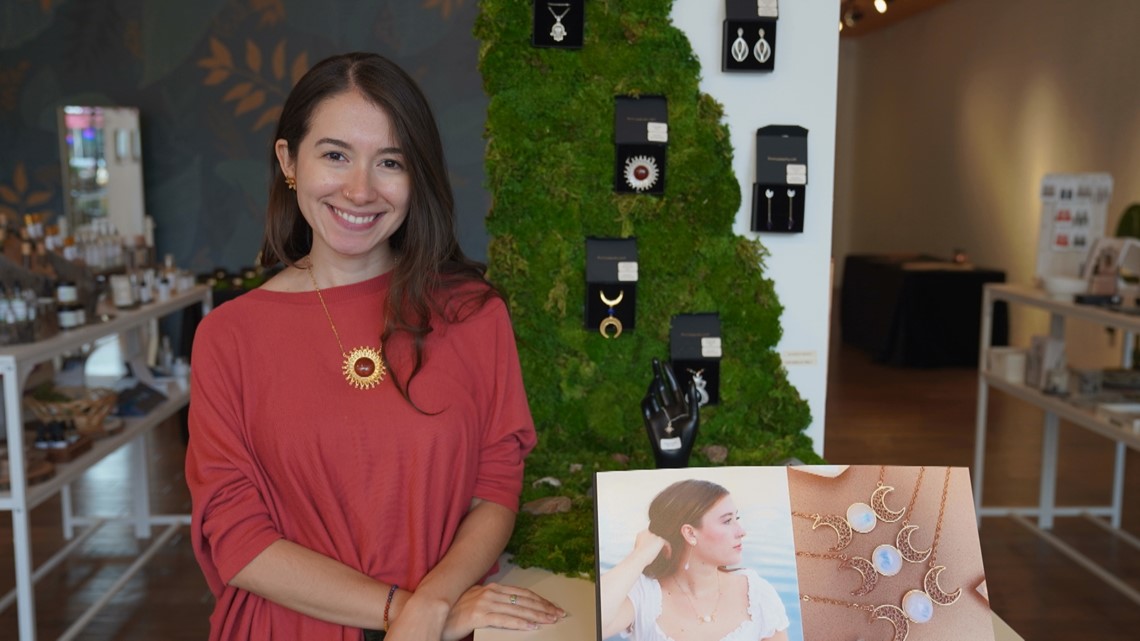 Born and raised in Colombia, Merino-Franco grew up watching jewelers use the ancient technique of filigree. It led to her launching Primitiva Jewelry in 2020. While filigree is not unique to Colombia, Merino-Franco's designs reflect a style that is unique to the Mompox area. The items she designs are handcrafted by Colombian artisans.
"I wanted this to be connected to my roots and being able to enhance the lives of the people in my country," Merino-Franco said.
Daniela Jimenez tries to do the same for makers in Mexico by carrying some of their products in her shop. Jimenez moved to Minnesota from Mexico City four years ago and now runs Pink Giraffe Mx — an online shop that offers personalized gifts.
"It becomes just like a chain of trying to do good for everybody," Jimenez said.
Illustrator and artist Violeta Rotstein is also part of the collective. Rotstein's work is inspired by nature, along with community and a sense of magic.
During Hispanic Heritage Month, Rotstein said, "It's also good to just explore and appreciate how diverse Latin America is... my culture in Argentina is so vastly different from say like Mexico or Brazil."
About a fourth of the artisans part of Primitiva Collective are Latina makers. Merino-Franco also estimates that 90% of the businesses in the collective started during the pandemic.
Marisol Skov of Lulu's Way has a free-hand wood burning art business. After losing her job during the pandemic, she picked up the hobby — eventually creating a business.
"I really enjoy the tedious process of it... With me, I wanted to kind of channel a lot of the stress from mental health issues. So I really wanted to focus and just relieve all of that," Skov said.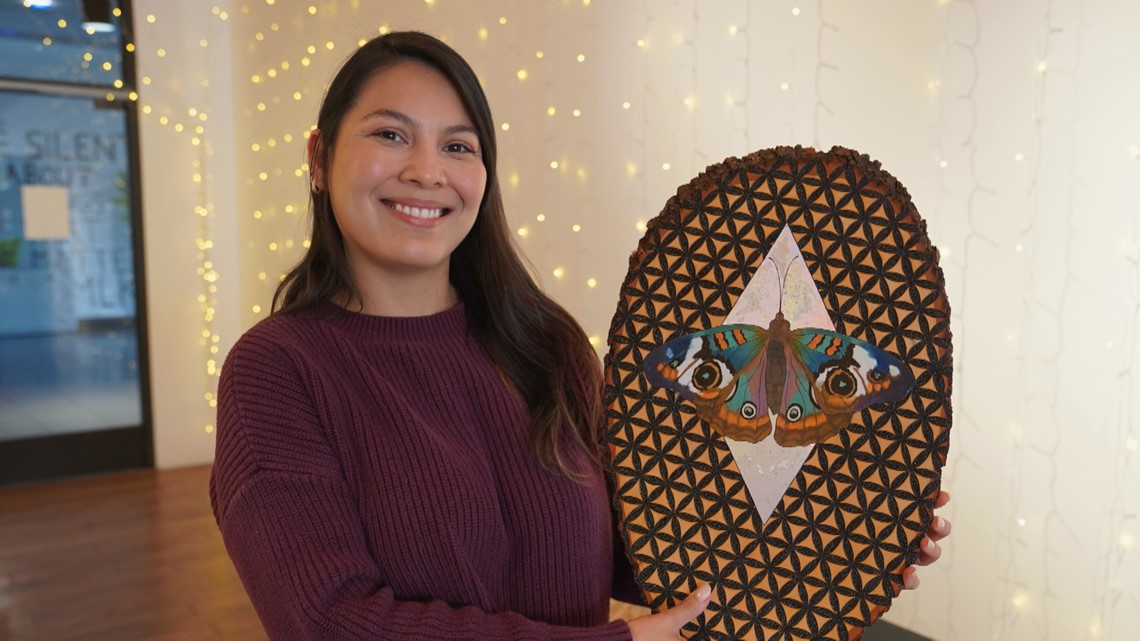 Primitiva Collective is not only a retail shop but a community space. They offer weekly classes and workshops and also use the space for healing services.
Skov will be teaching a pyrography class on Oct. 6.
"I've learned a lot about a lot of different business owners and their backgrounds and what made them want to be business owners in the first place," said Noelle Webster, founder of Lexurious Skin Care. Webster started her business in May 2020 as a way to cope with postpartum depression.
"I truly believe in the power of community and working together. We have really seen it since we started three months ago how much we have accomplished just by uniting our voices and uniting our strength," Merino-Franco said.
The collective is in a temporary space. They are looking for a permanent home in Uptown.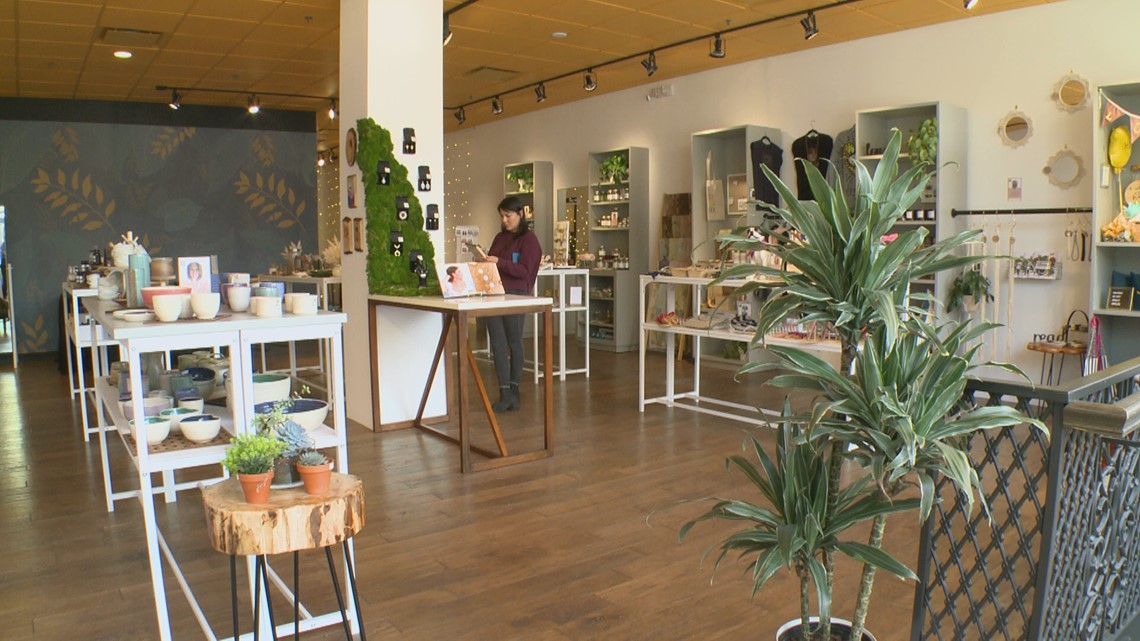 In celebration of Hispanic Heritage Month, Primitiva Collective is holding a free event on Sunday from 10 a.m. to 11 a.m.
It will feature local author Pamela Mercado Michelli. She wrote the book "Daniela y Mateo Viajan A Puerto Rico" which celebrates the uniqueness of the Puerto Rican culture. Mercado Michelli, who is originally from Puerto Rico, was inspired to write her first children's book for her daughter.
"There are a lot of books that are in Spanish but they were translated and they're also not from Latinx authors. So it is limited, the options for originally written in Spanish by a Latinx author," Mercado Michelli said.
Along with a children's storytime, the event will include dancing, maraca making, traditional food and more. You can RSVP for the free event, here.
Primitiva Collective
Open Thursday-Sunday, 10 a.m. to 6 p.m.
3001 Hennepin Avenue
Minneapolis, MN 55408
Know a local business we should feature for our Behind the Business segment? Email Heidi Wigdahl at hwigdahl@kare11.com.