EAGAN, Minnesota — The pandemic forced a lot of businesses to pivot.
Tina Rexing of T-Rex Cookie Company found herself in that position last year.
"The pandemic kind of forced my hand in terms of what can we do to keep us afloat," Rexing said.
The Eagan-based cookie company is known for its giant cookies — the smallest being half-pound pucks.
Prior to T-Rex Cookie, Rexing spent 20 years working in corporate America. As a hobby, she was a competitive baker at the Minnesota State Fair. But in 2015, she took a leap of faith and launched T-Rex Cookie.
"Eight months after I started the company, I landed on the Today Show and kind of changed the trajectory of the company. So that was not in the business plan," Rexing said.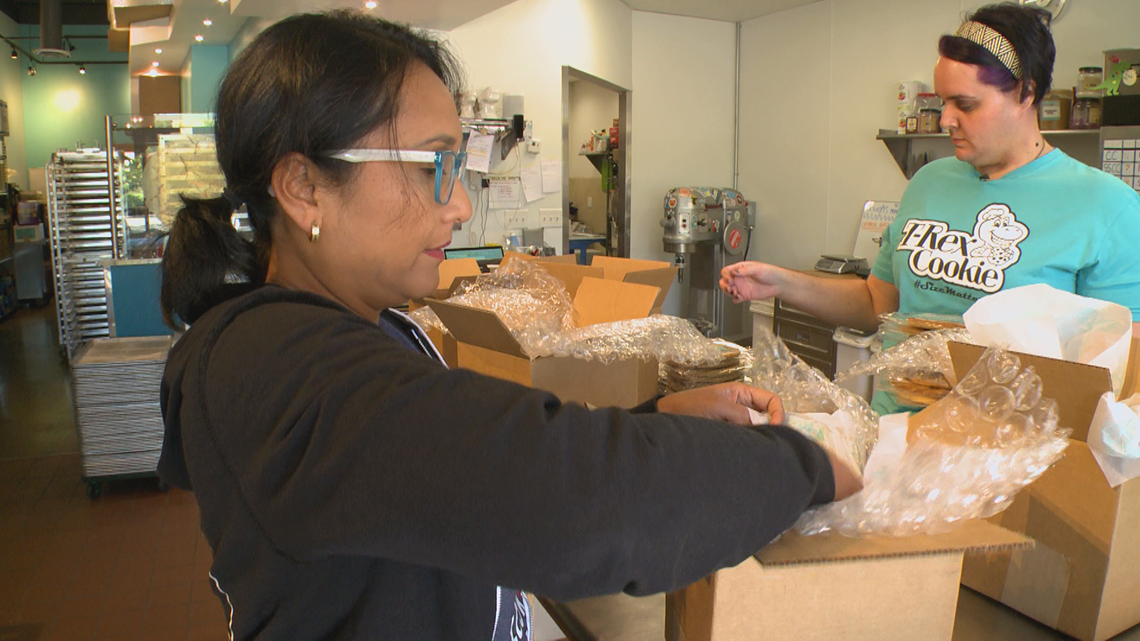 Besides her Eagan shop, Rexing opened a second location inside Ridgedale Mall on March 1, 2020.
"14 days later I closed it. So my retail and wholesale accounts just kind of dried up because COVID was happening," she recalled.
Even after reopening three months later, business was not the same. The company was pushing out more online orders but Rexing also wondered if customers could bake T-Rex cookies at home.
In October 2020, Rexing started testing out the idea with her customers. By January 2021, her frozen cookie dough could be found at the Plymouth Hy-Vee. By the end of the month, the cookie dough could be found at 13 Hy-Vee stores and 11 Kowalski's locations.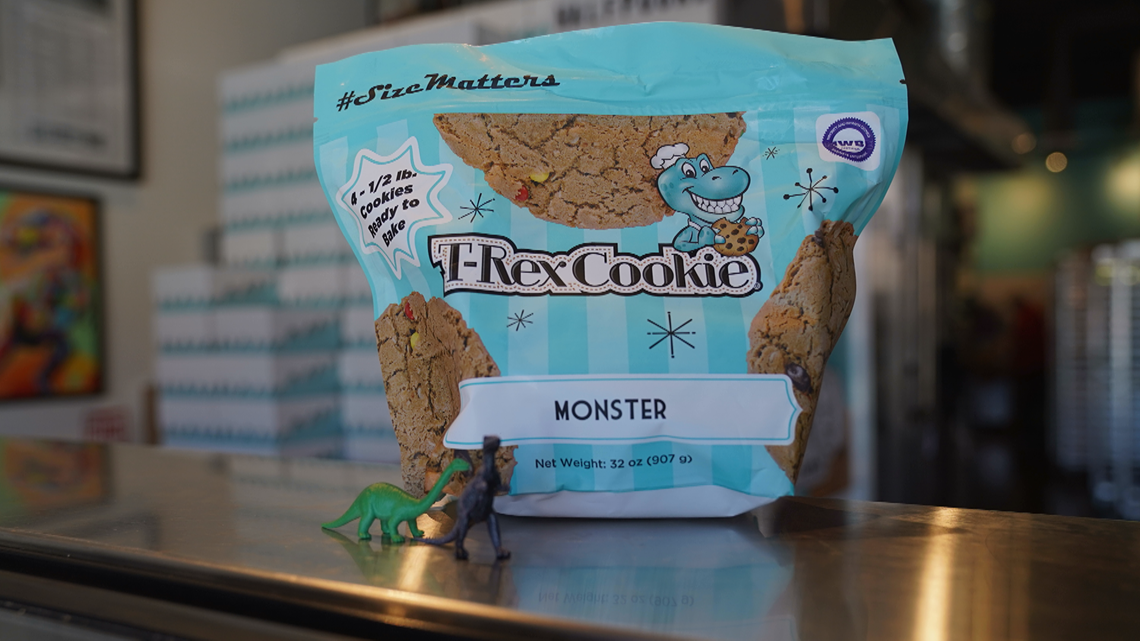 "Retail is really tough these days and so by taking a look at other ways we can sell T-Rex cookies, I thought the grocery store would be the best way," Rexing said.
The two pounds of cookie dough are split into four half-pound pucks. Now two of the flavors are coming to the frozen dessert section of 63 Target stores on October 10. About 80% of the stores are located in Minnesota but Rexing said the cookie dough will also be in a few Targets in Iowa, Kansas and Missouri.
"It's just very exciting to see it go off on a truck with Target logos on it. It was just really exciting," Rexing said.
It's also a full-circle moment for Rexing. She spent seven years working for Target in IT and Operations.
T-Rex stuffed animals and toys can be found all around her stores. But she also has a section dedicated to the Target Bullseye Dog.
"When I was actually working for Target, I would collect the dogs just because I thought it would be a fun thing to do. When I left Target, I couldn't get myself to get rid of them because I love them so much," Rexing said. "It's actually a nice reminder of where I've been and like in terms of people who think that they're in roles that they might not necessarily want to be in, there's always something else to do."
T-Rex cookie dough flavors, Monster and Sea Salt Caramel Chocolate Chip, will launch at select Target stores on October 10. It retails between $7.99-$8.99. You can also visit T-Rex Cookie in Eagan on Thursday-Saturday and at Ridgedale Mall seven days a week. More information on hours and locations can be found, here.
It's also T-Rex Cookie's first year selling in the U.S. Bank Main Concourse.
Know a local business we should feature for our Behind the Business segment? Email Heidi Wigdahl at hwigdahl@kare11.com.