BROOKLYN PARK, Minn. -- A Brooklyn Park dad has invented a new way for parents to get around with their kids.
Instead of a stroller, how about a Longboard Buddy?
When Aaron Bedessem became a dad, he started thinking of new ways to spend time with his daughter, Adrielle.
"We tried the bike strollers, we tried a couple different things... I didn't want to give her an iPad so I could go jogging with her or put her in the back of the bike because she was bored back there," Bedessem said. "I've always been a snowboarder and a little more adventurous out there and I saw one day at the State Fair, I'm watching people... pushing their strollers down the big hill and I thought, 'There's gotta be a more fun way to do this.'"
Bedessem found an old swing at a garage sale and used a skateboard he already had to start testing out his ideas. He also used sandbags as his test rider.
Bedessem recalled the first time he tried it out with Adrielle and said, "Once we got it secure, I thought it was good and put her in it for the first ride and she didn't want to get out. We got to the park and she actually wanted to leave the park to get back in it."
Eventually, it turned into the Longboard Buddy.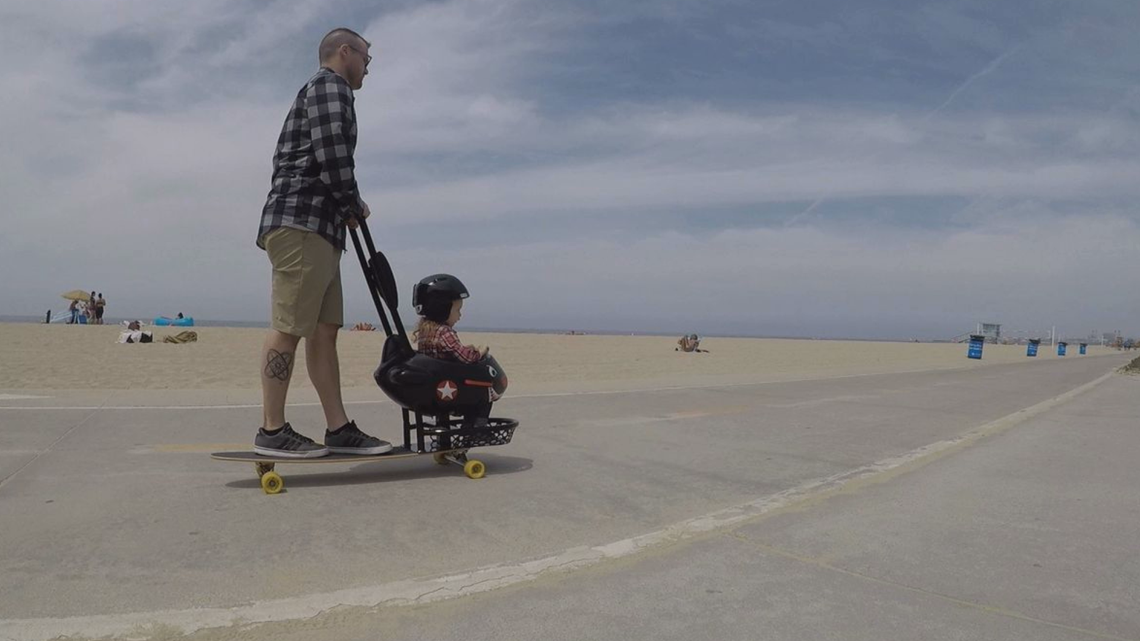 "You have to have some common sense as an adult and a parent. You can't just set your kid on there and walk away. You can't take this down a hill going 20 miles an hour. Just like a bike, don't take them off a jump. So some of that inherent common sense made me realize... well yeah, we could do this," Bedessem said.
The Longboard Buddy is made in the United States—working with companies based in Minnesota and California. It started with a Minnesota-based design company—Center for Advanced Design—who helped Bedessem create 3D models to make sure the design was solid and that the proportions would be appropriate for children between the ages of 18 months to 5-years-old.
Bedessem is now working to bring his product to market. He launched a Kickstarter campaign earlier this summer. While the Kickstarter campaign did not reach its fundraising goal, Bedessem has been making connections within the industry and talking to potential investors.
The Longboard Buddy has a universal mount that can go on almost any longboard. It cost $345 without the custom longboard and $525 with it. There is also a three-point harness to keep your child secure in the unit.
"Once I created this, it was a fun way to really bond with her and finding that connection has been... she enjoys it just as much as I do, I think," Bedessem said.
You can learn more about the Longboard Buddy and find out how to order one when they become available by visiting the company's website, here.