EDINA, Minn. - An Edina mom recently launched a business that promotes infant safe sleep environments and raises awareness about sudden infant death syndrome.
Jennifer O'Malley is the founder and CEO of Linen & Leah, which creates safe baby sheets for Pack 'n Plays or playards.
About five years ago, O'Malley was working as a licensed childcare provider when she recognized there was a need for a sheet that wouldn't budge on a Pack 'n Play mattress.
"I always struggled with finding sheets that fit for Pack 'n Plays," O'Malley said. "It was always too loose, too big. My licenser always told me, 'You can't use that sheet, it doesn't fit well. You need to find something else.'"
O'Malley searched for alternatives but couldn't find one she felt confident using.
"It's a huge safety concern. Just the thought of the sheet coming off of the corners and having your baby getting wrapped up in it and tangled or entrapped," she said.
So O'Malley started making her own adjustments, which led to Linen & Leah. The business launched on Oct. 30.
So how does it work? The sheet fits securely to a Pack 'n Play mattress using an adjustable Velcro strap. Pull it as tightly as you need to. There are then Velcro straps attached to the mattress, which are then pulled through the holes in the sheet to help secure the sheet to the mattress. The sheet has several different button holes so it can work with different brands.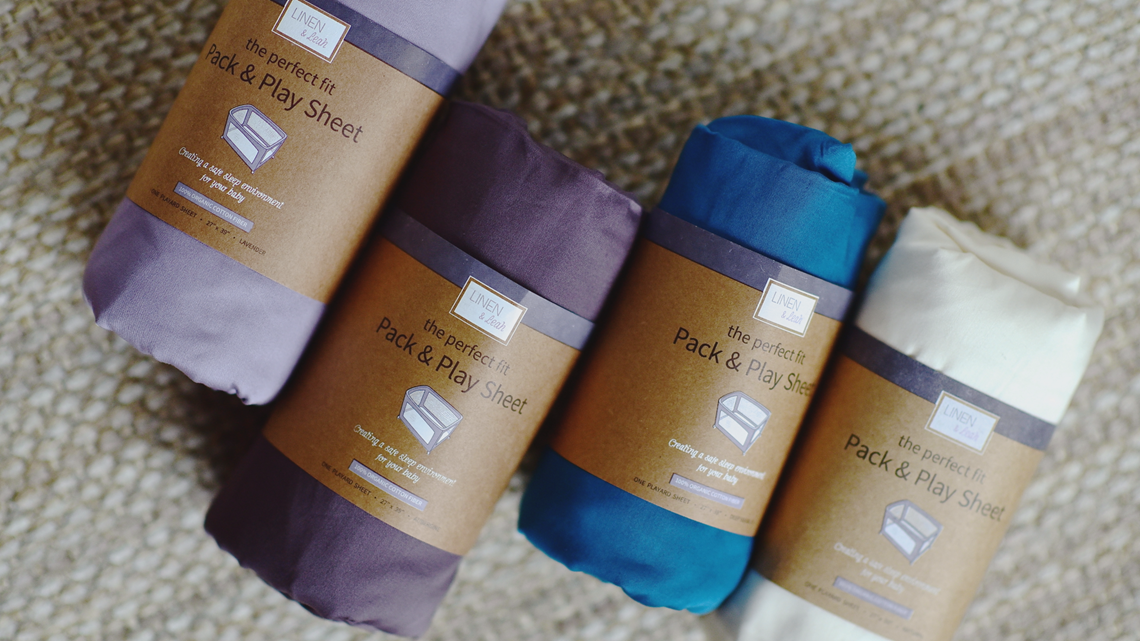 According to O'Malley, the sheets work on 90 percent of the playards on the market including Graco, Baby Trend, Chicco, Ingenuity and Cosco. The final step is attaching those same Velcro straps on the mattress to your Pack 'n Play's base.
The sheets come in four different colors and are made from 100 percent organic cotton.
"My passion just became so much on educating parents on safe sleep awareness and safe sleep environments when using Pack 'n Plays," O'Malley said.
Every quarter, Linen & Leah is donating 15 percent of its sales to the SIDS Foundation and its partners.
Nov. 4 through Nov. 10 is Safe Sleep Week in Minnesota. Pediatricians and health experts recommend parents put their infants to sleep without blankets, crib bumpers, pillows or other loose objects in the crib. According to the Minnesota Department of Health, data reveals that unsafe sleep environments account for nearly all unexpected infant deaths in the state with about 50 infants dying each year.
In the 53 sleep-related infant deaths reported to the state in 2015, 93 percent had loose objects around them or were not placed on a firm surface to sleep.
"There's no cure for SIDS and SIDS is unknown but there are things we can do to prevent ... that from happening, especially in playards," O'Malley said.
According to O'Malley, the Linen & Leah sheets stay on securely and don't result in parents having to re-tuck the sheet back into the corners of the mattress.
A single Perfect Fit Pack 'n Play sheet costs $35 or it costs $60 for two. You can buy them on the Linen & Leah website or on Amazon.
Linen & Leah is offering a promo to KARE viewers. Just type the code "KARE" at checkout to get 11 percent off your purchase.