SAINT PAUL, Minn. — State Fair traditions aren't only for the food lovers, ride enthusiasts, and fans of KARE 11. State Fair traditions are also for art lovers.
Jordan Malm has worked at the Spin-A-Painting stand for two years, but the stand itself has been at the State Fair for over 50 years. The do-it-yourself art requires paint, a spinning well and your imagination.
"We put a postcard-sized card inside of the well, and people can take the paints and squirt it in there," Malm said. "We have a regular who comes to the fair every day, who will sit down for an hour and hang out."
Malm said it's the cheapest memory you can make at the fair. He says you can create your work of art for just $8.
If you head to the West End Market, you'll find Anchor Iron Company. It's been a State Fair tradition since 1977.
"The beer signs, the Vikings signs, the Wild signs, all of those are going pretty quickly," Taylor Roberts said.
Eclectic art lovers have found their custom ironwork, cast iron reproductions and scrap art here for years.
"We have a lot of different art from different foundries," Roberts said.
"I used to watch people do caricatures out here at the fair," Cindy Bergland said.
KARE 11's CeCe Gaines chatted with Bergland while she drew her.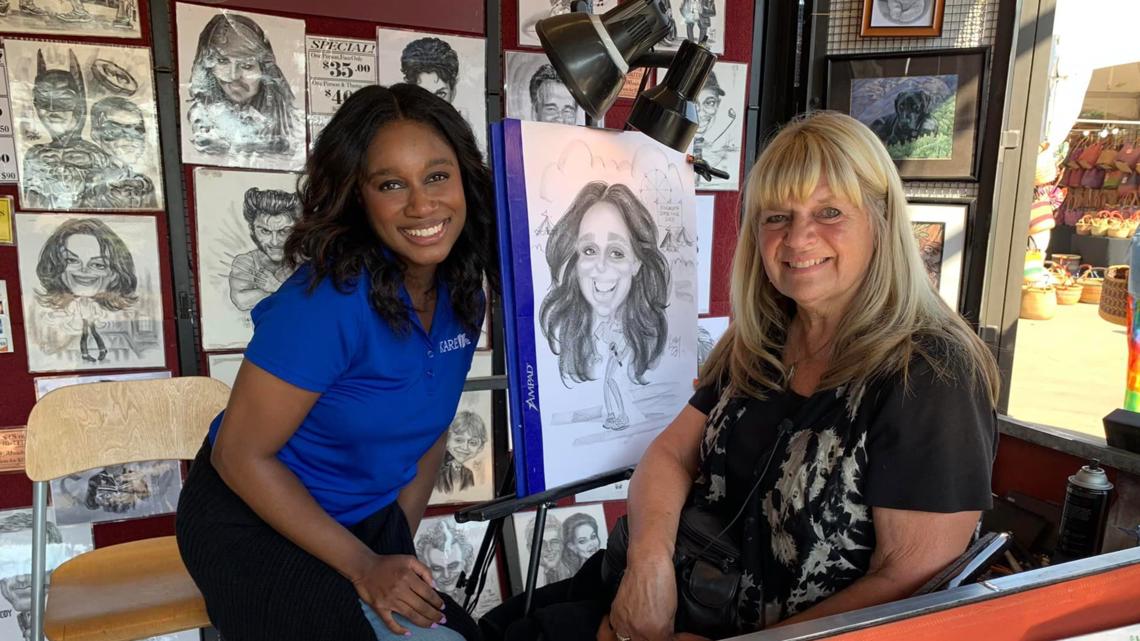 Bergland has been drawing people at the State Fair since 1977.
"I had a guy come out here a couple of days ago. [He] had a folded-up caricature that I'd done of him in 1980, and then he got an update done," Bergland said.
After over 45 years, Bergland says coming to the fair feels like a tradition.
"I've got a picture in one of my books of a family that came 19 years in a row. That's a really fun thing for me because I get a chance to watch the kids grow up," said Bergland.
It only takes Bergland about 10 minutes to finish a drawing.
"My caricature style's almost more like a cartoon portrait. It's maybe not as exaggerated as some caricature artists. My goal is not to be mean," Bergland said.
Bergland said it's a joy coming to the fairgrounds every year.
"People say I can't retire," she said.
You still have time to check out these vendors - the State Fair runs through Sept. 4. The fairgrounds are open from 7 a.m. through 11 p.m. every day except Labor Day when the gates close at 9 p.m.
Watch the latest local news from the Twin Cities and across Minnesota in our YouTube playlist:
WATCH MORE ON KARE 11+
Download the free KARE 11+ app for Roku, Fire TV, Apple TV and other smart TV platforms to watch more from KARE 11 anytime! The KARE 11+ app includes live streams of all of KARE 11's newscasts. You'll also find on-demand replays of newscasts; the latest from KARE 11 Investigates, Breaking the News and the Land of 10,000 Stories; exclusive programs like Verify and HeartThreads; and Minnesota sports talk from our partners at Locked On Minnesota.