MINNEAPOLIS — A Heat Advisory will be in place for much of the central, western and southern portions of Minnesota starting Tuesday afternoon until 9 p.m.
An Excessive Heat Watch is in effect through Wednesday at 9 p.m.
The National Weather Service explains that a Heat Advisory is issued within 12 hours of the onset of extremely dangerous heat conditions. "The general rule of thumb for this Advisory is when the maximum heat index temperature is expected to be 100° or higher for at least 2 days, and night time air temperatures will not drop below 75°," reads an excerpt from the NWS website.
An Excessive Heat Watch is issued when conditions are favorable for an excessive heat event in the next 24 to 72 hours. A Watch is used when the risk of a heat wave has increased, but its occurrence and timing is still uncertain.
A respite from the heat won't happen until Thursday when highs drop back into the 80s with much lower humidity.
By Wednesday afternoon, the heat index could get up to 105. When it is this hot, it's important to know the difference between Heat Exhaustion and Heat Stroke.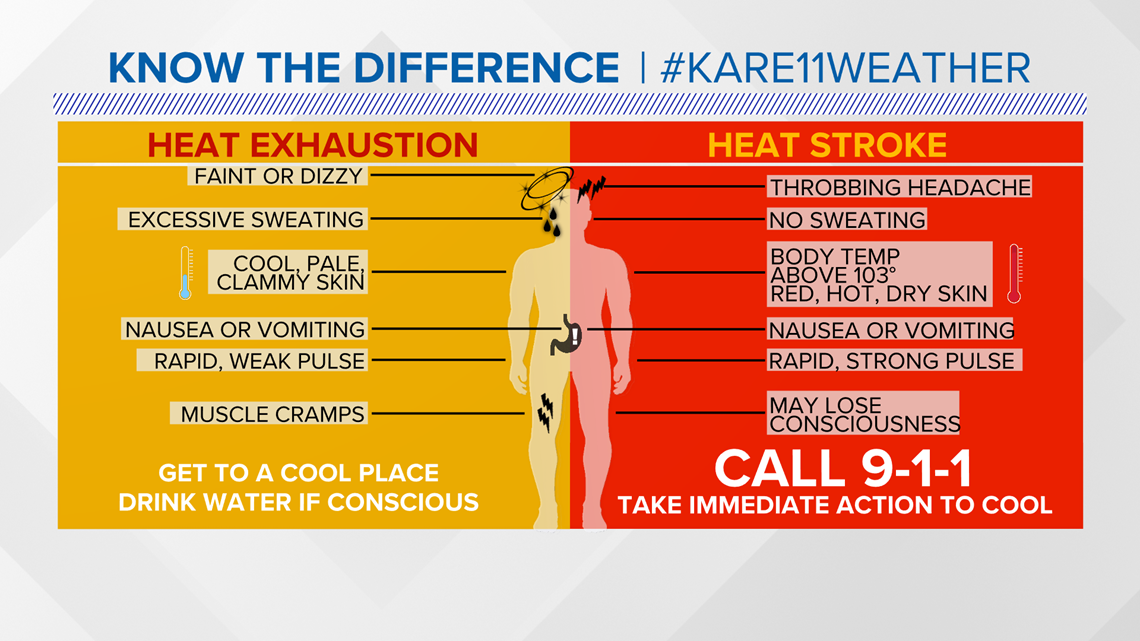 All of this comes at a time of extreme drought for the state of Minnesota. According to the US Drought Monitor, approximately 72% of the state is experiencing severe drought conditions, with 18% of the state suffering through extreme drought.
Watering restrictions are also in place for the City of Minneapolis and surrounding communities. Residents are being asked to conserve water as much as possible and follow an even-odd water sprinkling schedule.
In the alert, the NWS asks everyone to take all precautionary steps to avoid heat-related fatigue, like drinking lots of fluids, staying in an air-conditioned room and checking in to make sure your friends and neighbors are safe.
Furthermore, young children and pets should not be left in cars under any circumstances.
YOUR PHOTOS: Summer Skies