MINNEAPOLIS - Two Minneapolis Police officers have been "relieved of duty" in connection to the Christmas tree incident at the Fourth Precinct, according to a police spokesperson.
The officers have not been fired and will continue to be paid during the ongoing investigation.
Minneapolis Mayor Jacob Frey is promising swift action after reports surfaced of what some are calling racist ornaments being hung on the holiday tree at the police department's fourth precinct.
Frey sent out a statement late Friday morning saying the officer who has been identified as the person responsible for the ornaments will be out of a job by day's end. "This behavior is racist, despicable, and is well beneath the standards of any person who serves the city of Minneapolis. The offending party will be fired before the day is over," the Mayor wrote. "Shifting the culture of the police department requires swift and decisive action. Termination is necessary – both to discipline the officer and to send a clear message: Chief Arradondo and I will not tolerate conduct that departs from our values."
The mayor's reaction follows the appearance of a photo on social media showing a holiday tree with empty beer and malt liquor cans, cigarette packs and bags of junk food like Funyons hanging off it. Some of the brands have a history of stereotypically being associated with black culture. KARE 11 is attempting to verify the source of the image to determine its authenticity and hear the story behind when it was taken.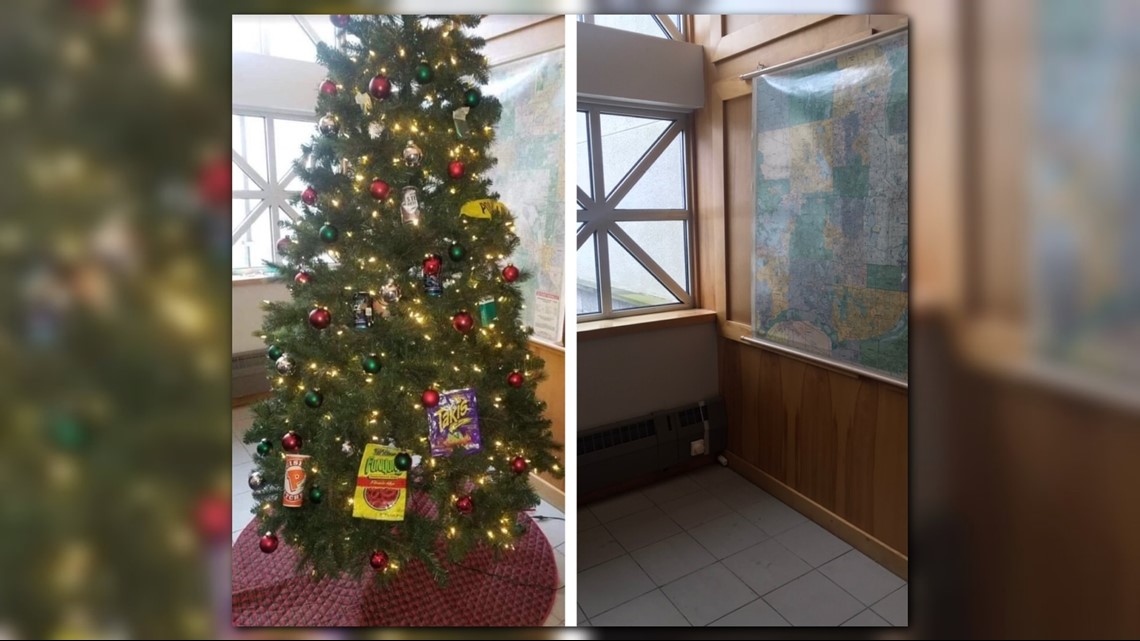 Fourth Ward City Councilman Phillipe Cunningham posted on his Facebook page that he spoke with Fourth Precinct Inspector Aaron Biard, who allegedly told him that each year an officer is assigned to decorate the precinct tree. Cunningham says the inspector told him that as a prank another officer hung some inappropriate ornaments. That officer was reportedly disciplined and coached, and cultural sensitivity training is allegedly in the works.
"I want to thank our Inspector for taking swift and appropriate action regarding this matter," Cunningham posted. "I appreciate his leadership and partnership with me."
Mayor Frey met with reporters near the Fourth Precinct early Friday afternoon and seemed to back off his promise of immediate firing saying there is a "process" in place to handle situations like this."We have a process that we are required to go through by law, but yes, that is my opinion as to where the process could go," Frey told reporters when asked if the officer responsible was being fired.
Minneapolis Police Chief Medaria Arrandondo released a written statement:
It was reported to me recently that a racially insensitive display that was put up in the 4th precinct lobby. As soon as it was realized what the display was, it was removed.
As was stated by many members of the community during the public hearing in front of the Public Safety Committee on Thursday, the culture of the Minneapolis Police Department has undergone positive change, however as this recent incident shows we still have much work ahead. Every day I work to bridge the divide between the police department and the community, as do so many others in our department. We will not stop our efforts of treating all those that we serve with fairness, dignity and respect. That manner of treatment is non-negotiable.
I am ashamed and appalled by the behavior of those who would feel comfortable to act in such a manner that goes against our core department values of Trust, Accountability and Professional Service. I have initiated a full investigation and will make information public when possible in accordance with Minnesota State Statute.