NORTH BRANCH, Minnesota — 11 horses were seized from a North Branch property after investigators say they were not receiving the minimum care needed to survive the winter.
The Animal Humane Society has been investigating the case since September.
"The animals are in terrible body condition and the veterinarian felt, and we agreed, that the horses wouldn't make the winter if we didn't move in and do something," said Keith Streff, supervising humane agent for the Animal Humane Society.
The horses were removed from the property on the 36800th block of Hemingway Avenue in North Branch on Friday. Six of them are being treated at Anoka Equine Veterinary Services. The other five rescued are at the University of Minnesota.
Streff said some of the horses seized had a body score of two—a healthy range is around 4 to 5.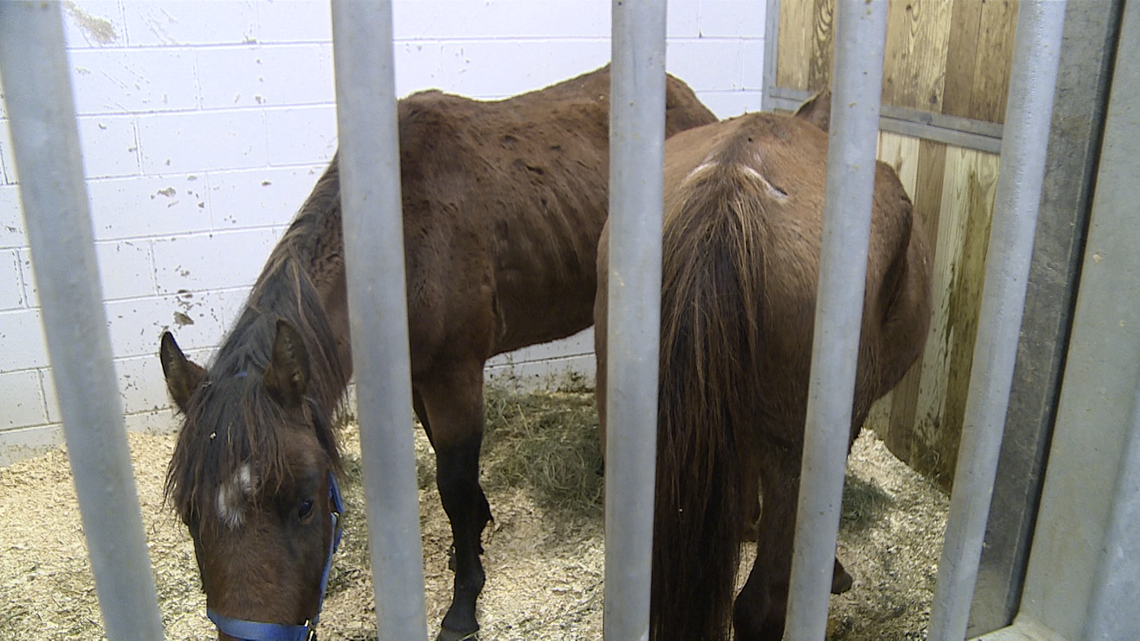 Besides malnourishment, Streff said the horses' teeth and hooves were not being properly cared for.
"All these horse have long, unkempt coats with what are termed fly eggs on them. It's evidence of a high parasite load. We've seen lice on several of them which can be evidence of poor conditions where they've been living," said Zach Loppnow, veterinarian with Anoka Equine Veterinary Services.
According to Streff, the owner still has nine horses on her property. They were not taken away last week because Streff said they were in better condition than the ones seized and they will work with the owner to help those horses.

KARE 11 is not naming the owner at this time because she has not been charged. The owner did not want to go on camera but on Monday she spoke to KARE's Heidi Wigdahl on her hobby farm. She said the horses were not starving and had plenty of food, water and shelter. She also said that once she noticed some of the horses were getting skinny, she was trying to fix the problem. She said she was having problems getting good hay. The owner said investigators never worked with her to address the issues before taking her horses away.
Streff disagrees with that statement and said they gave her chances to correct the issues.
"She's not been cooperative and hasn't been able to come up with a solution to correct these horses since September. So we have to move now before we start having a loss of life," Streff said.
North Branch Police issued the owner a misdemeanor citation for the mistreatment of animals. She has 10 days to appeal and try to get her horses back.
Criminal charges are also being considered in this case by the Chisago County Attorney's Office.