PLYMOUTH, Minn. — Plymouth police released new traffic video in the fatal shooting of youth baseball coach Jay Boughton on Highway 169 Tuesday evening, as investigators continue their search for the shooter.
According to authorities and friends of the family, Boughton and his son were driving on Hwy. 169 near County Road 9 when another driver shot at their vehicle before driving away. Boughton was taken to North Memorial Medical Center, where police say he later died. His son was also injured but was treated and released from the hospital.
The new video released Friday shows the possible route driven by the alleged shooter on MnDOT traffic cameras, along westbound I-694 around 9:45 p.m. on Tuesday evening, before proceeding south on Highway 169, where the shooting took place just south of the Rockford Road interchange.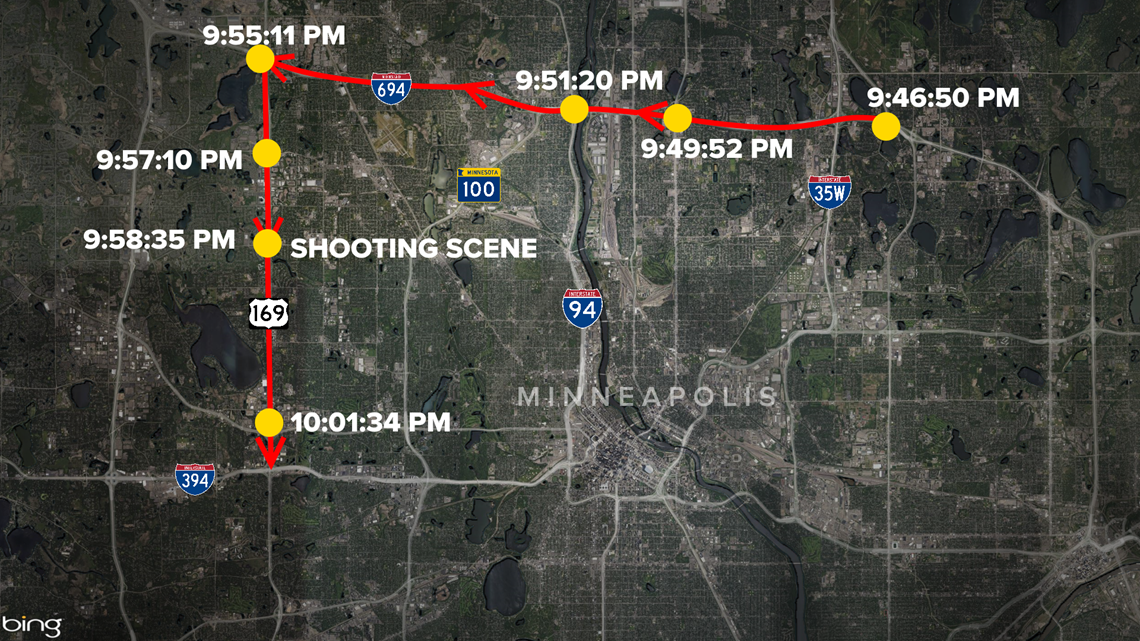 Plymouth Police said as of Monday, July 12 the department had received nearly 200 tips on the case, but did not have any new information they would be releasing to the public. Chief Erik Fadden shared Friday that the department's detectives have been working to determine a clearer timeline of where the suspect was prior to the shooting. He repeated the department's call for anyone who may have dashcam video from the scene of the shooting to come forward.
Fadden said that he believes the interaction that could have led to this shooting was brief.
"We believe this was a very short event in which these two vehicles crossed paths," he said. "We have no reason to believe that they were following each other or driving next to each other for even more than a few seconds, which in my humble opinion, it makes this even more senseless."
He said he does not think this was a road rage incident, but instead a "traffic-related" interaction between the two vehicles that escalated quickly.
"This was not a mutual road rage or altercation between two drivers," he said. "It was simply a senseless act by someone who we will find."
Stephen Robinson, Boughton's friend and brother-in-law, spoke during a Friday news briefing with police.
"The world, on Tuesday, lost a truly wonderful human being in Jay Boughton," he said.
He said what the family needs now is space to breathe.
"Jay Boughton was coming home from coaching his son's baseball game on Tuesday night, and he was shot, he was murdered, executed, for doing something most of us do every day," he said, tearing up as he spoke. "In that sense, we've all been there, and in a sense, we are all Jay. We do these things every day. This is the world we live in, people. Is this the world we want to pass to our children? Is it?"
Friday's briefing can be viewed here:
Crime Stoppers of Minnesota announced that it is offering a $1,000 reward for "information leading to the arrest or conviction" of the person responsible.
Anyone with information can call the tip line at 800-222-8477 or visit the Crime Stoppers website.
Since the incident, police have pored over traffic camera video, frame by frame.
"Investigators are really just sitting at a computer combing through video. There's no automated way to do that, it takes a lot of work," Fadden said, adding that it's possible that commercial truck drivers or others may have their own dashcam video that may have captured the suspect or victim vehicle.
On Thursday, investigators also visited car dealerships and autobody shops to talk with mechanics about the possible make and model of the suspect vehicle.
"We're not saying definitively it's a Ford Expedition or Chevy Tahoe, because we don't know with 100% certainty right now. But we do know, it's a light-colored full-sized SUV," Fadden said, noting that they also believe the vehicle had damage on the back bumper of the driver's side.
Fadden urged anyone with information or video to call Captain Michael Reed with the Plymouth Police Department at 763-509-5178.
Friends plea for support, justice for family
Meantime, Boughton's friends describe him as a man who lived as he coached: with kindness.
"I would describe him as a pillar of the community. A coach. A husband a friend, a brother," said Scot Cybyske, a family friend.
He continued: "Jay touched so many lives, he really did. He was a coach for many, many years. He was a soccer coach, he was a youth baseball coach, everybody knew him. He was the type of guy that would walk in a room, and he would light it up… I'd like to think that I'm going to be a better person because I knew Jay Boughton."
Joe Higgins, a good friend of the Boughton family, agreed.
"He just stepped up to the plate every time he was asked to do something, he did it. He was just the ultimate team player. When things needed to get done, he'd help out. Humble and never an attitude and just, 'What can I do to help?'" Higgins remembered.
"He didn't have a mean bone in his body. To think somebody would take his life like that, it's just so unfair," Higgins shared.
The community is planning a fundraiser for the Boughton family at Frankie's Pizza, tentatively scheduled for August 7. A GoFundMe has also already raised more than $34,000 for the family. Click here to donate.