MINNEAPOLIS - In April 1992, Dick Vitale witnessed a Final Four for the ages.
The Hall of Fame broadcaster saw the titans of college basketball march through Minneapolis that weekend. Mike Krzyzewski's Duke Blue Devils captured a national title for the second consecutive season, defeating Bob Knight's Indiana Hoosiers before trouncing Michigan and the Fab Five in the championship game at the Metrodome.
For Vitale, though, the basketball will always remain a footnote at the 1992 Final Four.
That was the weekend he learned his dear friend and broadcast partner, former North Carolina State head coach Jim Valvano, might be in trouble.
In an interview with KARE 11 this week ahead of the Final Four, Vitale vividly recalled his experience in Minneapolis nearly three decades ago as he realized Valvano's health was in jeopardy. It was a weekend that changed the course of his friend's life, prompting one of the most famous speeches in sports history and a non-profit foundation that would raise millions of dollars for cancer research.
"I knew something was wrong," Vitale said, "but never thought of the word 'cancer'."
Jim Valvano and Dick Vitale were a natural fit together as broadcasters. They both hailed from the East Coast, and their extroverted personalities could not have been more similar. They seemed to carry a vigor and enthusiasm for basketball — and life itself — that few others could match.
By the early '90s, Vitale had already established himself as one of the most recognizable and successful broadcasters at ESPN. Valvano, meanwhile, had just launched a television career after spending two decades as a head coach at Johns Hopkins, Bucknell, Iona and North Carolina State. He forever cemented his coaching legacy in 1983, when his Wolfpack won the national championship over Houston in Albuquerque on a dramatic last-second dunk by the late Lorenzo Charles. Images of Valvano running around the court at The Pit, looking for someone to hug, have been replayed on loop for the past 36 years.
In 1992, just a few years removed from coaching, Valvano worked alongside Vitale on-set in Minneapolis from the Final Four. They hosted live broadcasts from a mall somewhere in the area — Vitale can't remember where exactly — as they provided analysis for ESPN throughout the weekend.
"And as we walked from the green-like room to go to the set," Vitale remembered, "Jimmy would just be complaining about his back."
Oh, Dick, my back. The pain, Valvano would say, according to Vitale.
Valvano would rub his back constantly. His fellow broadcast partners would tease him and tell him to take some Advil.
It just seemed like back pain; nothing more.
"We'd go on the air, and he would laugh and fool around," Vitale recalled. "And we'd get off air, and it would start again. My back is killing me."
Soon they would all learn why.
"I found out he had cancer," Vitale said. "It spread all over."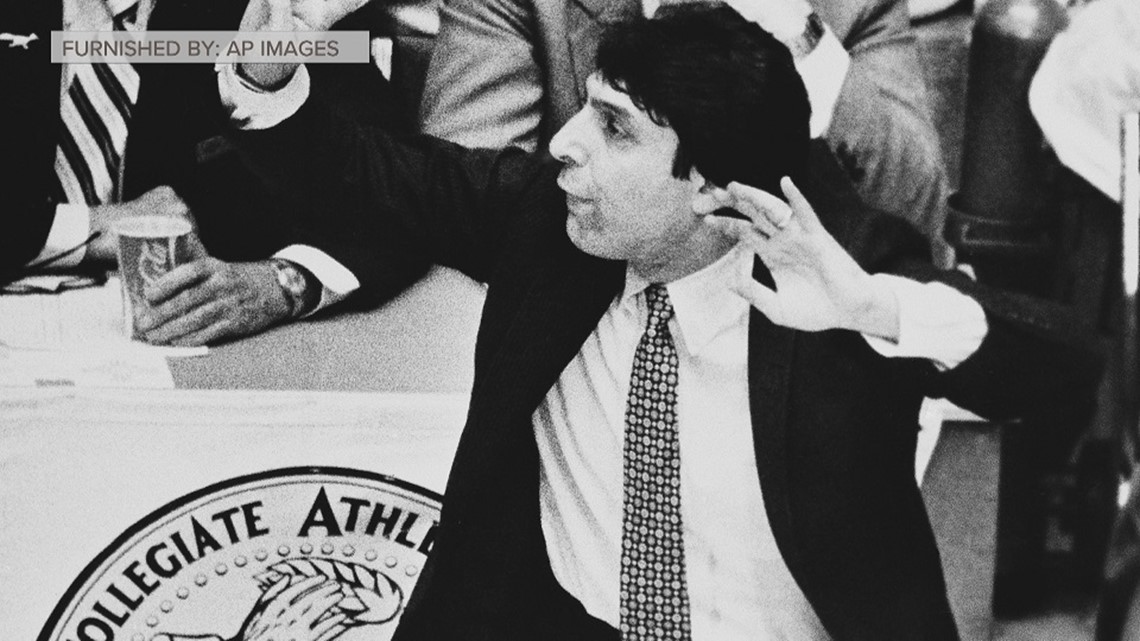 "Everyone knows that this is serious enough that if he doesn't respond to treatment, it will be fatal," his brother, Bobby, was quoted as saying, according to news services on July 15, 1992.
Valvano vowed to fight the disease, but it took an immediate toll. He lost 35 pounds over the summer and fall. By the time November rolled around, though, he started broadcasting again for ESPN.
"There's absolutely no correlation between beating Houston for the national championship and defeating cancer," Valvano said at a press conference, according to news archives in Nov. 1992. "It puts into perspective the relative unimportance of the sporting endeavor. What's helping me cope and get through this time is... my academic background. I have to approach this battle with my mind, not my body."
Valvano said that day that he wanted to broadcast games all season.
And he was very clear: He wanted to work his studio show with Dick Vitale.
On March 4, 1993, Vitale ushered Valvano toward the stage at Madison Square Garden in New York City, as some of the most influential figures in sports joined together for thunderous applause. It was the first-ever ESPY award ceremony, and Valvano would be receiving the inaugural Arthur Ashe Courage and Humanitarian Award.
Valvano captivated a national audience for nearly 10 minutes, delivering a memorable address that has replayed on ESPN's airwaves every year for more than two decades.
"Time is very precious to me," he said in the opening minutes that night. "I don't know how much I have left."
He would tell the crowd tales of his early coaching days. He would urge them to laugh, think and cry every day — and to never give up. Valvano would conclude the speech by pleading for continued support of cancer research, in hopes that a breakthrough could emerge. "I'm going to fight my brains out to be back here again next year," he said.
Valvano died the next month, on April 28, 1993.
The next day, newspapers across the country quoted his friend Dick Vitale: "He had a special way of bringing a smile to everyone's face," Vitale said in the hours after Valvano's passing. "He was such a genuine person. There wasn't an ounce of envy in him."
Before he died, Jim Valvano and ESPN launched the V Foundation for Cancer Research, a non-profit that sends all of its proceeds to cancer research. To date, the V Foundation has contributed $225 million in cancer research grants.
Valvano's legacy is well-known across sports circles, particularly in the tight-knit college basketball community. Every year, for example, ESPN sponsors the "Jimmy V Classic" in early December as a fundraiser for cancer research. The network runs Valvano's 1993 ESPY speech in its entirety during the televised event.
Vitale, who sits on the foundation's Board of Directors, focuses a lot of his energy specifically on childhood cancer. He hosts a gala in Florida every May, and the sales from his latest book will all go toward the V Foundation.
"Because of Jimmy, more than $200 million are being used to help people with every kind of cancer," Vitale said, "Colon cancer, breast cancer, prostate cancer, lung cancer, you name it."
This weekend, as he prepares to join the ESPN International broadcast for the Final Four, Vitale will be thinking of all colleagues lost to cancer. That includes John Saunders, Stuart Scott and Jimmy V, whose back pain during that fateful April 1992 weekend in the Twin Cities marked the beginning of a heartbreaking journey.
At the time, nobody — not even Dick Vitale — could have predicted that Jimmy V would be in for such a fight.
Nor could they have predicted what the name Jim Valvano would someday mean for cancer victims around the world.
"Jimmy's legacy," Vitale said, "is going to be the unbelievable people he's saved along the way."