EDEN PRAIRIE, Minn. - Emily Raguse rarely goes into the spare room in her basement.
But on Monday, for some reason, she broke routine.
"I don't know why I looked in the spare bedroom, I really have no idea," she said.
When she did, something caught her eye from the window well.
"He must have moved his head or something," she said. "I couldn't even believe my eyes."
A dog was trapped on the other side of the glass, curled up and covered in snow. Raguse ran upstairs and called her neighbor, who called Eden Prairie police. Then she went outside to check on the dog.
"He was really, really lethargic, so he pretty much was only moving his head a little bit," she said. "I grabbed a towel from the house to put on top of him because he was obviously cold. He was shivering."
She had been out of town all weekend, so she had no idea how long the pup had been there.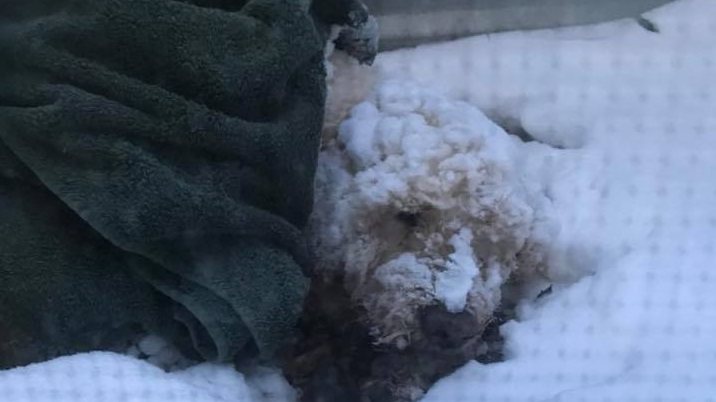 Police arrived and climbed down to get the dog, a Goldendoodle. His tag revealed his name, "Buddy," and his owner's number.
That owner, Patsy Sumpter, was living through a nightmare of her own.
"It's been just the worst five days of my life," she said on Tuesday. "I can't believe he lived through that."
Sumpter said she'd put Buddy out on Wednesday night at 8:30.
"Normally he goes down in the woods and he comes back," she said. "And he didn't come back. And I kept calling and calling."
Sumpter called for Buddy all evening, and looked for him all day on Thursday.
"The weather changed and it snowed that next morning and it just got worse and worse, and I just felt so helpless," she said.
Little did she know, Buddy was not far away.
"He probably heard me yelling and he couldn't get out," she said. "He was that close to home."
Sumpter said her 13-year-old Buddy is blind and battling cancer. Still, he somehow made it through five nights of bitter cold.
"I prayed and prayed and it's just so miraculous that they found him," she said. "I don't think he would have made it one more night."
Raguse agreed that it seemed "divine intervention" played a role in her stopping by the spare bedroom when she did.
And as her 4-year-old daughter pointed out, even before she read the tag, she seemed to know the dog's name.
"You were calling him 'Buddy,'" her daughter told her.
Sumpter plans to bring Buddy to the vet for a check-up on Wednesday. In the meantime, he's resting by the fire under a blanket.
"He didn't want to die there I guess," she said. "He wanted to come home and be with us."
Note: Emily Raguse is married to KARE 11 reporter Lou Raguse.