Gov. Tim Walz says the state will work with school districts to make individual decisions about whether students go back to school in person this fall.
The Minnesota Department of Health (MDH) and Department of Education (MDE) will work with districts and charter schools to help determine which learning model they should start with this fall. The decision will take into account the virus' spread in the surrounding county, and the district's ability to meet public health requirements.
"Not all schools look the same, not all parts of the state look the same, and we need to take those into consideration," Walz said at a news conference Thursday.
Parents, teachers and students will hear about the decision for their school from their own district – not from the state. Families at all schools, both public and charter, will have the option to choose distance learning no matter what their district does.
"Every family is going to have those hard conversations but necessary conversations about weighing the risks," Flanagan said.
Walz's office says districts also have to allow teachers and school employees to work remotely "to the extent possible."
MDH and MDE will work with districts and local health professionals to make decisions throughout the school year on switching among the three models, depending on what's happening with coronavirus in their community.
"It's going to be a first day of school unlike any we've seen," Walz said.
According to the plan, the base learning model schools start out with will be determined by county-level data on COVID-19 cases. The determining metric is the bi-weekly case rate over 14 days, by county. MDH says a rate of 10 or more cases per 10,000 is considered "elevated risk."
"County-level health data has to be coupled with what the physical plan looks like in that building, what it looks like for your teachers, what are the ages of those teachers," Walz said.
Walz and MDH Commissioner Jan Malcolm stressed that the county-level data alone will not determine the learning model, it just helps establish the MDH's baseline recommendation for the districts in that county.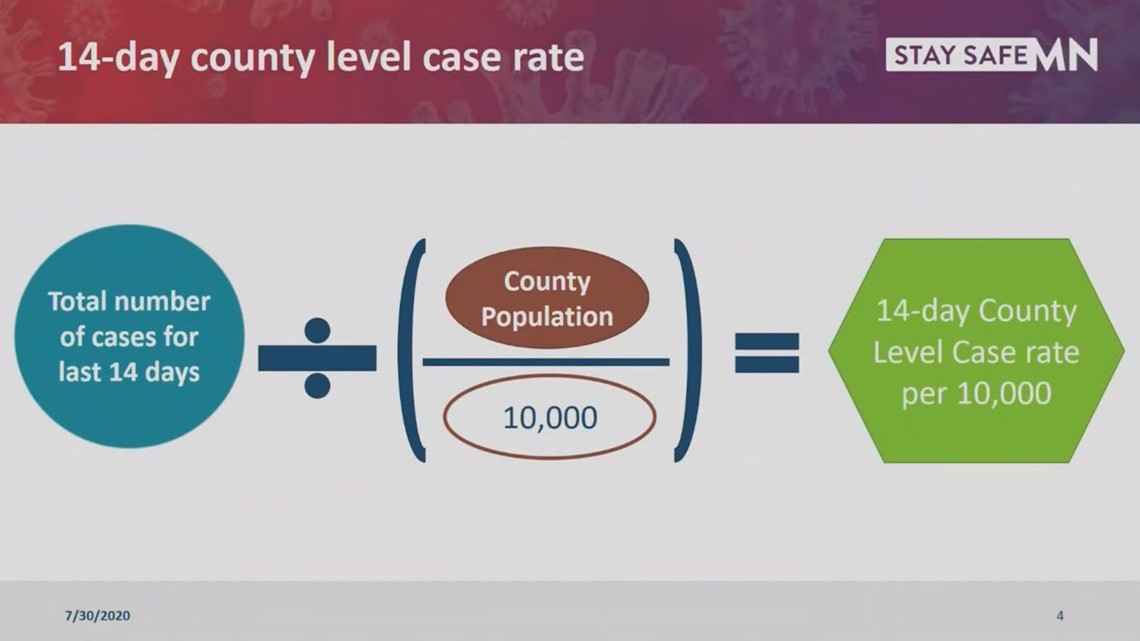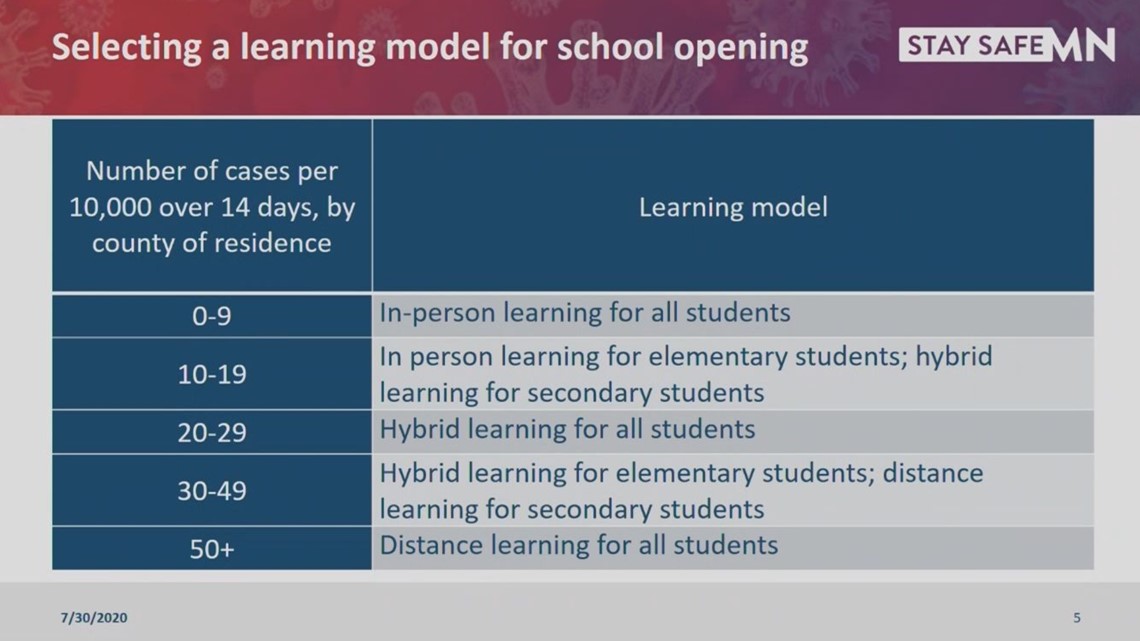 According to Walz's office, the plan is to prioritize keeping younger students in the classroom, with the premise that transmission is likely less common among younger children, and in-person learning is especially critical for them.
MDH Commissioner Jan Malcolm said new data from South Korea last week made it more clear that for older kids in the school system, ages 15-29, the ability to spread the virus is more like that of adults. She said the study showed kids under 10 have a lower ability to spread the virus.
"We know that you are counting on us … to take care of your children and do the right thing for them, both for their physical health, their mental health, and their education," Walz said. "This decision is many, many months in the making."
Walz held a 2 p.m. news conference to announce the model and answer questions, along with Lt. Gov. Peggy Flanagan, MDH Commissioner Jan Malcolm, and MDE Commissioner Mary Cathryn Ricker and Deputy Commissioner Heather Mueller.
MDE Commissioner Mary Cathryn Ricker acknowledged that distance learning was "challenging and frustrating" in the spring, especially for communities of color, Indigenous students, low-income and rural families.
"This spring our educators had eight days to reinvent the way they met the needs of students," Ricker said. "Since then, like the reflective practitioners we are, we have been listening, learning and improving our guidance."
Ricker said Minnesota's schools have been working "tirelessly" to learn from mistakes and figure out how to meet the needs of students in these new learning formats.
In Pipestone County, where spiking cases would technically qualify the Pipestone Area Schools for distance learning as of July 5 through July 18, the superintendent says he's hopeful that they can still chart a path toward a hybrid model in the fall. The case totals in Pipestone may seem more extreme due to the county's small population, and they could be impacted by Fourth of July gatherings, according to Superintendent Kevin Enerson.
Enerson said a survey shows 85 percent of families in the district want their kids back in school, in some fashion.
"[Our hybrid model] would get K through 5 in every day. We would spread them out through our district," Enerson said, noting that the middle and high school buildings could provide extra space. "We're planning to run six through eight, and nine through twelve, kind of on alternating days."
To help all districts, Walz says $250 million in federal funding will be used to:
Provide face coverings for every student, teacher and staff member
Help deploy testing for teachers and staff
Help cover cleaning supplies, technology needs, transportation and Wi-Fi access
Boost support for families including trainings, tutors, translation services and mental health support
"I don't think it is a secret that this decision we are announcing today was certainly one of the most difficult that we have made," Lt. Gov. Peggy Flanagan said. "It's an incredibly complicated decision to make just as a family."
For parents worried about child care if learning is not in person, Flanagan said there are resources available at mn.gov/childcare, including a financial assistance program.
Malcolm said on Monday that Minnesota is in a "vulnerable state" with recent coronavirus trends "in the wrong direction."
"It's very possible that schools will be using more than one model for the school year," she said at that time. "The trends of the last few weeks have made this analysis more challenging because we know that what happens in the larger community affects what happens in the schools. It certainly affects the confidence levels of everyone about that question."
"This is one of the most consequential and important and difficult decisions that we have had to make as an administration," Malcolm said on Thursday.
She said the decision was made with the best science on the virus, and on how to fight it.
"We have a great deal of respect for the fact that conditions are different throughout the state," Malcolm said.
A recent study showed that in Minnesota, 249,845 - or 28% of all students - lack an adequate high-speed internet connection. Eighteen percent, or 162,607, don't have the devices they need.
Minnesota House Speaker Melissa Hortman issued a statement Thursday, saying in part: "Governor Walz has put forward reasonable guidelines to help local school districts create safe learning environments. I'm pleased to see the Administration's commitment to provide CARES Act funding to schools. Our districts need additional resources to provide the high-quality education we expect while keeping Minnesotans safe."
House Majority Leader Ryan Winkler also made a statement, saying: "Like so many things related to COVID-19, this issue has become unnecessarily politicized, putting lives at risk. Keeping Minnesotans safe has to be our top priority, and that means our schools will have to be flexible and adjust as circumstances change."
House GOP Education Leads Representatives Ron Kresha and Sondra Erickson released statements as well.
"I am glad the Governor agrees our local school officials are the ones who truly know their communities, students, and parents the best, and are in the best position to implement a successful back-to-school plan," Kresha wrote. "However, the devil is in the details, and the mandates. I will work with school leaders to make sure they have the tools they need to make this school year successful."
Erickson also applauded the decision to allow for local control.
"I have faith that parents and teachers will work together to recover any losses that may have occurred during distance learning and track the results carefully so every child succeeds to the best of his or her ability," she said.
Senate Education Committee Chairwoman Carla Nelson issued a statement calling the guidance the right choice, but said the late decision from the governor's office was "disappointing."
"One-size-fits-all is not the answer," Nelson said. "The right choice was crystal clear and has been for a very long time. Yet, parents and educators were forced to wait."