MINNEAPOLIS - They say a picture's worth a thousand words -- but when you accumulate a thousand pictures, those moments can tell quite a story.
For the Petersen family, that story begins eight years ago, while they were waiting on a baby.
Betz and her husband, Eric, ventured past a new pizza joint on their weekly errand run and decided to give it a whirl. As lovers of a slice of 'za, they quickly fell in love with the delicious pies coming out of the then-new Pizzeria Lola kitchen.
But the cherry on top (or perhaps, more accurately, the pepperoni)? The newly opened Lola had a photo booth in the back of the restaurant.
"(We) made a vow to never pass up a photobooth," Betz said. "Like, as long as we were dating, it was just never pass up a photo booth."
That promise would soon become the understatement of a near-decade.
Betz, who was two weeks away from giving birth to their first child, squeezed herself into the little, retro photo booth with Eric, and the two snapped three photos -- one of them smiling, one of Eric kissing Betz's baby belly and one of the couple sharing a kiss.
"And that's how the tradition started," Betz said.
Two weeks after the birth of their son, Eero, they were back. And this time, all three hit up the photo booth -- one of them smiling, one of Betz and Eric now kissing their baby boy and one of the couple sharing a kiss, while holding their tiny newborn.
That tradition now spans a large section of the Pizzeria Lola wall, thousands of photos and yes, likely hundreds of pizzas. And that little boy? Well, he's now a second-grader.
"To be fair, we don't put up a picture every time we come," Betz says, "because we kind of felt it was a little obnoxious how much space we had."
That fear of annoyance was put to rest after a little note, scrawled on a ripped up piece of notebook paper, was left above the family's long string of photos.
It read: "Every time I come, I look for a new photo from this family. Warms my heart."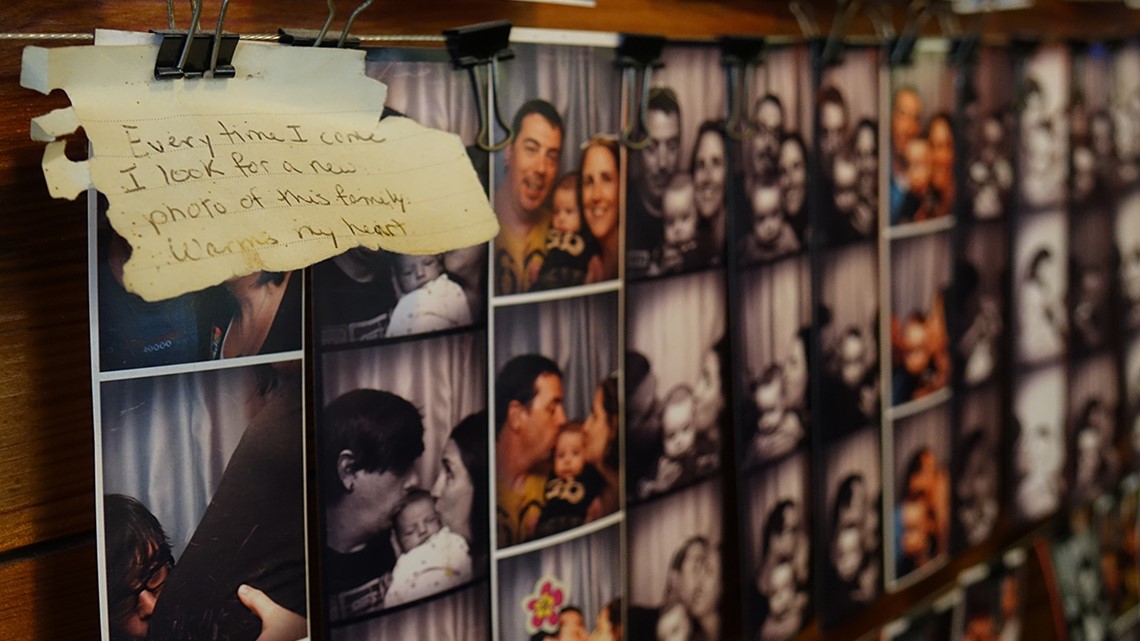 "So I was like, OK maybe it's not so annoying," Betz laughed. "Now we feel like we almost have to because we've marked so many milestones that it feels strange to stop."
Take a peek along the line of photos and you'll see ever-changing outfits and hairstyles -- even an annual resurgence of Eric's Movember 'stache. But what is most heartwarming for the family is seeing their son grow, film strip by film strip.
"We don't have pictures of us as a family that are as chronological as those, so those are my favorite, watching him grow up," Betz said.
Now, Eero is old enough to tackle the photo booth himself. He's taken the family's traditional poses and put his own spin on them.
"My three poses are silly, silly and silly," he says, with a smile.
The family (which, by the way, that's what they're known as by Lola regulars, "the family") says they don't see an end on their dining documentation.
"As long as they keep the photo booth, we'll do it," Betz said. "We'll keep that up. I don't see this ending any time soon."