ST PAUL, Minn. — Wednesday, July 21
Ehresman: 75% of new MN COVID cases are Delta variant
Canada to reopen border with U.S. to fully vaccinated Americans Aug. 9; U.S. to keep restrictions through Aug. 21
Olympics COVID-19 concerns continue as Team USA beach volleyball player tests positive
Hennepin County boosts vaccine incentive program with additional $250,000
Minnesota phasing out most mass vaccination sites after hitting goal
Minnesota health officials reported 278 new COVID-19 cases Wednesday and 5 additional deaths.
Kris Ehresmann, Minnesota Department of Health (MDH) Director of Infectious Disease Epidemiology, tells KARE 11 that 75% of the new cases involve the Delta variant. The CDC website says the Delta strain emerged in India and appears to be more contagious, especially in indoor sports and household settings. Global health experts say children and the unvaccinated are most at risk.
Since the pandemic first hit Minnesota, 608,678 people have tested positive in the state and 7,644 have died. More than 33,000 have been hospitalized, with 6,680 of those patients sent to ICU.
Wednesday's hospitalization numbers held steady with 116 COVID-19 patients in Minnesota hospitals. Of that group, 28 were in ICU.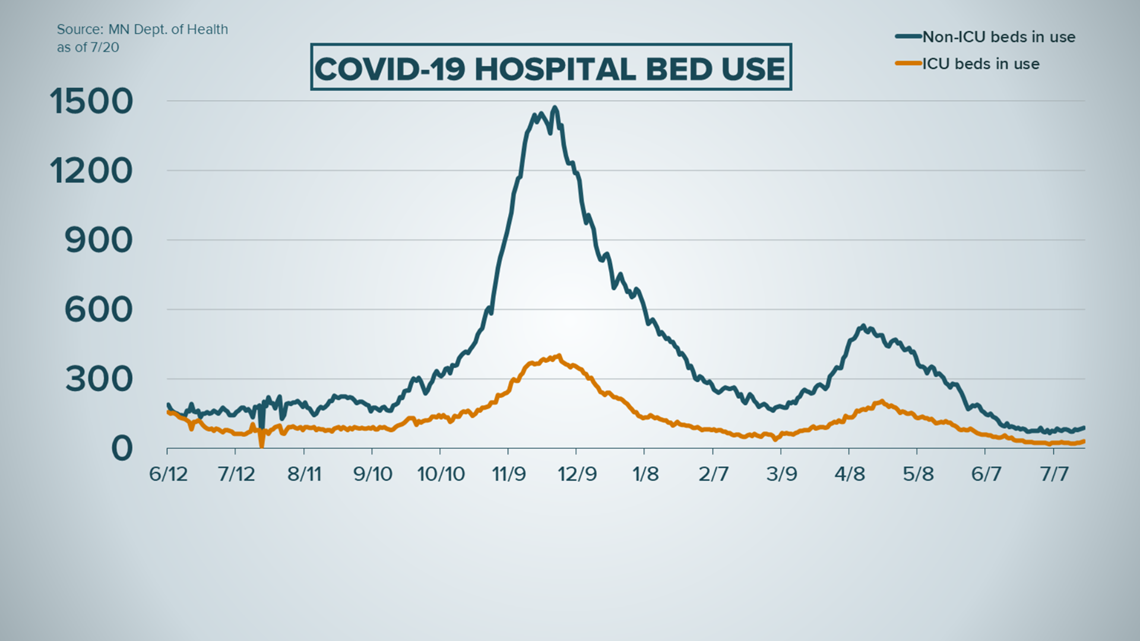 State health officials say nearly 600,000 people who once tested positive for the virus no longer need isolation.
As of Monday (the most recent data available), MDH said 3,115,259 people in the state have received at least one dose of the COVID-19 vaccine (68%). Most of them - 2,966,516 - are considered fully vaccinated.
Minnesota's most populous county is boosting its incentive program for COVID-19 vaccine shots.
The Hennepin County Board of Commissioners Tuesday unanimously approved an additional $250,000 to promote vaccine shots, on top of the original $100,000 that was allocated earlier from federal recovery funds.
Commissioner Chris LaTondresse says the program has increased the number of shots and Tuesday's action "doubles down on this promising strategy" to help fight the coronavirus.
The county used the original investment to buy 2,235 Visa gift cards worth $50 each. The incentive program includes partnerships with community groups to host vaccine events and provide perks such as free meals, groceries, and entertainment.
Minnesota has seen an uptick in COVID cases, partially due to the emergence of the Delta variant, after numbers bottomed out weeks ago.
Data released Tuesday by the Minnesota Department of Health (MDH) shows 625 new COVID-19 infections reported in the past three days.
Of those cases, Hennepin County reports the most daily cases with 169, followed by Ramsey County with 61 and Dakota County with 57. Minnesota has now had 608,405 people test positive since the onset of the pandemic.
Because the department no longer shares numbers on weekends, Tuesday's total includes cases reported from 4 a.m. Friday through 4 a.m. Monday.
One more person has died from the virus, bringing total fatalities in the state to 7,639.
Hospitals are still treating a steady flow of COVID patients: As of Monday, 109 people were hospitalized with the virus, 25 of them in ICU. MDH says a total of 32,993 people have been hospitalized with COVID-19 since March of 2020. Health officials say 599,037 people who at one time tested positive for the virus have recovered to the point they no longer need to be isolated.

The effort to vaccinate Minnesotans continues, despite large-scale community vaccination clinics having closed some time ago. As of Sunday the MDH vaccine dashboard said 3,112,360 people age 16 and over had received at least one dose (67.9%), while 64.9% of those eligible have completed the COVID sequence and are considered completely vaccinated (2,963,538 people).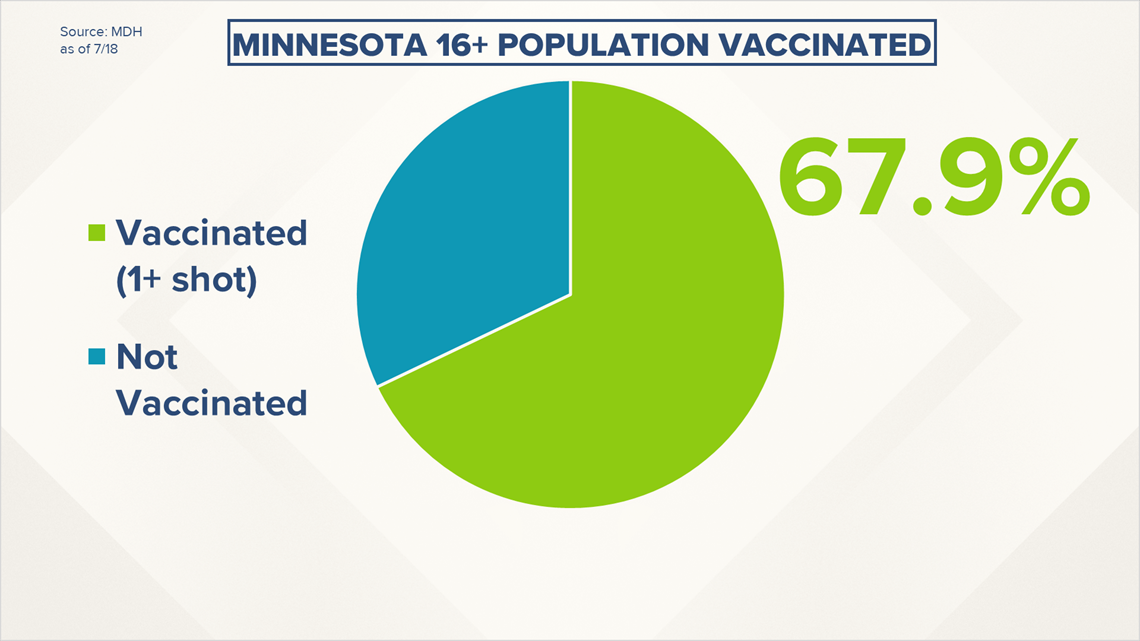 The Minnesota Department of Health (MDH), which no longer provides COVID-19 updates during the weekend, reported 263 new cases Monday.
MDH also reported another three COVID-19 deaths. Since the beginning of the pandemic, 607,784 people in the state have tested positive for the virus. MDH reports that a total of 7,638 people have died from COVID-19 in Minnesota.
A total of 32,956 people have been hospitalized with the virus in Minnesota since the pandemic began, MDH said. Of that group, 6,669 had cases severe enough to be in the ICU.
As for the state's vaccination effort, MDH says a total of 3,106,398 people have received at least one dose of a COVD-19 vaccine. Most of that group (2,957,310 people) are considered fully vaccinated against the virus.