Positive reported COVID-19 cases in Minn. now stand at 68,867
Wisconsin logs over 900 new cases as of Saturday.
Health officials announced 13 new deaths on Saturday, bringing the total number of fatalities statewide to 1,081. The total number of fatalities is approximately 1.5% of those testing positive for the virus.
Wisconsin health officials say a total of 5,545 people have been hospitalized from the coronavirus since the start of the pandemic, roughly 8% of the total number of people who have been diagnosed with the virus.
Of the confirmed cases in Wisconsin, 25% involve people between the ages of 20 to 29, 17% are between 30 and 39, 14% are between 40 and 49, and 14% are 50 to 59. An estimated 10% are between 10 and 19, and 9% are between 60 and 69.
As of Saturday, Milwaukee County reported the largest number of cases with 23,144 and 479 deaths. Waukesha County reports 5,213 cases and 70 deaths, while Dane County has registered 5,053 cases and 39 deaths.
The Minnesota Department of Health (MDH) reported 746 newly confirmed COVID-19 cases Saturday, bringing the total number of Minnesotans who have tested positive for the virus since the pandemic began to 68,867.
MDH says another eight Minnesotans have died of complications from the virus during the past day, bringing the total number of fatalities in the state to 1,761.
Minnesota hospitals are currently treating 316 patients for the coronavirus, with 148 of them dealing with symptoms serious enough to require care in the ICU.
MDH reports that 61,698 people once diagnosed with the virus have recovered enough that they no longer require isolation.
Of those who have tested positive, people between the ages of 20-24 account for the most cases with 8,850 cases and one death, and those ages 25-29 follow with 7,065 cases and three deaths. Those between 85 and 89 years old account for the highest number of fatalities in one age group at 299, out of 1,010 confirmed cases.
Hennepin County has the most cases in the state at 21,466, with 865 deaths, followed by Ramsey County with 8,493 cases and 285 deaths. Dakota County reports 5,191 cases and 109 deaths.
Health, education officials urge families to lay low ahead of fall start to school
15 Minnesotans who went to Sturgis test positive for coronavirus
Minnesota's single-day case count of 835 is highest since Aug. 8
29 Minnesota restaurants tied to COVID-19 outbreaks
State releases updated COVID-19 data for school reopening guidance
The Minnesota Departments of Health and Education (MDH and MDE) held a joint media briefing call Friday on COVID-19 and back to school.
MDH Infectious Disease Division Director Kris Ehresmann urged parents to keep their children up to date on their regular immunizations before school starts this fall, and to make sure to have them get a flu shot.
MDH's K-12 School and Childcare Team Leader Susan Klammer urged people in the school community - parents, kids, teachers and staff - to follow public health guidance and avoid high-risk situations as fall approaches.
MDE Deputy Commissioner Heather Mueller acknowledged Friday that this fall will be like none in the past, with schools potentially doing in-person, hybrid and distance learning at different times.
"After months of preparation, I believe our schools are ready, " she said.
Mueller called on parents to remind their kids about good hand-washing and hygiene practices, and show them how to mask up.
Many schools have already publicized their plans for this fall, and Mueller said MDE is posting those plans on its website as they are completed.
"I encourage families to review your school's plan and reach out to your school district and your school if you have questions or concerns," she said. "Talk to your student about what they're going to expect as the school year starts."
Mueller said the schools have worked hard on their plans, but it will take everyone's participation to make them successful.
"We've seen examples around the country about what can happen when schools struggle," she said. "I know that Minnesota can do better."
"We know that there were many more people from MInnesota who attended the event, and expect to see additional cases in the coming days," she said. "If you did go to Sturgis it's best to self-quarantine for 14 days upon return."
One of those 15 is hospitalized in Minnesota, according to Ehresmann. One was a volunteer or temporary employee at a Sturgis bar and 14 were attendees, Ehresmann said. The cases were tied to multiple campgrounds, bars and events in Sturgis.
The Minnesota Department of Health reported 835 new cases of COVID-19 on Friday and eight deaths.
The new numbers bring the total of cases in the state to 68,133 and the pandemic's death toll in Minnesota to 1,753. Friday's case count of 835 is the highest since Aug. 8.
Hospitalizations are down across the state, with 296 people in hospital beds and 136 people in the ICU.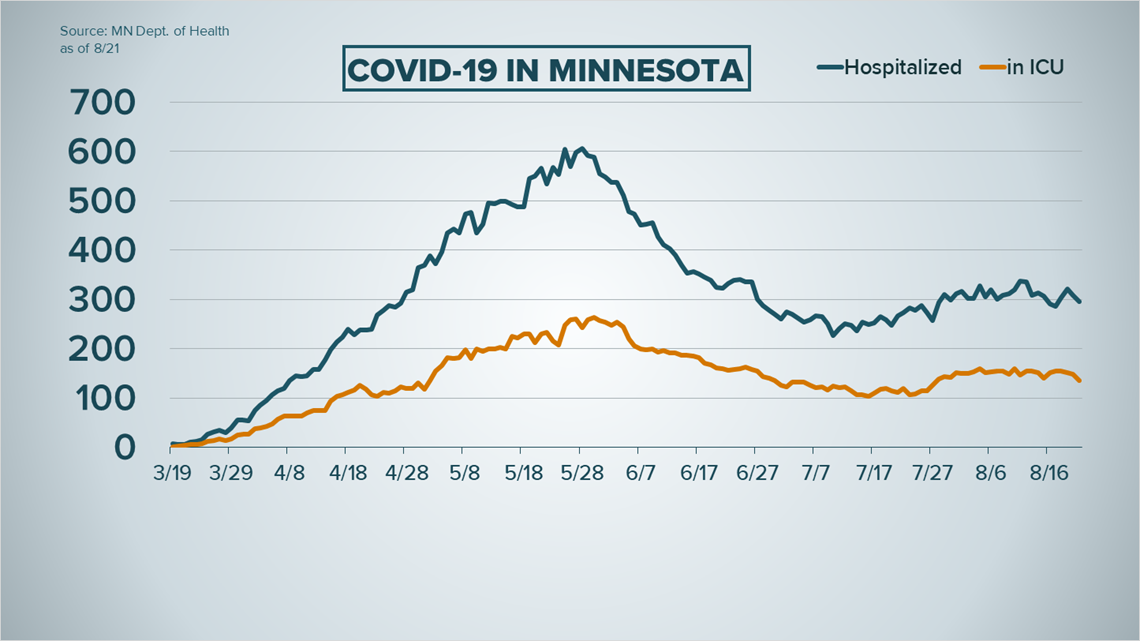 MDH has started breaking down the age ranges of cases more specifically, now separating groups out by five years instead of by decade. Those 20-24 years old are the age group with the highest number of cases, at 8,743. They're followed by people 25-29, with 6,997 cases.
The updated data tracks the 14-day rate of COVID-19 cases per 10,000 people by county, between July 26 and August 8.
New numbers show 51 of Minnesota's 87 counties have case rates low enough for full in-person learning under the state's guidance, an increase of three counties over last week. Another 26 counties currently fall into a range where the state recommends hybrid in-person and distance learning for secondary students; while 10 counties have rates high enough for the state to recommend hybrid learning for all age groups.
State officials have emphasized that this case data alone does not automatically determine the learning plan for a particular county or school district, but is meant to be used in guidance as the first step in each district's decision-making process.
According to the state's Safe Learning Plan, the county case data leads to five recommended learning models:
0-9 cases per 10,000: In-person learning for all students
10-19 cases per 10,000: In-person learning for elementary students, hybrid learning for secondary students
20-29 cases per 10,000: Hybrid learning for all students
30-49 cases per 10,000: Hybrid learning for elementary students, distance learning for secondary students
50 or more cases per 10,000: Distance learning for all students
There are currently no Minnesota counties that fall into the two highest guidance ranges.
From week to week, six counties saw COVID-19 case rates increase into a new recommended learning category with more hybrid learning, including Aitkin, Jackson, Lincoln, McLeod, Pipestone and St. Louis counties. A dozen other counties had case rates fall into a less restrictive learning model, including Becker, Cottonwood, Grant, Lyon, Murray, Nicollet, Red Lake, Rock, Sherburne, Stearns, Wabasha and Wilkin counties.
The state of Minnesota has set up a data portal online at mn.gov/covid19.