ST PAUL, Minn. — Tuesday, April 20
COVID hospitalizations in Minnesota remain near 700
MDH unveils new Mobile Vaccination Units
All U.S. adults now vaccine eligible
Minnesota passes 7,000 reported COVID-19 deaths
MDH: More than 1.6 million in Minnesota fully vaccinated against COVID-19
While data released Tuesday by the Minnesota Department of Health (MDH) shows new daily COVID cases down significantly from last week (several days above the 2,000 threshold), state officials remain concerned about both cases and hospitalization numbers currently associated with the virus.
MDH says 686 people were being treated in hospitals across the state Monday, with 193 of them in the ICU. That's the highest number of daily ICU patients reported since Dec. 30.
While reported new infections are at 1,189, significantly lower than in recent days, it's also important to note that Tuesday's reported numbers are generally the lowest of the week. Health commissioner Jan Malcolm says her staff remains extremely concerned about the long term trends they're seeing, especially with hospitalizations. She noted that MDH has not seen numbers like this since December, and the emergence of variants provides even more cause for concern.

"We still are in a precarious situation," she told reporters at a news conference unveiling a new community vaccination tool, the Mobile Vaccination Unit. Malcolm said while the B.1.1.7 variant is still most prevalent, her scientists are seeing a doubling of other variants on Minnesota's landscape.
Total hospitalizations since the pandemic began have risen to 29,282, while total cases of coronavirus are now at 558,850.
MDH says 534,889 people who once tested positive for the virus have improved to the point they no longer need to isolate.
Five more Minnesotans have died from COVID, pushing fatalities to 7,031.
The effort to vaccinate all Minnesotans against the virus presses on, with 2,304,975 eligible residents (age 16 and above) having received at least one dose. That's 52.3% of the eligible population. Of those, 1,630,999 people have completed their COVID series and are considered fully vaccinated.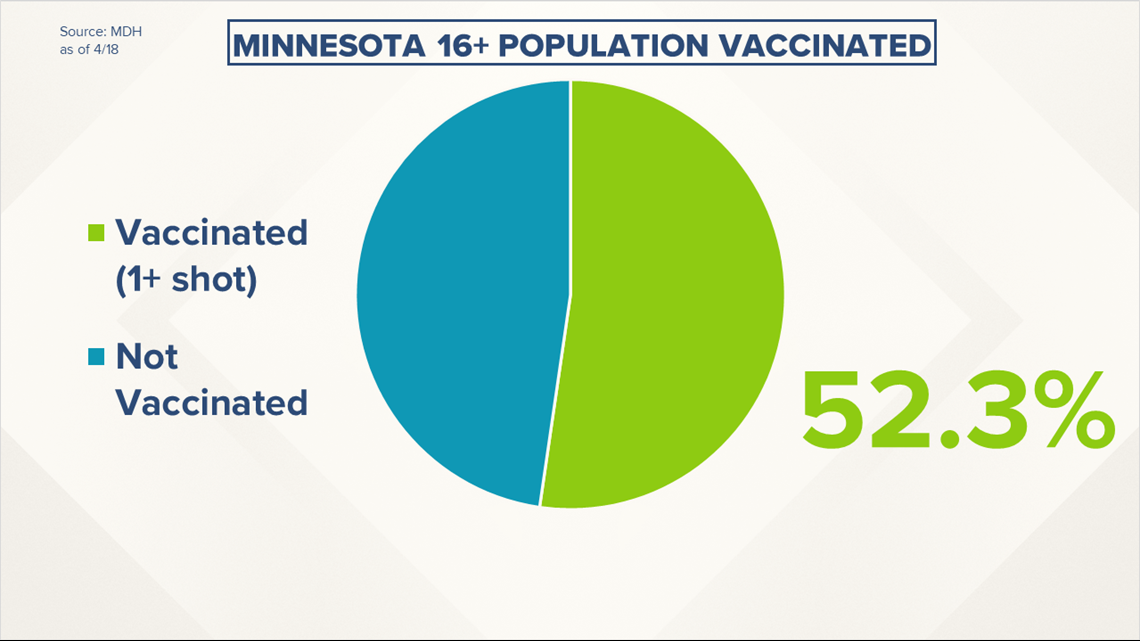 Minnesota Health Commissioner Jan Malcolm helped take the wraps off a new tool to help in the effort to vaccinate residents against COVID-19 where they are.
Malcolm visited the Hallie Q Brown Center in St. Paul to tour one of the state's new Mobile Vaccination Units. The units are retrofitted and wrapped Metro Transit buses that were nearing the end of their service lives, but will now be put into use as rolling vaccination sites that will visit underserved locations and populations.
Currently there are two mobile units, but plans are in the works for up to six of them. Malcolm said visits by the mobile units will be set up by request, like today's to the Hallie Q. Brown Center, and it will be up to the organization or location that requests a mobile clinic to publicize it and schedule appointments.
New COVID cases are well below the 2,000 threshold but hospitalizations from the virus remain at a concerning level, according to data released Monday by the Minnesota Department of Health (MDH).
As of Sunday 682 people were being treated in hospitals across the state on an in-patient basis, 172 of them in ICU. Bed availability has actually rebounded in the Twin Cities, with 100 non-ICU beds open in the metro hospital system (2.7% vacancy rate).
Total Minnesota COVID hospitalizations are now up to 29,016 since the start of the pandemic, with 5,922 patients requiring care in the ICU. MDH says 532,563 people who at one time tested positive for the virus have improved to the point they no longer require isolation.
MDH says 1,292 new infections were reported in the last day, bringing total coronavirus cases in Minnesota to 557,665. The cases reported Monday are based on results from 23,297 tests (19,653 PCR, 3,644 antigen) processed in private and state labs. Health officials consider a positive PCR test a confirmed COVID case, while a positive antigen test is considered a probable case.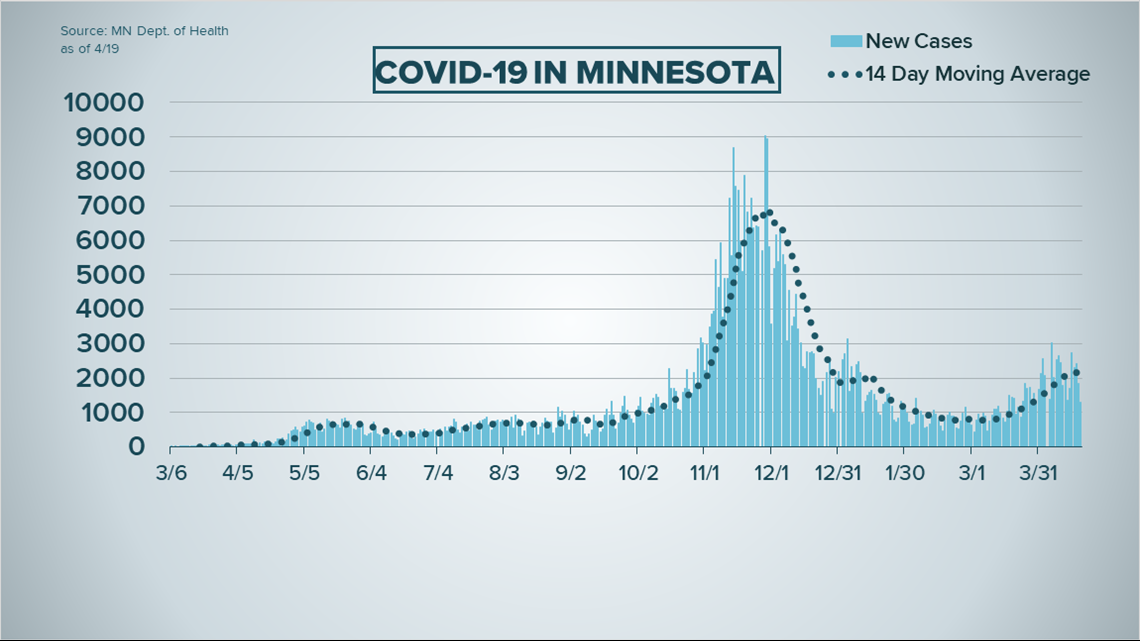 Six more people have died from the virus, bringing total fatalities to 7,026. Of those deaths 4,336 of them (62%) are tied to long-term care or assisted living facilities. Data shows the virus continues to be deadliest among those 85-89, with 1,307 fatalities in 6,583 diagnosed cases.
It should come as no surprise that the state's four most populous counties have experienced the most COVID activity. Hennepin County has recorded 116,105 cases and 1,683 deaths, followed by Ramsey County with 48,076 cases and 856 deaths, Dakota County with 42,704 cases and 422 deaths, and Anoka County with 38,757 cases and 416 fatalities.
The state vaccine dashboard says 3,731,185 total doses of COVID vaccine have been administered in Minnesota as of Saturday. Wednesday through Friday of last week were extremely busy vaccination days, with 73,883 doses, 79,666 doses, and 63,448 doses administered respectively.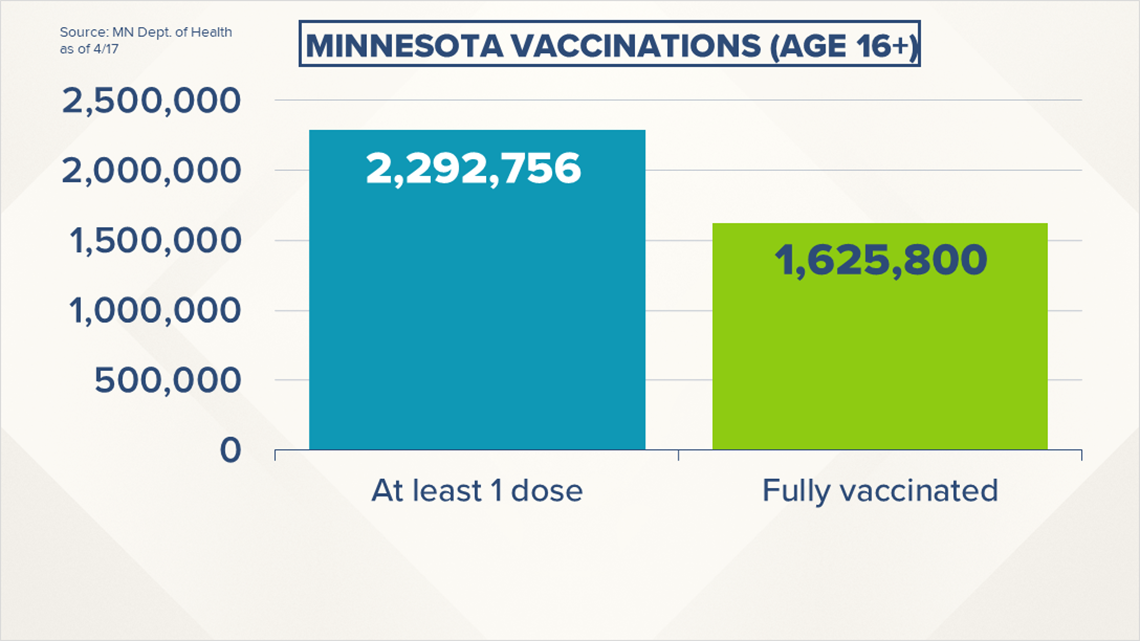 MDH says 2,292,756 people have now received at least one dose, 52% of the state's eligible residents. The number of Minnesotans considered completely vaccinated is now up to 1,625,783, 36.9% of those currently eligible to receive a vaccine (age 16 and older).