ST PAUL, Minn. — Two years after the COVID-19 pandemic began across the U.S. and around the world, the number of cases, hospitalizations and deaths continue to ebb and flow.
Here's the latest data for Minnesota as of Monday, May 23, 2022.
CASES
Newly reported COVID-19 cases: 2,152
Total positive COVID-19 cases (including reinfections): 1,495,009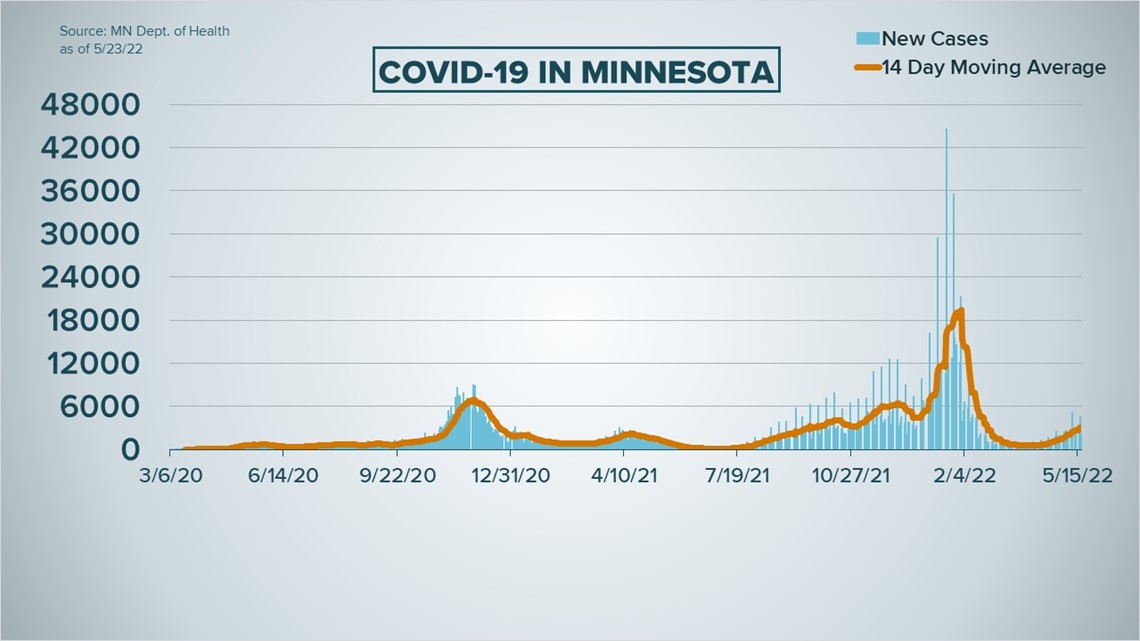 DEATHS
Newly reported COVID-19 deaths: 9
Total COVID-19 deaths in Minnesota: 12,596
HOSPITALIZATIONS
Current statewide COVID-19 hospitalizations: 422
Current statewide COVID-19 ICU hospitalizations: 36
Total COVID-19 hospitalizations: 63,869
MN adult ICU beds in use (COVID & non-COVID): 896 of 1,005
MN pediatric ICU beds in use (COVID & non-COVID): 131 of 144
MN adult non-ICU beds in use (COVID & non-COVID): 5,900 of 6,703
MN pediatric non-ICU beds in use (COVID & non-COVID): 396 of 438
VACCINATIONS
Minnesotans with one dose: 3,914,064 (70.4% of total population)
Minnesotans with completed series: 3,709,010 (66.7%)
Minnesotans boosted/up-to-date: 2,553,247 (45.9%)
COVID-19 COMMUNITY LEVELS
Maps were last updated May 6.
The CDC's weekly update on May 19 showed the entire seven-county metro area remained in the "medium" community level designation. The southeastern corner of state was listed as "high," including the cities of Rochester and Winona, along with the northeastern portion of the station, including Duluth.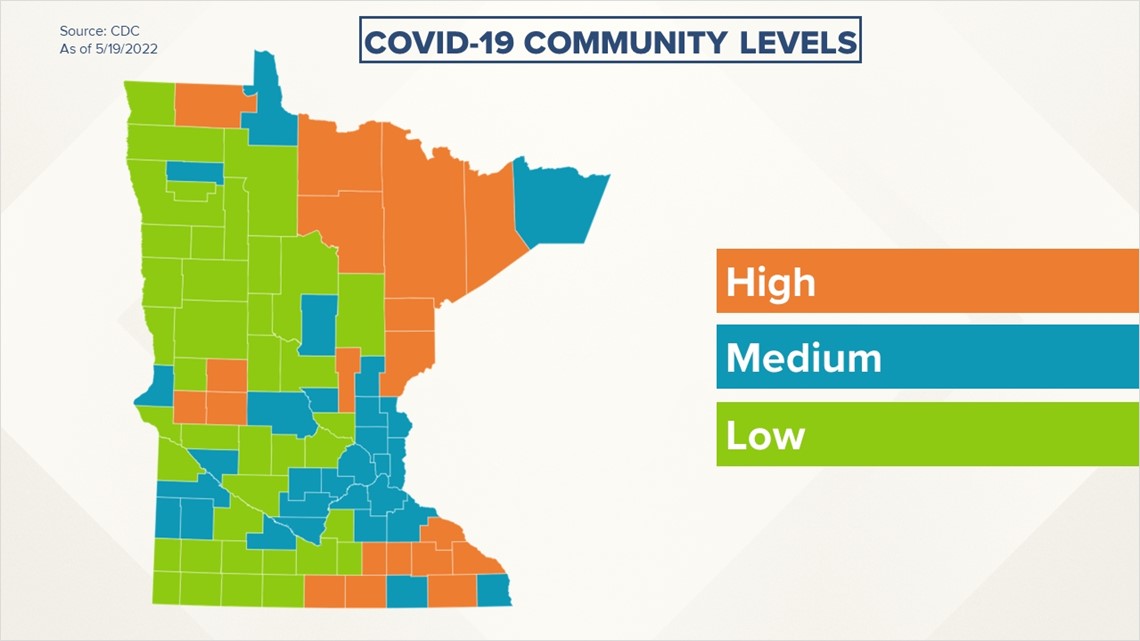 WHERE TO FIND COVID-19 TESTING
MORE INFORMATION ON COVID-19