Gov. Tim Walz is enacting new dial-back measures aimed at social gatherings as COVID-19 cases, deaths and hospitalizations continue to break records across Minnesota.
Walz spoke to the public in a Tuesday afternoon press conference, saying, "We are in the midst of a significant surge in coronavirus cases. I wish I could tell you that this is unexpected, but it's not."
"We've turned our dials," the governor said. "We're going to have to turn them back a little again today."
The new restrictions being put in place include:
Limit of 10 people for indoor and outdoor gatherings
Three households or less, including the host
Effective at 10 p.m. Friday, Nov. 13
"We need to move now," Walz said. "This is happening incredibly quickly."
Receptions including weddings and funerals
Phased approach to attendance limits

50-person limit on Nov. 27
25-person limit on Dec. 11

The events cannot take place between 10 p.m. and 4 a.m.
No change to the actual wedding, funeral or similar planned ceremony - only the connected reception or celebration
50% capacity, no more than 150 people total
Counter closed for seating and service, unless counter-only service establishment
Patrons must be seated at tables
No bar games that require standing
No service 10 p.m. to 4 a.m.
Goes into effect Friday, Nov. 13, at 10 p.m.
New COVID-19 Restrictions in Minnesota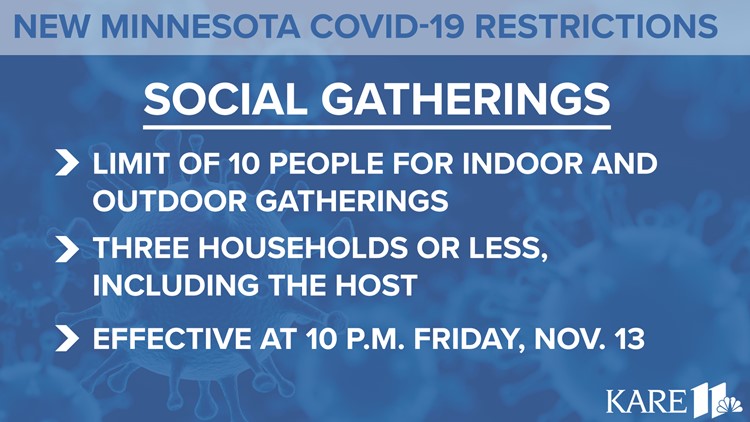 Retail no longer has any capacity limitation as of Tuesday, according to DEED Commissioner Steve Grove. No new limitations are being placed on gyms or sports at this time.
Walz acknowledged that the new restrictions are painful, and said he is as frustrated as everyone else.
"We should have broke the back of this thing months ago," he said.
Walz said that his administration is proposing $10 million in additional funding in relief grants for small businesses that will suffer.
On Sunday, the Minnesota Department of Health (MDH) reported 5,924 new cases across the state, by far the highest single-day total yet and the fifth new single-day high in a row.
Walz and state health officials have been warning for weeks that hospitals have nearly hit their ICU capacity across the state.
"We have surge capacity, we have N95 masks, we have the proper protective equipment," Walz said. "We're simply running out ... of personnel."
Walz said that with health care workers getting COVID-19, hospitals are running out of the staff to continue caring for the large numbers of hospitalized patients – not just in Minnesota, but across the country.
MDH Commissioner Jan Malcolm said the state is trying not to put a blanket ban on "elective" procedures at hospitals, instead saying that the providers themselves are making decisions on that.
"The staffing is a critical variable," she said, and is changing from shift to shift.
Walz said on Tuesday that state officials are seeing spread in every part of daily life and in all settings, echoing his statement Monday that Minnesota is seeing more "mini spreaders" than "super spreaders."
"It's not being caused by one or two major events," he said.
The governor showed data Tuesday that shows that 18 to 35-year-olds are spreading the virus at the highest rate.
"They are spreading it into the older, the more vulnerable populations, and that is where the uncontrollable spread is coming from," Walz said.
Walz said those young people are spreading the virus primarily in private social gatherings, weddings, funerals, private parties, and other group settings; and in late-night outings at bars and restaurants.
State data even shows when this is happening.
"We're seeing a doubling, at least a doubling in infections that are happening after 9 o'clock as opposed to earlier in the evening," Walz said.
Walz pointed out that case growth is not limited to the metro area.
"Every corner of our state is being impacted by this," Walz said.
Seventy-one percent of recent COVID-19 outbreaks have been in social settings like those private social gatherings, weddings, funerals, restaurants and bars, Walz said. The other 29% are from other settings like workplaces.
"Eighteen to 35-year-olds that are asymptomatic, that's the heart and soul of where this is spreading," Walz said on Monday. "These are healthy folks that might not even know they have it, and where they are congregating, they are acting as the spreader or the nucleus of where this is coming out of, and ... taking it into places like long-term care, like hospitals, like schools."
Walz said he is not seeking to "demonize" an industry, but instead to use data to target restrictions more specifically.
Grove said Tuesday that he wished they were not sharing new restrictions.
"This has never been about, sort of, public health versus the economy," he said. "We can't really begin economic recovery in a full sense until we get this pandemic under control."
Grove said he believes targeted restrictions now will give Minnesota a better shot at long-term recovery. He pointed out that the holiday season is the time when many businesses make up losses, and urged Minnesotans to buy from small businesses and get takeout from local restaurants.
Minnesota Licensed Beverage Association Executive Director Tony Chesak criticized the new restrictions.
"Unfairly singling out every bar and every restaurant in Minnesota is not a scalpel – it's a hatchet targeting one of Minnesota's hardest hit industries this year," Chesak said. "Bars and restaurants are only affiliated with 2% of the cases, but these new blanket rules across the state will cause more businesses to close, leaving more people unemployed and unable to support their families. We have yet to see real empirical data from state leaders showing how these regulations could help."
The Minnesota GOP echoed that criticism, saying the new restrictions will "single-handedly further destroy" the bar and restaurant industry.
"What happened to a free and fair nation where individuals are allowed to choose personal responsibility and do what works best and is most comfortable for them?" said Chairwoman Jennifer Carnahan.
Walz pointed out on Monday ahead of his announcement that back in March, there was a stay-at-home order.
"That's a pretty blunt instrument to attack COVID-19," he said. "It was the right tool early on because it allowed us to build up PPE (personal protective equipment), testing and hospitals. It's not something that I want to do."
Walz said the state is "surgically" looking at "where are 18 to 35-year-olds congregating together?"
"It makes sense to us now to target those much more surgically, much more aggressively than a statewide stay-at-home order," Walz said. "Because at this point in time we've learned that we can do retail, we can do education, some of it in person, if we're able to test, contain and contact trace those folks to get it isolated."
Walz said he is attempting with dial-back measures to achieve "the maximum health effect but minimize the economic impact."
He pointed out that the infection rates, hospitalizations and deaths have been breaking records almost daily. "These are preventable deaths," Walz said, urging Minnesotans to wear a mask, social distance, stay home when they're sick and get tested. Walz warned that hospitals are becoming full, and it is an "inevitability" that Minnesota will see 10,000 cases per day and rising deaths if changes are not made.
"We want to cut off that community spread by making sure that people get tested as easily and as quickly and as close to their home as they possibly can," Walz said.
Malcolm said Monday that bars and restaurants are still a large source of transmission for COVID-19 in Minnesota.
"If you look at all the sources of spread, workplaces, retail, these celebratory events, bars and restaurants, that is a very large category of cases," she said of the hospitality industry. "We definitely are talking about and looking at the data, are there patterns there, are there things ... we can do that are targeted and are more specific in nature?"
"We are not scapegoating the hospitality industry," Walz said. "It's just a riskier environment. But in all fairness, you gathering with three or four families in your backyard, or worse yet in your garage for a celebration, would have an equally detrimental effect. And we'll have to target those too."
Walz acknowledged the enforcement, especially for private social gatherings, is going to be largely a "social contract."
"We're not going into people's homes and arresting them on Thanksgiving," Walz said.
Walz also announced on Monday that he's calling for another special session of the Minnesota Legislature starting Thursday, with the intent of extending the COVID-19 peacetime emergency by 30 days.
Minnesota House Minority Leader Kurt Daudt was critical of the new restrictions, raising concern for the impact they could have on small business owners, especially given such little notice ahead of the restrictions that go into effect on Friday.
"These restrictions are another hit to Minnesota bars and restaurants, many of whom have been doing everything the right way to protect the health and safety of their guests and employees," Daudt said in a statement.
Senator Majority Leader Michelle Benson called on Gov. Walz to reopen schools.
"The data-driven approach can be used not just to restrict activity, but to re-open safely," Benson said in a statement. "If there is data to prove bars and restaurants are major sources of transmission, we expect the data that shows elementary students are not major transmitters should be reviewed to safely resume in-person learning without putting the broader community at risk."
The Minnesota Medical Association, which represents more than 10,000 physician, resident and medical student members, said it was grateful for the new restrictions, addressing the impact the pandemic has had on the health care system.
"As Minnesotans, we all need to heed the recommendations of public health experts if we want to help our state's economy, ease an already stressed health care system, and most importantly, avoid unnecessary sickness, disability and death for thousands of our fellow Minnesotans," said MMA President Marilyn Peitso, MD in a statement.