ST PAUL, Minn. — Monday, June 22
MDH officials report 4 COVID-19 deaths, lowest in two months
Carnival Cruise Line cancels sailing through end of September over virus concerns
Youth sports to resume this week in Minnesota
The Minnesota Department of health (MDH) is issuing a warning about two areas of concern in light of the COVID-19 pandemic: decreased use of emergency rooms, and decreased vaccinations for children.
MDH Infectious Disease Division Director Kris Ehresmann said they're seeing a drop-off in the percentage of children getting their vaccines because parents are not going in for well-child visits. About three months ago, the MMR vaccination for measles, mumps and rubella was down by 70% as compared to 2019. Last week it was down by about 34%.
"We know that if introduced that measles can take off anytime we have low vaccination rates," Ehresmann said, referencing Minnesota's outbreak in 2017.
"As we take our eye off very critical preventive measures, we may see some very tragic consequences of that," MDH Commissioner Jan Malcolm said.
Ehresmann also said she wanted to put in an "early plug" for the influenza vaccine.
"Thinking ahead this year it will be even more important that we have as many people protected from influenza as we can," she said.
Ehresmann said national data that includes Minnesota also shows a 23% decrease in ER visits for heart attacks, 20% decrease for stroke, and 10% for hyperclycemic crises. That data is taken from the 10 weeks after the national emergency was declared for coronavirus, and compared with the 10 weeks prior.
Ehresmann said MDH wants to make sure that people who are experiencing signs of serious illness seek emergency care.
Malcolm said that the new COVID-19 case numbers reported Monday are not a big change from what they've been seeing lately.
"We are still seeing that couple days up, couple days down pattern," she said.
There were 308 new cases reported Monday, based on the positive tests that were confirmed Sunday. That decrease came after a couple days of increase, with 430 on Friday and 460 on Saturday. Before that, 360 new cases were identified Thursday.
The median age of cases is now 40.4 years old in Minnesota. Ehresmann said that is likely because they have expanded testing beyond just older, more vulnerable populations.
Although overall hospitalizations increased Monday for the first time in just under a week, Malcolm said there is a "stable hospitalization picture" from COVID-19. However, she said, "Many of the hospitals still are running at a very high occupancy rate from other business."
More than 15,000 people have been tested at community sites and by HealthPartners after the large gatherings and protests following George Floyd's death in Minneapolis police custody. Malcolm said the positivity rate so far is under 2%.
New numbers released Monday by the Minnesota Department (MDH) reflect the lowest number of COVID-19 deaths in a single-day in more than two months.
MDH says four fatalities across the state in the past 24-hour reporting period have been attributed to the coronavirus, the fewest since zero were reported April 13. In all, 1,384 people have succumbed to the virus since it hit Minnesota. Of that number, 1,095, or 79%, have occurred in long-term or assisted living settings.
Cases continue to increase, with an additional 308 people testing positive for COVID-19 in the past day. That brings the total number of confirmed cases to 33,227. Private and state labs processed 8,664 tests, bringing overall tests completed to 513,137.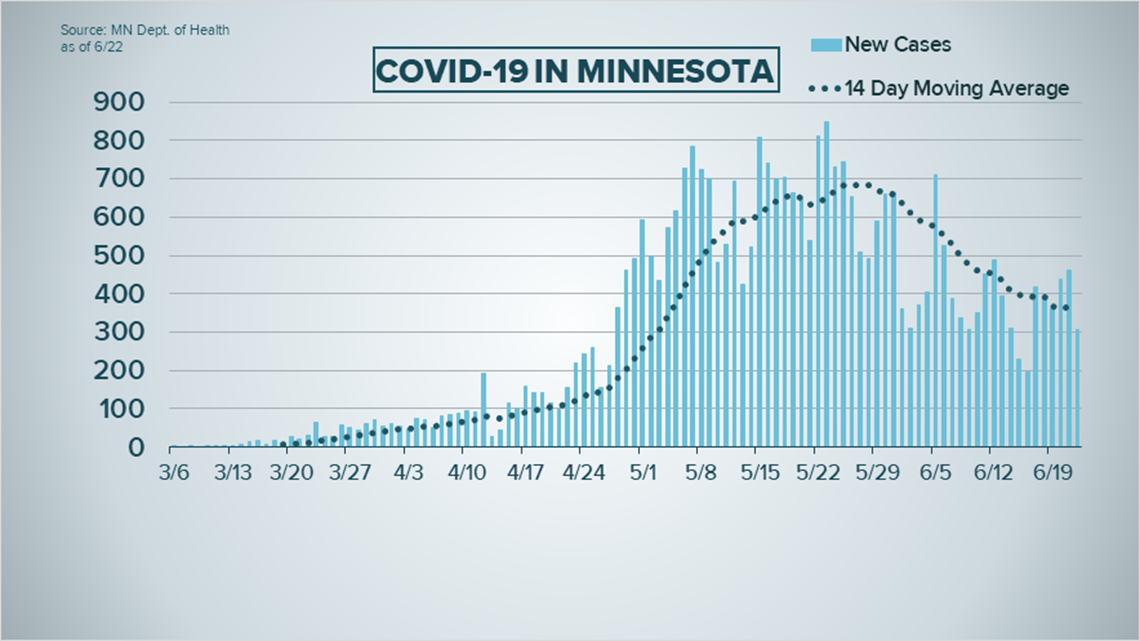 Across the state 332 are currently hospitalized with symptoms of the coronavirus, 156 of them requiring treatment in the ICU. That's the first time overall hospitalizations have gone up since last Tuesday.
MDH says 29,065 people who at one time tested positive for the virus have now recovered sufficiently to no longer require isolation.
Of those testing positive, people between the ages of 30 and 39 make up the largest number of cases with 6,673. Those between 20 and 29 are not far behind with 6,539 cases. People ages 80 to 89 account for just 1,509 of the cases but 473 of the deaths, 34% of the state total.
Officials with the Minnesota Department Health reported on Sunday that 461 more people have tested positive for COVID-19, the new cases increase the state's total to 32,920.
The MDH says 8 more people also died, bringing the death total to 1,380.
Minnesota hospitals are currently treating 322 patients for complications from the coronavirus, with 160 people in intensive care.
Of the newly announced deaths on Sunday, four people were in their 90s, three were in their 80s and one was in their 70s.
All of the deaths were residents of long-term care facilities, so far 1,093 deaths have been among residents of long-term care.
MDH reports that 28,663 people once diagnosed with the virus have recovered enough that they no longer require isolation.
Of those who have tested positive, people between the ages of 30-39 account for the most cases, with 6,627 cases and 10 deaths. Those between 80 and 89 years old account for the highest number of fatalities in one age group, at 471, out of 1,503 confirmed cases.
In terms of likely exposure to coronavirus, MDH says 7,192 cases involve exposure in a congregate living setting, 9,901 cases had known contact with a person who has a confirmed case, 7,353 cases had community transmission with no known contact with an infected person and 1,222 cases were linked to travel. Health care workers account for 2,163 of diagnosed COVID-19 cases.
Hennepin County has the most cases in the state at 10,830, with 747 deaths, followed by Ramsey County with 4,306 cases and 210 deaths. Stearns County reports 2,134 cases and 19 deaths.
MDH has prioritized testing for people in congregate care, hospitalized patients and health care workers, which may impact the scale of those numbers. However, now MDH is urging anyone who is symptomatic to be tested, along with anyone who attended recent protests or gatherings, even if they're not symptomatic. Testing locations can be found online.
The state of Minnesota has set up a hotline for general questions about coronavirus at 651-201-3920 or 1-800-657-3903, available 7 a.m. to 7 p.m. There is also a data portal online at mn.gov/covid19.