ST PAUL, Minn. — Health officials have long said quality masks are among the best weapons for preventing the spread of COVID-19, even when it comes to the highly-transmissible omicron variant.
The state of Minnesota announced Thursday that 2.1 million KN95 masks are now on their way to community groups, schools and public health agencies to distribute free to local residents.
A news release says around 650,000 of the medical grade masks will go to local public health agencies, and schools will receive 550,000 to share with staff and students. Others chosen to distribute the free masks include MDH's COVID-19 Community Coordinators, child care centers, clinics serving Medicaid enrollees, and tribal nations.
Governor Tim Walz says the goal is to get the masks into the hands of people in higher risk settings, higher risk populations and state schools. Additional free N95 masks provided by federal officials are being handed out at pharmacies across Minnesota.
"Studies constantly show that high-quality masks like KN95s better protect wearers from COVID-19 and help slow the spread of the virus," said Walz in a released statement. "As we navigate the difficult weeks ahead, make sure you mask up in public to protect yourself, your family, and your community."
State health officials say in addition to wearing a mask, distancing, testing and vaccinations are critical tools Minnesotans should use to protect themselves and others.
Also on Thursday, MDH reported 57 new COVID-19 deaths in the state.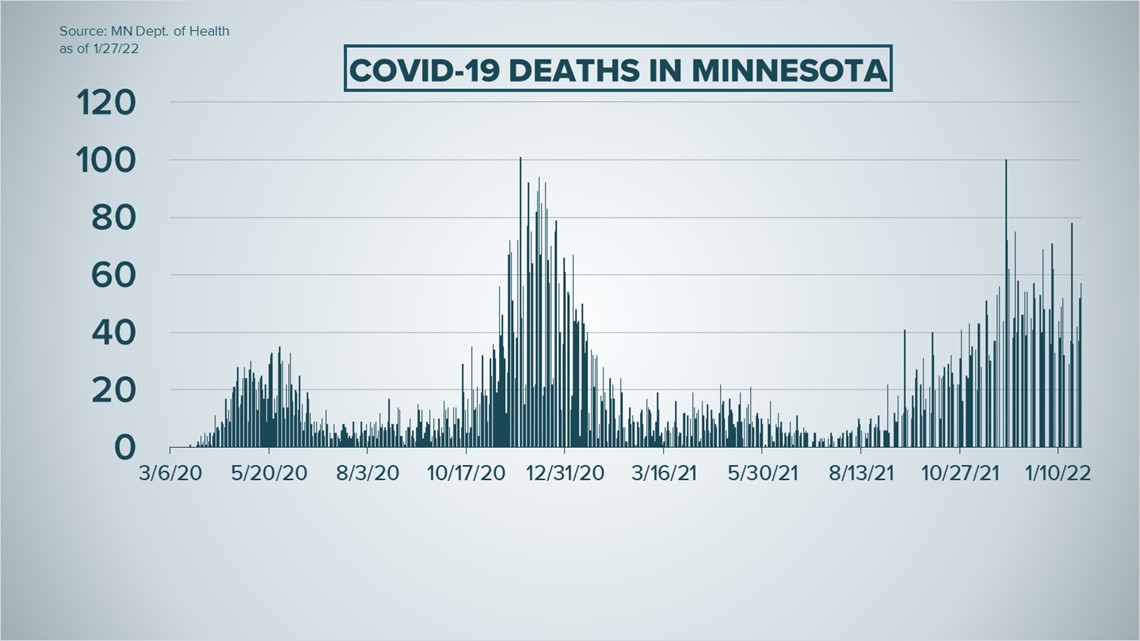 Minnesota's cumulative death total is at 11,339 since the pandemic began.
Health officials say 5,320 deaths have taken place in long-term care or assisted living facilities.
Officials report the occupancy rate of adult intensive care beds and pediatric ICU beds are all above 87% across Minnesota. That high number also includes non-intensive care beds.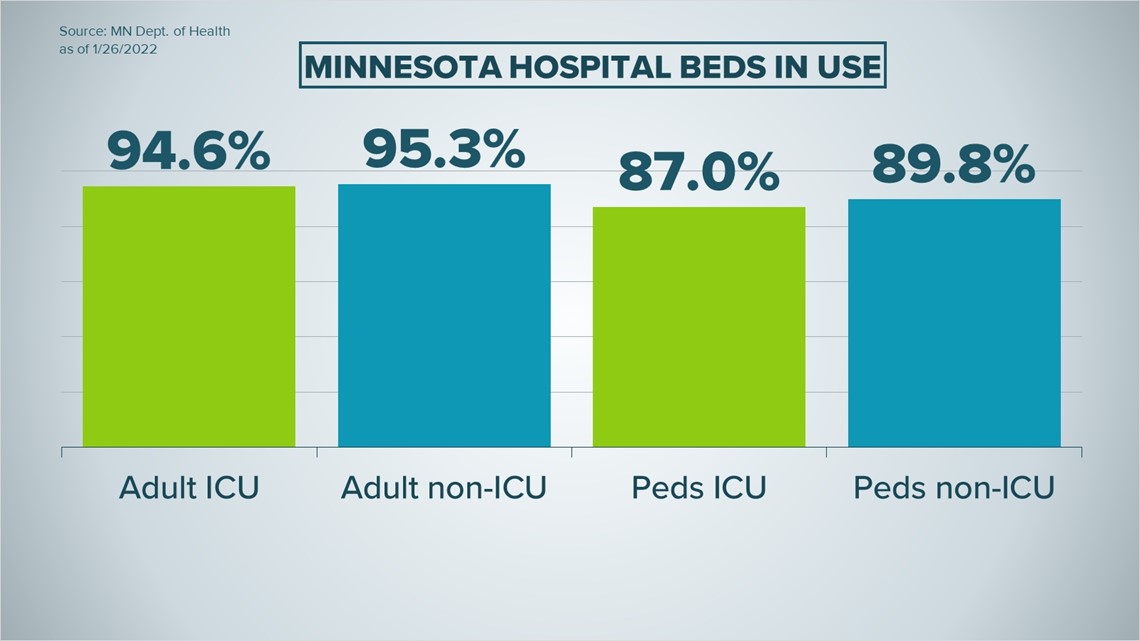 MDH reported 9,154,901 total doses of vaccine have been administered in the state, with 3,830,360 people age 5 and older having received at least one shot (73.5%). Of that number 3,587,482 people have completed their COVID series and are considered completely vaccinated (68.8%).
Among children 5-11 years old, 187,087 kids have at least one shot (37%) and 149,665 have completed their vaccine series (29%).
On Thursday, 14,633 new COVID-19 cases in the state were announced, however the latest data published likely does not paint the full picture of the current coronavirus surge, which has been fueled largely due to the omicron variant, as many at-home COVID tests were not reported to state health officials.
Watch the latest reports and updates on the coronavirus pandemic in Minnesota with our YouTube playlist: