MINNEAPOLIS — Citing decreasing COVID case numbers and expanded vaccine availability across Minnesota, Governor Tim Walz announced Friday that loosened virus restrictions will go into effect statewide on March 15.
The three priorities in the latest round of guidelines are gathering with friends and family, patronizing small businesses and visiting large venues.
The following adjustments will go into effect on March 15 at noon:
Social gatherings
Up to 50 people outdoors or 15 people for indoor gatherings, both without household limits
Youth sports: Pod size increasing to 50 for outdoor activities
Religious services: Remove occupancy limit, but social distancing required
Celebrations: Follow venue guidance
Small businesses
Bars and restaurants: Increase occupancy to 75% with a limit of 250 people. Limits apply separately indoors and outdoors and bar seating increases to parties of 4
Salons/barbers: Remove the occupancy limit, social still distancing required
Gyms/fitness centers/pools: Increase allowable occupancy to 50%, outdoor classes can increase to 50 people
Entertainment venues: Increase occupancy to 50% both indoors and outdoors, with a limit of 250
Large venues
All venues can open at 50% capacity up to 250 people starting March 15
Venues with normal occupant capacity over 500 can add additional guests, effective April 1:

Seated outdoor venues can add an additional 25% of their capacity over 500, limit of 10,000 people
Non-seated outdoor venues can add an additional 15% of their capacity over 500, limit of 10,000 people
Seated indoor venues can add an additional 15% of their capacity over 500, with a limit of 3,000 people
Non-seated indoor venues can add an additional 10% of their capacity over 500, with a limit of 1,500 people
Starting April 15, employees will no longer be required to work from home, although the practice is still strongly recommended by the governor's office and health officials. Employers are instructed to continue to accommodate employees who choose to work from home.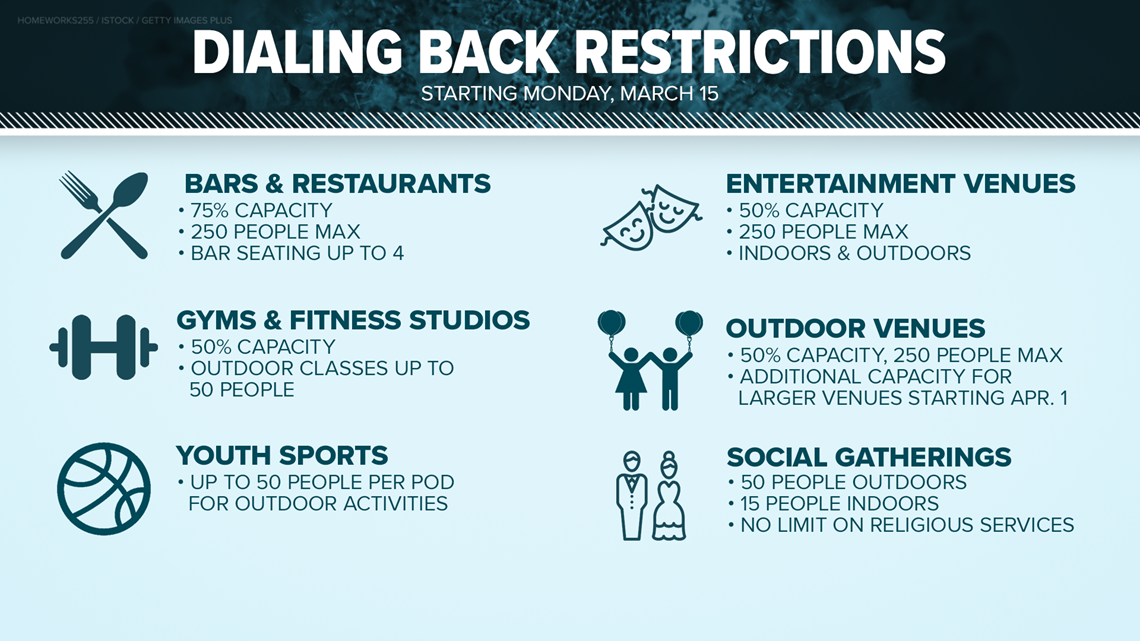 In a statement, Department of Health Commissioner Jan Malcolm advised Minnesotans not to let their guard down even though there's light at the end of the tunnel. "COVID-19 is still circulating in our communities, and we're seeing the new variants more frequently. We need to keep up the prevention measures like masking, social distancing, staying home when sick, and getting tested when appropriate," said Malcom.
Masking and social distancing measures are still in effect, a necessity Governor Walz doubled down on during a press conference Friday morning. "We have to keep wearing masks right now. They work. They're cheap. And they simply not only protect you they protect your neighbors. It is the simplest, most effective thing we can do, and as we go back and do some of these things just keep wearing the mask," he said.
When questioned about requiring masks for youth sports, he said he is "worried" about the spread of variants connected to youth sports in some areas. He said spring youth sports will be happening, but he anticipates there will be required masking until at least the summer because of how effective it is in preventing spread of the virus.
The Minnesota Licensed Beverage Association issued a statement expressing disappointment with the governor's announcement. Executive Director Tony Chesak said the new rules mostly benefit larger establishments, since social distancing requirements already cap the capacity at most bars and restaurants at well below 75%.
Walz responded to these concerns from the hospitality industry by saying that there could be more turns of the dial soon. He added that the state will look at metrics such as hospitalizations and cases per 100,000 residents to decide when to make these changes, as well as vaccination rates across the state and the impact of the variants of the virus.
"With positive news of declining cases and robust vaccinations, Minnesotans now deserve a clear and transparent plan to fully reopen our state," Chesak said in a statement. "Governor, if other states can develop detailed reopening plans with health-based metrics, dates, and other milestones, why can't Minnesota?"
Reflecting on the March 13 one-year anniversary of activating his peacetime emergency powers, Walz said that "COVID is still here," and that Minnesota still needs the peacetime emergency.
"I can say this with great emotion and optimism, nobody wants to close those peacetime emergencies more than me," he said. "I would love for the legislature to take over these responsibilities, but some of them they can't, they just can't move fast enough and decisions need to happen, and some of them it just appears apparently like they won't."
He added that if the legislature put a mask mandate in place, it would "take politics" out of the situation. As it stands, he said he intends to extend the peacetime emergency another 30 days when they expire on Monday.
Republican Senate Majority Leader Paul Gazelka said in a statement on Friday that Walz's announcement of loosened restrictions are positive news, "except– it's only his hand on the dial."
"We renew our demand the Governor remove his emergency powers so we can work together, hand in hand," Gazelka said in a news release. "We really showed that we can do that early on in the pandemic by passing a number of bills and half a billion dollars in resources to attack the virus together. My hope is that this latest benchmark of 70% of people over age 65 vaccinated is the time to end emergency powers. Let's finish off this terrible virus together."
At Friday's news conference, Walz thanked Minnesotans for being resilient and following the science through the duration of the pandemic, which shuttered businesses, pushed students into distance learning and has killed more than 6,700 people in the state in the past year.
"We are beating this thing. We are going to win. This is maybe not today the end, but it's darn sure the beginning of the end," he said.
The governor also called Friday's new guidelines common-sense steps toward "back to normal." Over the next three to four weeks the state will monitor the spread of COVID variant cases in the state, and based on those numbers will continue to adjust the dials for Minnesota.
"This is really a race against time, it's getting people vaccinated before these variants can take hold," said Malcolm.
Fans in the stands
With Opening Day at Target Field less than a month away, the Minnesota Twins organization says it's "thrilled" to hear of the new guidelines for large venues.
"We are currently reviewing the new guidance to ensure our comprehensive re-opening plan adheres to all MDH and Minneapolis Health Department directives. We will announce next steps, including our full ballpark protocols and ticket plans, in the very near future," the team said in a statement.
The Minnesota Wild announced that they will welcome back a maximum of 3,000 fans to Xcel Energy Center starting Monday, April 5 for their home game against the Colorado Avalanche. Season ticket holders will be contacted directly and given priority. Updates on availability of single-game tickets will be posted on wild.com.
And the Minnesota Vikings are already thinking about their season, releasing a statement of their own applauding Walz and MDH for increasing capacity at sports arenas.
Vaccine eligibility expanded
Minnesota's vaccine timeline is weeks ahead of schedule, with 70% of people 65 and older already vaccinated with at least one shot. On March 9, Walz opened up vaccine eligibility to 1.8 million more Minnesotans in the follow groups:
Phase 1b Tier 2 populations, including:
Minnesotans with specific underlying health conditions: Sickle cell disease, Down syndrome, those in cancer treatment or immunocompromised from organ transplant, oxygen-dependent chronic lung and heart conditions (COPD & CHF)
Targeted essential workers: Food processing plant workers
Minnesotans with rare conditions or disabilities that put them at higher risk of severe illness
Phase 1b Tier 3 populations, including:
Minnesotans age 45 years and older with one or more underlying medical conditions identified by the CDC
Minnesotans age 16 years and older with two or more underlying medical conditions
Minnesotans age 50 years and older in multi-generational housing
Essential frontline workers: Agricultural, airport staff, additional child care workers not previously eligible, correctional settings, first responders, food production, food retail, food service, judicial system workers, manufacturing, public health workers, public transit, and U.S. Postal Service workers