ST PAUL, Minn. — The Minnesota Department of Health (MDH) reported 689 newly confirmed COVID-19 cases on Wednesday.
This brings the total number of Minnesotans who have tested positive for the virus since the pandemic began to 99,134.
MDH says 16 Minnesotans have died of complications from the virus during the past day, bringing the total number of fatalities in the state to 2,036.
MDH recently changed the way the department will be reporting daily COVID-19 hospitalizations. Instead of sharing the current number of patients hospitalized each day, MDH will now report daily new patient admissions, both for general care and ICU. On Tuesday, MDH reported six new hospitalizations, with two of them in the ICU.
To date, 7,701 Minnesotans have been hospitalized with the coronavirus since the pandemic started, with 2,146 of them needing care in the ICU.
MDH reports that 89,392 people once diagnosed with the virus have recovered enough that they no longer require isolation.
Of those who have tested positive, people between the ages of 20-24 account for the most cases with 13,514 cases and one death, and those ages 25-29 follow with 9,760 cases and three deaths. Those between 85 and 89 years old account for the highest number of fatalities in one age group at 349 out of
1,334 confirmed cases.
In terms of likely exposure to the coronavirus, MDH says 25,886 cases were the result of community transmission with no known contact with an infected person, and 22,801 had known contact with a person who has a confirmed case.
A total of 12,000 cases involved exposure in a congregate living setting, 1,486 were in a corrections setting, and 354 were in a homeless shelter. MDH data shows 8,648 were linked to an outbreak outside of congregate living or health care.
MDH says 8,950 cases were linked to travel. Health care workers or patients account for 3,334 of diagnosed COVID-19 cases.
MDH has prioritized testing for people in congregate care, hospitalized patients and health care workers, which may impact the scale of those numbers. However, now MDH is urging anyone who is symptomatic to be tested. Testing locations can be found online.
Hennepin County has the most cases in the state at 27,728 cases with 936 deaths, followed by Ramsey County with 11,209 cases and 325 deaths. Dakota County reports 7,724 cases and 127 deaths.
The Minnesota Department of Health has said repeatedly that the number of lab-confirmed cases is only the "tip of the iceberg" when it comes to the true number of COVID-19 cases in the state.
Meanwhile, Wisconsin's Department of Health Services reported 27 new deaths on Wednesday, the highest single-day total since the pandemic began. Wednesday's total brings the total number of fatalities statewide to 1,327. The total number of fatalities is approximately 1.1% of those testing positive for the virus.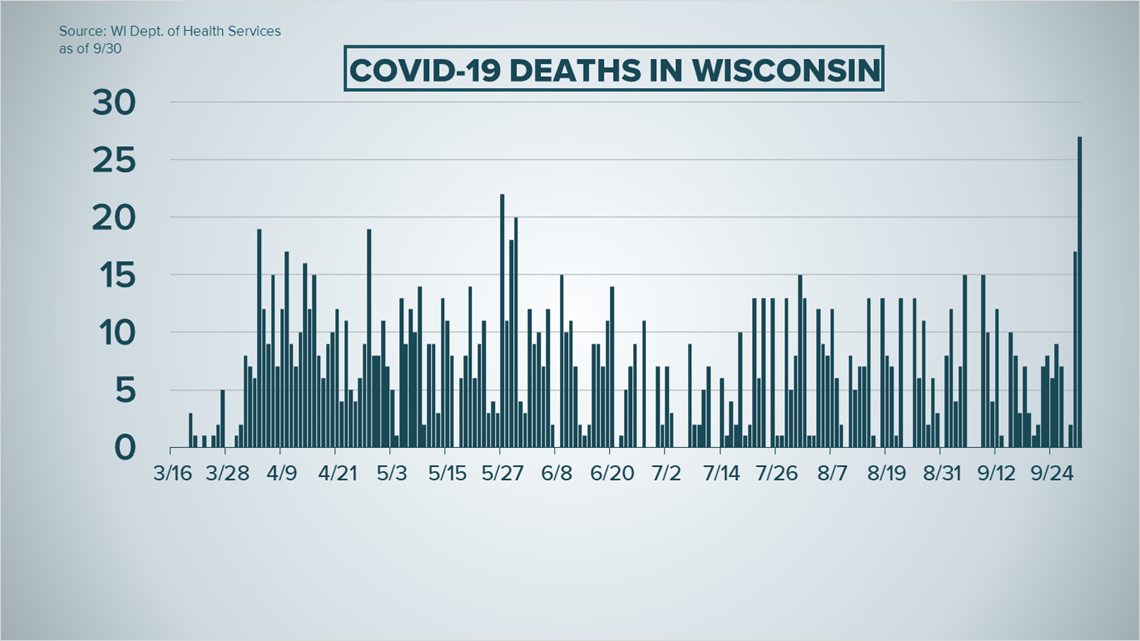 Health officials reported 2,319 new cases Wednesday, marking the sixth time over the last week the state has reported more than 2,000 cases in a single day. The total number of confirmed cases statewide is at 122,274 since the pandemic started.
Wisconsin health officials say a total of 7,300 people have been hospitalized from the coronavirus since the start of the pandemic, about 6% of the total number of people who have been diagnosed with the virus.
Of the confirmed cases in Wisconsin, 25% involve people between the ages of 20 to 29, 15% are between 30 and 39, 14% are between 50 and 59, and 13% are 40 to 49. An estimated 13% are between 10 and 19, and 9% are between 60 and 69.
As of Wednesday, Milwaukee County reported the largest number of cases with 29,149 along with 532 deaths. Dane County has reported 10,129 cases and 43 deaths, and Brown County has reported 9,536 cases and 65 deaths.
The first positive case of COVID-19 coronavirus in Wisconsin was reported in a patient in Dane County in early February.