ST PAUL, Minn. — A new COVID-19 vaccine expansion program drew more than 5,000 Minnesotans to set up more than 10,000 vaccination appointments Tuesday.
The pilot program launched this week with a "small number of doses for eligible Minnesotans." The eligible groups are teachers, child care workers and those who are 65 and older. MDH said eligible Minnesotans can request appointments on Tuesdays at noon through mn.gov/vaccine, or by calling 833-431-2053.
Officials warned in advance that demand would exceed supply, and that not all eligible Minnesotans would be able to make appointments. Due to the very limited supply, teachers and child care workers were asked not to set up an appointment until their employers told them they were selected.
As of 3:30 p.m. Tuesday, MDH spokesperson Doug Schultz told KARE that more than 5,000 people had made appointments for their first and second doses -- a total of more than 10,000 appointments. He said nearly 4,000 more were on waitlists.
Waitlisted Minnesotans have a chance to get a vaccine this week if others don't show up to their appointments, MDH Commissioner Jan Malcolm said. If you're on the waitlist and don't get a call for an appointment, you can try again when scheduling reopens the next Tuesday.
The first day of the pilot program was not without issues. While many were able to make appointments, others said they got error messages on the website or that their calls didn't connect. Minnesota IT officials said they're aware of the issues and are working to improve the experience next week.
Vaccinations through the program are available in nine sites, located in Andover, Brooklyn Center, Fergus Falls, Marshall, Mountain Iron, North Mankato, Rochester, St. Cloud, and Thief River Falls.
Gov. Tim Walz said in a news release Monday that the pilot program will be the foundation for "mass vaccination clinics" in Minnesota once the vaccine supply from the federal government increases.
Walz said this effort is to "bridge (the) gap" until more vaccine doses are available from the federal government. He asked Minnesotans who are healthy with no risk factors to consider holding back and letting others take advantage of the limited doses.
"It will be an orderly process," Walz said.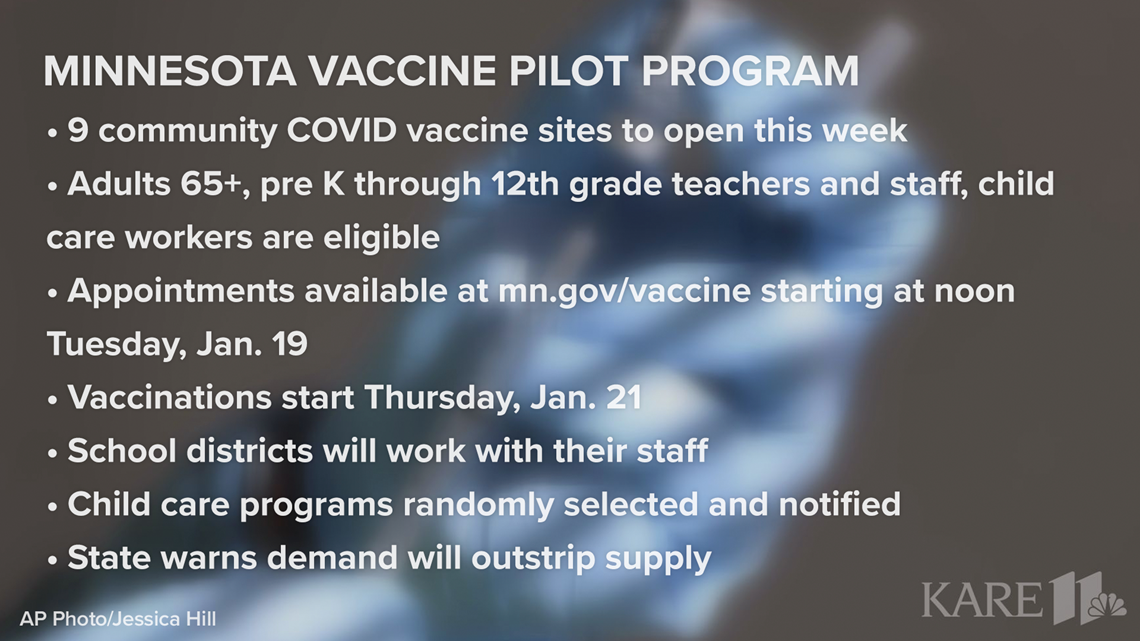 Walz cautioned that Minnesota has a limited number of vaccines, so not everyone eligible for the pilot will be able to get vaccinated when they want.
Asked whether he was "worried" about the expansion causing frustration by raising Minnesotans' hopes with such limited vaccination appointments, Walz said he was.
"This is going to be harder than going on Ticketmaster to get Bruce Springsteen tickets," Walz said.
He said -- despite the potential for frustration -- Minnesota was planning to use online and phone appointment sign-ups to avoid long in-person lines. He cited a situation in Florida where seniors had lined up "at 3 a.m." for a chance to be vaccinated, and said that's what officials hope to avoid through the appointment process.
People who are now eligible may also get a vaccine through their health care provider, but officials emphasized that providers will reach out to their patients to let them know when they can make an appointment. Minnesotans are asked not to call their providers directly looking to get a vaccine.
"We just don't have a large supply of vaccines to do that," said MDH Commissioner Jan Malcolm.
Whether going to a health care provider or a community vaccine site, appointments will be required. School employees will work directly with their districts or schools to get an appointment, and child care programs will be randomly selected. School vaccine allotments will be based on workforce proportion in their region, according to Walz's office.
Walz said while this announcement does expand the priority populations eligible for a vaccine right now, more details on Phase 1b are "dependent on decisions to be made by the federal government" and will be announced in the coming weeks.
Health care workers, long-term care staff and residents can still get vaccines through their workplaces, care facilities or local public health agencies.
Health officials were asked whether they expect a negative response to the program from other groups who are still waiting for their vaccinations, like workers in dentists' offices.
"No matter what we do, people will be and are angry," said MDH Infectious Diseases Director Kris Ehresmann. She and Walz reiterated that Minnesota's vaccination efforts are limited by the federal government's distribution of doses.
In Monday's news release, Walz asked Minnesotans to be patient.
"We are building for the future and doing what we can to get more shots to Minnesotans right now," Walz said in a statement. "By beginning to serve those age 65 and older, educators and child care workers, we are immunizing for impact. It's a step in the right direction on this long road to recovery. The federal government has been giving mixed messages on vaccine availability and guidance, and we need them to step up and get more vaccine to the state. When they do, we will be ready. The end of this pandemic is closer today than it was yesterday."