ROCHESTER, Minn. — Much of the work done through the InSciEd Out program at Lincoln K-8 District-Wide School in Rochester is rooted in both science and health. But their latest experiment is also very timely.
Since the fall, the middle school students in the program at Lincoln have been studying the effects vaping solution, like flavors and other additives, have on zebrafish embryos.
It didn't take long for them to notice a change.
"If you look at the tail, the structure is not normal. It's really not," said 8th grader Sydney Schulz, while pointing to a picture of an embryo in the experiment. "The spine is not normal either. It's kind of curved."
The students put a diluted amount of vaping product, without nicotine, into the Petri dish containing the embryos. The amount the embryo receives is equivalent to or even below what a human would consume if they vaped.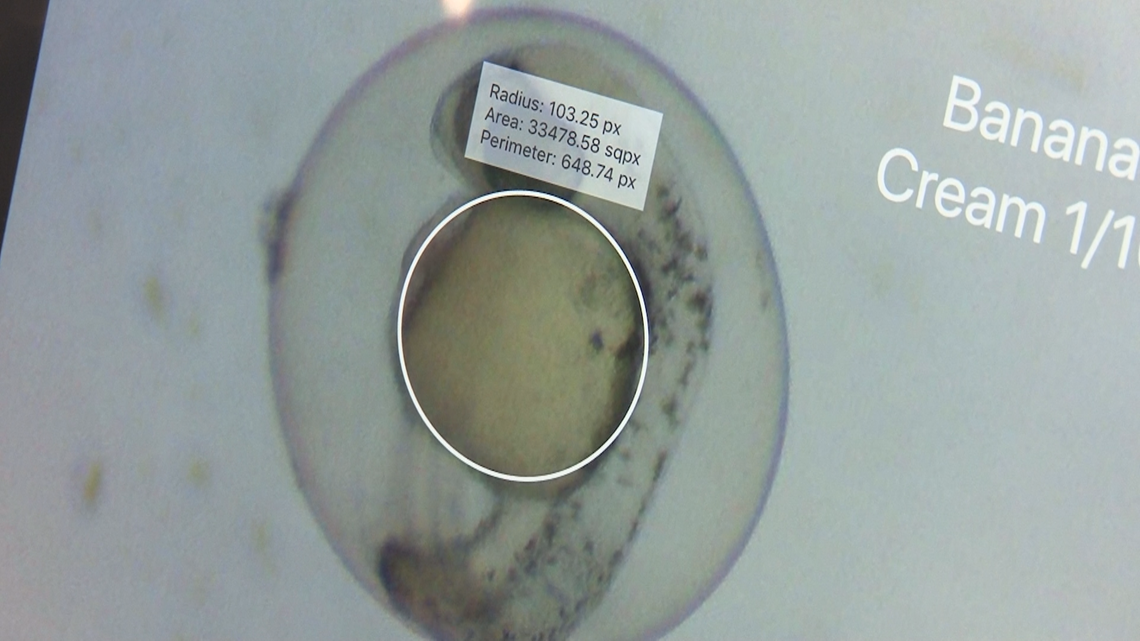 "The zebrafish allow us a window into development that we don't see in other model systems," said Chris Pierret, a director for InSciEd Out, which launched in 2009 as a collaboration among Rochester Public Schools, Mayo Clinic, and Winona State University-Rochester.
Pierret says because a zebrafish develops quickly, it allows the students to observe the effects of the vaping solution in days.
"They go from basically one cell to a swimming fish in two days, and develop all their organ systems that we would be interested in over the course of seven days," he said. "It's so fast, and it's transparent, and it's visible the entire time."
Pierret says, among other findings, the students have found effects on the development of the embryos' brain, heart, and vascular systems.
"We've learned that the heart rates have been usually lower than the control," said 8th grader Cal Sonju. "We also learned that their development was really slow."
The experiment seems to have had the added effect of influencing the students' perception of vaping.
"It just makes me think it's worse than when people put it as a better alternative for smoking and stuff," said Sonju.
"If a teacher is just telling you, 'Don't vape.' That it's bad for you ... when you compare it to this, our actual research about it, and you show this to kids, they might actually think 'Wow. That might actually be bad for me. Maybe I should stop doing that,'" said Schulz.
"I hope the students walk away with a voice," said Pierret. "They found out about vaping. Not only about how vaping might affect development, but how they as students, at the target market age for vaping, are responding to knowing more about it."
The students follow national guidelines set by the Intel International Science and Engineering Fair for testing on animals, which minimizes harm done to the zebrafish.