GOLDEN VALLEY, Minn. — Lauren Marshall knows what it's like to feel lonely.
Marshall moved to St. Paul last February and it's her first time fully living alone. While you can be alone and not feel lonely, for a while the two went hand in hand for Marshall.
During the daytime, the 26-year-old works as a preschool teacher and at night she's a bartender.
"I'm surrounded by all these people, and that's great and all, but they're not coming home with me. They're not there when I open the door. When I open the door, it's just me," Marshall said. "For me, personally, it's that mate thing. It's having that person. I have people I can call and hang out with but they're not going to be that special someone."
Since we first interviewed Marshall, she has started dating someone but said she still finds herself feeling lonely sometimes.
When it comes to feelings of loneliness, Marshall isn't alone.
In a new Cigna survey of more than 10,000 Americans, three in five adults (61%) reported that they sometimes or always feel lonely—a 7 percentage-point increase from just a year ago. Reasons behind feeling lonely included: not enough social support, too few meaningful social interactions, poor physical and mental health, and not enough balance in our lives. Nearly eight in 10 Gen Zers (79%) and seven in 10 millennials (71%) are lonely, vs. half of boomers (50%).
Generation Z—the generation behind millennials—was the loneliest. About 79% of Gen Zers said they sometimes or always feel alone. Members of the Greatest Generation have an average loneliness score that is 10 points lower than Gen Z.
Cigna's survey is based on the UCLA Loneliness Scale, a 20-item questionnaire frequently used to gauge loneliness. You can take the questionnaire to gauge your loneliness and get some tips on how to handle it, here.
"I think it's a hard thing for people to admit that they're lonely and I think it takes some courage to say, 'I'm lonely. I want more companionship in my life,'" said Carrie Henning-Smith, assistant professor in the Division of Health Policy and Management at the University of Minnesota School of Public Health.
Henning-Smith said we are seeing more research focused on loneliness and isolation.
"Loneliness is not a new phenomenon. As long as humans have been around, I suspect that there have been humans who have felt left out sometimes or felt alone sometimes. So this isn't new but the attention to it is new," Henning-Smith said.
Henning-Smith pointed to research that found that feelings of loneliness and isolation are as bad for someone's health as smoking 15 cigarettes a day.
"It's a risk factor for mortality. It's also a risk factor for all sorts of other health conditions ... depression ... higher blood pressure, cognitive decline, Alzheimer's disease. Some of the health issues that we tend to be most concerned about are linked to feelings of loneliness," Henning-Smith explained.
When it comes to day-to-day interactions with people versus long-lasting relationships with family members and friends, Henning-Smith said both matter.
Wanting to strengthen connections between people, Traci Ruble created Sidewalk Talk in San Francisco five years ago. The idea is simple. She and other volunteers set up chairs in public and invite anyone who walks by and wants to be heard, to sit down to a listening ear.
The community listening project is now in more than 50 cities and 12 countries, including a chapter in the Twin Cities led by Lisa Mer.
"I had been a teacher my whole life and really into listening and building relationships and I just, it just really spoke to me because it's so simple but so profound," Mer said.
The group was part of all the Open Streets Minneapolis events.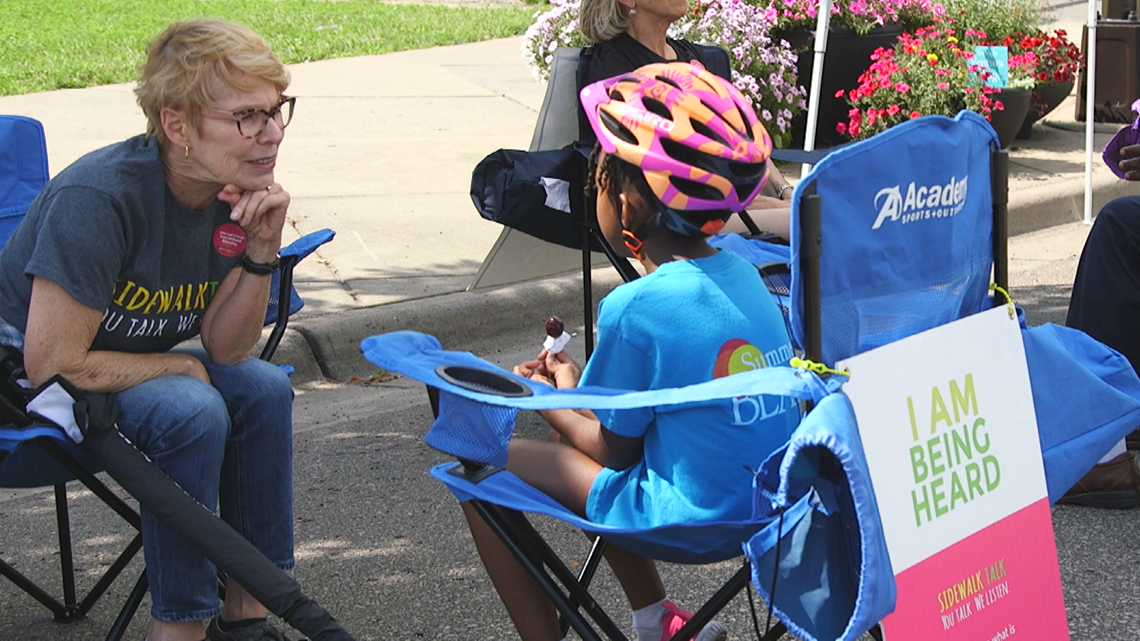 At one of the events, a Sidewalk Talk volunteer greeted people as they walked by saying, "We're just here to listen if you'd like to be listened to."
One man sat down and said he had lived in Minnesota for seven years and still hadn't made any friends. One girl talked about how she read books to take care of herself but didn't have any good books to read.
Mer said you don't have to be a therapist to volunteer with Sidewalk Talk and they are always looking for more volunteers to join them. You can find more information on the Sidewalk Talk Twin Cities Facebook group, or here.
She also said it's been a great way for her to get out in the community after retiring from her full-time job a year ago.
"For a moment, our humanity mattered the most. And if you can get those moments and then build on them, I think that has an impact on loneliness," Mer said.
Social media can also have an impact on loneliness. Henning-Smith said, "Social media can be bad for health and can lead to greater feelings of loneliness. Especially for people who are kind of passively viewing social media but not interacting with it."
Marshall said it's hard for her not to compare herself to others on social media.
"I think to myself, personally, like what am I doing with my life? Why am I not on that level? Why haven't I achieved that yet? And that just ... that creates so much loneliness," Marshall said.
Henning-Smith said, "It's hard to put the onus completely on the people who are feeling lonely in that moment. I think the responsibility belongs to all of us to reach out to one another, to be good neighbors, good friends, good family members, good community members."
Like Sidewalk Talk, the platform Meetup is a way to help people connect and build community. The Twin Cities New Friends Meetup Group has more than 9,000 members and it's how Sharadhi Umesh of Minneapolis met new friends after moving from Florida.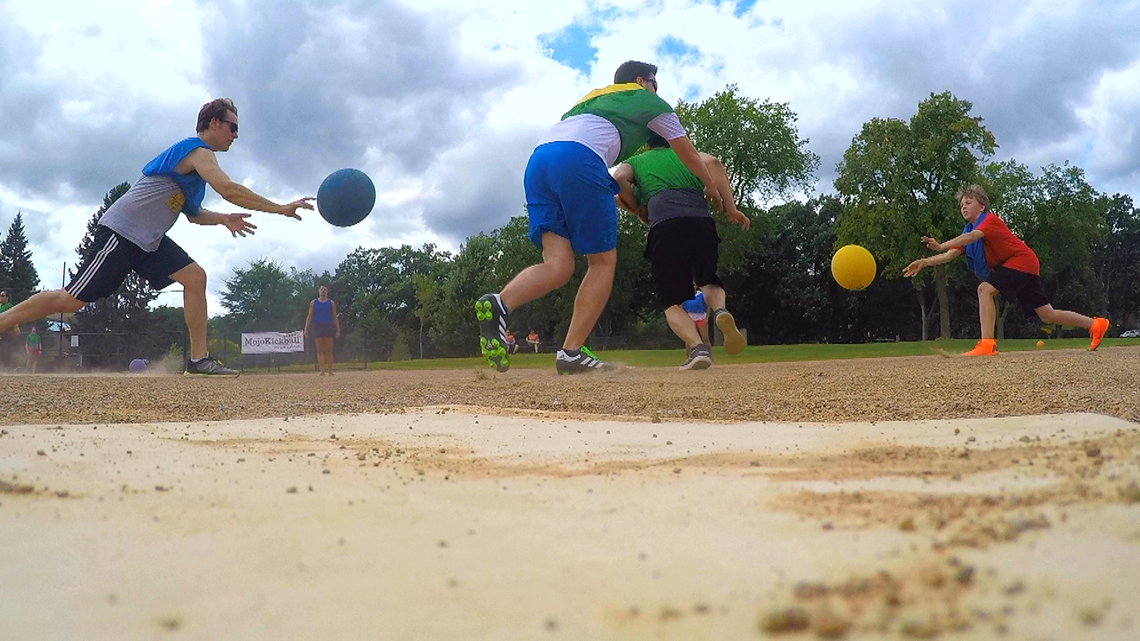 She and her fiancé started playing MojoKickball a couple years ago.
Eric Heiberg created MojoKickball—a multi-ball kickball game with elements of dodgeball, tag and hot potato—to bring people together in Austin, Texas. He then passed it on to the Twin Cities when he moved to the area more than six years ago.
"I actually looked this up like, 'Minnesota Nice,' what is going on here? Everybody is so accommodating but yet they're still like arm's length. Like what is that feeling?" Heiberg recalled.
Through the Meetup app, Umesh found the Twin Cities New Friends Meetup Group. Umesh was born in India and moved from Florida to Minneapolis for a job two years ago.
"I came here with three bags out of the airport and I knew zero people and I had to push myself to make friends because I'm an introvert... I have to push myself, especially being in a new city. It's really hard and English is not my first language so it's double the effort to go out and meet people," said Umesh, who now plays MojoKickball every week. Umesh has also invited new people to play, too.
"It's just more of this idea of like... that concept of inclusion with contribution. It doesn't stay here on the field. It continues on and everyone tries to be each other's champions. Ooh, I get misty," Heiberg said, laughing. "But that's the idea, right?"