MINNETONKA, Minnesota — When you enter ICA Food Shelf in Minnetonka, the first thing you see is a large variety of fresh fruits and vegetables.
"Behavioral economics say that people take 50 percent more of what's offered first. So we changed all of our produce to be at the front," explained Natalie Michaels, program manager at ICA Food Shelf.
Michaels said it's one of many changes they made to become a certified "SuperShelf." SuperShelf is a project developed by HealthPartners, Valley Outreach, The Food Group, and the University of Minnesota Extension and Department of Family Medicine and Community Health. They help food shelves across Minnesota and western Wisconsin transform their spaces to encourage clients to make healthier choices. They transformed their first food shelf in 2013.
"We're not taking away the unhealthy choices for our clients, we are just nudging them towards making that healthy choice," Michaels said.
ICA Food Shelf serves communities in the west metro. In 2018, they served 2,019 households or 5,481 individuals—34 percent were children and 10 percent were seniors.
"Healthy food is expensive and so we're really proud to offer very healthy foods and an abundance of healthy foods to our clients. About 55 percent of the food that clients take home is perishable and so that includes healthy fruits and vegetables, dairy products, meat," Michael said.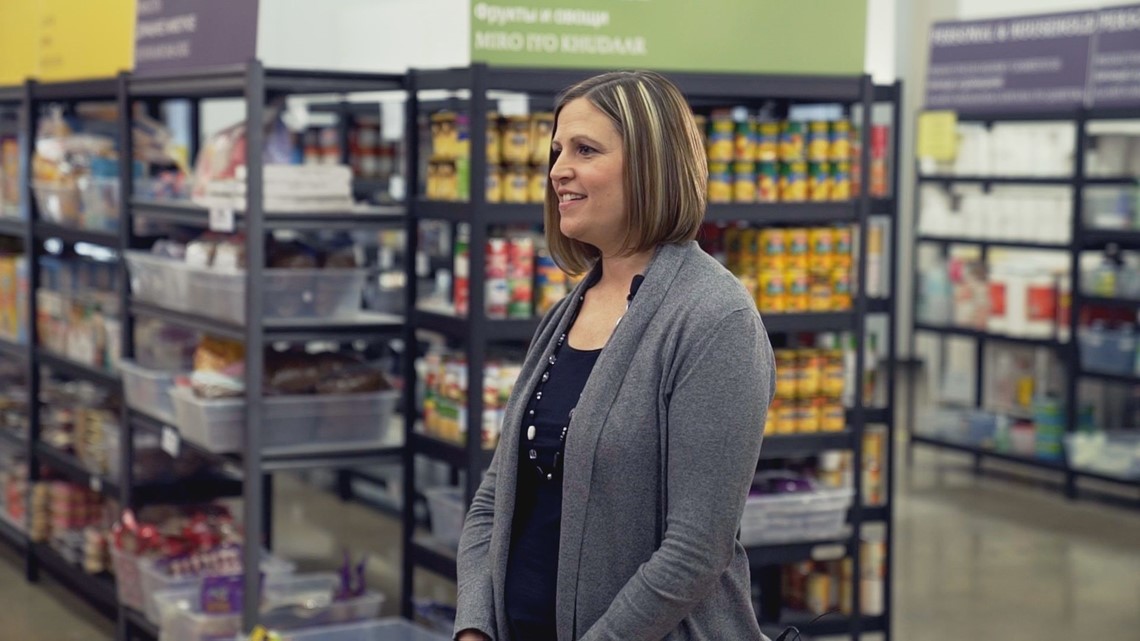 Earlier this month, ICA Food Shelf became a certified SuperShelf. Besides moving their produce to the front of the store, they made other changes like rearranging the shelves so healthier choices can be seen at eye level.
"In the pasta section, for example, our whole wheat pasta, our quinoa, things like that we put at eye level so that clients can choose that and it's right there for them," Michaels said.
They also changed how they group food together. So instead of putting the nuts in the baking section, ICA now puts them with the snacks.
"Hopefully it will create a little bit of competition with chips and other unhealthy choices," she said.
A consultant also suggested they change their signage. Their new signs include four different languages and they're color-coded to match the ICA shopping lists.
Michaels said one of their clients has lost more than 70 pounds since coming to ICA.
"They were telling me that food is just really expensive, especially healthy food, and what a blessing ICA has been to them. In coming to ICA they've been able to get fresh fruits and vegetables," Michaels said.
So far there are nine certified SuperShelves.
Dr. Caitlin Caspi, an assistant professor at the University of Minnesota, said two more are close to becoming certified.
Michaels added, "We highly value having a welcoming, dignified experience for everyone who walks through the door."
You can learn more about SuperShelf, here.
For those who live in west metro and are in need of food assistance, Michael said you can call ICA Food Shelf to schedule an appointment for the food shelf.
You can also call United Way at 211 or visit Hunger Solutions and put in your zip code to see food shelves in your area.
The Minnesota Food HelpLine is also a statewide resource for people struggling with hunger. The HelpLine can help answer questions about SNAP eligibility and applications, refer people to their local food shelf or meal program, and find other community food resources to help when budgets are tight, according to Hunger Solutions.
To contact the Minnesota Food HelpLine:
Email: minnesotafoodhelpline@hungersolutions.org
Chat: http://www.hungersolutions.org/find-help/