EAGAN, Minn. - The Vikings will be kicking off their first training camp in the Twin Cities next month -- and now, we're getting more details about the team's inaugural event.
As the team begins a new chapter -- no longer making the trek to Mankato -- officials are announcing plans to host fans at the new Twin Cities Orthopedics Performance Center in Eagan for a view of all the action.
Rookies report on July 24 and practice for the first time on Wednesday, July 25. Veterans report to camp on Friday, July 27 and practice on Saturday, July 28.
The first fully padded practice is set for Monday, July 30.
There will also be a night practice on Saturday, Aug. 4.
PHOTOS: Minnesota Vikings training camp 2018
PHOTOS: Vikings training camp 2018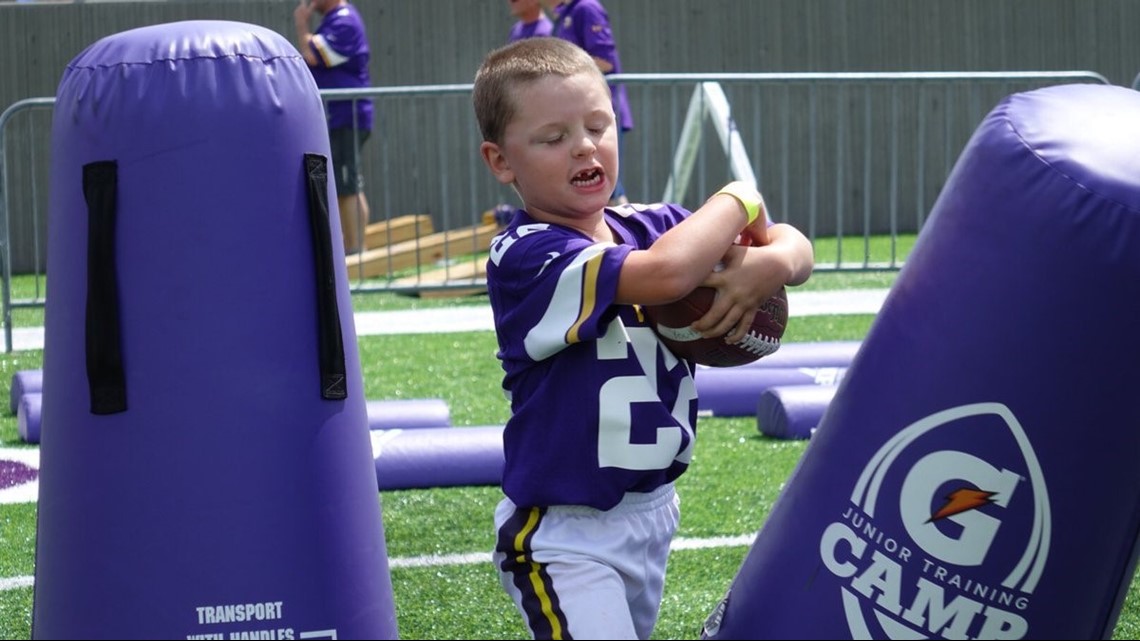 Tickets will be capped at 5,000 per day for each of the 18 days of practice that are open to the public. All tickets must be reserved in advance -- no day-of ticketing will be available.
Fans can sign up for either the 4,000 free, general admission tickets or the 1,000 reserved seating tickets. Reserved seats are $20 each ($25 each when the Vikings host the Jaguars from Aug. 15-16). There is a four-ticket maximum per fan and a limit of two days per fan.
Season ticket holders have first dibs, beginning at 9 a.m. on Thursday, June 21. Tickets for the general public will be available starting at 9 a.m. on Monday, June 25.
The Vikings will hold 1,300 general admission tickets per day until that public release.
If you're looking to snag tickets, they will be available on vikings.com. NOTE: Tickets and parking passes will be available on mobile devices only. No printed PDFs will be accepted. Fans without a smartphone can contact the Vikings at 612-33-VIKES for assistance.
More than 2,200 parking spaces will be available on-site in the Northland Ford Dealers parking lot, but those spots must be purchased for $10 in advance.
Tailgating is not allowed, due to space constraints.
There also will be a ride-share service at Trinity School, 601 River Ridge Parkway. The shuttle service will bring fans to the main security check point.
Fans will be required to go through metal detectors and will have bags checked. Bags of all sizes will be allowed after a search.
Concession stands and a variety of food trucks will offer food and beverages -- that includes $3 hot dogs and $1 bottled water. Fans can also bring their own water bottles but coolers are not allowed.
For more information about this year's training camp, click here.