UPDATE: In the wake of our report, Governor Dayton issued a statement saying he is "… very concerned that current state law prevents family members from knowing that their loved ones may be facing unsafe living conditions in an assisted care facility." Dayton added he'll "encourage" lawmakers to review the law" to better balance a family's right to know against "protection for the people who report these incidents."
LINO LAKES, Minn. - Taunted, harassed, threatened. That's what authorities say happened to a dementia patient at a local assisted living facility. It was captured on cell phone video.
The victim's son says he was kept in the dark about what really happened to his mother. Now, he and others are calling for changes in the way Minnesota officials handle complaints.
They say the current system hides important information about abuse and neglect complaints involving thousands of vulnerable adults.
Suzanne Edwards moved into the Lino Lakes Assisted Living and Memory Care facility in January. Her son, Kent Edwards, is her health agent and was there to help on moving day.
"Today's moving day. We moved into the penthouse," he says on a cell phone video as Suzanne giggled.
Suzanne, a former emergency room nurse, suffers from dementia. Sometimes she wanders, thinking she is still working the overnight shift. It's the reason Kent moved her into Lino Lakes, a place he thought she would be safe.
But just days after Suzanne arrived, that wandering apparently led to abuse. Cell phone video secretly recorded by an employee shows two aides berating and taunting Suzanne.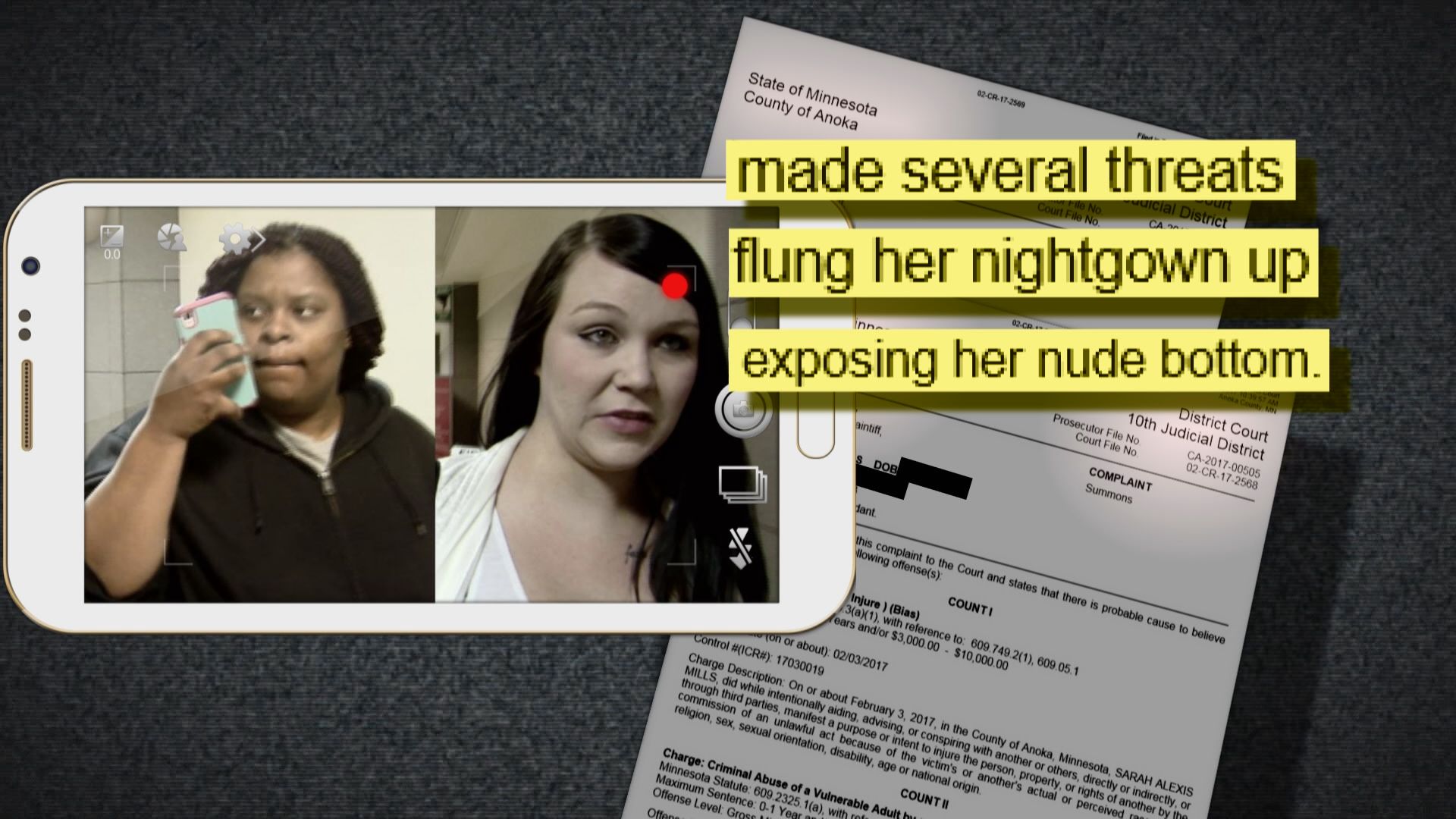 "Go to bed," the aide screams at Suzanne in one video. In another both women taunt Suzanne, singing "I'm going to live longer than you," and "I can wipe my own ass."
In other audio recordings, the two aides are heard laughing at Suzanne because she is not wearing underwear, calling it "disgusting," and telling her she smells.
Police say there was more than just verbal abuse.
Chanta Hampton and Sarah Mills are criminally charged with Stalking and Criminal Abuse of Vulnerable Adult as a result of the incident. Both entered pleas of not guilty.
A criminal complaint alleges that the two women also pulled out a lighter and put the flame near Suzanne's face, made multiple threats against her and pulled her nightgown up exposing the 70-year-old patient's nude body.
Kent Edwards says he didn't find out any of the details of what allegedly happened to his mother for months. The case highlights a system of secrecy in Minnesota that families of vulnerable adults say puts the elderly at risk.
"It's terrible," Edwards says. "It's irresponsible."
Kent says he received a phone call from Lino Lakes administrators a couple days after the incident.
"They said there was an incident with my mother and there had been some taunting or harassing," he recalls.
But Kent says when he asked for details of what type of harassment and who was responsible he was stonewalled.
"I sat there begging for information and they said we cannot discuss the case with you because it's under investigation," he says.
Lino Lakes had called the police and contacted the Minnesota Department of Health to file what's known as a "self-report". They advised Kent to call the state as well.
But when Kent called MDH's Office of Health Facility Complaints, he encountered a stunning roadblock.
"They do not share that information," he says.
"There's an investigation going on about alleged abuse of your mother and nobody would tell you anything about it?" KARE 11 asked.
"Not at all," Kent replied.
Believe it or not, that is the state policy. MDH does not share self-reports, even with the alleged victim or their health agent.
"When we receive complaints whether it's self-report or from a family member, by law we are required to protect the reporter," explained Gil Acevedo of the Minnesota Department of Health.
"If it's a self-report, by law you can't reach out the family that's been impacted?" KARE 11 asked.
"That's correct," Acevedo replied.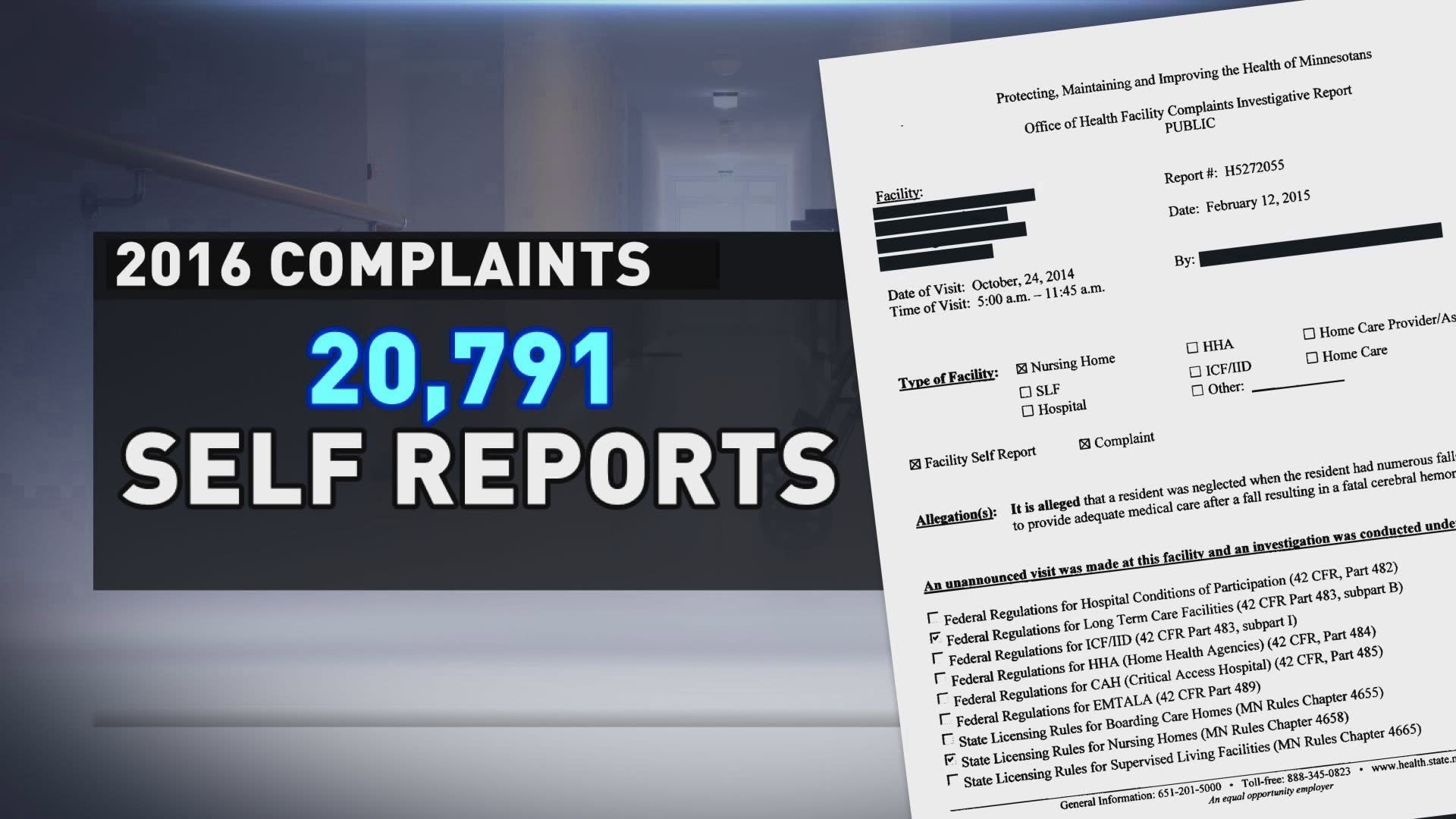 It's an issue impacting thousands of potential cases of abuse and neglect. In the vast majority of complaints, more than 20,000 in 2016 alone, the "reporter" is the nursing home or assisted living facility. Fewer than one percent of those self-reports are fully investigated by the state.
"I don't see that as a carte blanche reason to say you are not able to know of the allegations," says Suzy Scheller, a private attorney who handles adult abuse cases.
She says she understands MDH's interpretation of the law but believes there are other ways to inform families without identifying the reporter.
"I don't think this law was ever intended to keep family members and vulnerable adults from learning what happened to them," she says.
Kent says he didn't have the full story of what authorities believe happened to his mother until criminal charges were filed, three months after the alleged abuse.
"The system is definitely not working the way it should," says Senator Karin Housley, who chairs the committee on Aging and Long Term Care Policy.
She says current Minnesota law hides too much from families. She vows to work on fixing the issue.
"That law definitely needs to change," she says.
For Kent, a change would be welcome, but too late for his mother.
"If I would have known what the allegations were, I would have removed my mother," he says.
Instead, Suzanne remained at Lino Lakes for several more months. Now, Kent waits for answers and justice from both the criminal court system and state regulators.
Lino Lakes Assisted Living and Memory Care provided this statement to KARE 11:
"Residency privacy laws prevent us from discussing the details of the incident relating to this resident. We can say it has been taken very seriously. We immediately began conducting an internal investigation, notified appropriate state health agencies and authorities, and have cooperating fully with their investigation. We are saddened by this incident and we place a priority on the safety and security of our residents. This incident is not representative of the service we provide to our residents."
Hampton and Mills no longer work at Lino Lakes. Both women declined to comment when KARE 11 reached out to them at a recent court hearing.