HIGHWAY 10 — Tiffanie Boe can't remember the last time she drove this far from her St. Cloud home, even if it is only 30 miles down a well-traveled central Minnesota highway.
Ever since January 2015, when she reported being raped, the 22-year-old fears being alone. She doesn't like to leave her home. She says she won't even go to the store by herself.
"It's messed me up," she said.
The closer she gets to a government center in Elk River where she's been told she can get her rape kit records, the closer she might be to the answers she's sought.
Why did it take so long to test the evidence in her case?
Why was the rape she reported never prosecuted?
Did she just make the whole thing up in her mind?
After hours on the phone with the police being bounced from division to division, she's been told that the county attorney's office is the only place she can get a copy of the test results from her case.
After four and a half long years, those records could give her the validation she's been seeking – that what happened to her the night she said she was raped was real.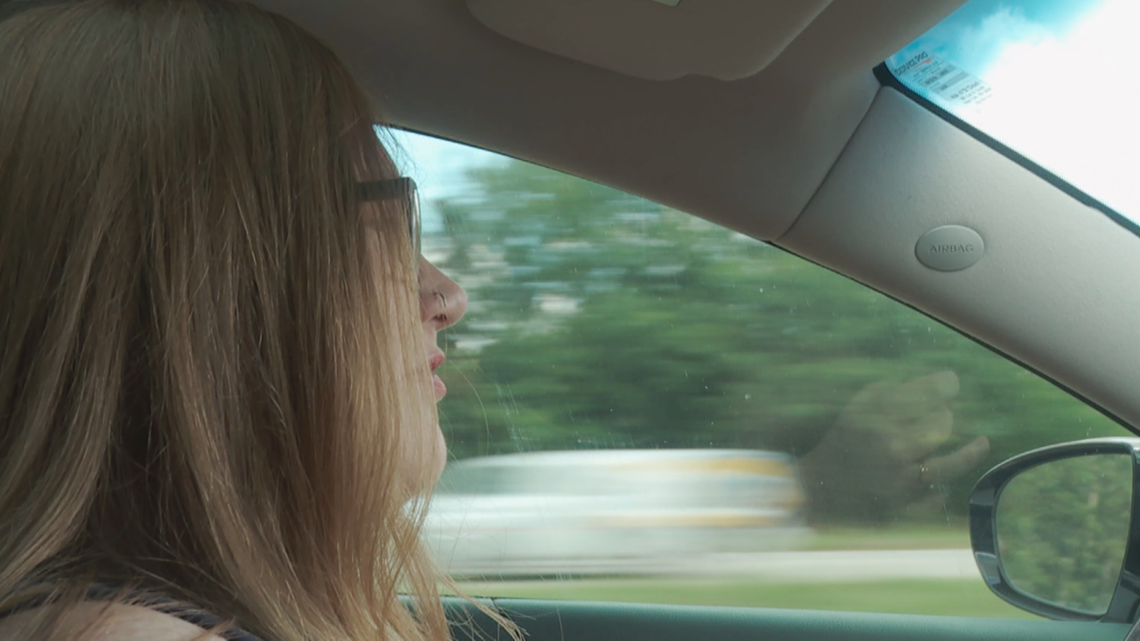 "This was supposed to help them," said state Sen. Jerry Relph, one of the sponsors of the law.
But the law was never funded, and many police departments around the state are not following it, KARE 11 has found.
Boe's case is a prime example of the hurdles victims can face.
And while some other states are even offering victims online access to information about their rape kits, Boe has gotten the runaround, now having to drive to get the records in person.
"It's just been a back and forth thing with trying to get information to figure out where it's at," Boe said.
One more barrier in what's been years of them as she's worked to get answers on her case.
"It's kind of dehumanizing in a way," she said. "It's like I'm not worthy of having my own information … It just kind of makes me feel like I don't matter."
'That wasn't a dream'

Boe was "the mom friend" at her party to ring in the 2015 New Year. The then 18-year-old says she wanted to make sure everyone else was OK and having fun before she started to enjoy herself.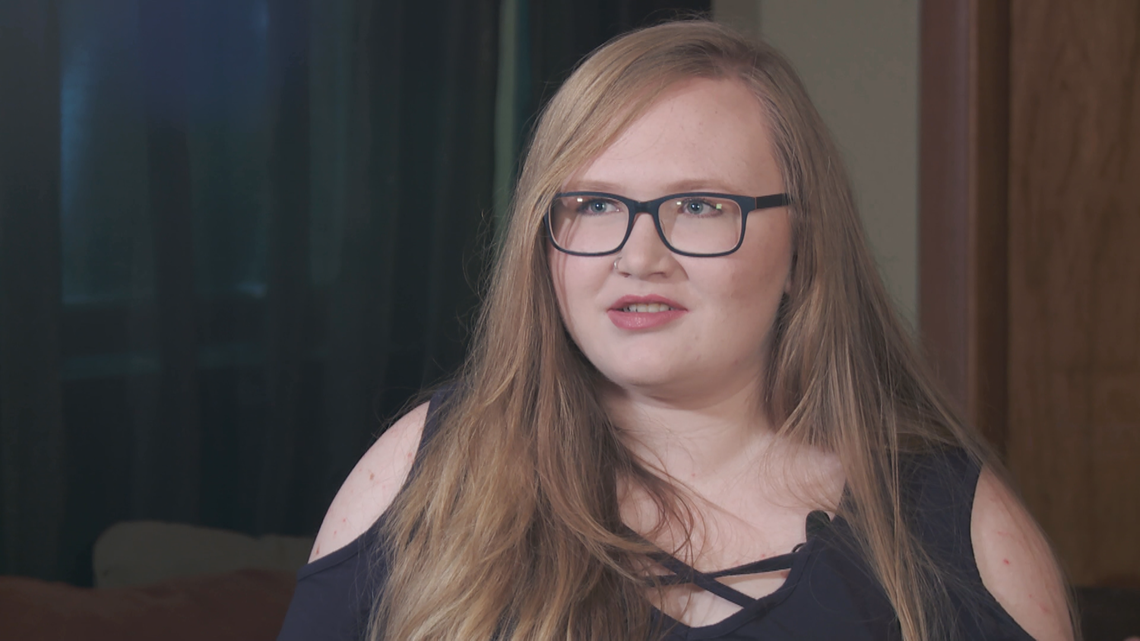 She says she didn't have her first drink until 11:30. Then she tried to catch up to everyone, having a few more drinks then taking a shot with everyone else when the ball dropped. A light drinker already, the alcohol hit her hard.
"That was a really big mistake," she said.
Feeling like she had too much to drink, Tiffanie says she showered, put on a white robe that she had just gotten for Christmas and crawled into her bed.
The next thing she remembers is the suspect over her. She barely knew him, had met him only twice before, and now suddenly he was touching her body and tapping her face telling her to wake up. She couldn't. She thought it might be a dream.
She heard yelling in the kitchen. The mom-friend-part of her tried to kick in, wanting to help out whoever was having trouble. But she couldn't move. She tried to roll over, then felt a wet part on the bed.
It started coming back to her.
"That wasn't a dream. That happened," she said. Her robe was untied. She felt pain in her pelvic area. She screamed. She says she has no memory of what happened after that.
She remembers waking up the next morning and trying to piece it all together. After wrestling with the decision, four days later she went to the police station, carrying her bedding and robe with her and reported being raped.
Police took the evidence and her statement, and later she went to the hospital for a sexual assault exam.
An investigator interviewed other people at the party that night. Two people said they walked into Boe's bedroom and saw the two together having what they described as consensual sex.
When police spoke with the suspect, he acknowledged laying on Boe's bed to go to sleep. He said the same two witnesses who walked into the room asked to take turns having sex with Boe, but he denied having any sexual contact with her.
The officer investigating the case concluded that the conflicting statements, along with Boe being unable to remember exactly what happened in the room, meant there was no probable cause to pursue criminal charges against the suspect, according to his report.
He closed the case without sending it to prosecutors.
Boe's rape kit was not tested, nor was the bedding she brought in. Without DNA testing, authorities missed a chance to check a national database to see if the suspect had been accused in other cases.
After being told about the decision over the phone, an irate Boe drove down to the station. She said she stood in the hallway in tears, begging anyone who would listen to test the DNA on her bedding. They threatened to escort her out before a friend pulled her away.
"I was that crazy girl in the police station," she said. "Telling them, 'Just test the DNA.'"
Had they tested the kit and the bedding, Boe felt the outcome of her case could have been different. She believed it might prove that the suspect was lying.
Instead, she blamed herself for what happened.
"To this day, still, I think, 'It doesn't matter if I'm at home. I shouldn't have drank like that. I shouldn't have gotten that out of control," she said.
St. Cloud Police declined to comment on Boe's case.
Then in April, Boe got a call from the St. Cloud Police Department. Her case had been reopened.
The bedding was sent to the Bureau of Criminal Apprehension, which found semen on them. The next step was to test for DNA, including getting a sample from the suspect to compare to the evidence gathered the night she accused him of raping her.
In June, Boe got another call from the St. Cloud Police. It was a bombshell.
Although the rape kit itself proved inconclusive, sperm cell DNA found on the bedding matched the suspect. That evidence appeared to contradict his story that there was no sexual contact.
At first, Boe said she cried from relief. But that gave way to anger.
"It shouldn't take putting the worst night of my life on the internet, out in the open for everybody to read and watch. It shouldn't take me doing that. It shouldn't take any survivor doing that for their case to be heard," she said.
She was told the case would be sent to the prosecutor. Then she said she went weeks without hearing anything.
Wanting to know exactly what the results of the rape kit were, she said she called the St. Cloud Police in late July and asked for the records.
She said she was told she couldn't have the documents. That's when she told the officer about the law passed last year that was supposed to grant access to that information to victims.
"And he was like, 'Oh, well I'm not sure about that,'" she recalls.
Boe said she read him the statute.
"He talks to his supervisor for a minute while I'm on hold," she says, describing the conversation, "and he comes back and he's like, 'Yeah, we have to, my supervisor has to ask around and make sure because we're not really up to date on these laws.'"
When Minnesota's law giving victims greater access to sexual assault evidence information was first proposed, the idea was to have a centralized way for any victim in the state to check on the status of their kit, said Jude Foster, the statewide medical forensic policy coordinator for the Minnesota Coalition Against Sexual Assault.
But because that plan was never funded, "there is not the infrastructure to do that," Foster said.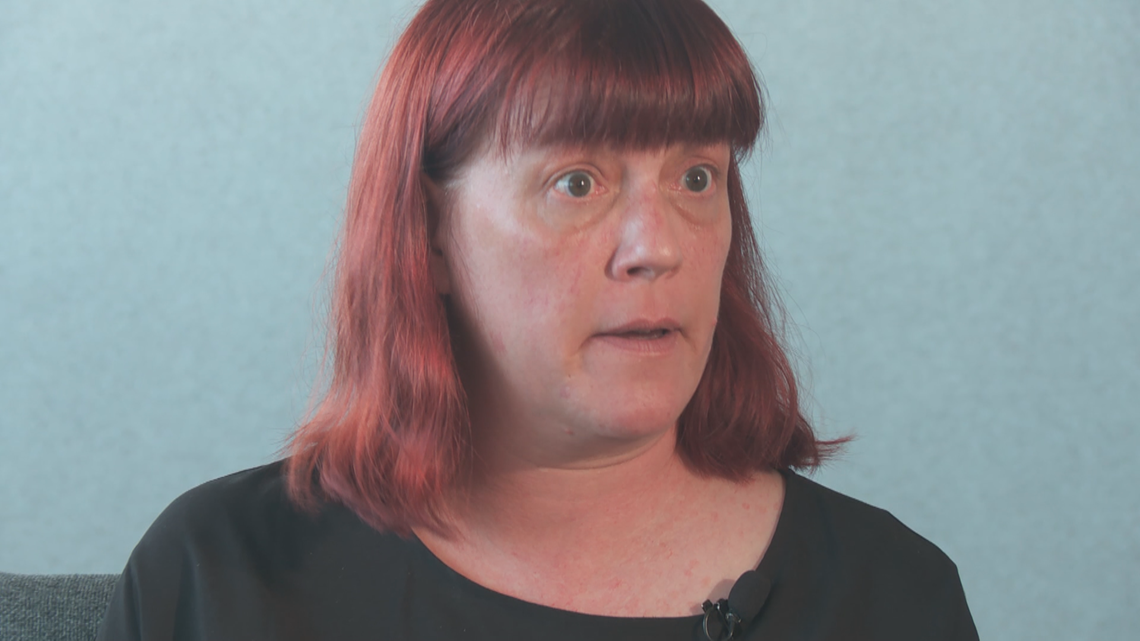 Instead, when the law passed, it put the responsibility on each law enforcement agency around the state, requiring that they adopt policies that make it easier for victims to get information on their kits.
In response to public records requests, some agencies in the metro area and across the state, including Duluth, Rochester, Hastings, Anoka County and Burnsville, were able to provide specific procedures for how officers need to comply with the new law, including telling victim-survivors when the kit was submitted for testing, and whether DNA was found.
However, KARE 11 found that several agencies across the state have still not adopted those policies, including police departments for Mankato and Faribault and the Kandiyohi County Sheriff's Department.
Both the Hennepin County Sheriff''s Department and Minneapolis Police have a policy that directs officers to "notify the victim of their right to be informed of the status of a sexual assault examination kit upon request," but provides no direction on how victims can actually get that information.
The St. Paul Police Department and Ramsey County Sheriff's Department did not respond to requests for their policies.
Though a St. Cloud investigator was able to give some of the information Boe was seeking to her over the phone, the department has no specific policy on how to comply with the new law. The policy for St. Cloud stated only that an officer should "keep the victim informed of status of case directly and/or via Central Minnesota Sexual Assault Center staff."
Other states have adopted a centralized database tracking system, following in the footsteps of Idaho, the first state to create such a system.
There, assault victims can enter their kit identification number into a website, which shows whether the kit has been tested, whether information from it was uploaded into a federal database meant to track serial offenders, and whether that came back with any hits. None of the information reveals the identity of the victim.
The software developed by Idaho is free and has been implemented by several other states including North Carolina, Arkansas and New Mexico, said Matthew Gamette, the director of Idaho's Forensic Services.
"It makes it easy for that victim to get information in real time," Gamette said.
Nearly two dozen states have contacted Idaho about using their software, including Wisconsin, which currently has a law pending to create a rape kit tracking system.
Gamette said no one from Minnesota has contacted his agency.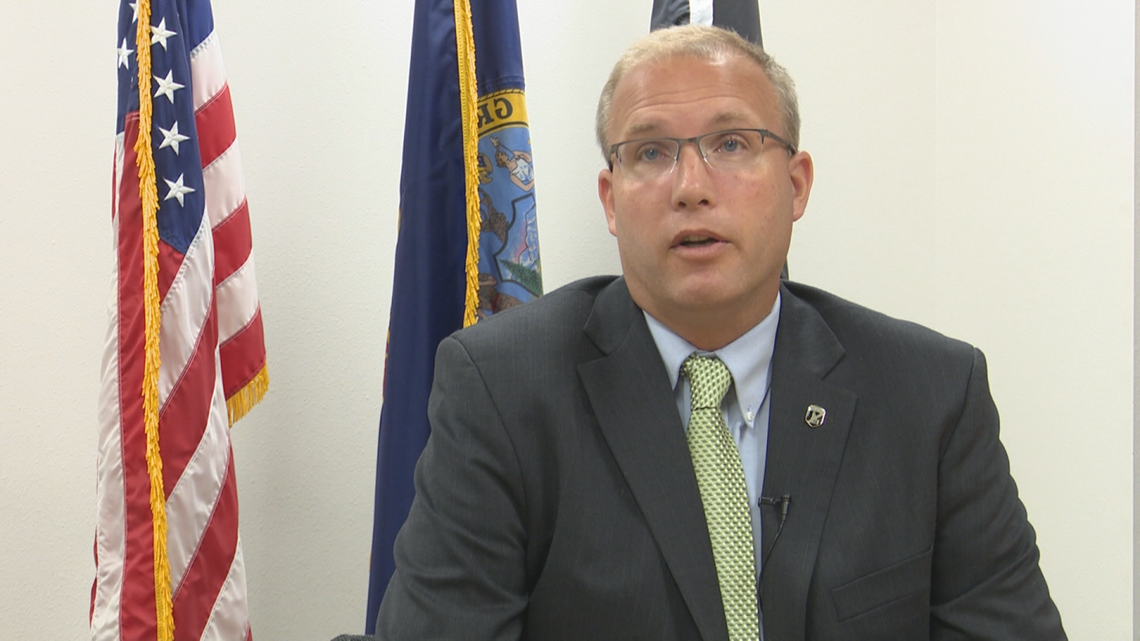 Boe said after telling St. Cloud Police about the Minnesota law, she got bounced around to various departments as they tried to verify if she could still have the information.
"I shouldn't have to beg and plead just to get very simple paperwork," she said.
Finally, she was told she'd have to go to the Sherburne County Attorney's Office, a 40-minute drive from her home, and they could release the information to her.
There, she was told she would have to fill out a form in order to get the results. She asked if she could send an email or fax, but was told no. This had to be done in person.
Once at the courthouse, she went to the prosecutor's office, where an assistant at the front desk gave her a blank, yellow piece of scratch paper.
This was the form to fill out.
She needed to put down her name, contact information, and the information she wanted.
"Do you want my ID?" she asked, as KARE 11 watched.
She left with nothing – and was told it would take up to 10 days to decide whether she could have the documents.
Anger that had festered for years only deepened.
"Having to go all over, get thrown around, make different phone calls, talk to a dozen different people, have them look at your personal information, passing it around, and then driving forever and not get anything," she said.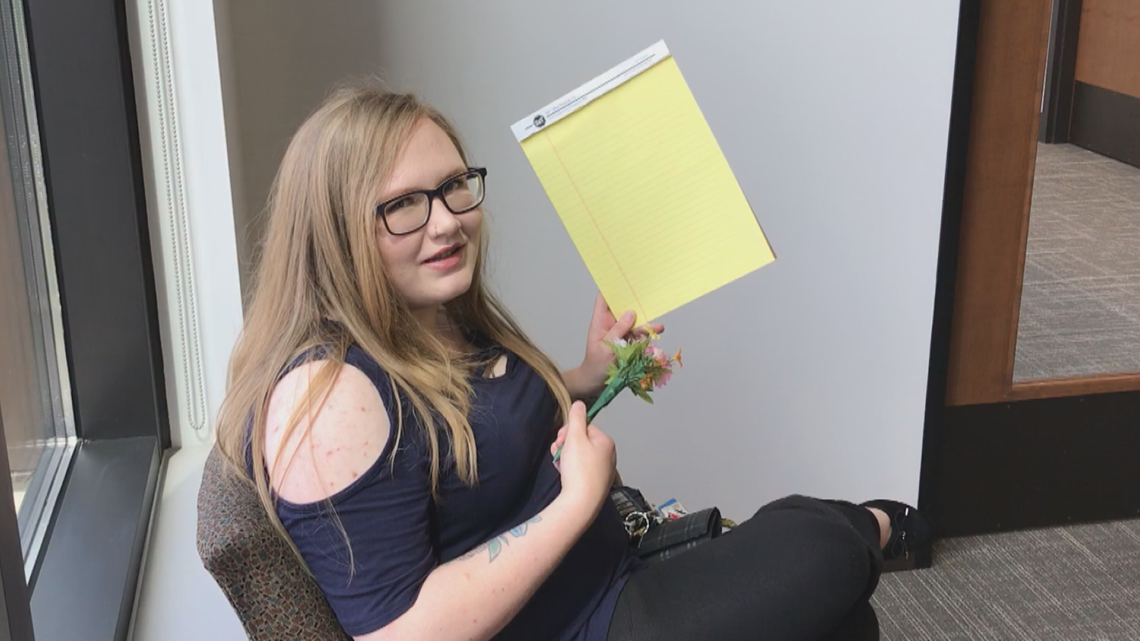 The next day she got a call, saying she would be able to get the information. But there was bad news: her case would not be charged. She was told the conflicting statements from witnesses that night would make it too difficult to prove the case to a jury.
The prosecutor's office set up a call with Boe to provide the details, which Boe recorded.
"I'm not telling you that I do not believe that it happened, I'm telling you I don't believe I can prove it beyond a reasonable doubt," Assistant County Attorney Leah Emmens told her. "Beyond a reasonable doubt is a very tough standard."
"I hope that you get the help that you need," Emmens continued. "That doesn't mean that we didn't take it seriously, because we absolutely do."
"But you guys didn't," Boe replied, her frustrations boiling over. "It took four years for it to even get to your desk."
"Oh no, no," Emmens told her. "You're wrong. When it comes to us, I'm going to tell you when it came to us, I think that some of your anger is misplaced. This never hit my office until November of 2018. Never. Not once."
Emmens told her that when her office got the case, nothing had been tested.
"I want to make sure you understand that it's not that this office didn't take it seriously, because we did. We didn't get it until well after, so please understand that. OK?"
Boe didn't care about that. Her anger was overwhelming her. She started crying.
"There's DNA evidence. I don't understand how that doesn't throw out his entire statement," she said, referencing the suspect who told police there had been no sexual contact.
"Believe me. I understand that you are frustrated," Emmens said calmly. "There are witnesses who say completely different things than what it is you say. DNA evidence indicates there was something that…"
Boe cut her off, trying to say that the witness statements themselves were contradictory. But she was too flustered to continue, believing whatever she said wouldn't matter.
"But whatever. … You're so (expletive) wrong," she said. "Thank you."
The prosecutor's office declined to comment for this story.
About a month and a half later, Boe finally got the written records documenting what St. Cloud Police told her – that the suspect's semen was found on her bedding.
She felt relief, but that quickly dissipated. There was no indication that police had gone back to re-interview the suspect and confront him about why his DNA had been found on the bedding.
"I'm even more upset because I don't understand why they don't do something about it," she said. "The system we have doesn't care about sexual assault or doing anything to stop it."
"They don't believe the victims."
Victims of sexual assault who need help are encouraged to go to www.rapehelpmn.org to find an advocate near them.
If you have a suggestion for an investigation, or want to blow the whistle on government fraud, waste, or corruption, email us at: investigations@kare11.com