KARE 11 Investigates: Child Protection accused of rushing to judgment
KARE 11 Investigates: A family claims a Twin Cities doctor and Hennepin County Child Protection filed allegations of medical abuse without a proper investigation.
A family claims a Twin Cities doctor and Hennepin County Child Protection filed allegations of medical abuse without a proper investigation.
Based on those allegations, they say a young boy was needlessly ripped away from his mother and ordered into foster care for seven months. They filed a lawsuit against the doctor - which is pending in federal court.
Every day, child protection workers across Minnesota investigate reports of abuse. They face the difficult job of balancing the need to protect children with the hope of keeping families together.
In this case, child protection is being accused of rushing to judgment, needlessly tearing a family apart.
"They like ruined my life," says young Dontell Peschong, now 13. When he was 11 years old, Hennepin County Child Protective Services got a court order to take him away from his mother. They did it, the family claims, with little independent investigation.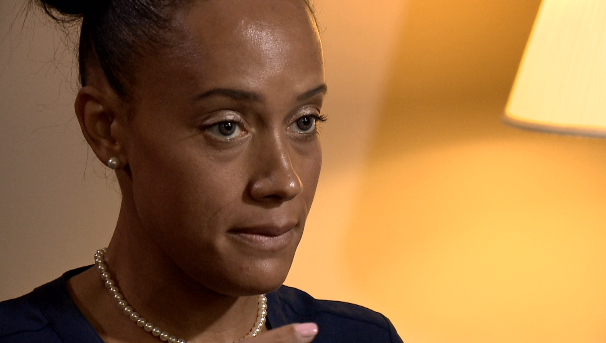 "This could happen to anybody," says the boy's mother Essie Peschong. She says she's speaking out in hopes of highlighting what she says is a broken system.
Chapter one
:
Problems since birth
From the very start, Dontell faced serious challenges. "I was lucky enough that when he was born, he did survive," his mother remembers.
Essie Peschong says doctors told her that her son's face and chest hadn't developed normally, narrowing his airways.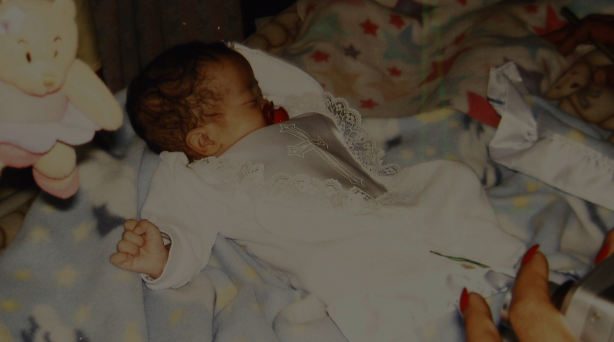 "Dontell had a lot of respiratory problems, a lot of problems breathing," she says.

Over time, medical records reviewed by KARE 11 show he was prescribed supplemental oxygen at home along with a special CPAP device for sleep apnea.
But by the time he was 10, his mother says Dontell was still having breathing problems. Sometimes he was so exhausted, she said, that doctors were considering surgery to open up his airways.
One of the options considered was a surgery to gradually move part of his face forward.
"They explained they would cut Dontell from ear to ear, his skull, pull it forward. He would wear a fixator. We would turn it each day to pull the front of his face out," Essie Peschong remembers.
Instead of that, Dontell's family chose a less complicated surgery – a Tracheostomy or "Trach" for short. It's a small tube inserted in his neck so air can bypass the blockage, especially at night.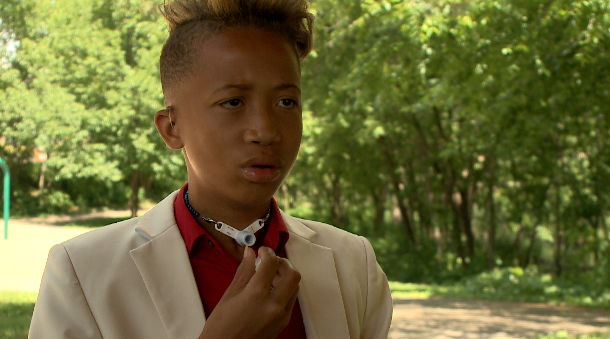 "In the day time I keep it capped. In the night, I just like twist it off," Dontell explained as he showed us how it works.
Dontell says it changed his life. "It was, like breathtaking, it was so good."
For the first time, he says he was energized after getting a good night's sleep.
"He was able to have friendships with people. He became Mr. Popular," his mother says. "He started playing sports. He played lacrosse. And, you know, just really able to enjoy life."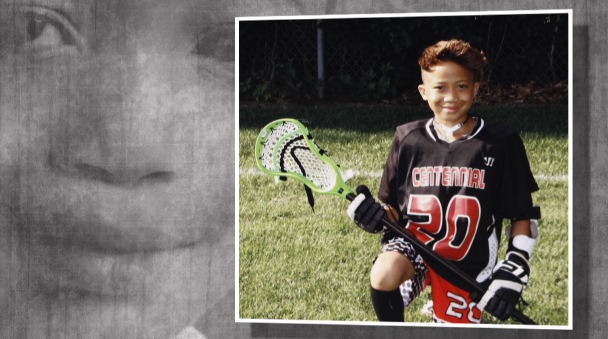 To celebrate the one-year anniversary of his surgery, Dontell's family took a vacation to Washington, DC.
"We wanted to celebrate your new life, right?" Essie Peschong asked.

"That's about right. Trach anniversary trip!" Dontell replied.
Chapter two
:
Abuse report changes Dontell's life
They never imagined that a report to child protection was about to turn their lives upside down.
It claimed Dontell was a victim of "medical child abuse," accusing his mother of repeatedly "misrepresenting his medical conditions", and subjecting him to "multiple medical procedures" which were not "warranted" -- including the Tracheostomy.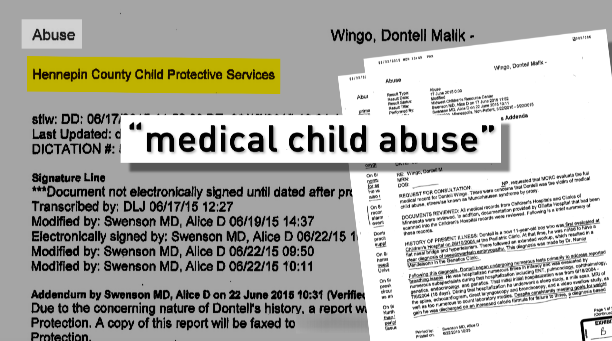 Based on the report, Hennepin County Child Protection got a court order to seize the boy.
Just days after they returned from vacation, Essie Peschong says authorities showed up at her door.
"They were like, 'We're taking him,'" she remembers.
Dontell was ripped away from his family and initially prevented from even speaking to his mother.
"I couldn't talk to my mom. I couldn't see my mom," he says.
Eventually they were allowed supervised visits a few hours a week. But Dontell spent seven months in foster care while his mother fought the removal in court.
"It was hard," she remembers.
The family would eventually learn the removal was based on allegations from a doctor who had never even seen Dontell – Dr. Alice Swenson, a child abuse specialist at Children's Hospitals and Clinics of Minnesota.
"All based on the word of one doctor?" asked KARE 11 reporter Lauren Leamanczyk.
"That is correct," Essie said,
In the end, there was a court-ordered test done by an independent specialist who found that Dontell's Tracheostomy was needed, calling it the "most viable choice to continue treatment."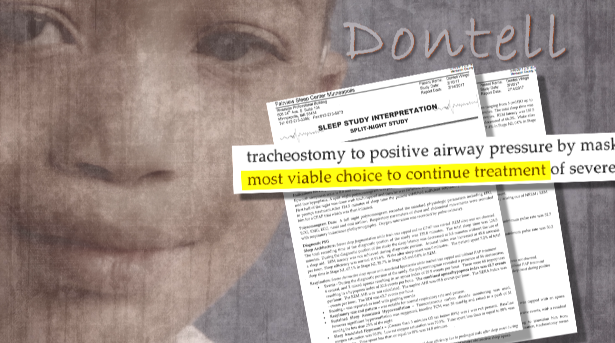 So, the child protection case was dismissed. But only after a court fight took more than a year.
That raises the question: What did Hennepin County Child Protection do to verify those original claims of medical abuse before ripping a family apart?
Chapter three
:
Were abuse claims investigated?
Court records show child protection told a judge that Dontell's mother had "homeschooled" him and "insisted" on keeping him "on supplemental oxygen 24 hours a day, seven days a week."
Dr. Swenson's report had claimed that Dontell had been "tethered to external oxygen" needlessly his entire life. She also indicated he was dependent on a wheelchair.
"Is that true?" KARE 11 asked.
"That is not true," claimed the boy's mother.
She showed us these report cards. They show Dontell was attending Blue Heron grade school, getting mostly A's and B's.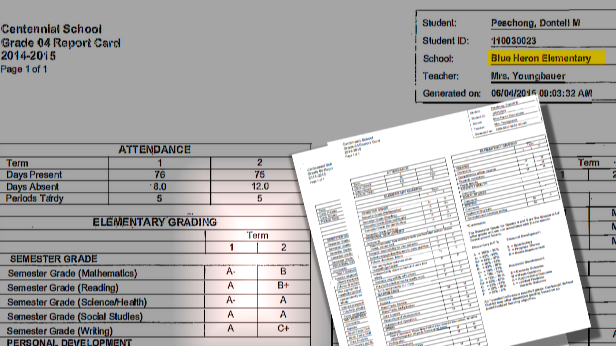 He's shown in class photos, without oxygen or a wheelchair.
"His fifth grade teacher, you know, could easily vouch that he wasn't on oxygen and he wasn't in a wheelchair," she said.
The doctor who filed the original abuse report works at Children's Hospitals and Clinics of Minnesota, but his mother says the child wasn't being seen there.
"Dontell hadn't visited Children's at this point for like five or six years," she said.
Records show Dontell's Tracheostomy surgery had been done at a different hospital, Gillette Children's Specialty Healthcare – Hospital and Clinic in St. Paul.

So, did Hennepin County Child Protection officials check with those doctors before deciding to seize Dontell?
Not according to this court transcript:
"Did you, or anybody from CPS talk to any of the doctors that had actually treated Dontell at Gillette Children's?" an attorney asked.
Under oath, the child protection worker answered: "Uh, no."
And neither did Dr. Swenson, according to court testimony.
So how did Dr. Swenson get involved?
Records show she got a tip from one of Dontell's former nurses and started reviewing medical records. Her written report indicates she spent six hours reviewing the old records from Children's – but not all of the new ones from Gillette.
She didn't even speak to Dontell's long-time pediatrician, according to court testimony.
According to a court transcript, the pediatrician said he thought the Tracheostomy was "the best thing that had happened" to Dontell.
That leaves a young boy to wonder why he was taken away from his family in the first place?
"I have so much bad emotions toward them because they ruined my life," he said.
Chapter four
:
Child Protection responds
"I would say these are tough jobs, and that this is tough work," said Jennifer DeCubellis, Hennepin County Deputy Administrator of Health and Human Services. She oversees the county's child protection program.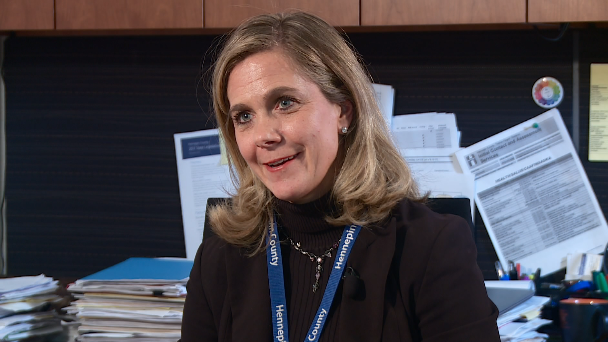 DeCubellis told us they expect workers to contact whomever can give them the "best information" about a case. But she declined to discuss the details of Dontell's case, except to say a judge had okayed the removal.

"I think you're referencing a case where there was court approval to remove a child," she said.
Dr. Swenson declined an interview. In an email, Children's Hospitals and Clinics of Minnesota told KARE 11 that Dr. Swenson and its other physicians are "mandated reporters" – required by law to "immediately report" if they "have reason to believe" there has been child abuse or neglect.
The email went on to say, it is child protection's responsibility to consider information from other sources and determine what is in the best interest of the child.
Dontell and his mother claim Hennepin County Child Protection rushed to judgement. In a lawsuit filed in federal court they blame Dr. Alice Swenson for filing a false report without sufficient investigation.
"To protect children, that's her job," Essie Peschong said. "And she actually because the abuser."
A federal judge here in Minnesota dismissed the family's suit, saying the state courts had already heard medical testimony and found Dr. Swenson "credible." Dontell's family has now taken the case to the U.S. Court of Appeals where a decision is pending.
Since the ordeal, Dontell and his family have moved to California. Dontell tells KARE 11 he is happier now.
The family is speaking out, they say, to prompt changes that would protect others from what they call a broken child protection system.
"I had a perfect life, and they ruined it," Dontell said.