A Minnesota man fought a surprise medical bill six-times higher than he expected, and saved thousands of dollars.
Experts call it an eye-opening example of how hospitals sometime charge different prices for the same procedure.
His experience may have you taking a second look at the medical bills you get.
Leading up to his back surgery, Paul DeWolfe of Zimmerman, says he wanted to make sure his insurance would cover most of the cost. So, he says he showed his Humana insurance card to CentraCare's St. Cloud Hospital.
"I said, 'Am I in network? Am I going to be covered?' And they said, 'Yep, you look good. You're in our system, so shouldn't be any problem,'" DeWolfe told KARE 11.
After insurance, DeWolfe thought his share would be about $3,000.
So, imagine his shock when a much larger bill from the hospital arrived.
"They said, 'Paul, you've got to come up with $18,590. And we'd like to have that as soon as you could please,'" DeWolfe said. And that was just Paul's share of the cost. The total bill was for $40,566.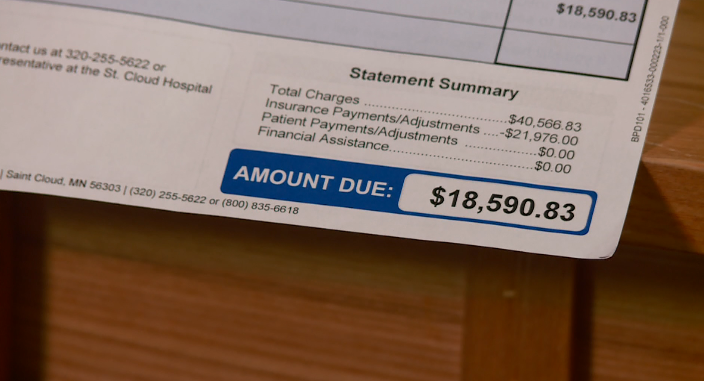 KARE 11 Investigates discovered DeWolfe's case is an example of what critics call America's broken health care payment system.
It turns out DeWolfe had seen one of KARE 11's earlier investigations about surprise medical bills.
"Just by the grace of god, Channel 11 aired some information about a couple that was having similar problems," he said.
So, after fighting his own bill for months without luck, he called KARE 11.
We introduced him to Jon Hess. Consumers can hire his company, Athos Health, to help challenge medical billing errors.
"We don't believe healthcare should be free or people shouldn't pay what they owe," Hess said. "But we believe they should only pay what they owe."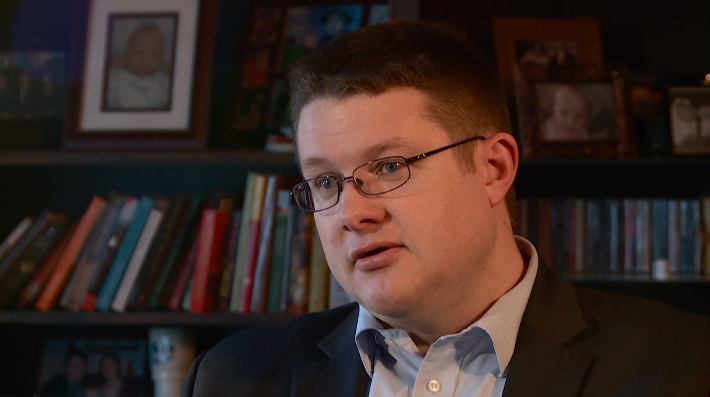 Uncovering different prices
Hess says he found plenty about DeWolfe's bill to appeal.
"They said that there's some confusion," Hess said, after speaking to the hospital and the insurance company.
The first problem, Hess says, was confusion about whether the hospital was "In-Network" or "Out-of-Network," under his insurance plan.
There's a huge difference.
The total "Out-of-Network" charge for Paul's surgery was nearly $41,000.
Jon Hess at Athos discovered the negotiated "In-Network" rate for the same surgery was about half that, roughly $22,000.
And, according to the calculations Athos made, if Paul was on Medicare the hospital would have paid even less. Just $10,342.
Same hospital. Same surgery. Different prices.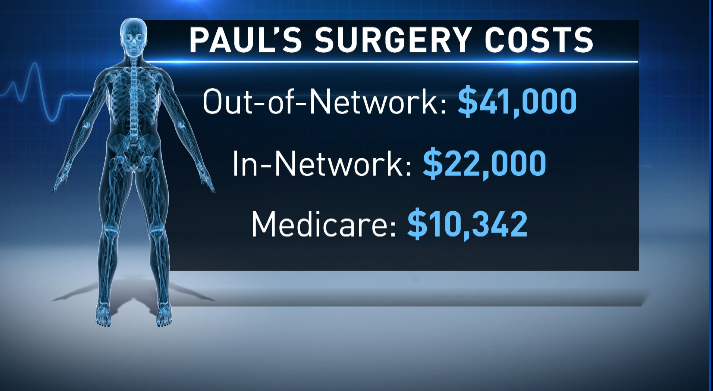 At first, St. Cloud Hospital was trying to charge Paul at the highest rate, which meant he would have an expensive co-pay.
In the end, Athos got them to lower the bill, with Paul's share winding up closer to what he'd originally expected.
"They found the reasons why they shouldn't be charging me what they're charging. And we came to a resolution of me paying $3,000. And to me, that was unbelievable," DeWolfe said.
One patient's problem fixed, but Hess says too many others are causing people unnecessary financial pain.
"We're seeing about 11 percent of bills are in error," Hess told KARE 11.
Surprise bills, often with a bitter taste.
"It would have been a very, very hard burden for me to swallow," DeWolfe said.
We contacted St. Cloud hospital. They said they don't believe they gave Paul the wrong insurance information.
In a written statement, CentraCare told us they "understand the frustration the patient felt" while they negotiated with the insurance company. In the end, the hospital says DeWolfe paid what it calls "a highly-discounted rate."
This story is also a good reminder to check with your insurance company before any costly procedures, but be certain about your coverage.
This story started with a viewer tip. If you have something you'd like us to investigate, you can email us: Investigations@kare11.com.