KARE 11 Investigates: A judge ordered him to be held for treatment; he went home instead
Part 3 – "The Gap: Failure to treat, failure to protect" – A mentally ill man ordered to be committed but never treated, kills one man and shoots another on a bus.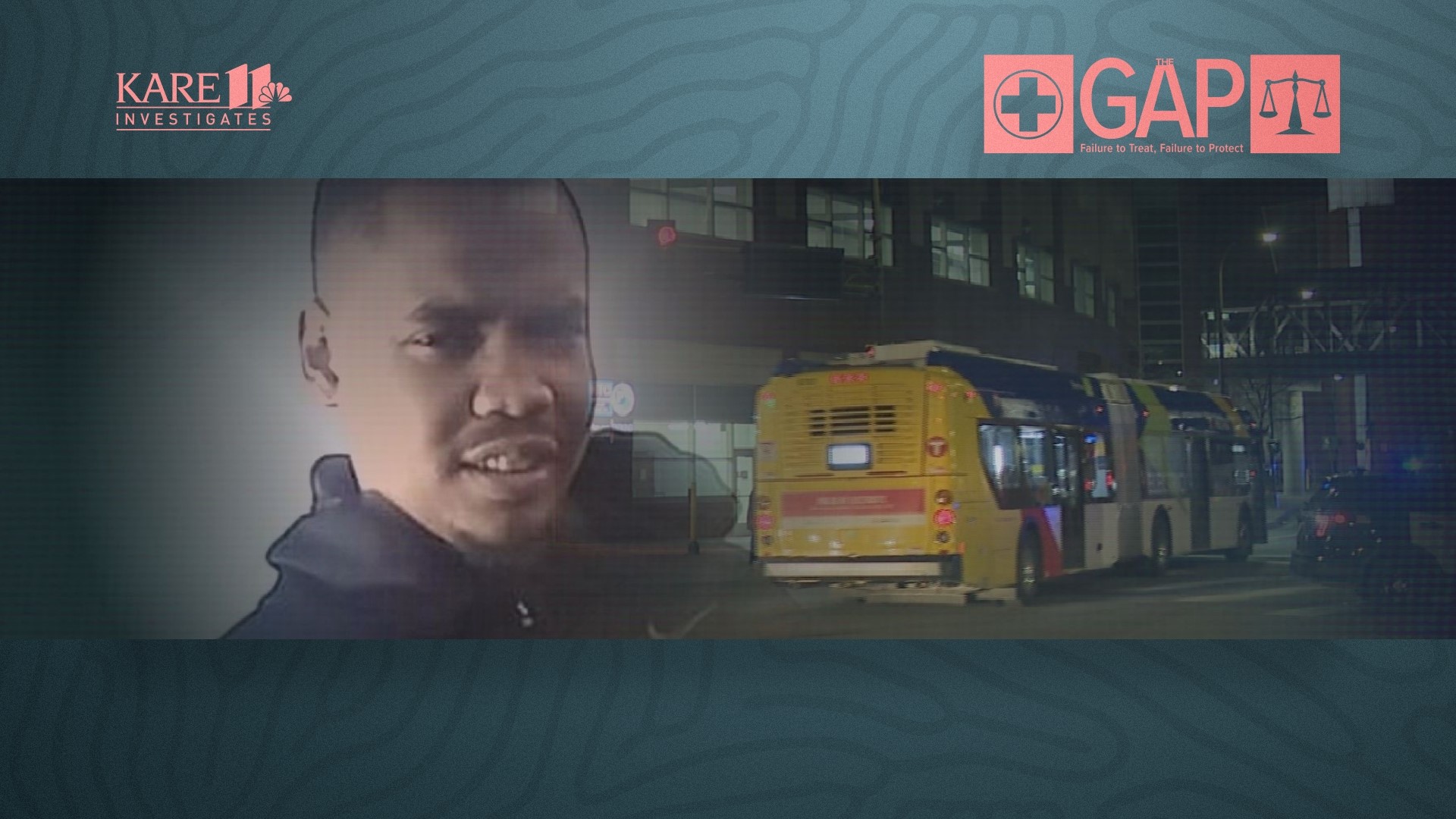 As he sat toward the back of a Metro Transit bus in February 2020, video shows 26-year-old Malcolm Lessley springing up without warning, pulling a gun tucked under his waist band and shooting a man in the face.
Before anyone else on the bus could react, Lessley fired another bullet through the neck and head of 51-year-old Tommie McCoy.
The first victim somehow survived. McCoy collapsed; his life snuffed out in seconds.
A day later, Minneapolis police were still trying to make sense of it.
"Knowing the relationship between the three is going to be crucial to be able to determine the motive behind this," a police spokesman said at the time.
It would turn out that there was no relationship.
Instead, McCoy died that night following catastrophic breakdowns in Minnesota's criminal justice and mental health systems that allowed a violent, mentally ill man back on the street without treatment, a KARE 11 investigation has found.
Lessley is a "gap" case – where mentally ill criminal defendants found incompetent to stand trial are released back into the community without the necessary mental health treatment and oversight to protect the public.
KARE 11 has reported on such gap cases over the last two weeks, revealing that those found incompetent to stand trial often went on to commit more severe crimes, including assaults, murders and one of the worst mass shootings in Minnesota history.
Lessley's fall through the cracks began in December 2018, a year before the bus shooting. Prosecutors charged him with felony assault with a dangerous weapon after video showed him pointing a gun at a cab driver.
But a judge found him incompetent to stand trial and referred the case for civil commitment. A second judge ruled he "poses a substantial likelihood of causing physical harm" and ordered the state Department of Human Services to treat his mental illness.
His social workers later told a judge that Lessley went missing, but there is no record anyone tried to find him. Had someone asked his mother, she says she would have told them that he lived with her, waiting to get help that would never come.
Lessley's mental health spiraled out of control until he finally boarded the bus in February 2020.
Experts who reviewed Lessley's case for KARE 11 were baffled by what happened.
"Something really, really fell through the cracks there," said Lisa Dailey, acting Executive Director of the Treatment Advocacy Center, who reviewed the case files for KARE 11.

The day of the shooting, Tommie McCoy stood toward the back of the bus, waiting at the exit door on a trip to get a housing voucher – the first step for what he hoped would be a better life.
He barely had time to turn his head before Lessley shot him.
McCoy's family blames, not only Lessley, but those who allowed him to walk free that day.
"There was a young man who had no earthly business being in society," said McCoy's cousin, Trahern Pollard. "That's why my cousin is not here right now."
Chapter 1
:
Mentally ill, 'grossly disturbed'
To understand how the system failed McCoy means going back to a December 2018 morning, when cab driver Kelly Sarenpa picked Lessley up for a ride from Minneapolis to Brooklyn Park.
When Lessley couldn't say exactly where he wanted to go, she stopped in a parking lot. Instead of paying, he offered her pot. She refused.
"I told him I'd call the police if he didn't pay me – and that's when I heard the click," she said.
He pointed a handgun at her head and ordered her to let him out of the cab. After he ran, she peeled out and called the police. Mostly, she says she wanted someone to help him.
"He didn't ask for any money," she said. "I just thought he was very, very mentally ill."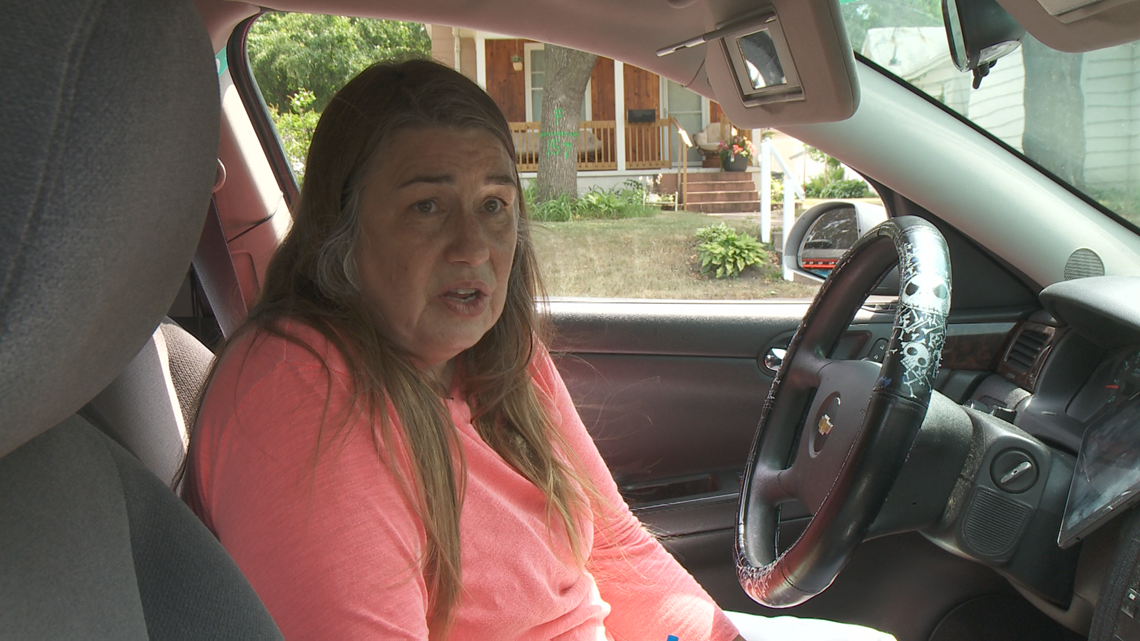 After being arrested and charged with assault, a Hennepin County judge ordered an evaluation to determine Lessley's competency to go to trial – that is, ability to participate in his own defense.
The psychologist interviewed Lessley's mother, Geraldine Nabors, who told the doctor her son's mental illness started as a child and deteriorated as he grew up. She worried her son had become delusional. In the last year, she said Lessley told her the FBI had been watching him.
Lessley became agitated and paranoid during his interview with the psychologist, accusing her of being a police officer, records show. She diagnosed Lessley with a schizophrenia and impulse control disorder, running him through a battery of tests and found no evidence of faking. In July 2019, a Hennepin County judge ruled Lessley could not stand trial.
Sarenpa said a prosecutor from Hennepin County Attorney Mike Freeman's office told her Lessley would be confined for mental health treatment.
"I thought it was resolved then," she said.
An order meant to do just that and get Lessley help came in September, when Hennepin County Judge Phil Carruthers found Lessley's illness "grossly impairs his judgment, behavior, capacity to recognize reality and ability to understand."
"(Lessley) engages in grossly disturbed behavior or experiences faulty perceptions, and he poses a substantial likelihood of causing physical harm," he wrote.
Finding Lessley incapable of following a voluntary treatment plan and needing in-patient psychiatric treatment, Carruthers committed him to the Department of Human Services (DHS), which runs the St. Peter security hospital and the Anoka Regional Treatment Center.
Carruthers ordered that Lessley be held in a "safe and secure" facility, and that he could not be released or transferred without a court order. Should DHS ever consider releasing Lessley, Carruthers wrote, a security plan needed to be drafted to address security risks.
Carruthers also ordered the Hennepin County Sheriff's department to provide Lessley with transportation.
Lessley's family said he wanted to get help. Lessley agreed to the plan.
The afternoon Carruthers signed his order, Lessley's mother said he walked out of the courthouse door and went home with her.
Records reviewed by KARE 11 show no evidence he was ever transported to a state treatment facility. Not that day – nor in the months that passed before the fatal bus shooting.
Chapter 2
:
Finger pointing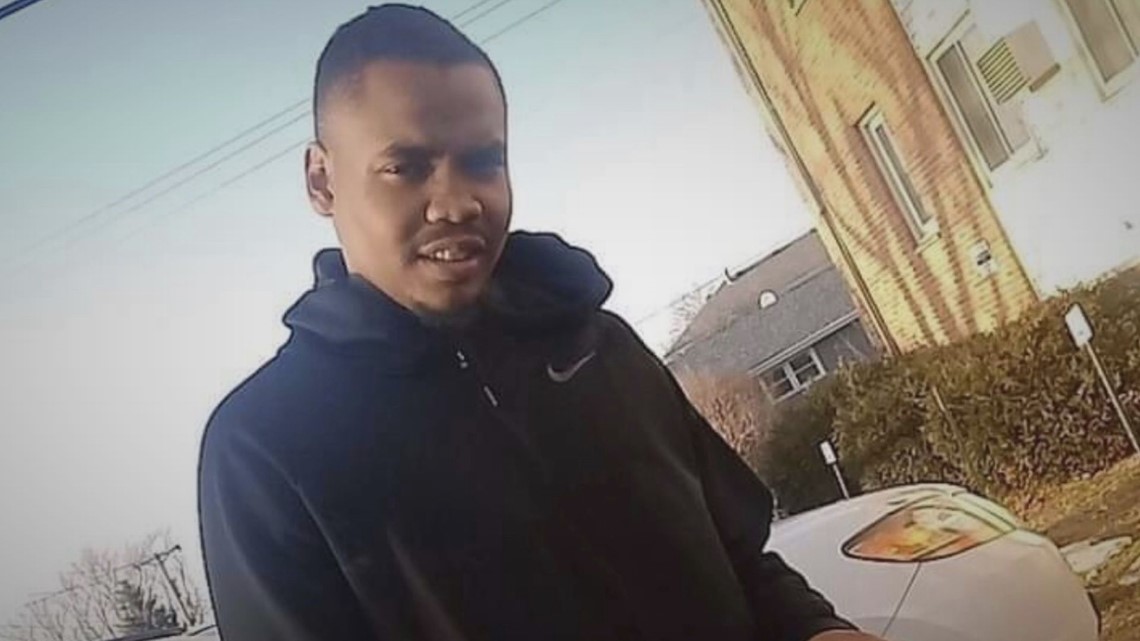 None of the people responsible for allowing Lessley to go home will say why or how that happened, with many pointing fingers at each other.
Commitment hearings in Minnesota are generally open to the public, but that did not happen in Lessley's case.
Court records show a settlement conference was "held off the record" a half hour prior to Judge Carruthers issuing his order. KARE 11 requested transcripts of that conference, but the county court reporters' office replied that because nothing was placed on the record, "it would not be possible to produce a transcript."
Judge Carruthers and Hennepin County Chief Judge Todd Barnette repeatedly denied interview requests. Lessley's attorney, Elizabeth Rosholt Winden, also declined to comment.
Records indicate that a lawyer from Hennepin County Attorney Mike Freeman's office was there that day. Freeman's office provided written answers to questions, but would not say why Lessley went home. Instead, the office blamed gaps in state law.
"Once a person is ordered committed, the county attorney's office loses jurisdiction over the individual. We do not control or have oversight over the transport of individuals," his office said. "The order directs the Sheriff's Dept. to transport."
A Hennepin County Court spokesperson provided a similar response. While pointing the finger at the sheriff's department, he also noted DHS's responsibility over Lessley.
"Any questions about the (Lessley's) location or whereabouts may be best answered by these other agencies," the court spokesman said.
But the sheriff's department never transported Lessley that day, a spokesperson said.
The sheriff's department will only provide transport when they get a specific order on where to take that person, said former Hennepin County Chief Public Defender Mary Moriarty, who reviewed the case for KARE 11.
"Someone is responsible for finding out where he's going and drafting an order to take him there," Moriarty said. "You need to order the sheriff's department to do stuff."
The sheriff's department spokesman said they never received a transport order for Lessley.
"There are multiple system failures here," Moriarty said.
As for DHS, the agency may not have even known they were now in charge of Lessley.
The agency, which declined to talk about the Lessley case citing patient privacy, plays no role in civil commitment hearings, has no legal right to participate in them and has no one at the hearings representing the agency, DHS said in written responses to questions.
"Some individuals are committed to DHS and neither the county nor the court ever make DHS aware of the commitment," the agency said.
But telling DHS about Lessley may have made little difference. Even when a judge orders the agency to provide treatment, DHS says it will only do that while a patient is in a facility run by the agency. Otherwise, the county that requested the commitment needs to provide the care.
For Lessley, that would have been Hennepin County, which declined to comment on his case.
Chapter 3
:
Failed by his care providers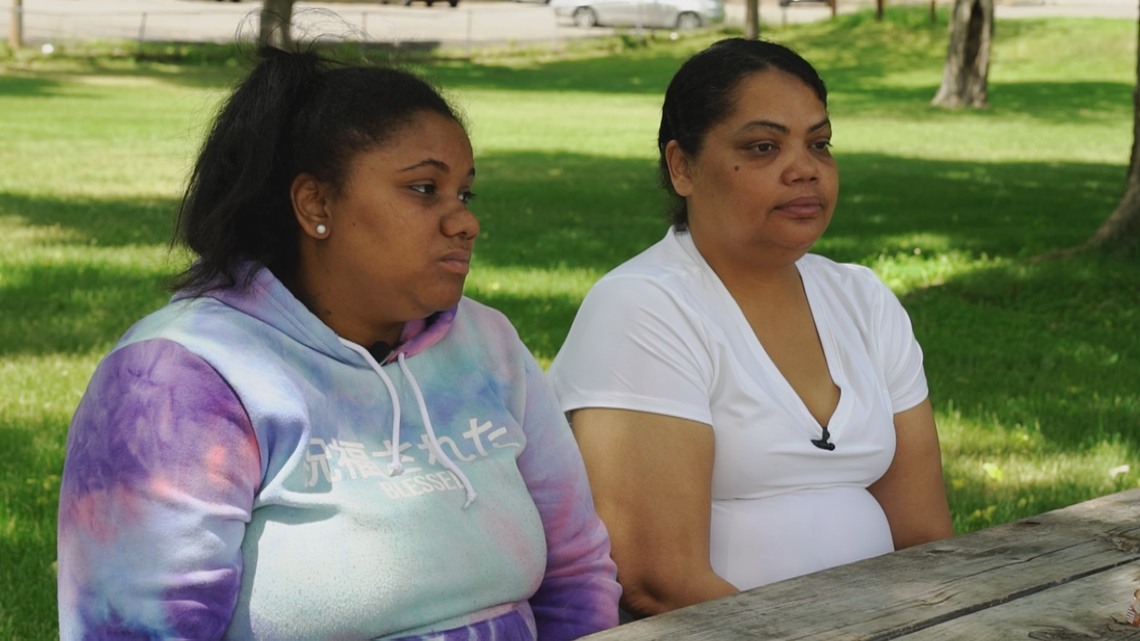 Though Lessley went home to live with his mother in St. Cloud, it's not as if she hid him.
Nabors told KARE 11 in an interview that she didn't understand the court process and did not know what it meant to be committed to DHS. No one objected when he left with her.
"I just thought he was supposed to go home," she said.
At home, Lessley's mental health only got worse. Nabors said he started talking to himself, would get agitated, then got mad because he didn't know what started the agitation.
As he went without treatment, Nabors said he abused drugs to self-medicate.
Lessley's mom and sister, Brittany, said they waited for someone to call with help, but nothing came.
"They failed us," Brittney Lessley said.
Social workers who were supposed to oversee Lessley's treatment filed a report in early December with Judge Carruthers saying that Lessley's "whereabouts were unknown," according to records obtained by KARE 11.
Despite this, there's no record of Judge Carruthers issuing an order to find Lessley.
Nabors said had anyone with Hennepin County or DHS tried to track Lessley down, all they had to do was call her.
"He was home with me," she said.
They already had her contact information in their records. The month after Lessley's commitment, a judge ordered him to get another mental health evaluation. The order listed Lessley's address as his mother's home in St. Cloud. The phone number? Hers.
Even when the two of them moved down to a northeast Minneapolis apartment in November, she kept the same phone number – the one listed in the order issued by the judge.
"I wanted to make sure he was making every appointment," she said.
Good to her word, Nabors brought her son to the court-ordered evaluation on Jan. 29, 2020 – a week before McCoy's murder.
Lessley told the psychologist, the same one who found him incompetent in the cab driver case, that he hadn't stayed in contact with his case manager or followed through on his treatment plans. The doctor again found him unfit to stand trial.
Nabors said she and her son met his Hennepin County case manager for the first time that day and provided their new address. She never heard from anyone with the county again, she said.
By February 6 – the same day of McCoy's murder – social workers filed another report with Judge Carruthers, saying "Lessley was homeless and his whereabouts had remained unknown for some time."
Though Carruthers' commitment order from September found Lessley "incapable of voluntarily following a treatment plan," the social workers put the blame on Lessley for not getting treatment.
"He had failed to follow through with his required mental health services," according to the court record.
Nabors said her son had started talking about seeing dead people, and people following him in a black car.
"Those last couple of weeks, my son started getting very, very paranoid," Nabors said. "I was hoping for help before what happened on that bus."
Chapter 4
:
'The system failed this kid'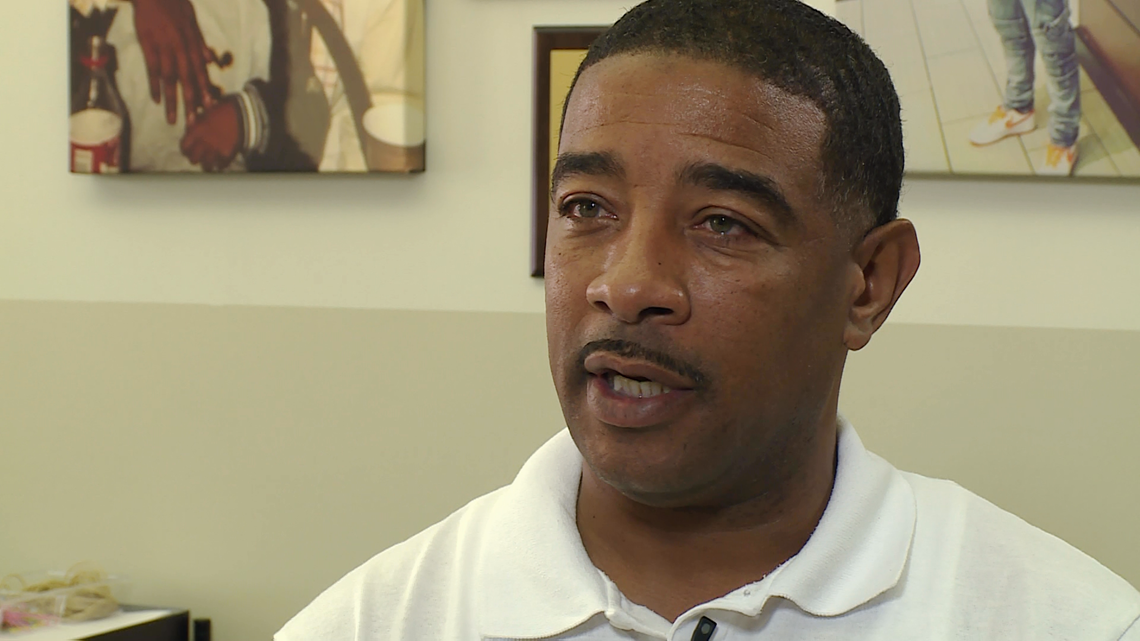 If Tommie McCoy had been anywhere else on the bus, or gotten off at a different stop, or maybe even stood just a few inches away from where he did, he might still be alive.
He moved from the south side of Chicago to Minneapolis about six years ago, working as a "jack of all trades," said his cousin, Pollard.
He rang the Salvation Army bell, worked construction, at temp agencies, as a custodian and as a cook.
McCoy mostly lived in shelters, but Pollard said his cousin finally got the call he had long been waiting for from the Salvation Army. They had permanent housing for him. He hoped to move his daughter and grandkids from Chicago to live with him.
All he had to do was meet with a housing advocate in downtown Minneapolis and pick up his voucher. He rode the bus with his suitcase, clutching the handle as he stood at the exit door.
"Anybody could have been sitting on that bus," Pollard said. "Anybody."
A month after the shooting, Pollard remembers seeing Lessley for the first time in a courtroom, saddened by a young man who had only a blank, vacant stare.
"It's almost as if he wasn't even conscious of his surroundings," Pollard said.
"The system failed this kid. They failed him tremendously," he said. "And the recipient of that failure is unfortunately my cousin."
Following that hearing, a judge found Lessley incompetent to stand trial for the murder.
He would later be taken to the state treatment hospitals in Anoka and St. Peter, where for the first time since pointing a gun at a cab driver, he received help for his mental illness.