KARE 11 Investigates: Lies, rigged system alleged in insurance denial
A lawsuit provides a rare look at the behind-the-scenes effort to avoid paying for care – and the roadblocks patients face in insurance appeals.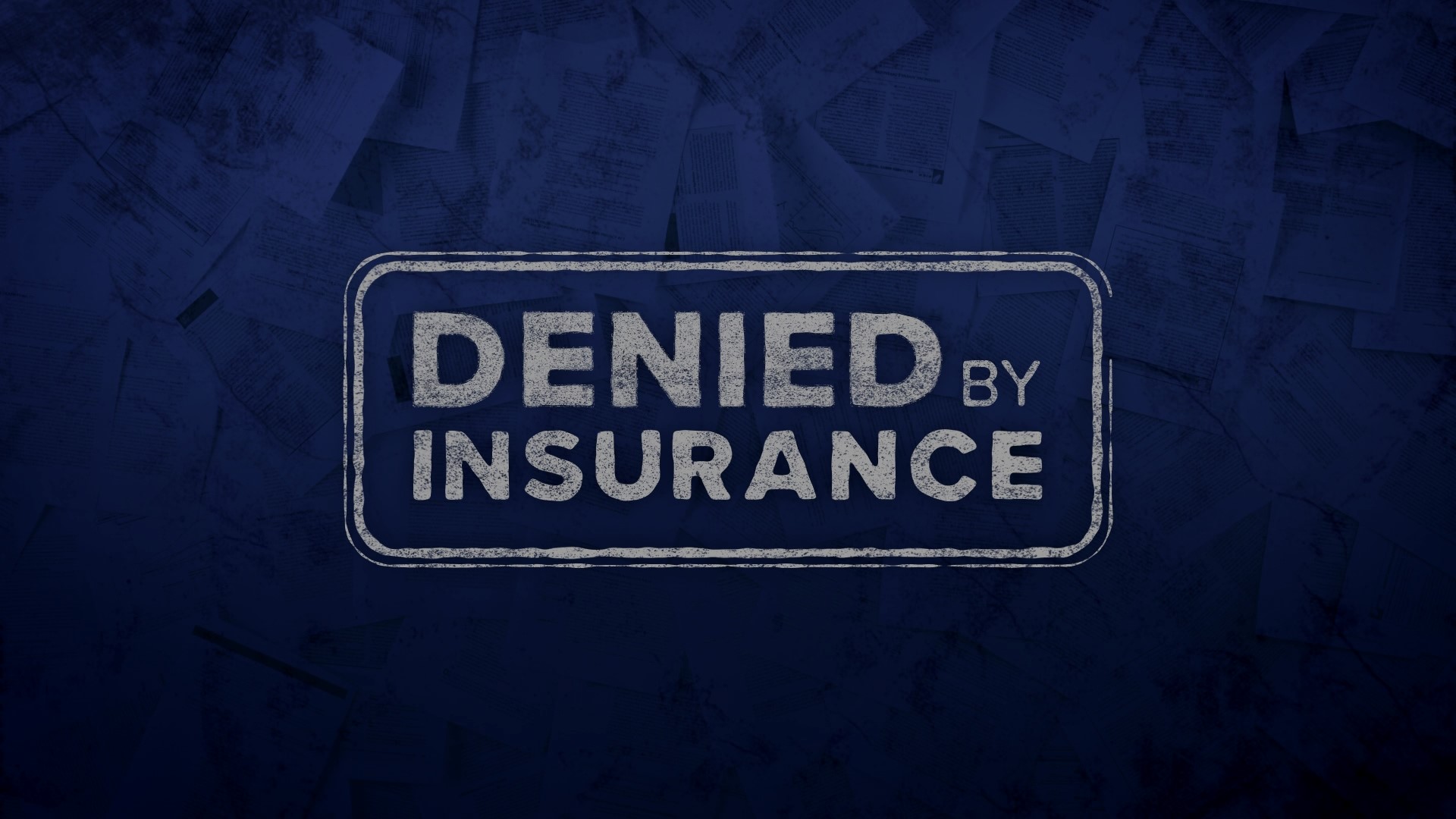 A college basketball player, Chris McNaughton was the picture of health until his junior year when he was diagnosed with ulcerative colitis at age 22.
His life changed. The painful disease inflames the digestive tract and causes ulcers. McNaughton lost 50 pounds, was repeatedly hospitalized, and became suicidal.
"I basically spent all day in the bathroom. I had bloody diarrhea 20 times a day. And then I would have stomach pains so bad that I would just sort of lay on the couch in the fetal position," he said in an interview with the non-profit news organization ProPublica.
ProPublica shared its story – and the raw interview it did with McNaughton – with KARE 11.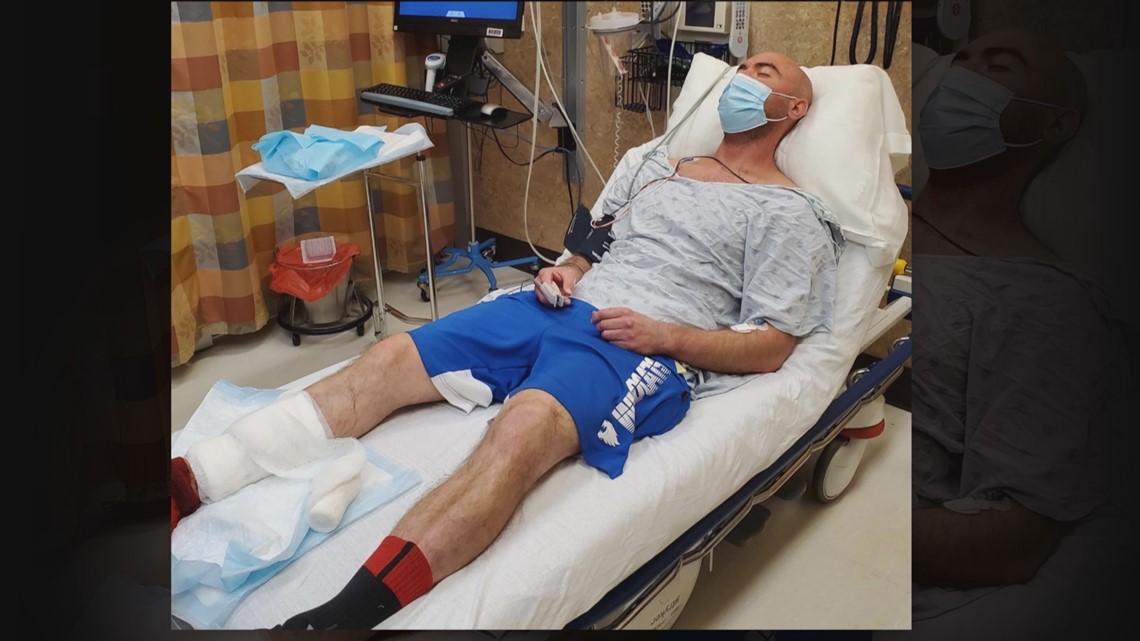 McNaughton went through failed treatments until he traveled from his home in Pennsylvania to Minnesota's Mayo Clinic in May 2015.
There, Dr. Edward Loftus, a nationally renowned gastroenterologist, prescribed an infusion of a high-dose, high-cost combination of two drugs.
The treatment worked. The ulcerative colitis went into remission.
"To finally have something and be able to resume a normal life, it meant everything to me," McNaughton said.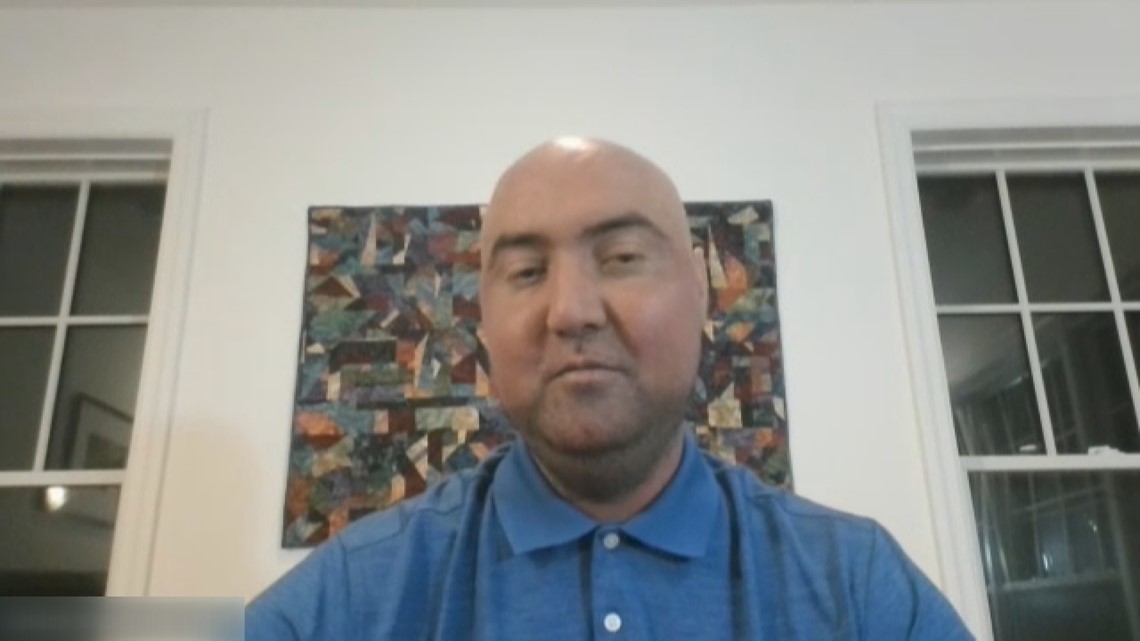 Eager to get his life back on track, McNaughton enrolled at Penn State University and purchased the school's student insurance plan, which was administered by Minnetonka-based United Healthcare.
United, one of the largest insurers in the country, covered McNaughton's meds at first.
Then in October 2020, United temporarily "without notice, stopped paying for the infusions" while the company reviewed whether the drugs were medically necessary, according to a federal lawsuit he filed.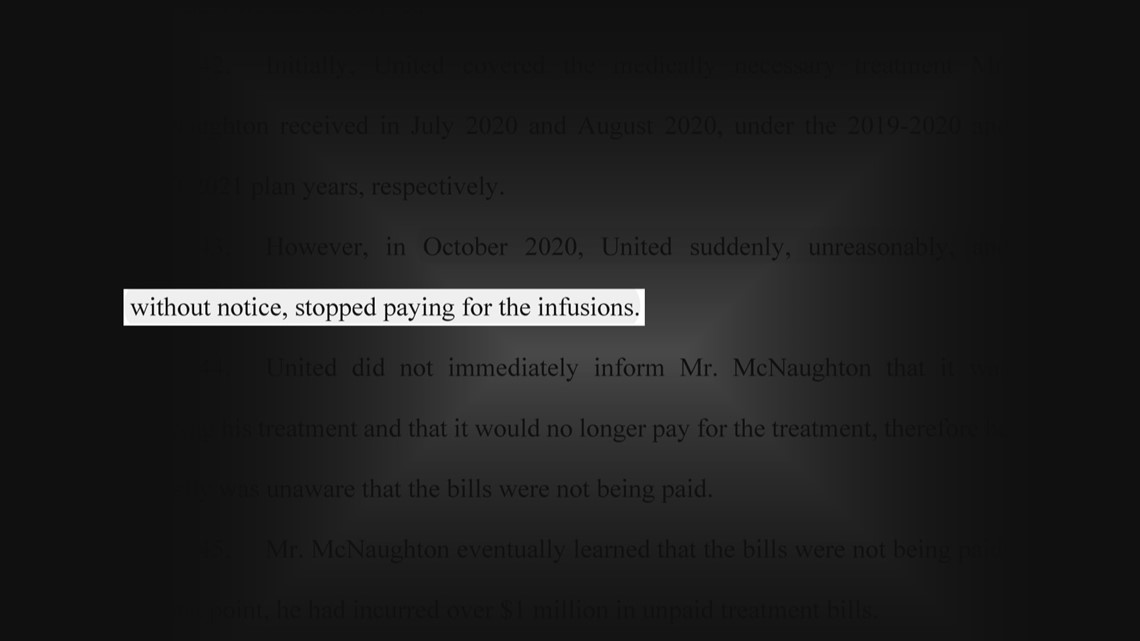 The fear of having to go back to a life of agonizing pain put McNaughton back into a severe depression.
"I just remember being completely devastated," he said.
What happened next provides an extremely rare look inside the insurance denial system and a behind-the-scenes effort to avoid paying for expensive medicine.
McNaughton's lawsuit uncovered the myriad hoops he needed to jump through to get care.
"You sort of always, maybe imagine the worst. But this was beyond anything I could have imagined," McNaughton said.
United Healthcare did not answer KARE 11 Investigates' specific questions about the McNaughton case.
Not medically necessary
:
McNaughton's insurance plan first required him to file an internal appeal to United.
That appeal prompted United to send the case to an outside review company, the Medical Review Institute of America, a group that is supposed to be independent – but is paid by insurance companies. Paperwork from the case shows MRIoA's "client" is United Healthcare.
A doctor hired by the MRIoA, UCLA Gastroenterologist Vikas Pabby, determined the dose of the drugs prescribed to Chris was higher than what the FDA had deemed safe – and was not medically necessary, according to McNaughton's suit.
That was good news to United Nurse Victoria Kavanaugh and company representative Dave Opperman, who were handling the case.
"We did get the medical review back from the gastroenterologist and he states that it's not medically necessary treatment," Kavanaugh told Opperman, in a recorded phone call obtained through the lawsuit.'
Opperman laughed for several seconds before responding, "I knew that was coming."
McNaughton's coverage was denied. However, he continued receiving his medication as he exhausted further appeals.
'Life-threatening complications'
:
Knowing McNaughton would continue to appeal, Kavanaugh and Opperman suggested a phone call between Dr. Loftus at Mayo and Dr. Pabby.
In mid-May 2021, Opperman sent an email to McNaughton and his mother letting them know the results of that phone call. He claimed that Dr. Pabby and Dr. Loftus had "collectively determined" his current dosage was "not appropriate" and instead should get a lower dose of his treatment regimen.
But Dr. Loftus says he never said that.
He wrote he never agreed the dosage was "not appropriate." And never agreed to lower the dosage. He called it an "inaccurate representation" of the phone call.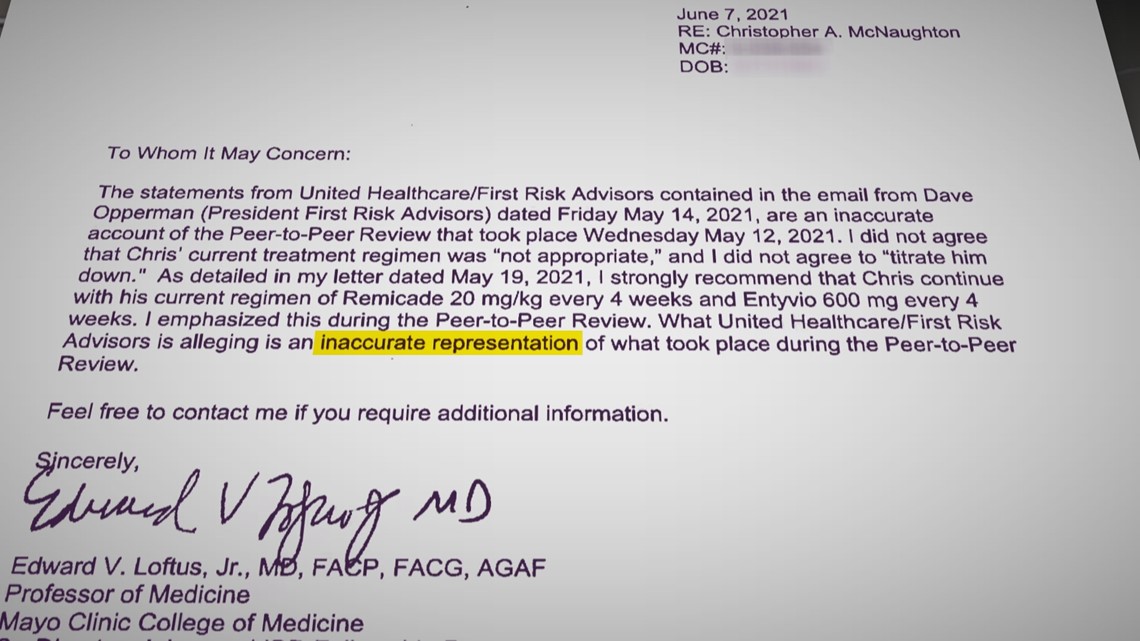 In fact, he believed reducing the dosage as suggested by United could "involve life-threatening complications."
"The dosages that United was suggesting I take I had already failed. And I was hospitalized on three separate occasions when I was on those dosages," McNaughton said in the ProPublica interview.
In a report McNaughton obtained in the lawsuit, Dr. Pabby told United that while he spoke with Dr. Loftus and still did not agree with the dosage, but said he "did not convey any opinion" to Loftus.
Loftus declined an interview. Dr. Pabby did not respond to KARE 11's request for comment.
Switching to the lower doses could have saved United hundreds of thousands of dollars. An internal document shows Kavanaugh and Opperman discussing how much United would save by lowering the dose of the medicines saving Chris' life, from $1.1 million down to $260,000 per year.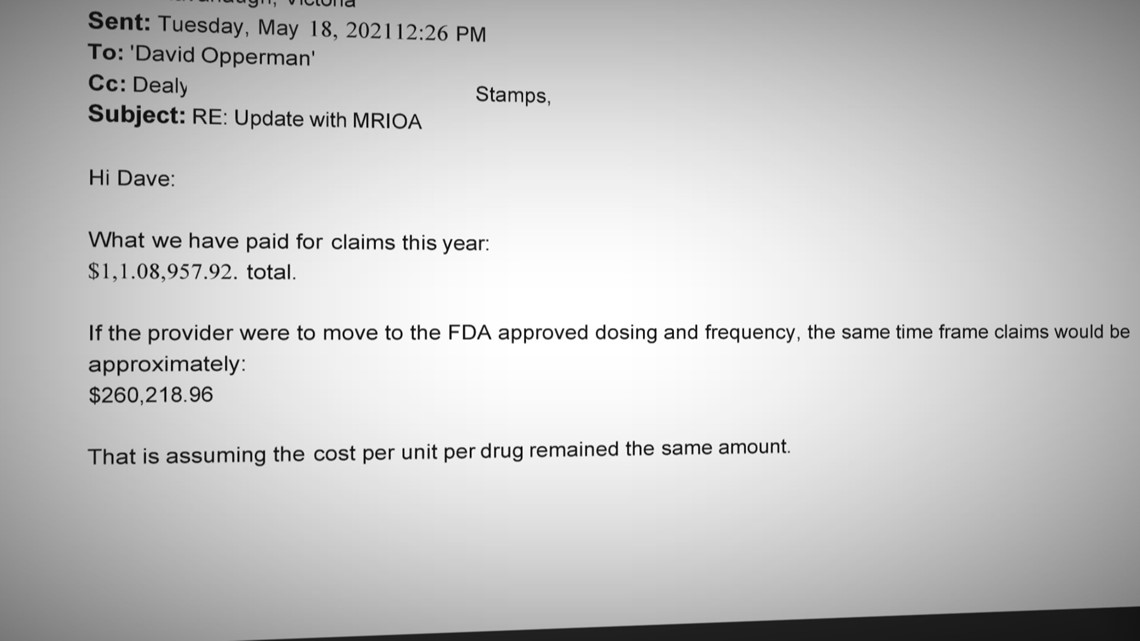 But after Dr. Loftus complained, United sent the case back to the review company again. This time it was assigned to a different gastroenterologist, records show.
That doctor agreed with Dr. Loftus. Mayo's treatment was not only safe. The doctor found it was "medically necessary."
Records show United tried to have that finding overturned.
In a phone call uncovered during the lawsuit, United employee Kavanaugh asked the medical review company to send the case back to the first reviewer, Dr. Pabby.
"It's obviously a very different result than what we've been getting on this case," Kavanaugh said in the phone call. "So, we had Dr. Pabby before, and Dr. Pabby's very familiar with this situation."
Dr. Pabby's review led to a second denial, and the conflicting report was buried. McNaughton was never told about it, and United did not produce it as part of the lawsuit discovery process.
'Rigged system'
:
How insurance companies handle cases like McNaughton's is all too common, said Ron Howrigon, who has spent nearly 20 years as an executive at other larger insurers – though never United.
He says insurance companies should review large claims for safety and to weed out fraud. The problem, he says is how they do it.
"This is a pretty rigged system, and the consumers need to understand that. And they need to push back on it," Howrigon said.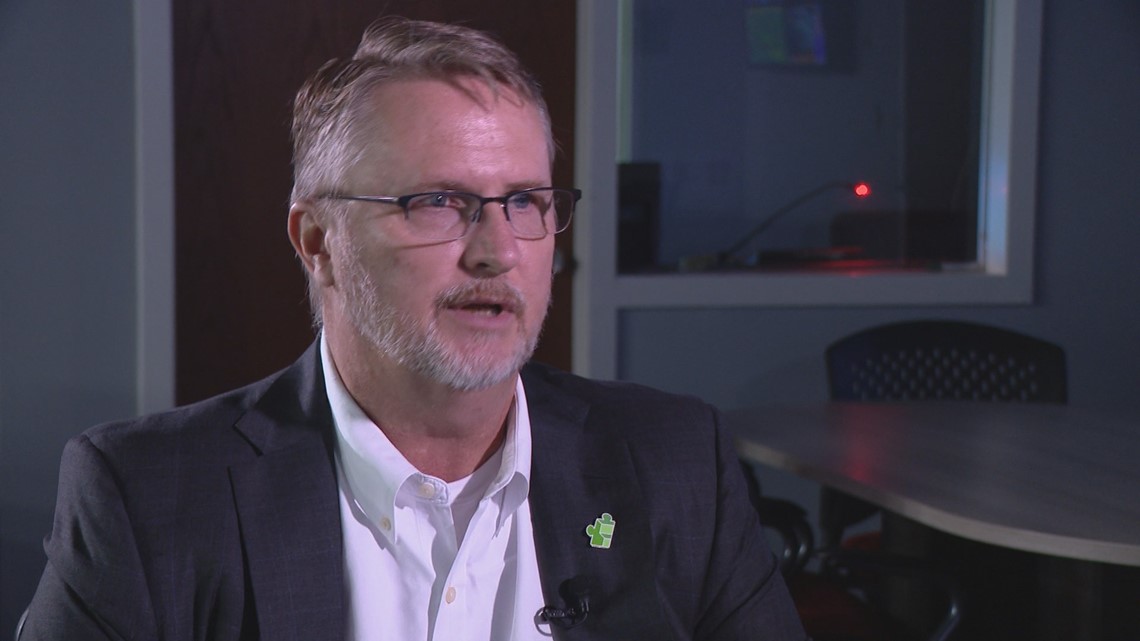 But most people don't appeal denials, and even fewer ever get to a truly independent review.
Howrigon says that's by design.
"It's meant to be a fairly cumbersome process which is why most people don't even go through it," he said.
Consumers can appeal denials to the Minnesota Department of Commerce, but with several catches.
Most people, however, are covered under "self-funded" plans.
"The vast majority of people, somewhere around two-thirds of the people with an insurance card, are actually 'self-funded' by employer. Meaning the employer's paying the claims out of their own bank account," Howrigon said. "Those are not under the state purview."
Patients who can't appeal to the Commerce Department are left with few options, including filing a federal lawsuit and going up against billion-dollar companies.
"It's incredibly daunting," Howrigon said. "We used to joke about we have more lawyers than they have people."
Still, McNaughton tried. And just a week after ProPublica first published his story, UnitedHealth settled the case.
Out of millions insured in Minnesota, there have been only 552 appeals to the Commerce Department in the last three years, according to data provided to KARE 11.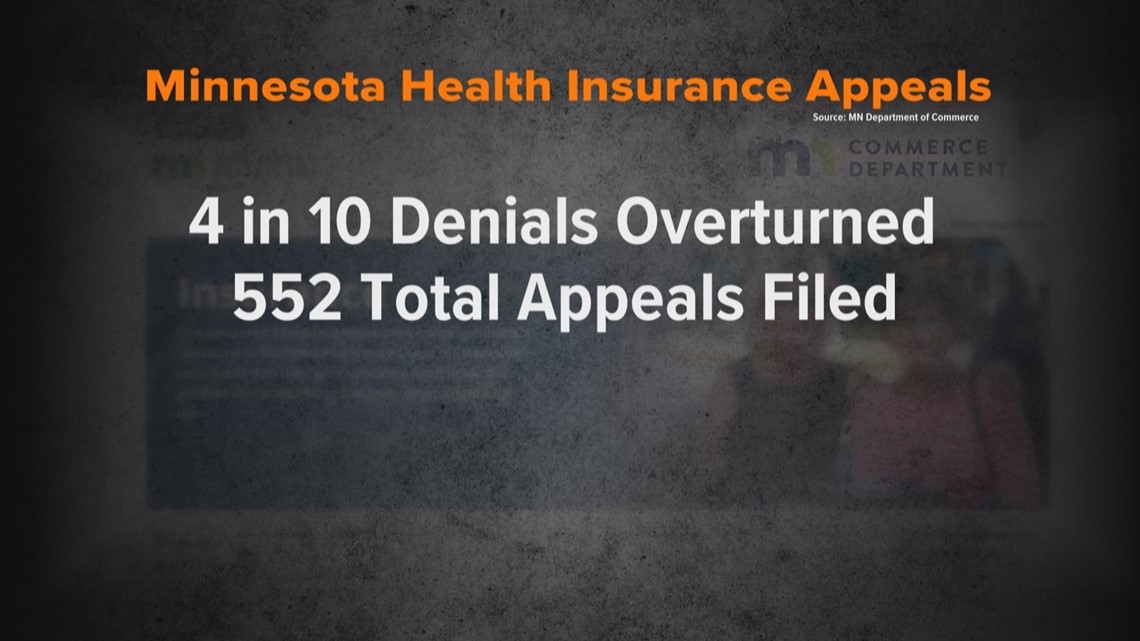 But once the appeal made it to that stage, denials were overturned about 40% of the time.
While not responding to specific questions, United Healthcare provided the following statement to KARE 11 Investigates:
"We are focused on helping people get access to the care they need that is covered under their health plan. We process close to two million claims each business day, a very small percentage of which may not qualify for coverage based on medical guidelines or insufficient information from the treating physician, among other reasons. Members and providers have the right to appeal decisions, and in almost every case, may also be eligible for external review by an independent review organization. We encourage members to reach out if they have questions about coverage decisions."
McNaughton signed an agreement not to discuss the terms of the settlement but is still receiving his medications.
He worries about millions of others like him who need life-saving treatment but can't or won't go to court.
"This is just the tip of the iceberg," he said.
Watch all of the latest stories from our award-winning investigative team in our special YouTube playlist: