LAKEVILLE, Minn. — Join us Monday night for KARE 11 News at 10 p.m. to hear Maria's story.
"That's my daughter's dress," Maria Jewell said, pointing to the picture of a little red dress listed for sale on an online garage sale.
"I feel like I failed her," Jewell said, fighting back tears, "I'm supposed to be taking care of her, it's not supposed to be the other way around."
Instead of celebrating Christmas by buying gifts, Jewell and her teenage daughter resorted to selling their furniture and clothes just to put food on the table and gas in the car.
The family spent the holidays fearing the looming possibility they'd end up living in a shelter.
"I did not do anything wrong," Jewell said. "And I here I sit, can't pay my rent, facing eviction."
Their struggles could have been easily avoided.
A KARE 11 investigation discovered she was facing homelessness all because the Department of Veterans Affairs kept sending her mail to the wrong address, even though records show they had her correct address all along.
Still, the VA blames her for the mistake.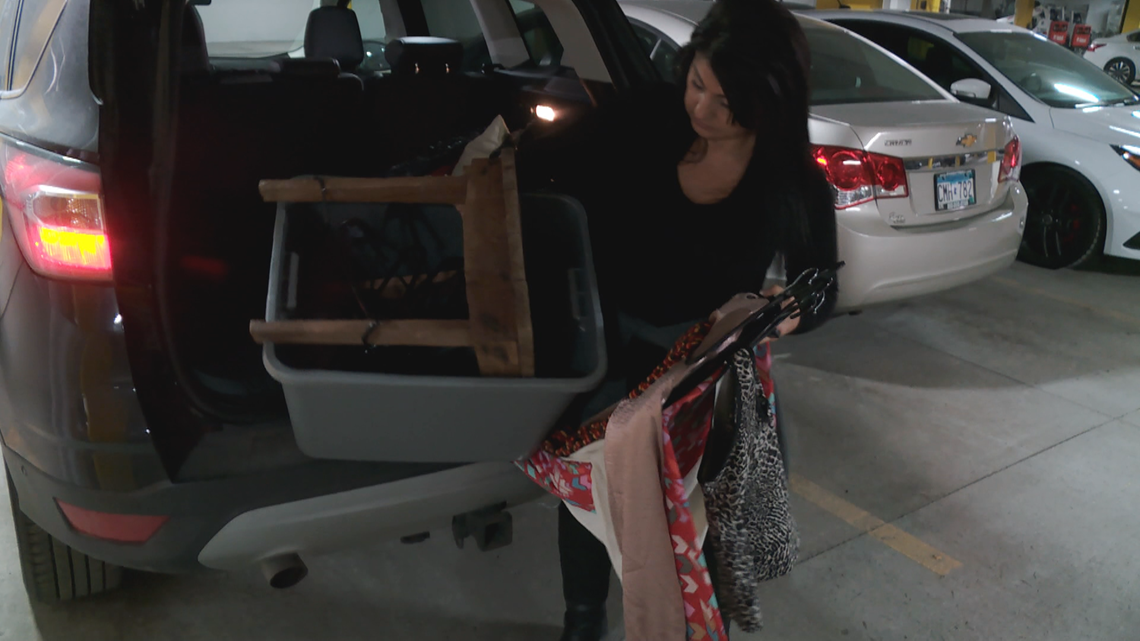 A 15-year Marine Corps veteran, Maria Jewell's service was cut short as the staff sergeant struggled after surviving a sexual assault.
Jewell's VA records show she was listed as 100% disabled because of post-traumatic stress due to military sexual trauma.
That disability, along with injuries to her knees from her time in the service, means Jewell is supposed to get a benefit check every month from the VA for about $3,500. That money is what Jewell and her teenage daughter live off while Jewell attends college in Mankato.
But two days before Thanksgiving, Jewell says she looked at her bank account and noticed a huge decrease in her monthly VA check.
Without warning, her benefits were reduced to just $600.
Suddenly, without the monthly check she was counting on, her life was thrown into chaos. Unable to pay her rent, Maria panicked. She and her daughter were on the brink of homelessness.
"As a single parent there is no cushion," she said. "There is no extras, you just live paycheck by paycheck and just make ends meet."

When she called the VA, she learned her PTSD benefits had been reduced from 100 percent to zero. And benefits for her other injuries had also been cut by varying amounts.
She says the VA claimed they had been trying to contact her for more than a year – saying they had mailed her repeated warnings that her benefits would be reduced if she didn't show up for a medical revaluation of her disabilities.
"I never received the mail," Maria said. "So how can I respond to mailing that I never received?"
She is not the first veteran to ask that question.
Mail not always delivered
The VA has a long history of problems processing mail.
In May 2019, VA sent out press releases noting they'd "detected inconsistencies with how Veterans' permanent mailing addresses are being updated and stored at VHA medical facilities and shared with the national Enrollment System."
Sometimes, there's evidence the VA doesn't send letters at all.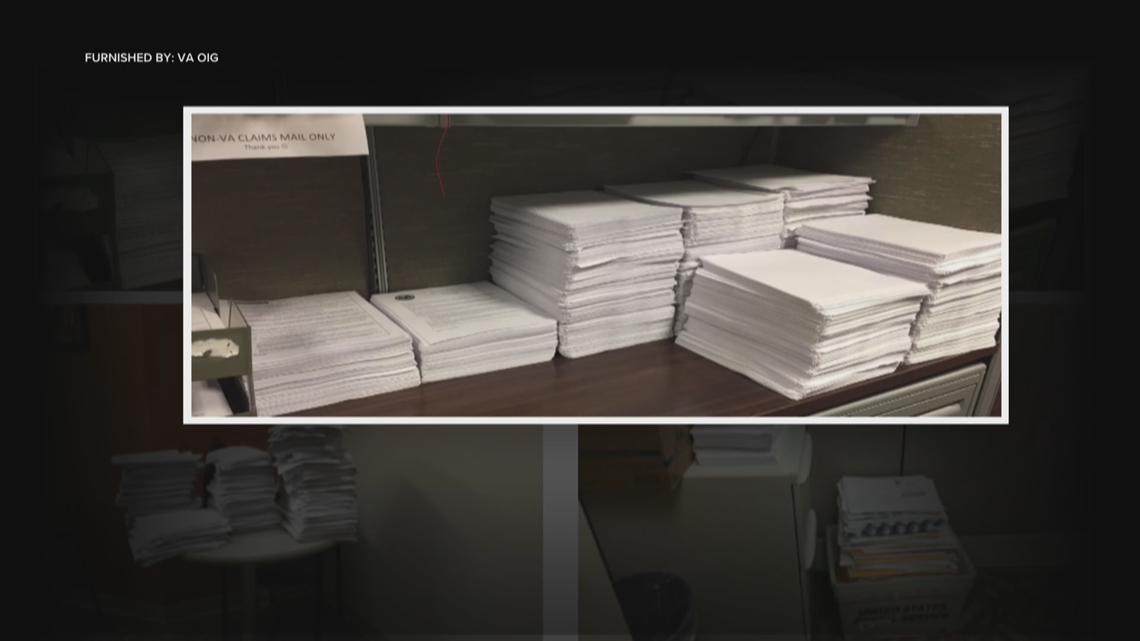 "The VA just ignored the mail," said Missal in an interview with KARE 11.
Now, Jewell believes the VA ignored the fact they had her correct address in their system and mailed important letters to an address she has not lived at in nearly five years.
"They were still sending mailings to an address from 2015," she said. The VA used the old address even though her records clearly show the government agency had her correct address in its system.
Jewell's VA file, obtained with the help of an attorney, included the missed letters and reveal what happened – but not why.
On April 6, 2018 a Department of Veteran Affairs employee in the Chicago Regional Compensation and Pension office entered a request in Jewell's file for her to take an exam to determine whether there was any change in her disability level.
That record labeled "Compensation and Pension Exam Inquiry" correctly listed Jewell's home address in Lakeville, Minnesota.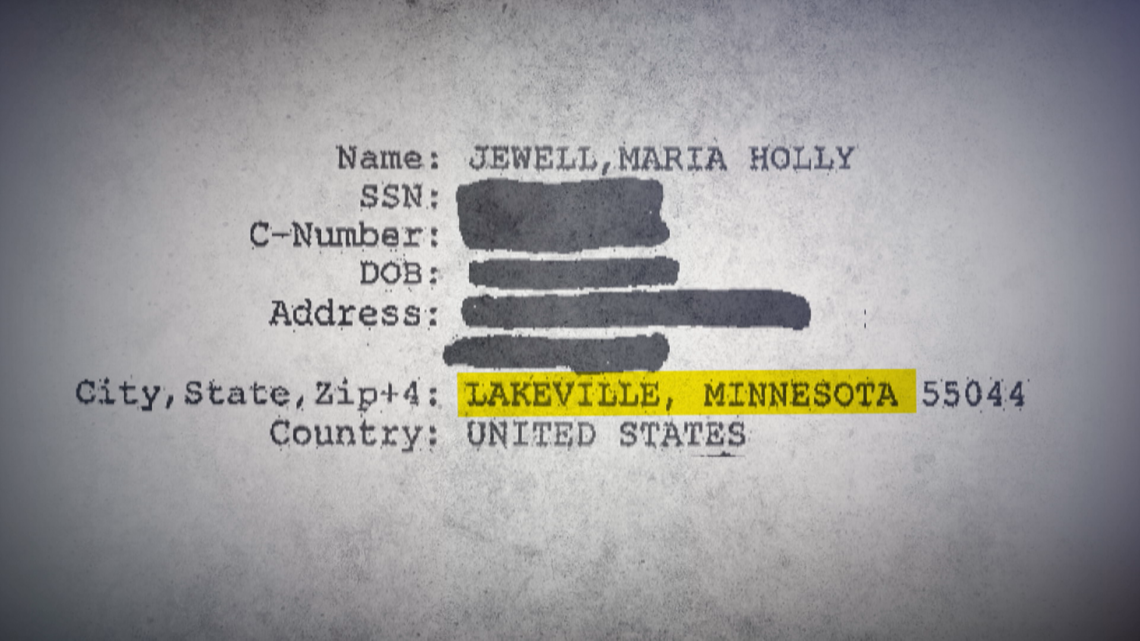 At some point in the following weeks, a private contractor with the VA called Jewell, informing her she needed to show up at a specific date and time that the VA had arranged for a medical evaluation of her disability rating.
Jewell says she told the caller she already had plans and airline tickets booked on that date and would be out of state. She says the caller told her, 'OK, someone would be in touch.'
A month and a half later, on May 21, 2018, the VA mailed Jewell a letter labeled "IMPORTANT" about scheduling the examination. However instead of sending it to her Lakeville address on file, it was sent to Vergas, Minnesota - a place Jewell had not lived in years.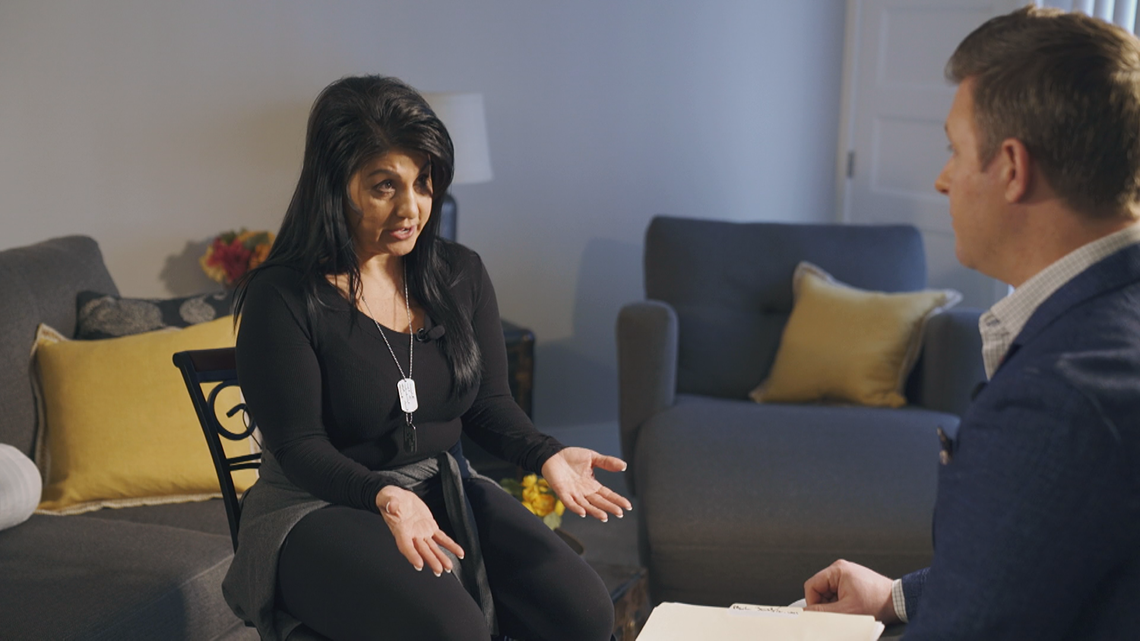 That letter warned that if she did not respond and set up an examination, VA would not know how disabling her condition currently was and her benefits would be reduced.
While important letters about her proposed benefits reduction were being sent to the wrong address, records show she continued to receive other VA mailings at her correct Lakeville address.
For example, a letter dated April 4, 2019 listed a summary of the benefits she was receiving – totaling $3,535 – but made no mention of the looming reductions.
But fast forward four months, and VA again sent Jewell mail at the wrong address.
That letter, dated Aug. 20, 2019 stated in oversized bold print, "We have made a decision on your VA benefits."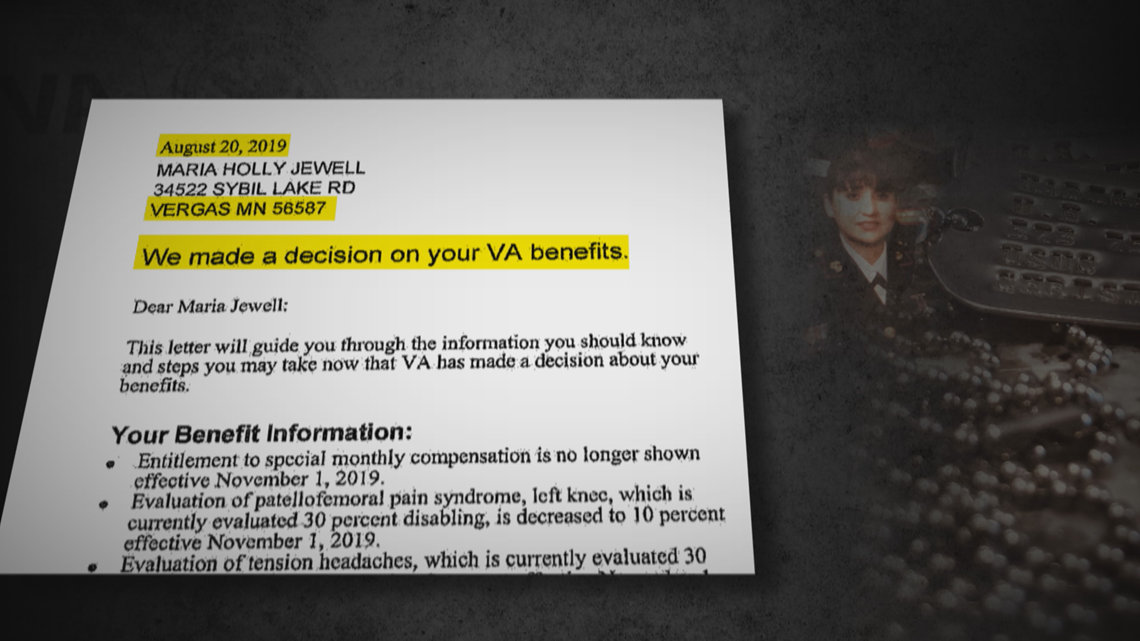 It detailed major reductions in her benefits including this finding: "Evaluation of post-traumatic stress disorder, which is currently evaluated 100 percent disabling is decreased to zero percent effective November 1, 2019."
It explained her benefits for her knee injuries were also being reduced by varying amounts.
But because the notification was sent to the wrong address once again, Jewell says she had no knowledge that her benefits had been reduced. She didn't find out until November when the money deposited into her bank account was off by $2,900.
"A hundred to zero," Maria exclaimed of the VA's action on her PTSD disability rating. "How does that make sense?"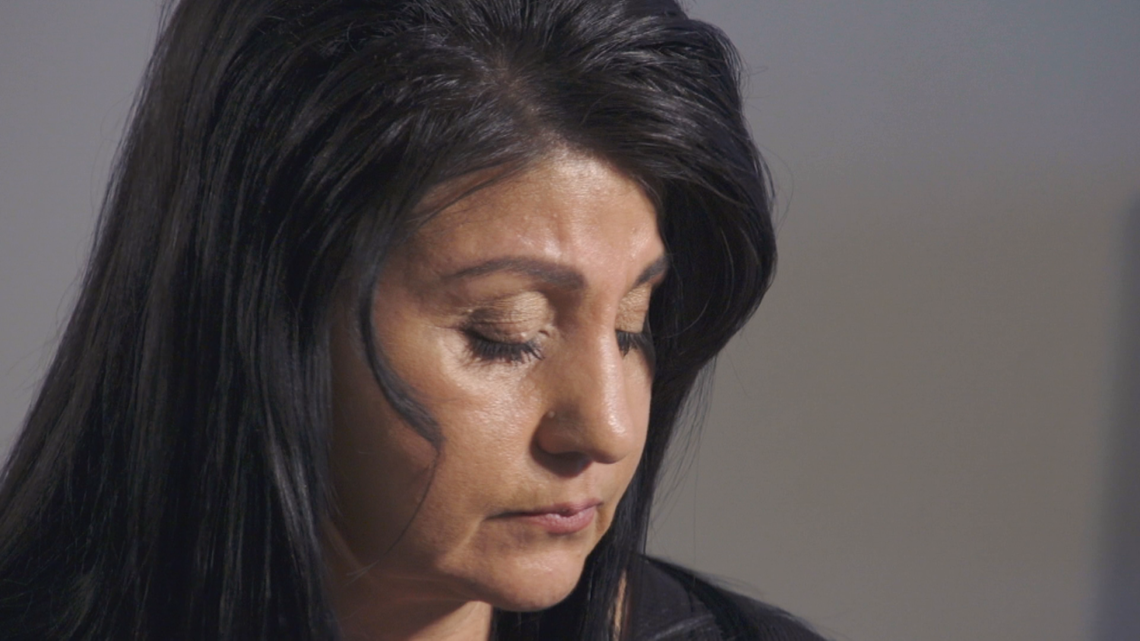 She says when she told the VA she'd never received the notices they claimed to have sent her, she was told it was her fault since she hadn't kept her address up to date.
She vehemently denies that allegation.
"I have always updated my address," she said. What's more, she says that's not the only way to reach her.
"They have my phone number," she told KARE 11.
Jewell says her protests fell on deaf ears.
Unable to pay her rent, Jewell's landlord filed an eviction notice in Dakota County court. She says she had until the end of the year to get out.
"There was no money coming in, $600 doesn't pay the bills," she said.
Trying to stay afloat, she and her daughter resorted to taking furniture and other belongings to consignment shops and selling them in online garage sales.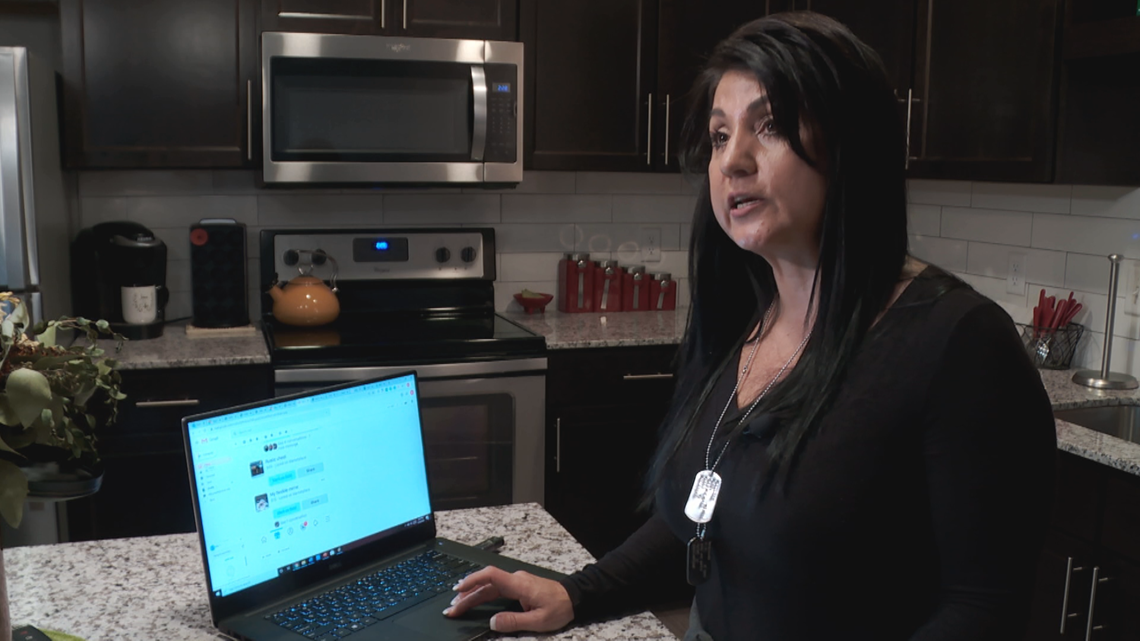 The veteran says anxiety over what would happen to her and her daughter kicked her PTSD symptoms into overdrive.
"Driving, vomiting in the car because I'm panicked, and I'm stressed," Jewell said.
In a last-ditch attempt to find someone to help her, Jewell went to a veteran's legal clinic. That's where she met attorney Brian Lewis.
"This case with Maria is a stunning example of VA's classic ineptitude at processing claims," said Lewis.
A survivor of military sexual trauma himself, Lewis said Jewell's story struck a chord. He says it was so outrageous that he couldn't help but step in, taking her case pro bono.
"How I would really describe it, I can't say on TV," Lewis said during an interview with KARE 11.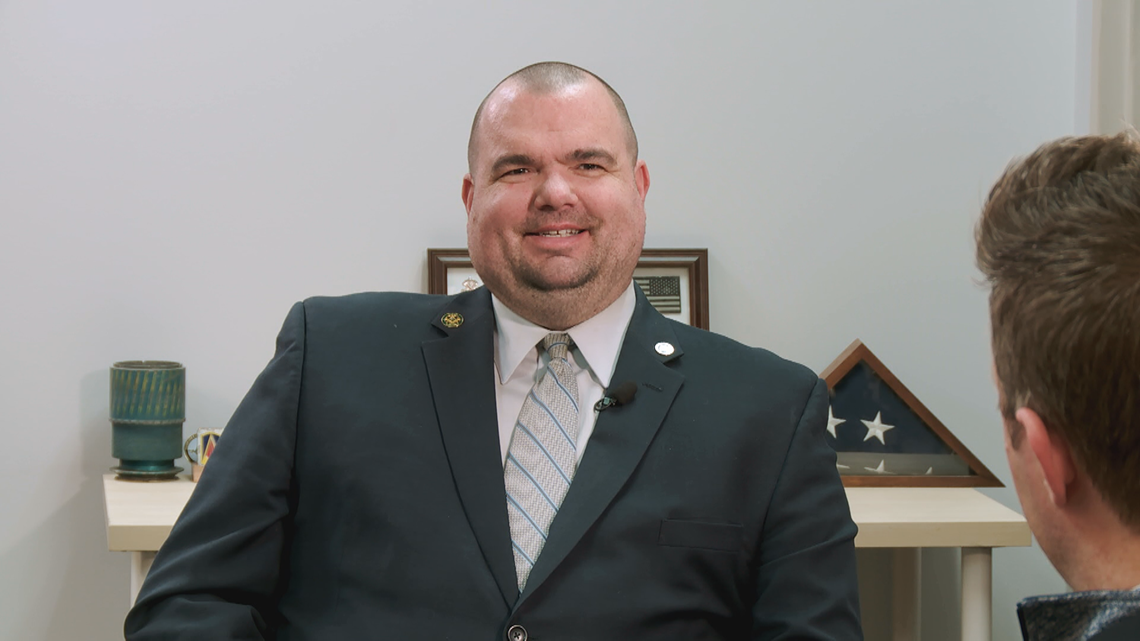 Lewis, along with fellow veteran's rights attorney Benjamin Krause, went with Jewell to the VA's St. Paul benefits office to get copies of her file. They say they quickly spotted records backing up what Jewell had maintained all along.
"Her address was always, always, always correct in the VA's system," Lewis said.
Jewell's Minneapolis VA doctors back that up. In a letter, a member of her treatment team wrote: "Ms. Jewell's contact information (i.e., mailing address and phone number) have been consistently up-to-date in her VA medical records since she has been in our care."
After her lawyer got involved, the VA backed down. The agency recently reinstated Jewell's benefits and repaid her the money they had withheld for two months.
Just days away from being forced out of her home, her lawyers convinced Jewell's landlord to stop the eviction process.
However, the eviction remains on her record and could be a red flag for future landlords making it more difficult for her to find housing.
Meanwhile VA leadership continues to blame Jewell and denies the agency made any mistake.
When questioned by KARE 11 about Jewell's case, Susan Carter, VA's Director of Media Relations, sent an email stating, "The allegations you are citing are misleading to the point where repeating them for your viewers would be highly irresponsible."
Despite the documents KARE 11 obtained from Jewell's VA file, Carter claimed it's "false" to say Jewell's PTSD rating was dropped to zero. She writes, "There was absolutely no point in time where her PTSD rating dropped to zero."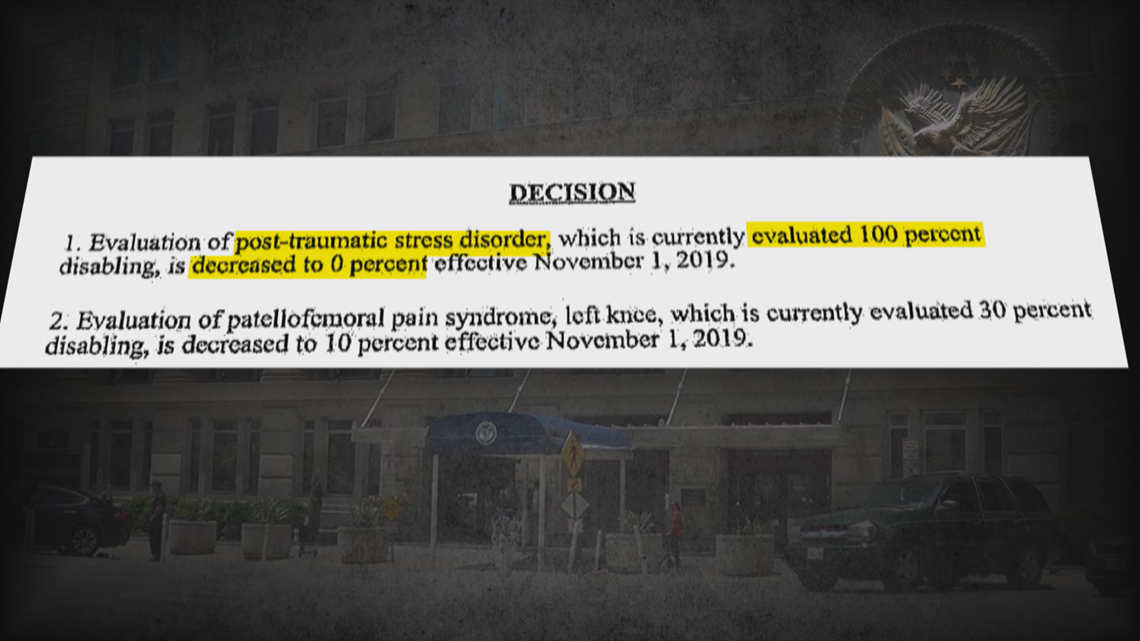 Carter also said it's "false" to say VA had Jewell's correct Lakeville address in their system. She writes, "VA did not receive correspondence from Ms. Jewell regarding her current address in Lakeville, MN, until November 25, 2019."
Finally, Carter maintains, "VA took the appropriate steps to make Ms. Jewell aware of the changes."
Attorney Brian Lewis called the VA's statement meritless. Here's the politest way he said he could describe it: Something that "Helps make my flowers grow."
As for Jewell, "I'm all cried out," she said. "I'm just angry at this point."
She says the whole experience leaves her with a burning question: "How many other people, veterans, is this happening to?"
KARE 11 asked that question, but the Department of Veterans Affairs has not responded with an answer.
If you're one of the veterans who may be impacted by VA mail mistakes, contact the team working on this investigation at: investigations@kare11.com