CASS LAKE, Minn. — "I have a life I want to fight for," Frank Sherman said, his eyes half closed with exhaustion, during a dialysis session. "This is what I do for three days a week."
His doctors say Frank needs a kidney transplant. Without one, they say he will die.
In letters to the Department of Veterans and in interviews with KARE 11, Frank and his doctors question why the VA has repeatedly refused to put the former Marine on the transplant waiting list.
Although the VA strenuously denies it, records obtained by KARE 11 raise questions about whether tests used to evaluate veterans like Frank for transplants discriminate against Native Americans.
"I've never missed a day"
Every Monday, Wednesday and Friday for more than three years, Frank Sherman has left his home at 5:30 a.m. for the half hour drive to the Cass Lake DaVita dialysis center.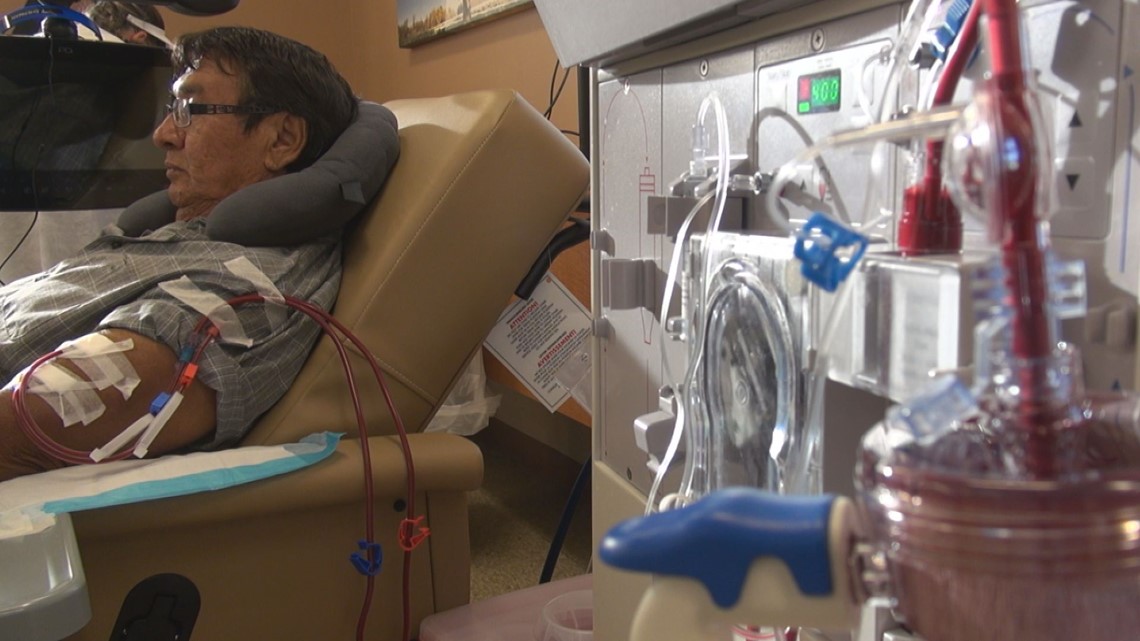 "This is my life. I've never missed a day," he said. "If I stop doing it. I ain't going to be here no longer."
A member of the Leech Lake Band of Ojibwe, Frank served in the Marine Corps from 1972 to 1976 rising to the rank of sergeant.
Dialysis is doing the work his kidneys no longer can, but experts fear it won't work much longer.
"Time is wasting," said Dr. Jason Bydash, Frank's nephrologist for several years. "Patients on dialysis all die at some point," he added. "The average life span is five years."
The Department of Veteran Affairs acknowledges Frank's need for a transplant is likely caused by his service to his country. But, so far, the VA has refused to put him on the kidney transplant list.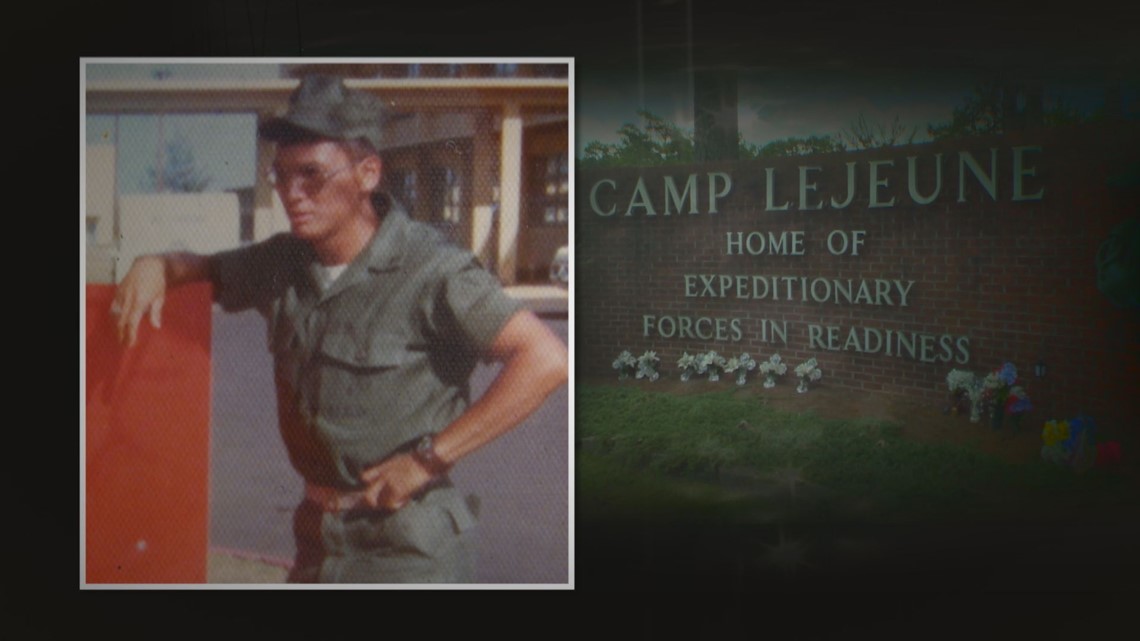 The denials haunt Hugh Quinn, who recently retired as Itasca County's Veterans Service Officer.
"So, the whole thing just stunk," Quinn told KARE 11. "I don't want to see Frank die!"
A pattern of problems
Quinn reached out to KARE 11 about Frank's case after seeing an investigation we called "Distance, Delays and Denial." The two-year project exposed deadly delays, prohibitive travel requirements, along with inconsistent and overly restrictive eligibility criteria in the VA organ transplant program.
"How many patients do you think unnecessarily died?" VA whistleblower Jamie McBride was asked.
"Thousands," he replied. McBride is the Manager of Solid Organ Transplants at the VA hospital in San Antonio, Texas.
Earlier this year, the head of a government watchdog agency accused the Department of Veterans Affairs of failing to properly address McBride's complaints about systemic flaws that limit access to life-saving organ transplants for veterans nationwide.
In his letter to the President, Special Counsel Henry J. Kerner wrote, "Mr. McBride deserves praise for bringing forward the numerous barriers to life-saving organ transplants for veterans.
Research by experts at the Cleveland Clinic and the University of Pennsylvania backed up much of what McBride disclosed. Veterans who rely on the VA for kidney transplants are less likely to actually receive a transplant - and more likely to die waiting - compared with other patients in need of the same surgery, according to findings released in November 2017 by Dr. Joshua Augustine of the Cleveland Clinic.
The new law allows veterans to get transplants closer to home and gives more control over whether they need a transplant to their primary care doctor.
"A good transplant candidate"
How the new law will affect Frank Sherman's case remains to seen, but his primary care physician at Cass Lake Hospital, Dr. Mark Becker wrote to the VA: "There is no valid reason for him not to be selected" for a kidney transplant.
VA records show the Minneapolis VA's Chief of Nephrology referred to Frank in 2015 as an "average risk candidate for kidney transplant."
Frank's private nephrologist, Dr. Bydash, concurs. "I think that Frank would make a good transplant candidate," he told KARE 11.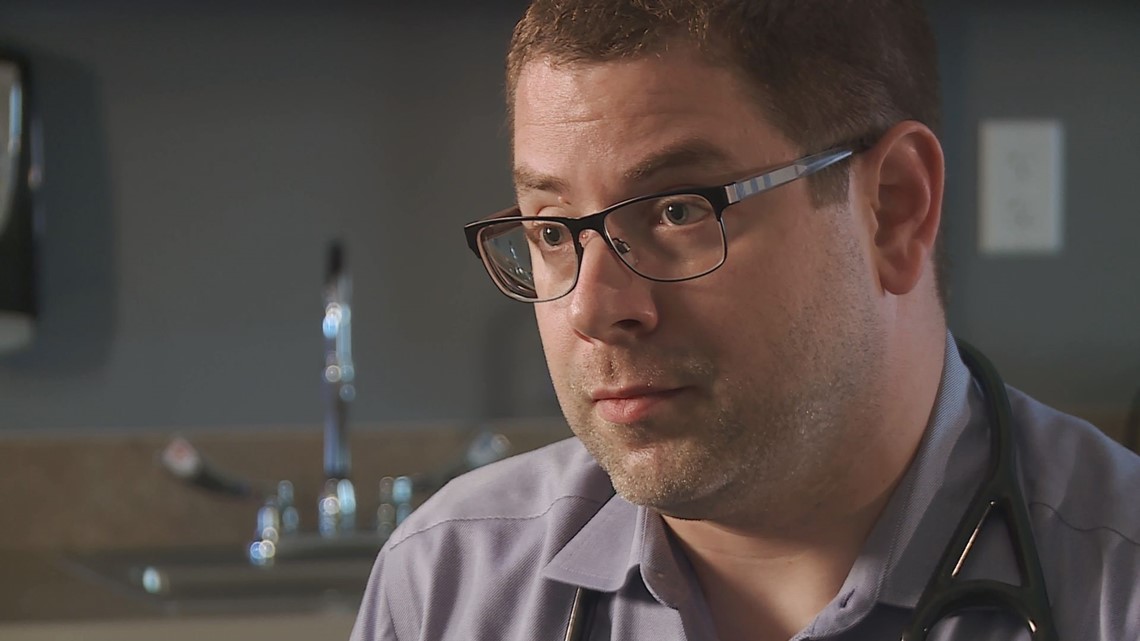 So why in spite of those doctors' opinions is Frank being denied a transplant?
Records reviewed by KARE 11 indicate it's because the VA believes Frank is not mentally alert enough to follow medical instructions and take care of himself after a transplant.
In a February 2018 letter, Minneapolis VA Director Patrick Kelly explained the denial to Senator Amy Klobuchar, (D-MN) who had Inquired about Frank's case. Kelly quoted the Pittsburgh VA Transplant Center finding: "Due to his limited functional status and vascular dementia with significant neurocognitive deficits, he is not an acceptable candidate."
A life-threatening mistake?
Dr. Bydash believes the VA made a life-threatening mistake. "Frank in my opinion does not have significant neurocognitive deficits," Dr. Bydash told KARE 11.
As for the claim that Frank has cognitive impairments, his primary care physician at Cass Lake Hospital wrote, "This is simply not true."
Frank's Indian Health Services social worker Mary Suagee-Beauduy wrote in his medical record in September 2017, "Our patient is articulate, has an excellent memory, has good rapport with his healthcare team, and is doing all he can to be as healthy as he can."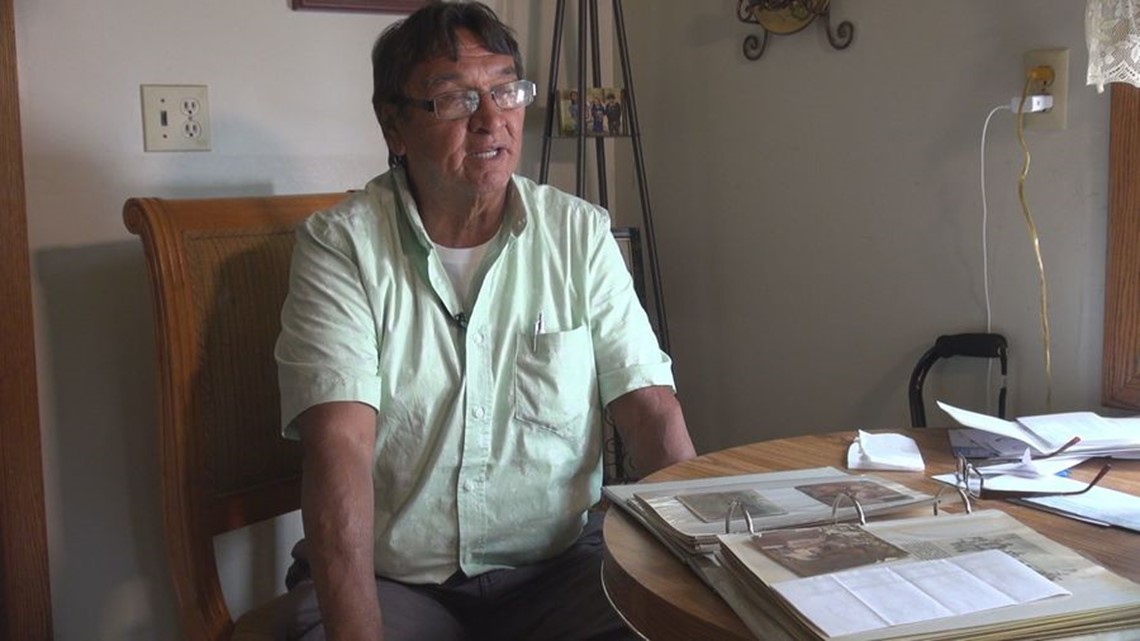 So, what's the basis of the VA's finding that Frank is impaired?
His VA records show he was given a battery of cognitive testing in 2015 and 2016 to determine whether he could care for himself after a transplant.
Frank failed. But notes in his VA records raise questions about the accuracy of the testing.
Frank says he was asked to recall lists of words and names, but struggled in large part because he does not read well – and grew up in a home where his parents primarily spoke Ojibwe.
The test, he says, included words he didn't know. In fact, one of the VA's own examiners noted in a report that Frank "appeared unfamiliar with a number of items." Citing the word "escalator" as an example, the examiner reported Frank said, "we don't have those on the reservation."
"And they think because you don't know a word that's a memory. It's not a memory, it's a word you don't know," Frank said.
Was the VA's test unreliable?
"Patient performance was scored on Caucasian norms due to lack of Native American norms available," the note for the first round of testing reads.
Dr. Jackie Henry, the psychologist who administered that test, told KARE 11 she struggled with how to interpret the results of his testing.
"I put the note about scoring on Caucasian norms in Frank's notes to specifically document my struggle with a lack of Native American norms and how to reconcile an individual like Frank's case and his personal experiences within the limitations of an institution like the VA." She added, "It's hard to rely on the test because of this issue, but could only work with the tools at my disposal."
Notes from follow-up testing in 2016 state that "cross-cultural factors…may have contributed to suppressed performance." The second VA examiner wrote: "Results of the current evaluation may therefore potentially underestimate his true level of cognitive functioning."
Even so, the VA refused to put Frank on the transplant wait list.
"What does that say to you?" KARE 11 investigative reporter A.J. Lagoe asked Dr. Bydash.
"It says it's a biased system," Bydash responded. "Testing may pick up on certain defects erroneously - especially if it's using language that they're not familiar with."
The VA responds
KARE 11 requested an interview with the VA about Frank's case. We were sent a statement instead.
The VA defended their testing claiming the suggestion it discriminates against Native Americans is "offensive and inflammatory" and is "completely false."
Unlike the VA's letter to Sen. Klobuchar which focused on Frank's so-called "neurocognitive deficits," the VA's response to KARE 11 listed other factors it said would make a transplant unsafe and potentially fatal. The statement lists "serious vascular disease, refusal to adhere to prescribed care regimen, frequently missed medications and refusal to use his CPAP machine to treat sleep apnea."
Those are problems Frank's own doctors think are being overblown.
"I think the VA system is really set up to look for reasons, and this may not be a malignant process but it's the way things are kind of fashioned there, to look for reasons to disqualify patients rather than to look for reasons to give them a kidney transplant," Dr. Bydash said.
The VA also claimed that another non-VA transplant center also declined Frank for a transplant for "similar reasons."
The only other transplant center Frank has been working with is Hennepin County Medical Center.
Dr. John Silkensen, Medical Director of the kidney transplant program at HCMC tells KARE 11 their program has never declined Frank and to say so is "completely untrue."
Silkensen said that when they evaluated Frank for a transplant, they discovered he needed a heart bypass first. He says that was done in 2015 and he's since been cleared for transplant from a cardio vascular standpoint.
Other barriers, according to HCMC, have been insurance coverage – and missed medications.
"We told him he needed to do better," Dr. Silkensen with HCMC confirmed. "But have not ruled him out or eliminated him from consideration."
His personal doctor says Frank took that warning seriously.
"Frank knows he's supposed to take his meds," Dr. Bydash said. "In the past there were medications that he felt weren't necessary – such as vitamins – and he wasn't taking them. However, when he realized those were necessary and that he has to show that type of adherence for transplant, he has picked it up and has been taking everything."
Honoring other veterans
Despite the toll dialysis takes on his body, Frank spends hours each week mowing and maintaining his tribe's veteran's cemetery park. He created it in honor of an uncle who was a World War II POW.
"It's a lot of work," Frank said while pulling weeds near a headstone. "But I feel like it's my duty to take care of our veterans because they sure took care of us."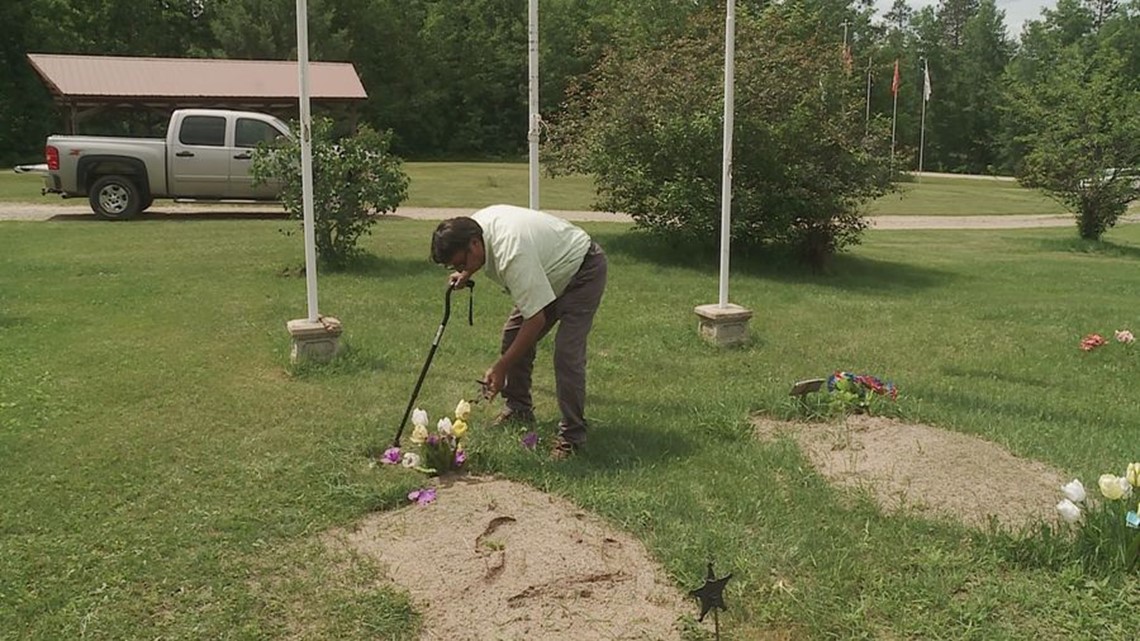 He now questions why the government he so proudly served has given him what his doctors say amounts to a death sentence.
"I told my children, I said, 'Whatever happens, I lived a good life.'"
In its statement to KARE 11, the VA said it is willing to reevaluate Frank's case after "a trend of at least six months showing acceptable improvement" including not missing medications. "VA stands ready to provide Mr. Sherman with the very best medical care available, and we are working with him directly to reevaluate his suitability for a transplant."
If you have a suggestion for a KARE 11 investigation, or want to blow the whistle on fraud or government waste, email us at: investigations@kare11.com.